Maasai Mara National Reserve Travel Guide
Maasai Mara National Reserve Travel Guide
It's said that you won't find a greater abundance of game anywhere in Africa, as you will in the Maasai Mara. Apart from the Big 5, you're likely to see a bigger variety of wildlife in larger numbers; like the annual wildebeest migration, involving over 1.5 million animals.
Highlights
Most popular wildlife reserve in Kenya
Home to an enormous variety and abundance of wildlife
Site of annual Great Migration, involving over 1.5 million animals
Almost guaranteed to see the Big 5; lion, leopard, elephant, rhino and buffalo
Excellent birding with over 400 species recorded
Without a doubt, the Maasai Mara National Reserve is Kenya's, if not Africa's, most famous safari destination. It's a huge, flattish park with wide open savannah grasslands located in the Great Rift Valley. It's also home to an unbelievable quantity and variety of wildlife, which is most concentrated on its western escarpment.
Nowhere else in Africa will you find a greater abundance of game and you're virtually guaranteed to see the Big 5 here; buffalo, elephant, lion, leopard and rhino. Other game you're likely to sight include cheetah, serval, hyena, bat-eared fox, black-backed and side-striped jackal, hippo, crocodile, baboon, warthog, topi, eland, Thompson's gazelle, Grant's gazelle, impala, waterbuck, oribi, reedbuck, wildebeest and zebra.
The world-famous annual wildebeest migration, known as the Great Migration, takes place here every year between July and November and is said to involve more than 1.5 million animals. It's a truly incredible sight if you're lucky enough to witness it.
The reserve boasts some 95 species of mammals, amphibians and reptiles with more than 400 birds species recorded.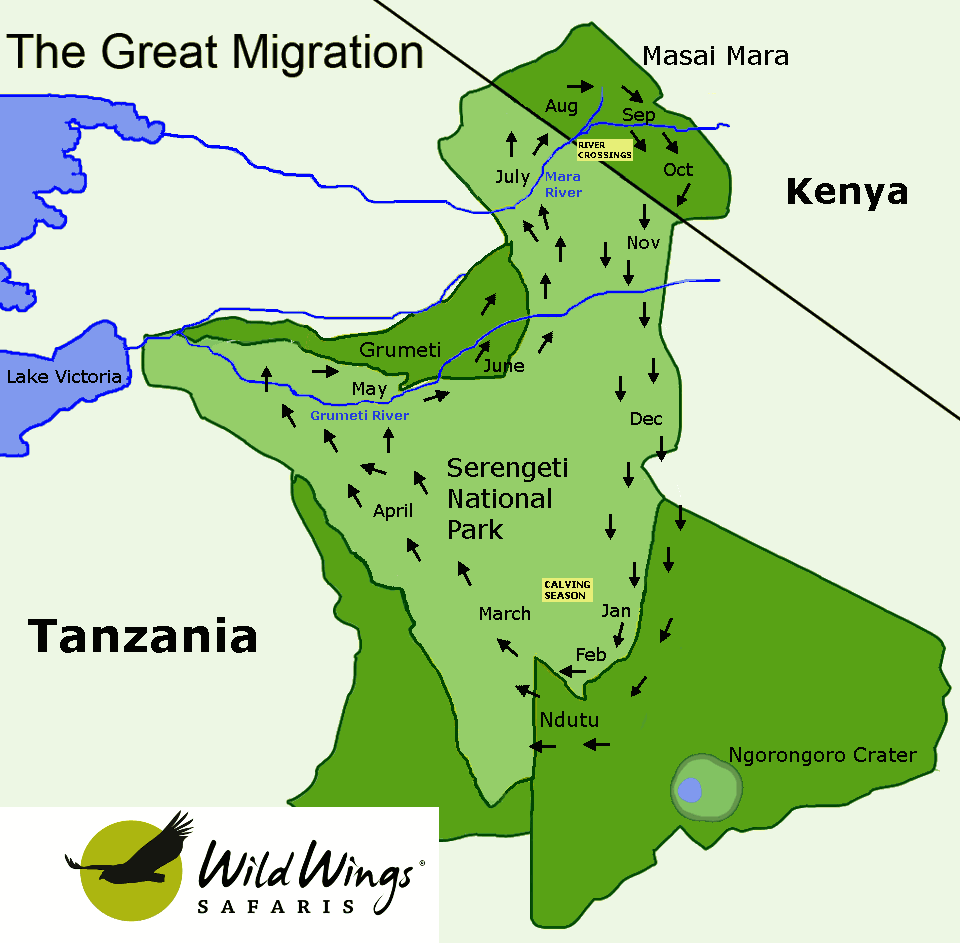 Best time to visit
Peak migration time in the Mara is from late July to early October. During this time you have the best chance to see one of the famous river crossings, where thousands of wildebeest brave the dangerous croc-infested waters of the Mara river to get across to the grassy plains on the other side.
The Maasai Mara is 1,600 m (5,300 ft) above sea level. Its rainy season is from November until May. Mornings are usually clear and dry, with clouds building into dramatic thunderstorms by late afternoon, early evening. Dry season extends from June until November and offers you the best game viewing, but it is also the most congested time in the Mara. If you are able to book a few weeks before or after the peak season, you'll have far less crowding, and probably much better rates, too. Early November and February also offer excellent game viewing. Temperatures generally range from 20 - 30°C (68 - 86°F).
Getting there
The Mara is easy to get to by road or by air. There are several all-weather airstrips and road access is fair, especially from Nairobi. We'll gladly help you work out the best options for your itinerary and preferences.
Optional activities
In addition to superb game viewing by day, night drives with spotlights can be arranged. Hot air ballooning is popular and is an unforgettable way for you to experience the sheer expanse of the Maasai Mara. Of course, a visit to one of the Maasai cultural villages is sure to be a highlight on your itinerary.
You may also want to look at
This luxury safari camp is set at the edge of riverine forest, overlooking the sweeping plains of the Maasai Mara, and it lies within the path of the incredible annual Great Migration. At Kichwa Tembo Tented Camp, you can expect an authentic African safari experience with legendary Kenyan hospitality.
Mara Plains Camp is within a 30,000 private conservancy on the northern border of Kenya's famous Maasai Mara Game Reserve. In the heart of one of the most abundant game areas in the world, you'll be in the midst of big predator country and often fall asleep to the sounds of lions roaring.