Karen Blixen Camp
Karen Blixen Camp
Set on the banks of the Mara River in Kenya's Mara North Conservancy, Karen Blixen Camp is a luxury tented safari camp that echoes back to the bygone days of the original safari adventurer. From the comfort of their private veranda, guests can watch elephant, giraffe, zebra and impala gather at the Mara River to drink.

Highlights
Located in the heart of the Greater Mara/Serengeti ecosystem inside the exclusive Mara North Conservancy
22 En-suite luxury tents with views of the famous Mara River
An authentic and nostalgic safari experience
Top-quality game viewing in open safari vehicles
Unlimited shared game drives per day
Strong advocates for sustainable tourism
Committed to conservation and community support programmes
Karen Blixen Camp, situated in the game-rich Mara North Conservancy which borders the Maasai Mara National Reserve in the south of Kenya, offers visitors authentic 1920s tented accommodation without having to surrender modern conveniences.
Luxury canvas tents
All 22 river-facing luxury tents are set on elevated mahogany platforms which provide enough space for a veranda where guests can watch the wildlife come and go. Each tented suite has an en-suite bathroom with twin washbasins and an outdoor shower. The tents can be set up for double or twin occupancy and families travelling with children can ask for a third or fourth single bed to be added.
Guest areas
In true yesteryear style, the open-plan 'mess' area on its raised wooden deck facing the Mara River consists of a reception area, a comfortable guest lounge and bar, a restaurant and a gift shop with WiFi. In keeping with the nostalgic theme, the mess is furnished with reproductions of Karen Blixen's private furniture. Meals are served in the mess restaurant or bush garden. Romantic bush breakfasts, lunches or dinners can be arranged on request. Guests can take a dip in the swimming pool during the day to cool off and, at night, they can gather beneath the stars around the campfire for drinks. There is also a canvas spa tent with two private treatment rooms for those wishing to indulge in some therapeutic pampering.

Game viewing activities
Game viewing takes place inside the Mara North Conservancy in open safari vehicles and, during migration season, in the Masai Mara National Reserve or Mara Triangle. Guests can choose between an early morning and late afternoon game drive punctuated by breakfast and a relaxing midday at camp or a full-day game drive with a packed picnic lunch basket. Night drives are also permitted in the Mara North Conservancy which has one of the lowest tourist footprints in the Masai Mara. Game viewing is exceptionally rewarding and the conservancy is home to five lion prides, several cheetahs, around six leopards and an abundance of plains game such as elephant, giraffe, zebra, buffalo, wildebeest and various antelope species.
Optional activities
Karen Blixen Camp offers a wide range of optional safari and cultural activities such as
guided game walks
hot air balloon safaris with champagne breakfasts
romantic bush breakfasts, lunches and dinners
cultural Masai village visits
Eco-friendly
Karen Blixen Camp has introduced measures to reduce their impact on the fragile Mara ecosystem. Electricity is provided by solar panel, gas is used to heat water for the outdoor showers and their use of firewood is kept to a minimum to prevent the deforestation of Kenya's woodlands. Organic waste is used for compost and their wastewater is recycled through a zero-waste sewage system.
Getting there
By road - The drive from Nairobi takes about five hours in dry conditions and seven hours during the rainy season.
By air - Karen Blixen Camp is accessible by regular scheduled or private charter flights. The camp is a 45-minute transfer drive away from Mara North, Kichwa Tembo and Musiara Airstrips.
Our take on Karen Blixen Camp
We love the canvas tents at Karen Blixen Camp. They are spacious, airy and filled with light. You can watch buffalos, zebras and elephants drinking from the Mara River from the comfort and privacy of your veranda. At night you can hear the grunts of hippos. Because Karen Blixen Camp is located inside the Mara North Conservancy, there are not many other safari vehicles around and the safari guides can take you off-road and also on night drives.
Includes
Full board accommodation
Water, soft drinks, local beers and house wines
Unlimited shared game drives per day
Optional full-day game drive
One night game drive within Mara North Conservancy
Return airstrip transfers in Mara
Excludes
Spirits, champagnes and sparkling wines
Mara North Conservancy fees
Masai Mara Game Reserve entry fees
Domestic flights
Travel insurance
Transfers in Nairobi
Item not listed under includes
You may also want to look at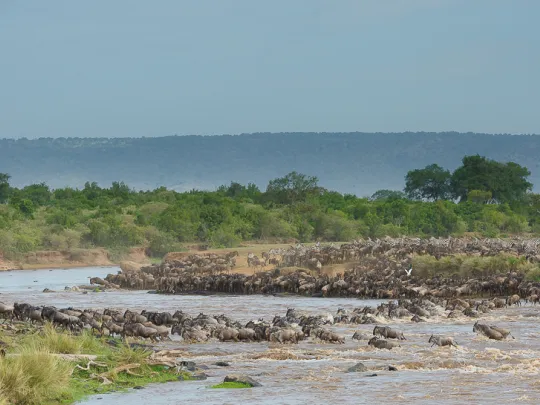 The Maasai Mara, Kenya. Also sometimes written as the Masai Mara. It's said that you won't find a greater abundance of game anywhere in Africa, as you will in Kenya's Maasai Mara National Park. Apart from the Big Five, the reserve is home to an incredible variety of wildlife in large numbers like the annual wildebeest migration involving over 1.5 million animals.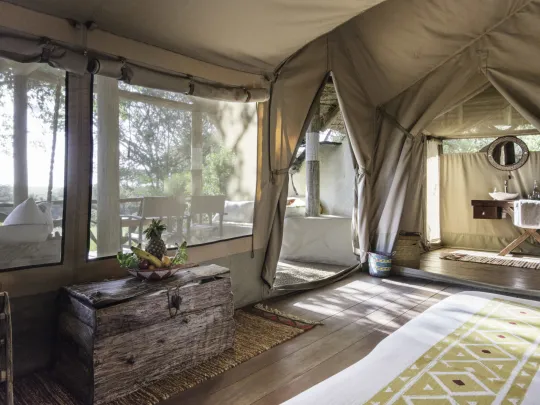 Basecamp Masai Mara is an affordable tented, riverside, safari eco-camp located in the dense tropical forest foliage along the Talek River right on the doorstep to the Maasai Mara National Reserve. Home to the highest density of wildlife in the world, the Maasai Mara is renowned for superb Big Five game viewing and the spectacular annual Wildebeest Migration.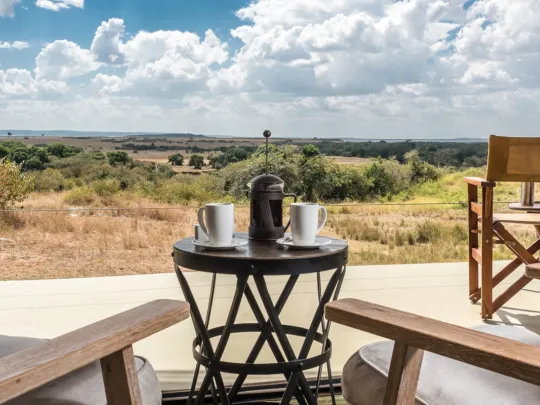 Entim Camp is a luxury tented safari camp situated on the edge of the riverine woodlands that overlook the Mara River. From its prime location inside the heart of the Masai Mara National Reserve, Entim Camp guests can witness the wildlife drama of thousands of wildebeest crossing the crocodile-infested Mara River right from the comfort of the veranda of their tent.