Bateleur Camp
Bateleur Camp
A luxurious and exclusive safari camp, Bateleur Camp in Kenya's famous Maasai Mara National Park has a distinctive style and glamour. While reminiscent of bygone days, it has all the modern comforts and conveniences. Situated in a private concession on the edge of the Maasai Mara, Bateleur and its sister camp, Kichwe Tembo, are in the direct path of the annual Great Migration.
Highlights
Set in one of the World's premier safari destinations, the Maasai Mara
In the direct path of the annual Great Migration
Unbeatable game viewing area
Intimate and luxurious camp
Two camps of only 9 tents, each with its own private viewing deck
New family suites available
Day and night game drives, bush walks and hot air ballooning
Visits to local Maasai cultural villages and dancing performances
Recently re-opened after a rebuild (April 2018), Bateleur Camp has almost doubled the floor space of each luxury tent, added a new family unit, built two pools and a spa, increased the dining area options and reconfigured the fencing to allow game even closer access than before.
Cocooned in vintage luxury and the elegance of bygone days, you'll be amazed by your surroundings at Bateleur Camp – endless vistas of forest, the open Mara plains and the most abundant herds of wildlife you're ever likely to see.
Intimate luxury on safari
All you need to do at Bateleur Camp is relax and soak up the beauty of your natural surrounds. There are two camps, each with 9 luxurious tented suites set in the shady forests on the edge of the Maasai Mara. Each tent has an en-suite bathroom and a private viewing deck overlooking the game-filled plains.
Elegant, relaxing camp life
Thoughtful touches and little extras add to your safari enjoyment; comfortable sofas, exquisite furnishings, excellent reading material, delicious meals served al fresco, evenings around the campfire with port and cigars, a refreshing lap pool and romantic sundowners at the edge of the Rift Valley.
Teeming with wildlife
The plains of Maasai Mara are alive with some of the biggest wildlife herds you may ever see; wildebeest by the hundreds of thousands in migration season, zebra, kongoni and topi antelope, elephant, buffalo, giraffe, Thomson's gazelle and black rhino. The rivers and watercourses are teeming with crocodile and hippo and all the big predators are present; lion, cheetah, leopard, hyena and jackal.
Getting there
There are two scheduled flights (approx. 1 hour) daily from Nairobi's Wilson Airport to Kichwa Tembo's private airstrip. A daily flight from Mombasa (approx. 2 hours) is also available. From the airstrip, there's a 30-minute game drive to reach Bateleur Camp.
Our take on Bateleur Camp
If you're looking for an "Out of Africa", out-of-this-world safari experience, then Bateleur will tick all the right boxes. As part of the &Beyond group, you can expect superior service, style and superb hospitality all around. Plus it's in one of the world's most game-rich and rewarding safari destinations. Easy to recommend.
Includes
Accommodation and three meals daily
All soft drinks, house wines, local brand spirit and beers, teas and coffees, refreshments on game drives
Laundry
Safari drives - two daytime and one nighttime safari drive
Bush walks
Emergency medical evacuation insurance
Transfers to/from the lodge's private airstrip
Excludes
Telephone calls
Safari shop purchases
Gratuities
All items of a personal nature
Champagne, cognac, fine wines, premium brand spirits and cigars
National park entry fees
Optional extra activities
You may also want to look at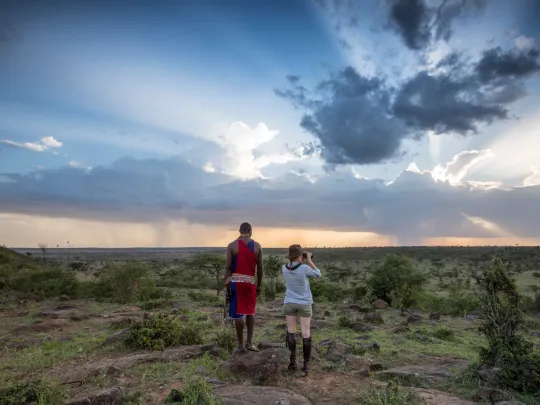 Our 7 Day Kenyan Adventure Safari Tour introduces you to the wilder side of Kenya on an affordable budget. Explore Laikipia Plateau's sweeping plains on foot, where the last of Kenya's African wild dogs have found refuge. Discover why the Masai Mara's lush grasslands, acacia woodlands, rolling savannahs and abundance of wildlife make it one of Africa's most iconic safari destinations. In season, witness one of the world's natural wonders, the Great Migration, where one and a half million wildebeest, zebra and antelope leave the Serengeti for the Masai Mara.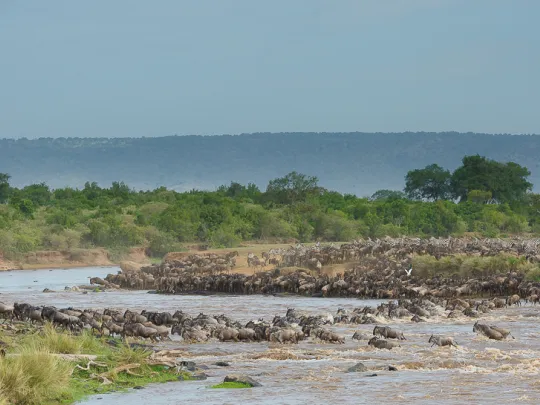 The Maasai Mara, Kenya. Also sometimes written as the Masai Mara. It's said that you won't find a greater abundance of game anywhere in Africa, as you will in Kenya's Maasai Mara National Park. Apart from the Big Five, the reserve is home to an incredible variety of wildlife in large numbers like the annual wildebeest migration involving over 1.5 million animals.