Botswana Travel Guide
Botswana Travel Guide
Botswana is arguably the world's best safari destination. Here, you will find some of Africa's largest and wildest game reserves with landscapes ranging from semi-desert to forest and dry savannas to watery swamps – all teeming with wildlife. There are hundreds of safari lodges in Botswana, most situated in prime safari areas and priced in US Dollars.
Highlights
Wild, remote places
Safaris in beautiful, unspoilt wilderness areas
Big game (excluding rhino in most areas)
Excellent game viewing
Friendly, welcoming people
Botswana is famous for its huge herds of game, especially elephants, which congregate at the main water sources in the dry season. The top safari destinations in Botswana include:
It's a very popular safari destination and with good reason. It's not cheap – most lodges charge in US Dollars – but the game viewing and safari experience in Botswana are hard to beat.
Seasonal destination
The dry and wet season cycles have a big impact on game viewing, so it's worth researching the seasons before you visit. The Okavango Delta is most affected by the annual rise and drop of water levels which rely on distant rainfall levels in Angola. In other areas, local rainfall dictates conditions. During the dry season, smaller pans and waterholes dry up and large numbers of animals congregate at the remaining water sources and rivers like the Boteti River, the Savute channel, the Kwando River, the Linyanti River and the Chobe River.
In the rainy season, water and grazing are abundant and the wildlife spreads out over large areas, making game viewing more difficult. It's also one of the most beautiful seasons. Young animals abound, the bush is lush and green and the migratory birds arrive in numbers. Many plants are in bloom and there are dramatic cloud formations and thunderstorms.
Lodge location is an important factor
Many lodges are situated in the national parks and official reserves where off-road driving is not allowed and no bush walks and night drives are offered. Other lodges are built on private land and in concession areas which offer off-road driving, bush walks and night drives with spotlights.
Land- and water-based game viewing
Botswana, particularly its northern rivers, offers the best boat-based game viewing in the world. It's a unique and fascinating experience to quietly drift close to a herd of elephant drinking along the river bank where you get an unhindered view of these magnificent animals as they drink, splash and spray, only meters away.
Another unique experience is floating down a palm-lined channel in the Okavango Delta in a mokoro with your own poler and getting close to hippos, herons and kingfishers in the nearby reeds. The Okavango Delta has to be one of the top birding spots in Africa.
The top two safari destinations within Botswana are the Okavango Delta (including Moremi) and the Chobe River area of the Chobe National Park.
Getting there
You can reach Botswana by road from Victoria Falls, or by air from Maun, Kasane or Victoria Falls. Some lodges can only be reached by air and charter flights will get you from one lodge to the next.
Best times to visit
Please have a look at Botswana's safari calendar for more information on the climate and what to expect during different times of the year.
Central Kalahari Game Reserve
Botswana is arguably the world's best safari destination. Here, you will find some of Africa's largest and wildest game reserves with landscapes ranging from semi-desert to forest and dry savannas to watery swamps – all teeming with wildlife. There are hundreds of safari lodges in Botswana, most situated in prime safari areas and priced in US Dollars.
There are few wild places on Earth that offer the same unique combination of spectacular wildlife, beautiful scenery, palm-fringed waterways, remote islands and vast unspoilt wilderness as Botswana's Okavango Delta. The Okavango swamps are formed by the annual flooding of the Okavango River, which opens into a vast life-giving oasis in Botswana's desert. The delta attracts huge numbers of wildlife due to the permanent water available here.
Maun - Gateway to the Okavango Delta
Kasane town - gateway to Chobe
The Chobe National Park is one of the most popular game reserves in Botswana. Situated in the far north of Botswana, Chobe includes the Savute and Linyanti regions which are known for high concentrations of lion and elephant. However, Chobe is best known for the Chobe River floodplain, where herds upon herds of animals gather in the dry season between June and October. The game reserve is most easily accessed from Kasane, a town just to the east of the park on the banks of the Chobe River, close to the border with Zimbabwe and Victoria Falls.
This vast, unspoiled wilderness area in Botswana's northern region comprises the extensive Kwando/Linyanti River system. Game-rich and scenic, this area is more remote than some of the other game reserves in Botswana. It offers private, informal safaris without any of the restrictions of national parks. Expect night game drives, bush walks, off-road game drives, canoe and mokoro game viewing and even horseback riding safaris.
Moremi Game Reserve is one of Botswana's best Big Five wildlife destinations. The lodges in the Moremi Game Reserve typically offer a combination of 4x4 game drives and boat trips on the waterways of the Okavango Delta. Excellent land- and water-based game viewing and its close proximity to Maun make Moremi Game Reserve a wonderful Southern African safari destination.
Makgadikgadi Pans National Park
Kgalagadi Transfrontier Park
The Kgalagadi Transfrontier Park along with the nearby Tswalu Kalahari Game Reserve is a fantastic, semi-arid safari destination. The Kalahari desert teems with wildlife and boasts dramatic scenery.
You may also want to look at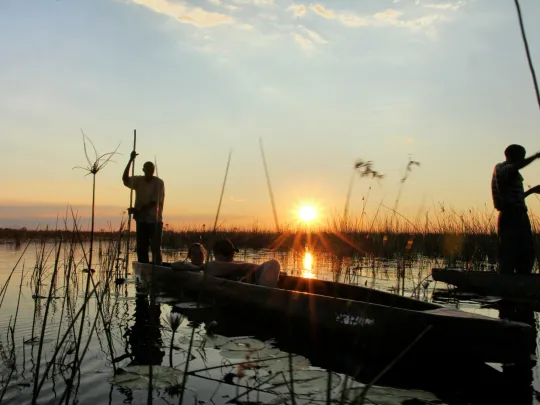 It is easy to combine Botswana and Victoria Falls. This trip idea combines four of Botswana's top safari destinations with two nights at Victoria Falls. The duration is flexible, and you can spend an extra night at any destination on this trip. Botswana has many excellent safari lodges, but we always recommend using ones in the same group or family so you can benefit from long-stay specials. This trip idea is based on Desert & Delta Lodges, which are reasonably priced and lie mainly in the national parks.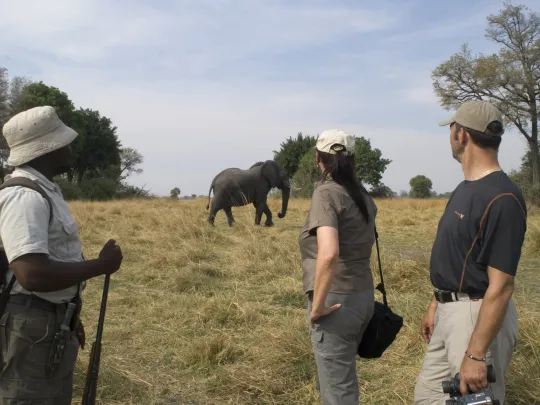 Fly in by light aircraft and spend six nights in some of Botswana's most productive game-viewing areas, combining Kwando's best camps: Splash, Lebala, and Lagoon. Spend two nights at each camp, or spend three nights at Splash and three nights at either Lagoon or Lebala. All three safari camps are in large private concessions and offer a variety of game-viewing activities. Kwando is known for its commitment to a high-quality, traditional safari experience that focuses on authentic bush encounters and the best possible wildlife sightings.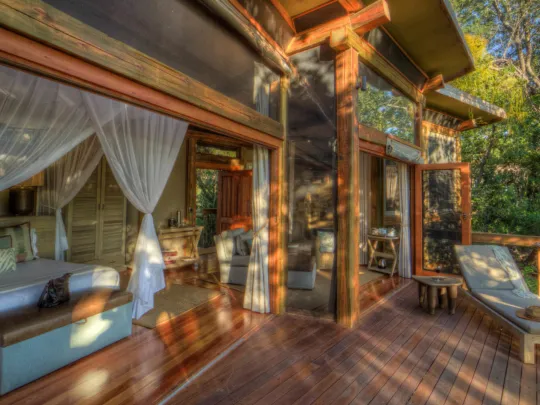 Camp Okavango, situated in the heart of Botswana's Okavango Delta on the secluded Nxaragha Island, is a wetland paradise offering excellent game viewing all year round. This luxury tented camp accommodates 24 guests and each room has its own private deck overlooking the Okavango. The main lodge is built from thatch and lethaka (reed) and offers a cocktail bar, a wildlife reference library and dining room which leads onto a spacious open patio.