Comparing Safaris
Comparing Safaris
We are often asked about safaris offered by other operators - sometimes why they're cheaper than ours. While it's a good idea to shop around and compare quotes before you buy, it helps to make sure that you're comparing apples with apples and know what you're getting. We've prepared some hints and tips on what to look out for while you do your research; it's best to be sure BEFORE the safari, than find out the hard way ON safari ...
For our purposes, we are going to focus mainly on Kruger Park Safaris - since we are ground operators in Kruger, with our own guides and vehicles. However, most of these tips and pointers apply just as well to safaris anywhere in Africa. In Kruger, there are only a handful of quality, established ground operators. Over the years, we've seen a lot of operators come and go, and we know there are plenty of "Kruger Park" safaris to choose from. They differ in price and they differ in quality.
Why Are Some Safaris Cheaper?
Some safari companies seem to offer cheap Kruger Park safaris - and sometimes even cheap "Kruger and Sabi Sand" or other private reserve safaris. As with all things in life, you get what you pay for, and there is always a reason something is cheap. Here are some possible reasons:

First check what exactly is included. In some cases, the price excludes things like your transfers from Johannesburg, or your daily conservation fee (park fees) in Kruger. We include that in our pricing. Many Kruger safaris don't include the return transfers from Johannesburg in their initial quote or website pricing.
Perhaps the camp/accommodation is not inside Kruger Park itself ... nor inside the private reserve. They save on conservation fees this way. A number of "Kruger Park" safaris we know of are actually based outside the park, at a cheap "safari lodge" or even at cheap accommodation in a nearby town.
If the accommodation is situated outside, you'll be entering Kruger Park as a day visitor, subject to queues at the gate, or getting off to a late start (the early part of the day is the best for game viewing). We know of "Kruger safaris" which are based almost an hour from the nearest gate, and a multi-day itinerary includes only one day visit into Kruger. Yet it is marketed as a Kruger safari.
In the case of cheap safaris to the private reserves (eg Sabi Sand), some operators have an agreement with small lodges with very limited traversing rights, not shared with anyone else, which means you're unlikely to enjoy the big cat sightings that Sabi Sand is renowned for. The best lodges have access to a huge traversing area with many safari vehicles in radio contact, calling in sightings so that you have unbeatable game viewing opportunities.
To save costs, some cheap operators tend to use entry-level, inexperienced guides on minimum wage, some of whom may not have a good command of English. Highly experienced guides like ours cost more. More about that below.
Some operators use tented accommodation, without air-conditioning, and using shared, public ablutions instead of your own private bathroom. There are also budget huts in Kruger which cost a lot less than the standard bungalows, but they don't have a private bathroom and use shared ablutions.
Others use cheaper accommodation in fenced-in, small reserves outside the parks to save costs (in some cases also with basic facilities and shared ablutions - a fair distance from your tent).
Conducting most of their game drives and bush walks in small, fenced-in reserves where the game is limited in numbers and variety, keeps their costs lower.
Third-party booking agents or resellers marketing the "Kruger Park safari" may not have any knowledge of the accommodations or tour itself, having never done an inspection or site visit, and are perhaps not familiar with the area as a whole. Be careful of safaris which are vague about what accommodation is used and where it is actually situated.
One way to streamline logistics and save costs is to not have scheduled departure dates and fixed groups for each safari, like we do. A number of safari companies operate like most game lodges do - every day they pick up new guests and drop off departing guests. But this comes at a price. We will get back to this point below.
Lastly, some lodges and operators offer deals that are only available to locals. If you've seen a very good deal online, check the fine print to make sure it's available to everyone, for all dates and seasons, not just to local residents or during low season.
Is it Authentic?
Perhaps the trip is advertised as a "Kruger Park Safari" - or "Sabi Sand Safari" but is it actually based in the Kruger and/or Sabi Sand at all? Will you actually overnight there? Does the tour offer more than a single day visit to the Kruger Park? Or does some of the game viewing involve visiting a wildlife 'sanctuary' where the game are kept in fenced camps? In our opinion, such tours cannot in good conscience be sanctioned as a "Kruger Park" safari. Please do your homework carefully and find out where the safari is based before simply opting for the cheapest option.
What is the Quality of the Guide/s?
Ask anyone who's been on safari - from a first-timer to a seasoned safari goer - what is the single most important ingredient for an unforgettable safari, and you're likely to hear, "the guide". An experienced, enthusiastic guide with excellent people skills, great English and a wealth of wildlife knowledge commands a much higher guide fee than an inexperienced, entry-level guide with only basic bush knowledge. This price difference is reflected in the tour price. Read the reviews on 'neutral' sites like TripAdvisor, Safaribookings.com and so on to get a feel for the calibre of the guide you're likely to get. Please don't underestimate the importance of a top quality safari guide.
Cutting Corners
There are various ways for tour companies to reduce their costs and undercut the competition in terms of price. One such is to offer 'daily departures' but not with a fixed group (as mentioned above), which can mean that new arrivals/departures are collected from/dropped off at the entrance gate daily (sometimes as part of your game drive). In our experience, this seldom makes for a happy safari. Apart from the interruptions to your game viewing, day one guests have different expectations to day three guests: a recipe for disappointment and frustration. For example, day one guests likely wish to stop for almost any animal, whereas day three guests aren't that keen to stop and gaze at the more common animals that they've seen plenty of already, like a herd of impala, zebra or a warthog next to the road.
Another biggie is lodgings. Some budget lodges are perfectly good in every way, just more basic than luxury lodges. Some are simply too basic, too badly located, or too badly managed for us to recommend. Some use shared ablutions instead of offering a private bathroom. Do what you can to find out more about where you will be staying. Here are some pointers:
Is there air conditioning and/or overhead fans (most safari lodges are in hot climates)?
How many rooms/suites are there?
How many guests are there per vehicle on a game drive?
Are the bathrooms en-suite or shared?
What is the game drive traversing area like and with whom do they share it?
Is the lodge inside an actual reserve or park? Is it on private land, a concession area or in a national park? How big is the reserve?
Is there a good staff to guest ratio?
Has the lodge been going for some time?
Are the guides of a high standard? Check their reviews to find out.
Is it poorly located, for example near a boundary fence and perhaps close to villages where you're likely to hear loud music, partying and domestic animal noises at night?!
Does It Matter Which Operator I Book With?
Absolutely! Unfortunately, as with most industries, there are excellent, reputable operators and there are some unscrupulous agents. A safari is a once-in-a-lifetime holiday. You don't want to be left high and dry with no recourse if anything should go wrong. Again, it helps to do some research to determine which ones are worth their asking price. Things to consider:
Read their online reviews on TripAdvisor and SafariBookings and see how what they offer compares to ours.
How carefully do they listen to and respond to your requests? Do you get the sense they have read and understood your requirements? Or simply sent you a standard, cut-and-paste reply?
Do the consultants have detailed, first-hand knowledge of the places or trips they're recommending?
Exactly what is excluded and included?
Are they willing and able to respect your budget, or are they always pushing you to spend more? Some operators only deal with a specific lodge group, or only with expensive, luxury lodges where they can earn more.
Are there any hidden costs, e.g. credit card surcharges, booking fees, conservation fees or entrance fees, and so on?
Very important - are they properly insured and do they offer financial protection? Will you get your money back if the company fails?
Do they belong to respected tourism authorities or industry associations in their area of operation?
Are they too big to be personal? Or not big enough to offer world-class service and terrific destination knowledge? There are dozens of one-man-show agents operating from their house or selling safaris from their garage.
Shouldn't I Just Book Everything Myself?
Of course, you can, but you'll be putting yourself to a whole lot of extra work. Booking with a good operator won't cost you a penny more; in fact, we are often able to save you money on accommodation rates. We know which are the easiest, most affordable ways to get from A to B, where there are detours and poor roads. We can advise you on things like where you should allow for extra time between places, what the baggage allowances are, what you should pack and where the best places are that are most suited to what you're looking for in a dream safari. Just as we can advise you which township tour operators, lodges, transfer companies and hotels to avoid.

Also, if you book yourself you'll need to pay many individual suppliers separately. Some of them may be slow to respond. And you have no recourse or protection if anything goes wrong. It helps to have someone in your corner to negotiate with suppliers on your behalf.
To sum up, booking with us gives you peace of mind because:
You'll get the best rates.
You enjoy full financial protection (through SATSA in South Africa, and ABTA if you book with our UK Office).
There are no hidden extras.
You'll get insider, first-hand destination and safari advice from our friendly, knowledgeable, well-travelled consultants.
You can turn to someone if anything goes wrong and you know it'll be followed up on.
You'll get a handy, detailed travel guide to inform you about what to expect; with advice about a range of issues like tipping, safety and money; information on additional activites; what to bring; and even what to do if you need the bathroom during a game drive!
You'll be able to enjoy a seamless, organised safari where all the hassles of planning and booking have been taken care of for you.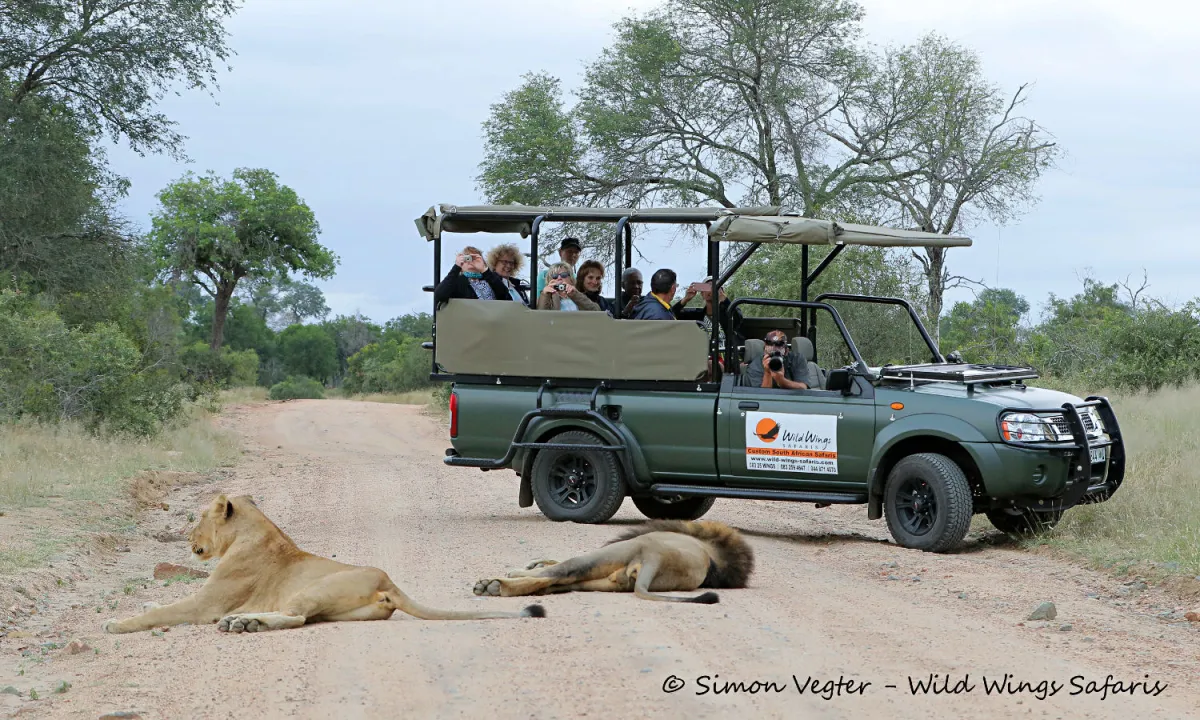 Best Price Guarantee
Please, if you find something cheaper, ask us about it! We are here to help. Our Best Price Guarantee ensures that you will always get the best price from us, so you'll never pay more for the exact same lodge or safari itinerary.
Please ask our opinion about a particular tour or safari or lodge if they seem to be cheaper than something we have offered you. We take pride in offering unbiased, honest and helpful information. It's a good idea to shop around and compare what's on offer, but please don't assume cheaper is better or the equivalent. If it's cheaper, there might be a good reason why it's cheaper, and we'll be happy to examine the quote and comment on it, so you can make an informed decision, and compare apples with apples.