6 Day Masai Mara Wildlife Safari
6 Day Masai Mara Wildlife Safari
This affordable 6-Day Masai Mara Wildlife Safari takes you on the journey of a lifetime to one of the best game viewing areas in East Africa. Our small-group safari is fully guided and overnights in a luxury tented safari camp located in the heart of the Masai Mara National Reserve on the edge of riverine woodlands that overlook the Mara River. To avoid disappointment, be sure to book early!

Highlights
Departs from Nairobi
Affordable luxury safari in Kenya
One-night bed and breakfast in Nairobi, including transfer from the international airport to your hotel
Four nights full board and accommodation in the heart of the Masai Mara National Reserve
Unlimited number of game drives in the Masai Mara with an experienced, English-speaking guide
Watch animals cross the Mara River from your private verandah
Big Five game viewing in the best wildlife areas
Small groups (max 6)
6 Day Masai Mara Wildlife Safari Itinerary
Day 1
When you arrive at Jomo Kenyatta International Airport, a local guide will meet you and transfer you to your hotel in Nairobi for one overnight stay.
Eka Hotel offers modern facilities ideally located for convenient access to some of Nairobi's most popular tourist attractions, such as the Bomas of Kenya, Nairobi National Park, and the Karen Blixen Museum.
If you've had a long international flight and prefer to relax at the hotel, there is a restaurant, a coffee shop, a bar, a gym, a swimming pool, a wellness centre, and gardens.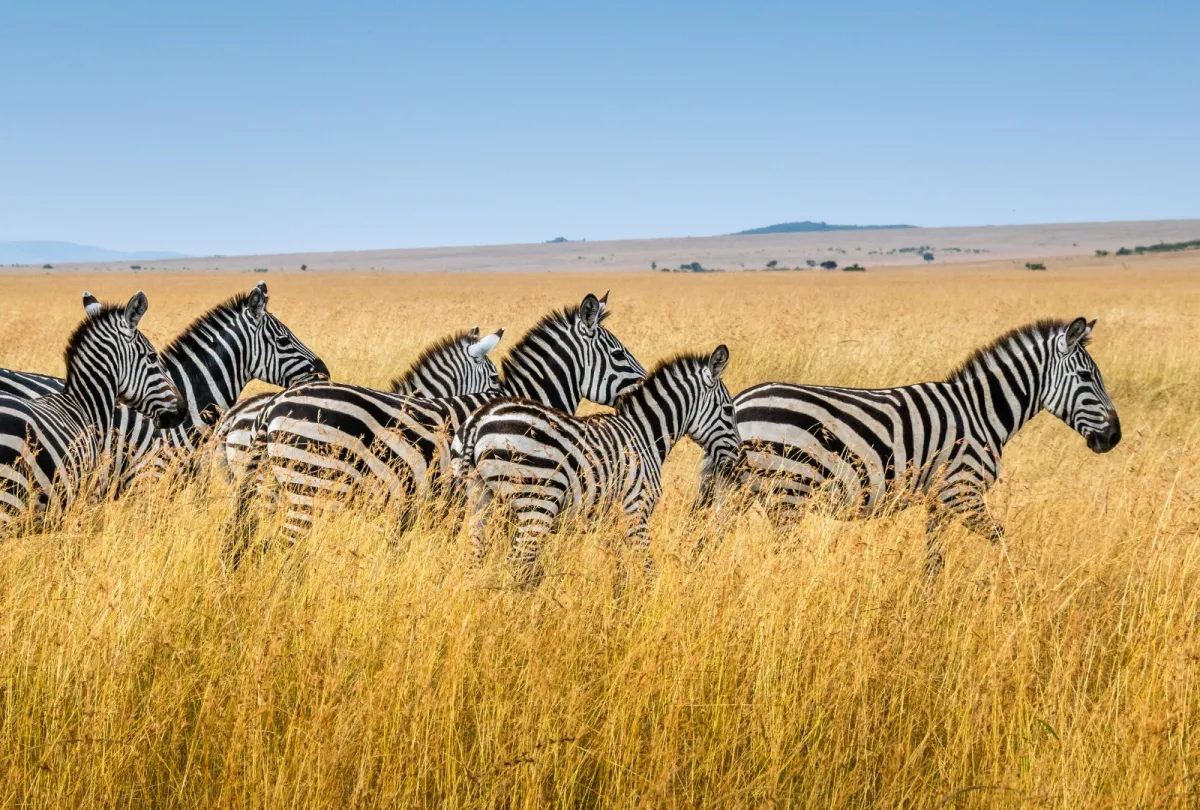 Day 2
Your local safari guide will collect you from Eka Hotel after an early breakfast and drive you to Entim Camp in the Masai Mara National Reserve. On route, your guide will explain the details of your day-to-day game viewing itinerary.
After checking in at Entim Camp, you will enjoy lunch before exploring the Masai Mara National Reserve on your first game drive that afternoon. You will return to camp for a sunset dinner.
You will stay in one of 12 luxury, en-suite safari tents on raised wooden decks overlooking the Mara River. Each tent has a snug lounge area that walks out onto a private veranda under the shade of the dense surrounding riverine woodland.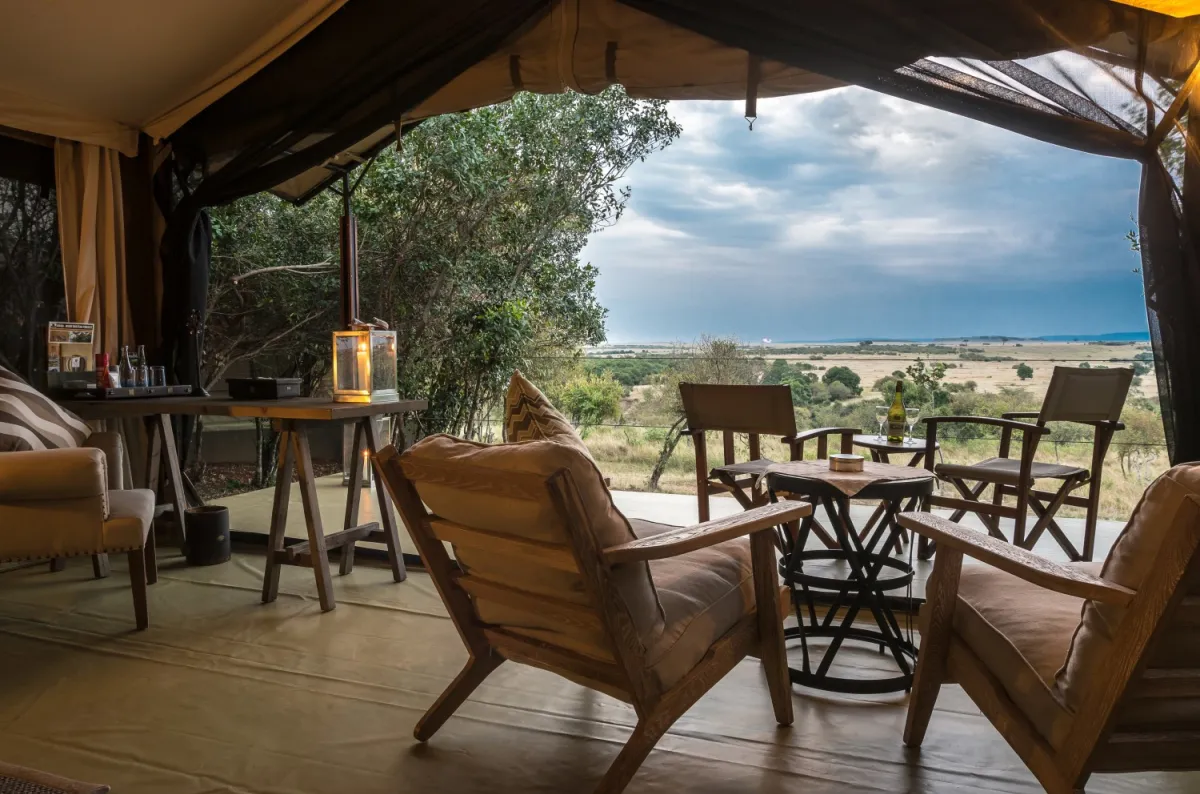 Days 3 to 5
The game-rich Masai Mara National Reserve is one of East Africa's bucket-list safari destinations. Well-known for the spectacular, annual migration of millions of wildebeest, zebra, and other antelope, the reserve spans over 1,500 square kilometres of untamed, shrub-dotted African savanna and makes for a first-class game viewing destination all year round. For the following three days, you will explore the reserve's iconic landscape and incredible wildlife on fully guided game drives.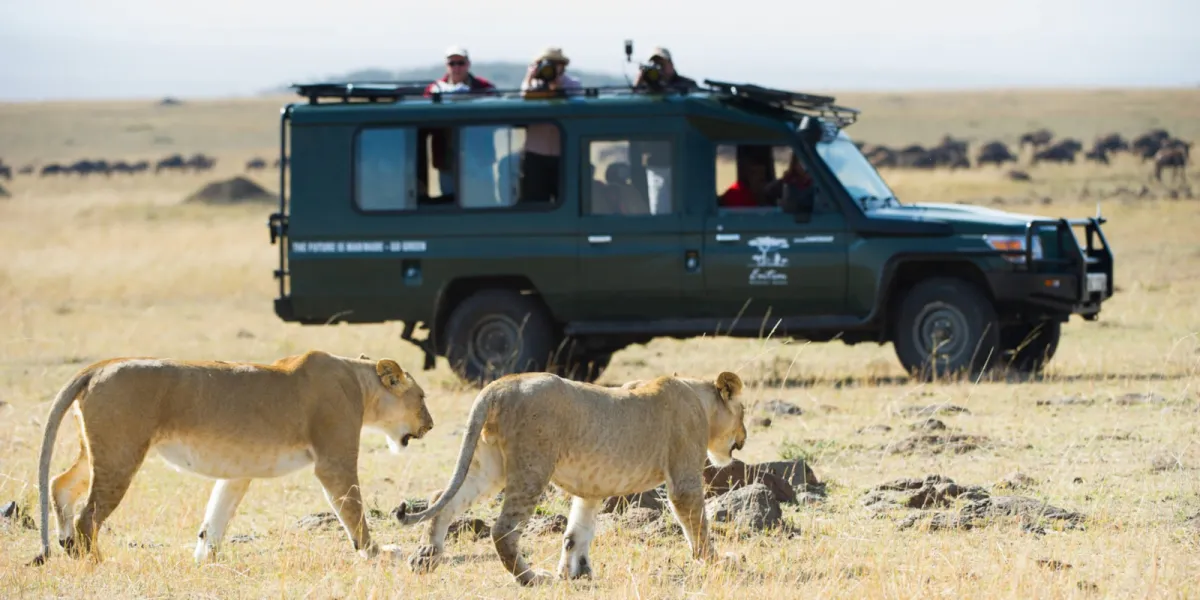 The Masai Mara National Reserve is home to large resident populations of elephant, lion, leopard, buffalo, crocodile, hippo, and over 450 bird species, and has one of the highest cheetah densities in the world. And because of Entim Camp's first-rate location in the heart of the Masai Mara, you will often be first on the scene at wildlife sightings.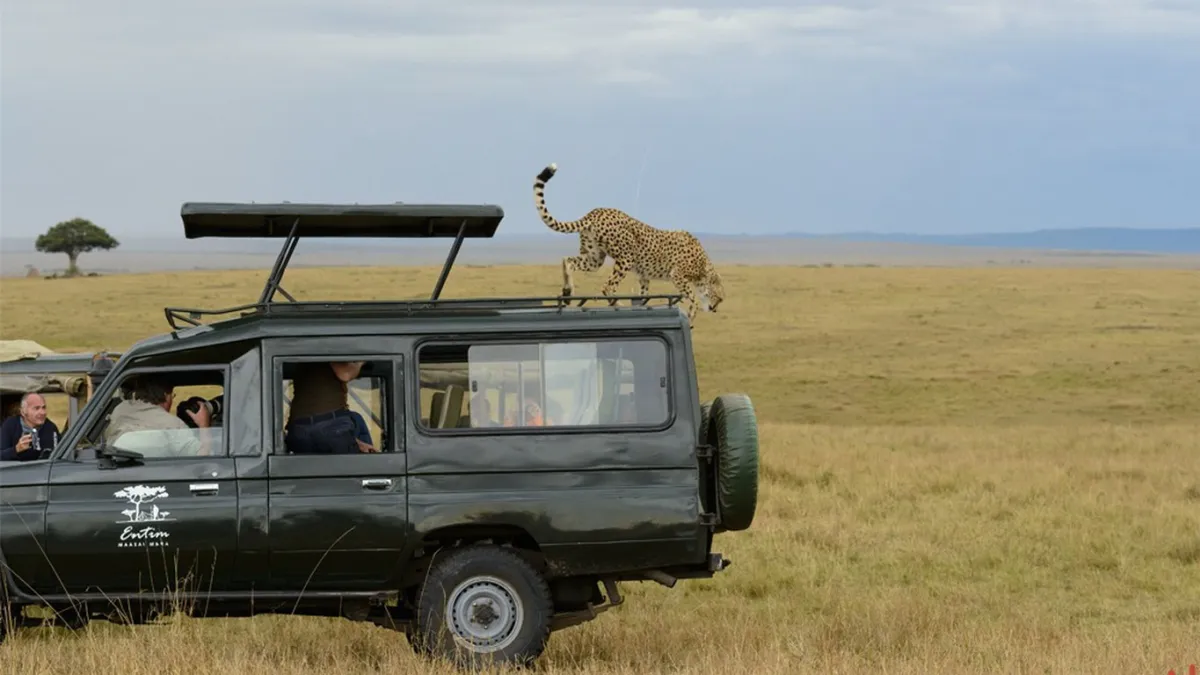 Day 6
After your final morning game drive in the Masai Mara National Game Reserve on Day 6 (speak to your guide about including a picnic breakfast), you will depart for Nairobi.
You can expect to arrive at Jomo Kenyatta International Airport for your outbound flight in the late afternoon.
Please Note:
Please ensure that you do not book an outbound flight that departs before 21h00.
This is an affordable, five-night luxury safari for those who want to experience Kenya's famous Masai Mara in less than a week.
Please book early! This wildlife safari is in demand, and short-notice availability is minimal.
Custom Tour Dates

We offer this safari on any departure date that suits you subject to the availability of accommodation. Entim Camp closes between 1 April and 31 May. Feel free to send us an enquiry about other accommodation options in the Masai Mara over this period.
Rates
Period
Price per person (pp)
January 3, 2023 - March 31, 2023 & June 1, 2023 - June 30, 2023 & October 16, 2023 - October 31, 2023 & December 1, 2023 - December 14, 2023

$3,025

£2,422

€2,819

R56,940

July 1, 2023 - October 15, 2023 & December 15, 2023 - January 2, 2024

$3,420

£2,739

€3,187

R64,375

November 1, 2023 - November 30, 2023

$2,530

£2,026

€2,358

R47,622

January 3, 2024 - March 31, 2024 & June 1, 2024 - June 30, 2024 & October 16, 2024 - October 31, 2024 & December 1, 2024 - December 14, 2024

$3,390

£2,715

€3,159

R63,810

July 1, 2024 - October 15, 2024 & December 15, 2024 - January 2, 2025

$3,830

£3,067

€3,570

R72,092

November 1, 2024 - November 30, 2024

$2,835

£2,270

€2,642

R53,363
The rate is per person sharing. Please ask us about the applicable single supplement, child policy, and child rates.
All rates on our website are provided to give a price estimate only and should not be seen as a firm quote. Likewise, our currency converter will give you a rough idea of the price in another currency, but should not be seen as a firm quote. It is only intended as a guideline, based on the daily interbank exchange rate. Please contact us to receive an accurate, free quote with no obligation.
Includes
Eka Hotel
Meet and greet at Jomo Kenyatta International Airport
Transfer to Eka Hotel
One night accommodation and breakfast
Entim Camp
Guide and vehicle for the duration of the tour
Accommodation and all meals
Drinks
Laundry
Daily game drives in Masai Mara National Reserve
Other
Transfer from Eka Hotel to Entim Camp on Day 2
Transfer from Entim Camp to Jomo Kenyatta International Airport on Day 6
Exclusive use of one 4 x 4 safari-equipped Toyota Land cruiser
Masai Mara National Reserve park fees
Domestic emergency evacuation insurance
Excludes
Eka Hotel
Dinner
Items of a personal nature
Visas if applicable
Entim Camp
Items of a personal nature
Gratuities (Optional)
Other
International flights and medical insurance
Tips and gratuities for driver, guide, local guides, and hospitality staff
Additional nights' accommodation in Nairobi
Additional airport transfer if guests overnight in Nairobi
You may also want to look at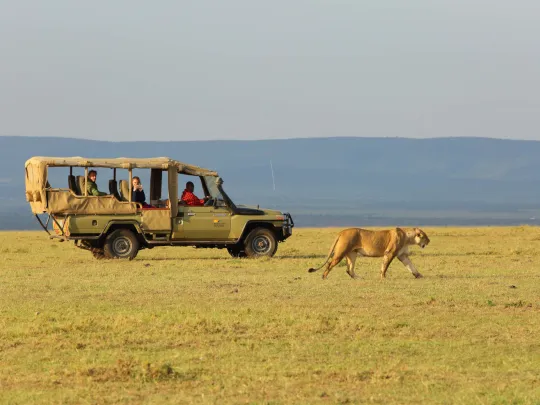 Our 6-Day Masai Mara Budget Safari delivers some of the best game viewing opportunities in East Africa, for an affordable price. This fully guided, small group safari overnights in eco-friendly, en-suite tents along the banks of the Talek River on the edge of the Masai Mara National Reserve. Book early to avoid disappointment!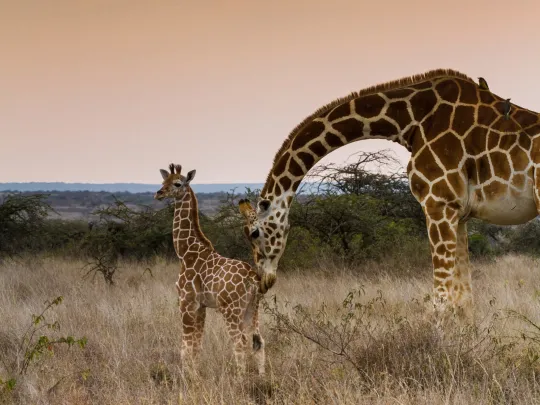 Our 7 Day Classic Kenyan Conservancy Safari combines two of the most popular travel regions in Kenya — Laikipia and the Masai Mara. The Ol Pejeta Conservancy in Laikipia, central Kenya, offers 365 km² of quality game viewing. Spend three nights at Kicheche Laikipia, situated at an active waterhole with frequent visits by elephant, black rhino, plains game and a wealth of birdlife. Then fly down the Rift Valley to an exclusive conservancy near the Maasai Mara National Park. Only a few vehicles are permitted here. Enjoy unhindered views of spectacular wildlife in some of the most breathtaking African scenery.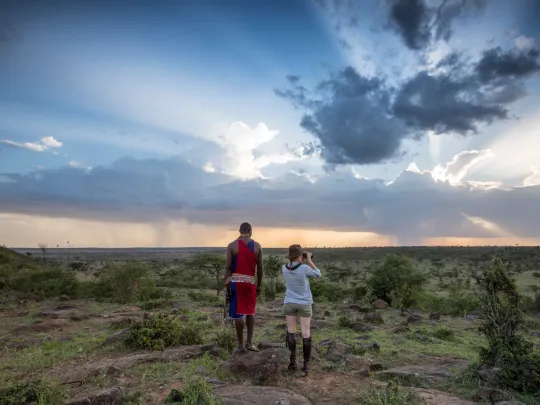 Our 7 Day Kenyan Adventure Safari Tour introduces you to the wilder side of Kenya on an affordable budget. Explore Laikipia Plateau's sweeping plains on foot, where the last of Kenya's African wild dogs have found refuge. Discover why the Masai Mara's lush grasslands, acacia woodlands, rolling savannahs and abundance of wildlife make it one of Africa's most iconic safari destinations. In season, witness one of the world's natural wonders, the Great Migration, where one and a half million wildebeest, zebra and antelope leave the Serengeti for the Masai Mara.