About Wild Wings Safaris
About Wild Wings Safaris
Offices in the UK and South Africa
Wild Wings Safaris is a specialist safari operator with offices in the UK and South Africa. Since 2005 we've grown to become one of the top rated African safari operators. We arrange tailor-made safaris to all the top safari and travel destinations throughout Southern and East Africa, including the Kruger National Park, Sabi Sand Game Reserve, Victoria Falls, Okavango Delta, Serengeti, Masai Mara and more.

Ground Operator for Kruger National Park
In South Africa, we conduct affordable Kruger National Park safaris with our own custom safari vehicles and highly experienced guides. Our scheduled Kruger Park small group safaris depart regularly from Johannesburg, Nelspruit or Cape Town. We also create bespoke safaris to game reserves and safari lodges throughout Southern and East Africa. Every member of our team has traveled extensively, which allows us to offer expert advice and design custom itineraries to meet your exact budget and requirements.
Best price guarantee
Our best price guarantee ensures you will always pay the lowest possible rate. We do not charge any booking fees. If you book with us, you will pay the same as, or often less than, if you book directly with each lodge or via an online booking platform. Plus you get the benefit of our expertise, and you always have someone to turn to. We offer 24/7 customer support, before, during and after your trip.

About Our Offices and the Financial Protection We Offer You
Wild Wings Safaris operates as one brand, but our offices in the UK and South Africa are separate legal entities.
Our Office in the UK
If you book through our UK office, you will be contracting with Wild Wings Safaris UK Ltd, a company registered in the UK and subject to UK laws and regulations. For your financial protection, our UK office is a member of ABTA (member number Y6147) and has Financial Failure Insurance in place via AVS.
When you book with our UK office, you will receive your quote in British Pounds (GBP) and will need to pay into our UK bank account (credit cards accepted).
Our Head Office in South Africa
When you book through our South African office, you will be contracting with Wild Wings Safaris (Pty) Ltd, a company registered in South Africa and subject to SA laws and regulations.
For your financial protection, our SA office is a member of SATSA (member number 1540), the Southern Africa Tourism Services Association, which includes bonding insurance.
If you wish to book via our SA office, you will receive your quote in South African Rand (ZAR) and will need to pay into our SA bank account (credit cards accepted). Alternatively, you can pay by bank transfer in USD into our USD account (no credit cards accepted).
Comprehensive Public & Passenger Liability Insurance
Both our UK and South African offices are covered by extensive public liability and passenger liability insurance, underwritten by Lloyd's of London. If you are from the UK, we recommend that you book via our UK office to ensure that you benefit from our ABTA membership and Financial Failure Insurance, as well as the UK's consumer protection laws.
Please feel free to discuss these options with your consultant if you are not sure which office to book through, or if you have further questions about this.
What sets us apart?
Wild Wings Safaris is a small, owner-run company with a reputation for excellence and top-notch service delivery. We love what we do, and we love doing it well!
From your first enquiry until after your safari, we go out of our way to ensure that we exceed your expectations. Of course, a lot of companies say that, but very few can match our track record and review history.
We have won multiple awards on TripAdvisor and we invite you to check out our Tripadvisor reviews to see what our clients say about us.
We are also represented on SafariBookings.com, an independent online safari marketplace where we also have a growing list of great reviews, and have consistently been featured in their list of top rated safari tour operators in South Africa.
Commitment Fee
Since 2005, Wild Wings Safaris has become one of the most highly rated African safari operators. As a small company, we face one challenge which comes with being one of the best. Our stellar reputation translates into high demand for our expertise. At times, we are so inundated with new requests that we are forced to turn some people away. As a result, in order to assist more people and to maintain the high standards of customer service we have become known for, we have found it necessary during busy periods to request a small commitment fee early on in the booking process. Your consultant will explain this in more detail, if applicable.
We'll Help You Design an Unforgettable Safari
We will custom design an itinerary that is perfect for you, after listening carefully to your interests and requirements. We understand what makes a safari special and work hard to make sure that your safari vacation is the trip of a lifetime.
Our aim is to ensure that all your questions are answered, that you are properly informed and prepared before departure, and that your safari runs safely, smoothly and seamlessly from start to finish. We pay careful attention to detail and take all the hassle out of planning and arranging your trip to Africa!
We are proud of our reputation for offering honest and expert advice, as well as excellent rates. We are not affiliated to any particular lodge or hotel group, so we can compare properties and give unbiased advice based on our own personal expertise and knowledge of the destinations.
Most Major Credit Cards Accepted
We accept Visa, MasterCard and American Express card payments through our secure online payment facility, and of course we add no credit card surcharge.
Hand-Picked, Local Consultants
Although we have offices in London and South Africa, all of our tour consultants are based in South Africa so they can travel often to stay in touch with local conditions.
We pride ourselves on our first-hand expertise. Collectively, we have been to almost all of the camps, lodges, hotels and game reserves we recommend. Our depth of local knowledge is matched by very few competitors and one of the key advantages of booking with us.
Our consultants are friendly and helpful and dedicated to helping you plan your trip of a lifetime. You will find that they are not pushy; they will listen to you and may also ask a lot of questions to make sure that the proposal they put together matches your exact requirements.
We pay our consultants well in order to retain the very best professionals in the industry - dedicated safari experts who are mature, responsive, friendly, patient, accurate, and honest. They pay attention to detail, love African travel and have vast destination knowledge.
Although our consultants are based in South Africa, any of them can be reached by phone, Skype and Whatsapp during office hours: 8 am - 5 pm CAT (Central African Time) or GMT +2. Calls to our UK office can be transferred to our South African office too during these times.
24-Hour Emergency Number and Emergency Response
When you book with us, you will receive a 24-hour, constantly-manned number for you to get hold of us at any time of the day or night in case of an emergency or a very urgent matter to do with your booking.
In addition, depending on your travel destination, we include a subscription to the Secura Traveller App for the duration of your trip, which gives you a panic button on your phone and immediate access to a large network of trained medical emergency and armed response companies to get assistance to you in the shortest possible time, wherever you are.
Don't let this give you the wrong impression. Since 2005, having hosted many thousands of tourists, we have never had a safety or security incident, and not a single case of violent crime on any of our tours. But even if you slip and fall in the shower, help is always close at hand. You can enjoy complete peace of mind throughout your safari, knowing that we're only a phone call away to deal with any eventuality or situation.
Our Guides
Apart from your tour consultant, the quality of your safari experience is hugely reliant on the quality of the guide who leads your safari.
When you book with Wild Wings Safaris, in particular on our own Kruger Park safaris, you will have a mature, experienced, professional, passionate, English-speaking safari guide.
To see what a difference this makes, I invite you to read some of our online reviews and see what our guests have to say about the guides we use. The quality of our guides is one of the strongest selling points of our Kruger Park open vehicle safaris, yet it is something that is often overlooked.
Of course, we have little or no control over the specific guide you will get when visiting a private safari lodge but, since we have collectively visited almost all the lodges we sell, we have a good idea of the general guiding standard at each of the various safari lodges.
Our Vehicles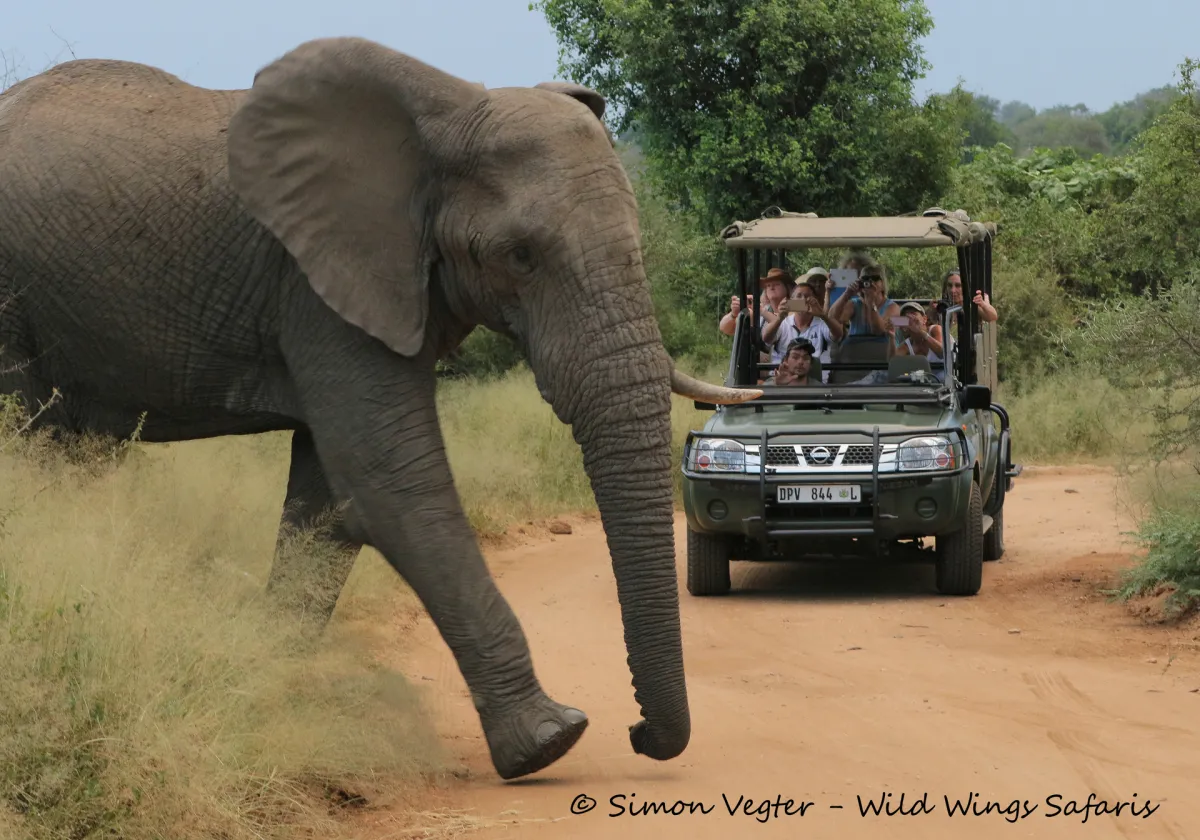 Wherever possible, all game drives are conducted in an open safari vehicle, specially designed to give you the best game viewing experience.

On our own Kruger Park safaris, we offer complimentary bottled water, blankets and a pair of courtesy binoculars on each game drive (but it is still best to bring your own binoculars). Transfers and tours are conducted in a luxury air-conditioned minibus.
All our vehicles are meticulously maintained and carry a comprehensive first aid kit as well as substantial passenger liability insurance.
Responsible Tourism
Low Environment Impact, High Social Impact
Wild Wings Safaris is committed to being socially as well as environmentally responsible in our tourism practices. We strive to leave the minimum impact on the environment, while leaving behind a positive social impact. Social and environmental issues often go hand-in-hand.
We believe that environmental sustainability of tourism is tied to social responsibility and that educating local communities is one of the most important tasks in conservation.
Poverty is a threat to conservation efforts and many wild areas in Africa are under threat from local communities who are desperate for food and land. Education is the key to social upliftment and alleviation of poverty and is one of the most important strategies in long-term conservation efforts.
Education empowers people and opens the door to a better future. It is the only long-term solution to the problems of unemployment and poverty, which lie at the root of many other social ills in society.
Education is the most powerful weapon which you can use to change the world.

This is why we have launched the Wild Wings Educational Trust, a non-profit trust fund that supports local education projects and gives African children a brighter future through better education. Our pledge is to match every contribution from our clients toward the Trust, up to 1% of their trip costs.
Donations to the trust are completely voluntary, and any amount is appreciated. Even 0.5% of your trip cost will make a huge difference.
To find out more about how we are improving education in our local communities and how you can support this effort, please visit the Trust's website, www.wildwingstrust.org.
How to contact us
To make an enquiry, please email us, phone us or complete the online enquiry form. All contact details are available on our contact page. Remember that you don't commit yourself to anything by making an enquiry.
Our advice, quotes and proposals are offered free of charge and there is no obligation to book with us even after you have received a proposal.
Of course, we hope that we will be able to impress you with our levels of service and destination knowledge, so that you'll decide to book with us in the end, even after shopping around and comparing other quotes.
If there is anything you're not sure of or would like more information about, please just ask. We're here to help.