Kichwa Tembo Tented Camp
Kichwa Tembo Tented Camp
This luxury safari camp is set at the edge of riverine forest, overlooking the sweeping plains of the Maasai Mara, and it lies within the path of the incredible annual Great Migration. At Kichwa Tembo Tented Camp, you can expect an authentic African safari experience with legendary Kenyan hospitality.
Highlights
In the path of the annual Great Migration
On a private concession next to Maasai Mara National Park
Offers sweeping views over the plains
Vast herds of animals on your doorstep
Game drives, bush walks, hot air ballooning
Visits to local Maasai cultural villages
Community support and involvement
The camp has recently been redone to take full advantage of its enviable panoramic views over the Maasai Mara.
Luxurious family accommodation
Modern, elegant and luxurious, the camp is designed for your privacy and comfort. The 12 traditional luxury tents are in the forested section of the camp with views out over the Sabaringo River. The 28 modern superior tents are larger, more spacious, and enjoy exceptional views of the Maasai Mara or forest thickets. Children are welcome at Kichwa Tembo.
Set on private concession
Kichwa Tembo is on private land, leased from Maasai landlords. It's very secluded with abundant wildlife. The main lodge is spacious with different levels that can comfortably cater for the busy season or adapt to a more intimate and exclusive setting in quieter months. There's a spacious lounge, dining and bar area leading out onto a deck with a rim-flow swimming pool, all of which offer endless views over the Maasai Mara. There's also an on-site spa and safari shop with exquisite Kenyan crafts.
Your typical day at Kichwa
With a gentle wake up at dawn, your guide will chat about your wishlist over tea or coffee and rusks. Then it's game drive time in an open safari vehicle, following the Great Migration if possible. You'll also have a light refreshment stop midway. Returning to camp mid-morning, there'll be a hearty brunch waiting for you. If you prefer, you can choose to take a packed breakfast and stay out longer on your game drive.
At around midday, it's time to relax around the pool, while you wait for lunch to be served, followed by siesta time. After late afternoon tea, you'll again set out for either an afternoon game drive or bush walk. Again, you'll break for refreshments midway. In the evening, you can look forward to a delicious evening meal, usually served al fresco under the stars with a blazing fire.
Expert staff and rangers
This lodge group (&Beyond) is proud of the calibre of their staff. You'll find each member is superbly trained and shares a passion for hospitality and every facet of life in the Maasai Mara. The excellent guides will willingly share their incomparable wealth of knowledge about the habitats and behaviour of all the birds, animals and insects of the Maasai Mara, as well as its ecology and its wealth of trees and plants. Many of the guides are from local communities and can give you invaluable insight into the local cultures.
Superb game activities
The Maasai Mara is arguably the most game-rich area in Africa with sheer numbers of animals that don't occur elsewhere. This includes the Great Migration, one of the most spectacular natural phenomena in the world, where some 2 million wildebeest and zebra go on the move in search of better grazing conditions. Besides your two daily game activities, there are a host of other optional activities like guided nature trails, night game drives, bush breakfasts, sundowner cocktails, morning hot air balloon rides and visits to local Maasai village to watch their fascinating dancing rituals.
Active involvement
Within &Beyond's group philosophy of sustainable operations and assisting the communities in which it operates, Kichwe Tembo Tented Camp stands tall. Some of the many local and district activities it's involved with include assisting the Mara Conservancy with environmental management, anti-poaching and animal rescue, recycling the lodge's grey water, helping control and remove invasive alien plants, reducing use of fossil fuels with projects to create fuel bricks from waste paper and coal dust, supporting the community-owned vegetable garden (shamba) which provides fresh salads and vegetables to the lodge, establishing health and education programmes to help free the local communities from the burdens of lack of skills, poverty, malnutrition, gender inequity, HIV/AIDS and TB; and so much more.
Getting there
There are two daily scheduled flights (approx. 1 hour) from Nairobi's Wilson Airport to Kichwa Tembo's private airstrip. There is also a daily flight from Mombasa Airport (approx. 2 hours). From the airstrip, it's a 30-minute scenic game drive to reach the lodge.
Our take on Kichwe Tembo Tented Camp
One of &Beyond's more affordable camps, Kichwe Tembo offers all the luxury, comfort and exceptional hospitality and service you'd expect. Being on a private concession, you're also away from the crowds that are attracted to the Maasai Mara over the Great Migration time. A superb tented camp that offers you an extraordinary safari experience. Simply enjoy.
Includes
Accommodation
Three meals daily, teas and coffees
Two safari activities per day
Emergency medical evacuation insurance
Transfers to and from the camp airstrip
Excludes
Telephone calls
Safari shop purchases
Gratuities
All items of a personal nature
All alcoholic and non-alcoholic beverages
Maasai Mara National Park fees
You may also want to look at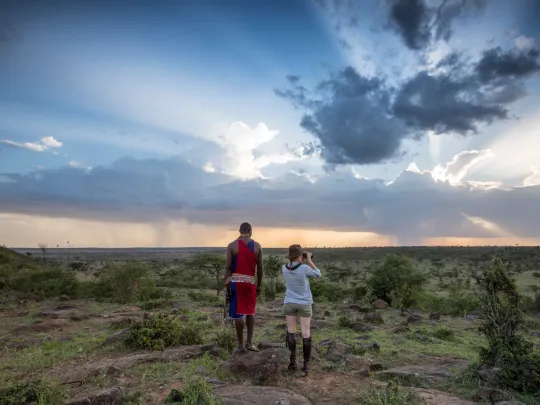 Our 7 Day Kenyan Adventure Safari Tour introduces you to the wilder side of Kenya on an affordable budget. Explore Laikipia Plateau's sweeping plains on foot, where the last of Kenya's African wild dogs have found refuge. Discover why the Masai Mara's lush grasslands, acacia woodlands, rolling savannahs and abundance of wildlife make it one of Africa's most iconic safari destinations. In season, witness one of the world's natural wonders, the Great Migration, where one and a half million wildebeest, zebra and antelope leave the Serengeti for the Masai Mara.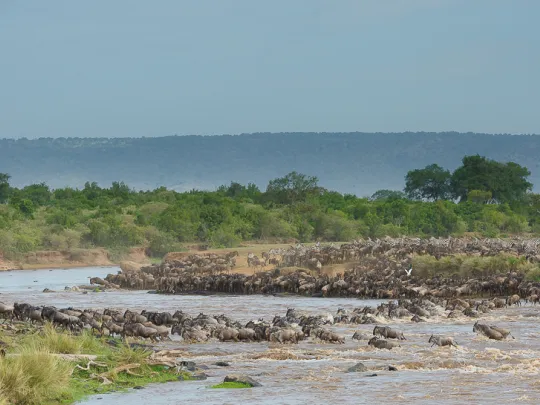 The Maasai Mara, Kenya. Also sometimes written as the Masai Mara. It's said that you won't find a greater abundance of game anywhere in Africa, as you will in Kenya's Maasai Mara National Park. Apart from the Big Five, the reserve is home to an incredible variety of wildlife in large numbers like the annual wildebeest migration involving over 1.5 million animals.