Okavango Delta Travel Guide
Okavango Delta Travel Guide
There are few wild places on Earth that offer the same unique combination of spectacular wildlife, beautiful scenery, palm-fringed waterways, remote islands and vast unspoilt wilderness as Botswana's Okavango Delta. The Okavango swamps are formed by the annual flooding of the Okavango River, which opens into a vast life-giving oasis in Botswana's desert. The delta attracts huge numbers of wildlife due to the permanent water available here.
Highlights
Vast unspoilt wilderness area
Large choice of safari lodges
Excellent game viewing (including the Big Five on Chief's Island)
Mokoro trips (dugout canoes) through the Delta
Boat cruises
Open 4x4 safari vehicle game drives
Guided bush walks
Prolific birdlife
Wild and untouched, Botswana's Okavango Delta offers a unique safari experience that combines incredible wildlife and beautiful scenery few places on Earth can live up to.

Wildlife
The world's largest inland delta, Botswana's Okavango Delta turns the surrounding Kalahari into a wildlife paradise that remains largely untouched by its isolation and inaccessibility by road. The network of papyrus-lined water channels snaking through the wilderness creates islands and floodplains that are a refuge for many species of animals, including the Big Five.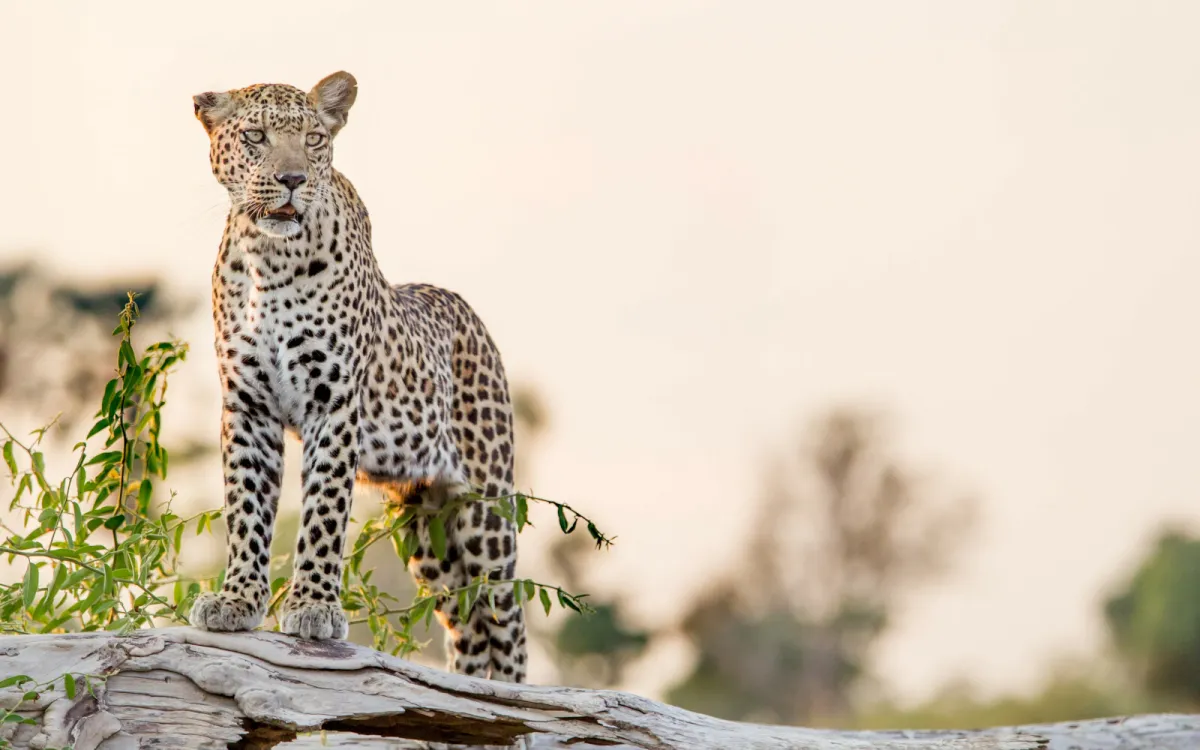 No matter what time of year you go on an Okavango Delta safari, you're likely to encounter large numbers of elephants and buffalos as well as hippo, zebra, giraffe, wildebeest, impala, kudu, waterbuck, tsessebe, red lechwe and healthy populations of sitatunga, a rare swamp-dwelling amphibious antelope. Predator sightings include lion, leopard, cheetah, hyena, black-backed jackal and African wild dog.
Over 400 species of bird can be found distributed throughout the Delta, depending on the habitat they favour. The slaty egret tends to stick to the reeds near shallow pans while wattled cranes can be spotted searching for food in the wet grasslands and floodplains.
Accommodation
A large variety of safari camps and game lodges are situated in the Okavango Delta and your choice of accommodation will determine the type of game viewing experience. Some camps and lodges offer more land-based safaris, meaning their primary game-viewing activity is game drives. Others are more water-based, offering water-based activities such as mokoro trips and boat cruises. Many lodges offer a combination of land-based and boat-based game viewing.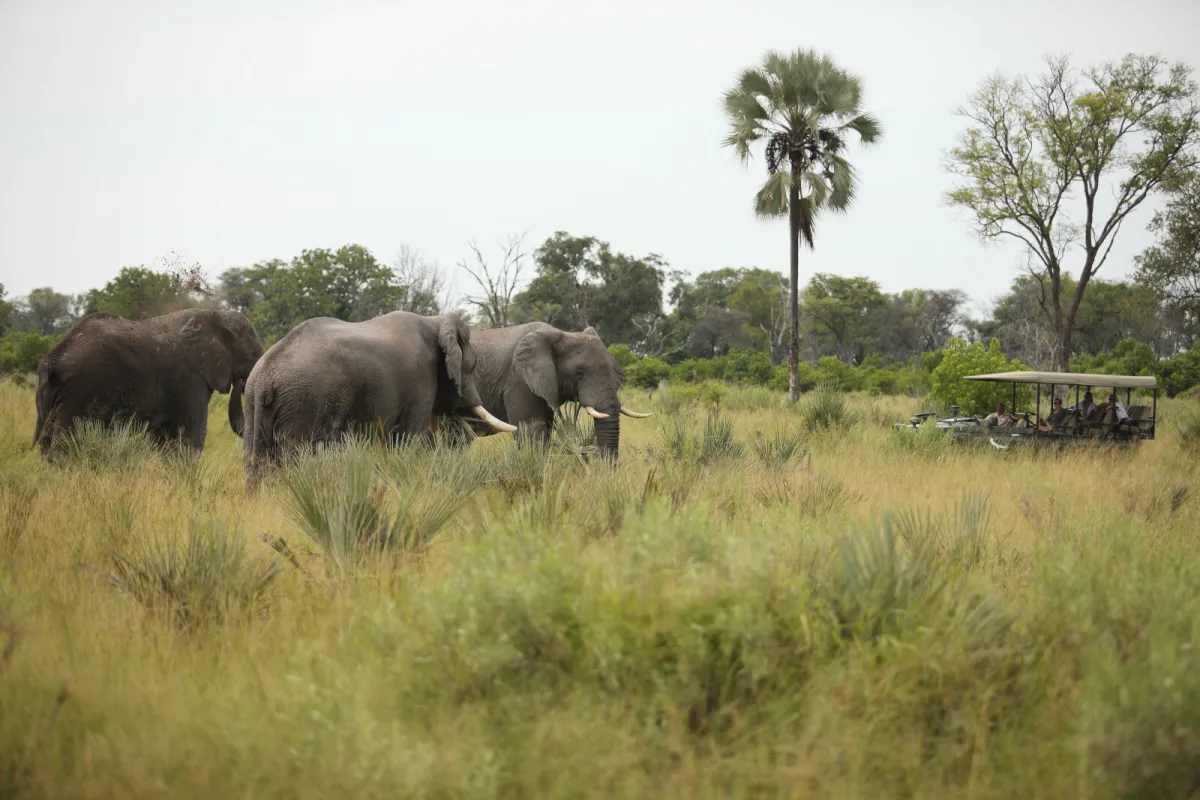 The safari lodges in the Okavango Delta are expensive compared to other safari destinations but well worth the cost. Some of the lodges are situated in private concession areas where night drives, bush walks, fishing and off-road driving is permitted. These activities are not permitted at lodges situated inside the national parks.

Getting there
By air - Okavango Delta safaris start with a domestic flight in a light aircraft from Maun to your lodge or safari camp's airstrip. Depending on where your accommodation is located in the Delta, the flight takes between 15 and 45 minutes. You'll be met at the airstrip and transferred to your final destination.
Our take on the Okavango Delta
The Okavango Delta offers a truly unforgettable wilderness experience with some of the best game viewing and most remote lodges in Botswana. Its vast size and abundant wildlife ensure that every visit to the Okavango is different.
You may also want to look at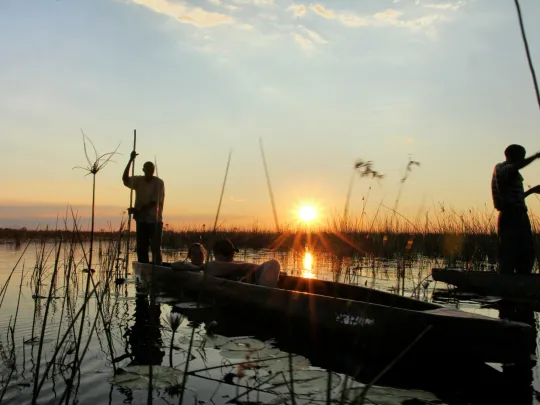 It is easy to combine Botswana and Victoria Falls. This trip idea combines four of Botswana's top safari destinations with two nights at Victoria Falls. The duration is flexible, and you can spend an extra night at any destination on this trip. Botswana has many excellent safari lodges, but we always recommend using ones in the same group or family so you can benefit from long-stay specials. This trip idea is based on Desert & Delta Lodges, which are reasonably priced and lie mainly in the national parks.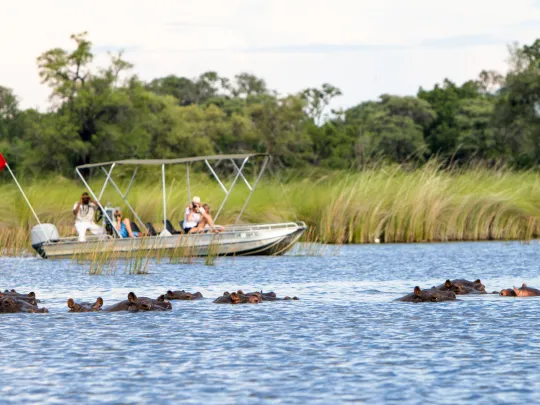 Camp Moremi is a serene tented camp at the edge of the Okavango Delta, within the Moremi Game Reserve in Botswana. Renowned as one of the best game-viewing areas in Botswana, the Xakanaxa area surrounding this camp offers you the opportunity to enjoy the beauty of the Okavango from open 4x4 vehicles, motorised river boats or even from your private viewing deck.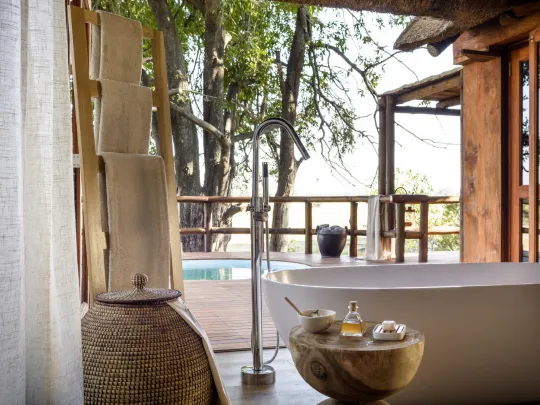 Chief's Camp is an idyllic luxury safari camp and one of only two lodges situated on Chief's Island in Moremi Game Reserve in the Okavango Delta – the only place in Botswana where rhinos can be found in their natural environment. The area around Chief's Island is seasonally submerged by floodwaters and offers exceptional game viewing all year round. Chief's Island is home to the Big Five and is known as the "predator capital of Africa".