Accommodation in Okavango Delta
Accommodation in Okavango Delta
The greater Okavango Delta includes the Moremi Game Reserve, the town of Maun, as well as vast areas of private concessions or community land dedicated to eco-tourism and conservation. The lodges and safari camps listed here offer either water-based or land-based activities, or both. Many of these lodges can only be reached by light aircraft from Maun. We can arrange your flights to and from the lodge.
The Okavango Delta is just one of those extraordinary places on earth. It offers some of the best game viewing - and some of the most remote lodges in Botswana, accessible only by light aircraft. Generally, the lodges here are more expensive than others in Botswana (and in southern Africa generally) but they are well worth the extra cost. Because of the vast waterways, game is prolific and the safari experience is very rewarding. Simply soaking up the stillness and unspoilt beauty of the Delta is reason enough to visit.
Some of the safari lodges and tented camps offer game vieiwing by open safari vehicles. Others offer game viewing by motorboat or mokoro (dug-out canoes). Many lodges offer a great combination of game viewing both by land and water.
Several of the lodges are in private concession areas where - unlike national parks - bush walks, off-road driving, night drives and fishing are permitted.
You may also want to look at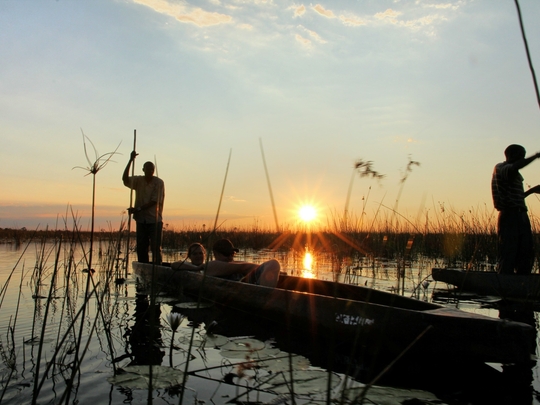 It is easy to combine Botswana and Victoria Falls. This trip idea combines four of Botswana's top safari destinations with two nights at Victoria Falls. The duration is flexible and you can spend an extra night at any of the destinations on this trip. Botswana has many excellent lodges, but we always recommend using lodges in the same group or family so you can benefit from long-stay specials. This trip idea is based on Desert & Delta Lodges, which are reasonably priced and lie mainly in the national parks.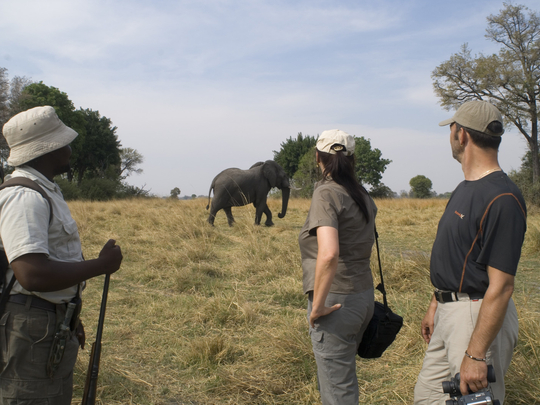 Fly in by light aircraft and spend six nights in some of Botswana's most productive game-viewing areas, combining Kwando's best camps: Splash, Lebala, and Lagoon. Spend either two nights at each camp, or three nights at Splash and three nights at Lagoon or Lebala. All three camps are in huge private concessions and offer a variety of game-viewing activities. Kwando is known for its commitment to a quality, traditional safari experience where the focus is on a true bush encounter and enjoying the best possible wildlife sightings.