Amboseli National Park Travel Guide
Amboseli National Park Travel Guide
Probably second only to the Maasai Mara in popularity, Amboseli National Park is a fairly small park known for its vast elephant herds. They're often photographed with nearby Mount Kilimanjaro as a backdrop. Only 200 km from Nairobi, Amboseli combines well with a number of other game parks for an outstanding Kenyan safari experience.
Highlights
Iconic, snow-capped Kilimanjaro as a backdrop
Known for its huge herds of elephants
Excellent variety and abundance of wildlife
Great selection of safari lodges
Game viewing includes game drives, walking and horseback safaris
Different types of landscapes add to scenic safari experience
Amboseli National Park is on the Tanzanian border, just northwest of Mount Kilimanjaro (or Kili as it's known to locals), and provides the most iconic and majestic views of the world's highest free-standing mountain. It's probably one of the most photographed wildlife areas in the world. You'll see it typically showing huge herds of game pictured in front of the backdrop of snow-capped Kili.
Small in size, but not in wildlife
The smallish park, covering just 390 km², is part of the vast Amboseli ecosystem of 3,000 km² with a variety of landscapes from dry expanses of open plains and rocky thornbush to acacia woodlands, swamps and marshlands. Amboseli National Park is best known for its huge herds of elephants. An abundance of wildlife congregates here in the dry season, making this park second only to Masai Mara in popularity.
Great choice of lodges and game viewing options
There is a good choice of luxury lodges at Amboseli and you have the option to go on game drives, horseback safaris and guided bush walks with experienced guides and rangers. The game viewing is not quite on par with Masai Mara as it's a much smaller park, but you're likely to see the big African mammals; elephant, lion, buffalo, leopard, cheetah, spotted hyena, giraffe, several antelope species and other plains animals. Birding is very respectable with over 300 species recorded here.
Within easy reach of Nairobi
Amboseli is about 200 km from Nairobi and is often included on safari itineraries as it's easy to get to by road or air. It combines well with safaris to Maasai Mara and Tsavo National Park as well as parks in neighbouring Tanzania like Mount Kilimanjaro, Arusha and the more famous Serengeti, Tarangire and Ngorongoro Crater.

Please discuss your wishlist and preferences with us, and we'll happily design your dream safari for you – with no obligation at all.
You may also want to look at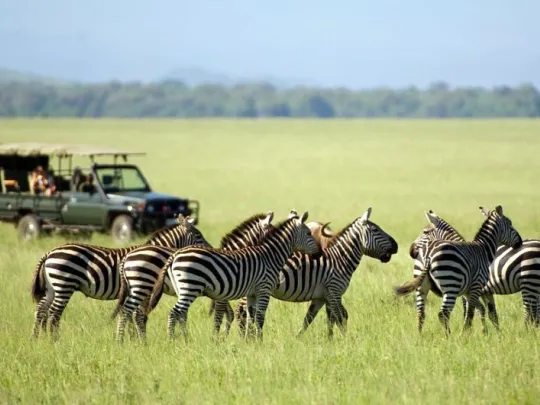 A co-operative venture between the owners and the local Maasai, Ol Donyo Lodge is a conservation success story near Amboseli in Kenya. With an established trust, a sustainable balance exists between the pastoral Maasai, the abundant wildlife, and the game ranch.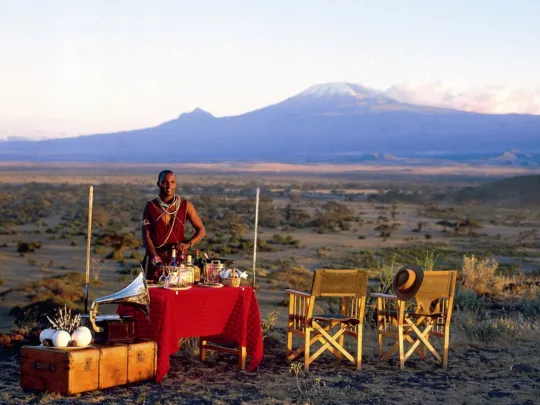 About 140 km south of Nairobi, Amboseli National Park is second only to the Maasai Mara as the most popular safari area in Kenya. Tortilis Camp is recognised as the only boutique safari camp in the area, famous for its huge elephant population and scenic beauty with the iconic snow-capped Mount Kilimanjaro acting as a backdrop.