Coastal Kenya Tropical Beach Paradise Travel Guide
Coastal Kenya Tropical Beach Paradise Travel Guide
East Africa's Kenya is a favourite "beach and bush" destination - with arguably the best safari destinations and the most perfect tropical beaches. The accommodation - whether bush or beach - ranges from rustic and adventurous to family-friendly, romantic honeymoon hideaways to lavish, exclusive luxury. Whether you want to simply relax after a safari or explore and experience the coastal attractions and water activities, Coastal Kenya has a place just for you.
Highlights
Miles of palm-fringed, white, sandy beaches
Warm, tropical waters all year round
Coral reef extends along the coast, perfect for diving and snorkelling
City tours and cultural village visits
Historic and natural attractions dotted along the coast
Wide range of lodges and hotels to suit your preferences
The Kenyan coast actually does resemble the images on picture postcards: uninterrupted stretches of white sand beaches framed by towering tropical palms and warm, inviting turquoise waters. Its stretches of coral reefs are perfect for diving and snorkelling. It's very close to the equator and you'll probably find it quite bizarre to go for an early morning swim in the sea – only to find that it's warmer than your hotel swimming pool! Sometimes, at low tide, you can walk out on the coral reefs for over a kilometre and explore the myriad sea creatures: from 'dayglo' hermit crabs to sausage-shaped sea cucumbers.
The perfect way to round off your safari itinerary
Somehow, after the fairly structured days of safari game drives and bush routines, a relaxing beach holiday is the perfect happy ending. While there are more than enough activities to fill your days – from water sports to city tours, shopping excursions to cultural visits – you're free to just relax and do nothing but sip long, tall drinks and watch the exotic Arab dhows sail idly by.
There are a host of excellent lodges dotted along the coast, offering wonderful holidays for different occasions: families, singles, honeymooners, activity-seekers, and more … so we'll be happy to recommend a good fit for your preferences and budget.
The climate
Unlike some of the inland safari destinations that can be decidedly cool at certain times of the year, the Kenyan coast is seriously tropical. Warm and temperate all year round, it can get blisteringly hot and humid at midday, especially in the height of summer from November to February. Fortunately, there's often a gentle on-shore breeze to keep things cool; which can pick up considerably at times to please the wind- and kitesurfers. The ocean temperature stays warm all year round, ranging from 23°C - 27°C (73°F - 80°F). As with anywhere in Kenya, the sun is fierce and a good sunscreen is a necessity, not an option.
Where to stay on Kenya's coast
Mombasa
Although the 'hub' of Kenya's coast and East Africa's busiest port, Mombasa is steamy, shabby and run-down, with not many redeeming factors. For the intrepid explorers, the old city alleys are quite fun to wander through and the 16th century Portuguese Fort Jesus makes an interesting visit. Most of the touristy hotels are in its northern suburbs.
Watamu Beach
The first main resort to the north of Mombasa is scenic Watumu. It has interesting rock formations along its coast and shoreline, which make it an excellent snorkelling and diving destination. Nearby, there's an ancient ruin city, Gedi, which can be explored.
Malindi
Half-an-hour north of Watumu is the pretty and popular town of Malinda, which also has some of the loveliest hotels and lodges on the coast, mostly around Vasco da Gama Point where the beaches are pristine and the sea is calm and clear.
Lamu
The exotic Lamu archipelago includes a series of alluring islands; the main one is, of course, Lamu and nearby Manda island hosts the area's airstrip. Life here is slow and unhurried; influences from ancient Arab and African cultures and traditions are very much in evidence. Very remote and rustic with virtually no cars or roads on the islands, it's a tranquil escape from modern life stresses. *See Safety Precaution below.
Diani Beach
Considered to be the best beach in Kenya, Diani Beach is palm-fringed with an excellent coral reef and sandbars that are great to explore by glass-bottomed boat. There's a good mix of hotels and lodges here to offer something for everyone's tastes and preferences. Diani has the lion's share of local eateries, bars and things to do. Other beaches just a few kilometres further south and worth a visit include Galu and Kinondo.
SAFETY PRECAUTION*
Most countries have issued a travel warning to avoid the area around the Kenya-Somalia border, especially coastal areas like Lamu, where regional security and kidnapping incidences have occurred. However, this high-risk zone is isolated and poses no threat to tourists. In fact, millions of visitors safely flock to safari and beach destinations in Kenya each year. Please note that we are constantly updated on news and political situations in all countries we arrange safaris to. Your safety is paramount to us and we do everything possible to keep you safe and informed at all times.
You may also want to look at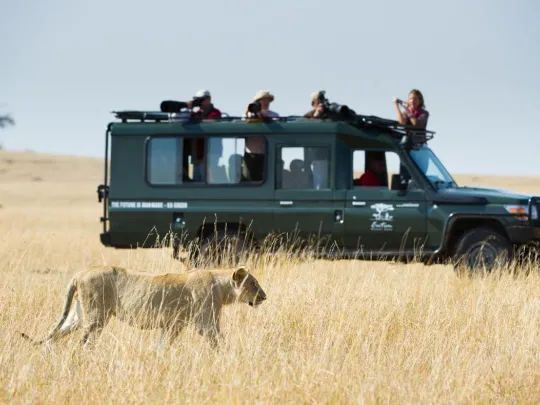 This affordable 6-Day Masai Mara Wildlife Safari takes you on the journey of a lifetime to one of the best game viewing areas in East Africa. Our small-group safari is fully guided and overnights in a luxury tented safari camp located in the heart of the Masai Mara National Reserve on the edge of riverine woodlands that overlook the Mara River. To avoid disappointment, be sure to book early!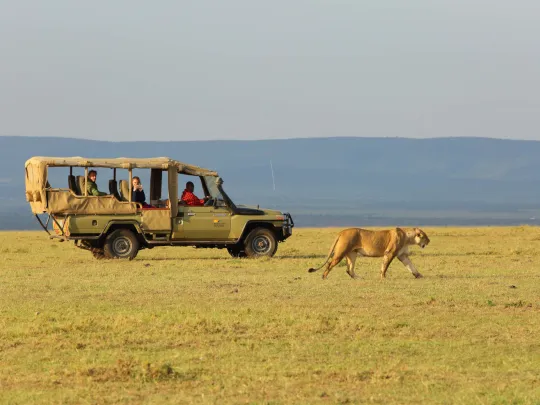 Our 6-Day Masai Mara Budget Safari delivers some of the best game viewing opportunities in East Africa, for an affordable price. This fully guided, small group safari overnights in eco-friendly, en-suite tents along the banks of the Talek River on the edge of the Masai Mara National Reserve. Book early to avoid disappointment!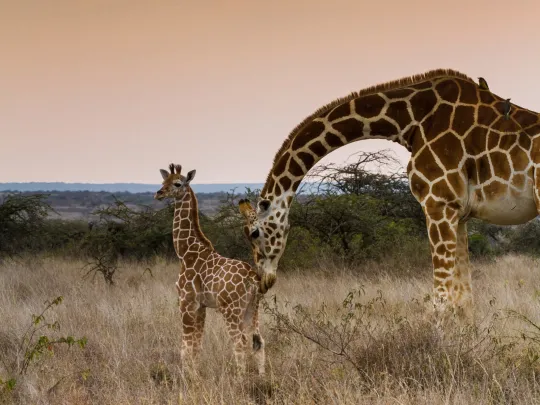 Our 7 Day Classic Kenyan Conservancy Safari combines two of the most popular travel regions in Kenya — Laikipia and the Masai Mara. The Ol Pejeta Conservancy in Laikipia, central Kenya, offers 365 km² of quality game viewing. Spend three nights at Kicheche Laikipia, situated at an active waterhole with frequent visits by elephant, black rhino, plains game and a wealth of birdlife. Then fly down the Rift Valley to an exclusive conservancy near the Maasai Mara National Park. Only a few vehicles are permitted here. Enjoy unhindered views of spectacular wildlife in some of the most breathtaking African scenery.