On safari in South and East Africa: The perfect honeymoon destination
On safari in South and East Africa: The perfect honeymoon destination
Planning your dream honeymoon in Africa must be one of the most exciting trips to put together. But where do you start? And how do you decide where to go? Big five game viewing in Kruger or a big cat safari in Masai Mara? Cape Town or the Winelands? The Garden Route or Zanzibar?
Newlyweds, Billy and Jenny Peat, made the obvious choice and instead of picking one over the other, chose all these destinations and more! Helping them plan their dream 35-Day South and East African Honeymoon Safari was an absolute pleasure, and if you click the link you can see their entire itinerary. Despite having to make some last-minute changes to their itinerary because of sudden unexpected travel bans, everything went smoothly and their trip turned out to be amazing. We were eager to touch base with Billy and Jenny after they'd concluded their trip to Africa and had returned home to cold and rainy London. They graciously agreed to share their feedback and experiences for this blog. We chatted about how their safari in South Africa differed from their safari in Kenya, what it was like for them to travel in Africa during the pandemic, and what their most memorable moments were.

Of all the amazing honeymoon destinations in the world, what inspired you to choose Africa for your honeymoon?
Billy: We got engaged in South Africa on one of Wild Wings' Kruger safaris and we thought it would be great to come back. We'd been to South Africa, Zimbabwe and Botswana before and we'd had such an amazing experience each time, we couldn't stay away. Also, December and January are great times of year to travel to Africa, especially when the weather in the UK is dark and miserable.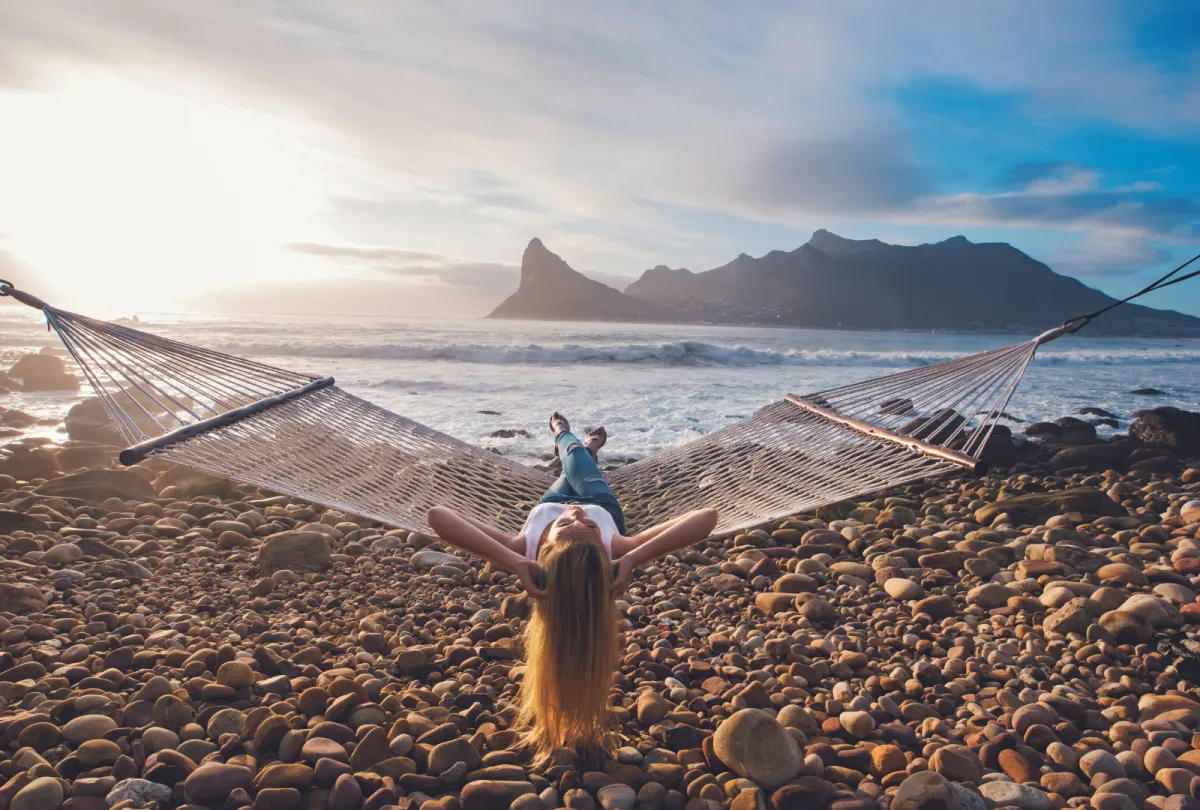 Jenny: Initially, we were planning on going to New Zealand but when the pandemic hit, it became obvious that travelling to New Zealand was out of the question. The more we looked into other options, the more we realized Africa was the only viable alternative. We'd been to South Africa with Wild Wings twice before and when we started thinking about going back there for our honeymoon, the more excited we became. We'd always had such a wonderful time. South Africa has amazing cities, beautiful nature, the people are just incredible and it's where we got engaged. That's when we realized you couldn't keep us away.
Billy: It just made sense. If we were going to have an extended honeymoon, we were very happy to spend it in Africa. And this time around, we were going to add Kenya and Zanzibar to the list of destinations.

Did you find it difficult to travel in Africa during the pandemic?
Billy: Not really. We had to take PCR tests between countries but they were a minor inconvenience. If anything, the tests gave us peace of mind. Besides, we had every reason to be confident when we landed in South Africa and realized that South Africans seemed to be taking things a lot more seriously than we were back home. We actually felt safer in South Africa than we did in the UK on the COVID front.
Jenny: Also, so much of what we did was outdoors. In South Africa, you have space but, more importantly, everyone gives you space. We didn't need to worry like we would have if we'd been crammed back-to-back inside a tiny pub in London. Having so many options of things you can do outdoors together with the knowledge that everyone around us was being very sensible meant that after our first PCR test in the UK before flying to South Africa, we felt we didn't have to worry about further PCR tests coming back positive.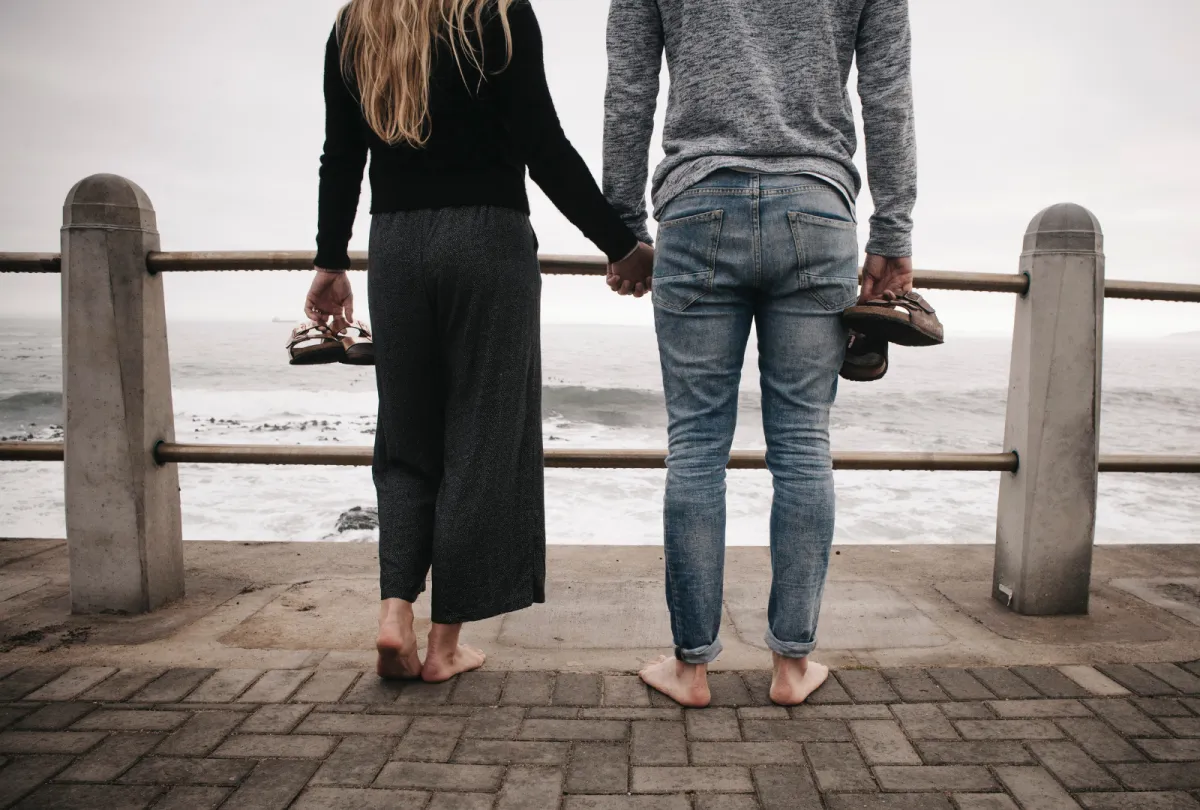 Billy: We were impressed when we arrived in Cape Town and saw everyone wearing a mask. Everywhere you went, your temperature was taken. There was definitely a heightened sense of awareness compared to the UK pre-Christmas when there was a fair bit of panic here. In South Africa, things were calm. Everyone seemed to be obeying the rules and that made us feel safe.
Jenny: What we found frustrating before we left the UK was the unpredictable changes in regulations. But once we arrived at our destination, the logistics of our honeymoon itinerary were easy to manage because the trip had been so well planned.

What were the highlights of the Cape Town leg of your honeymoon?
Jenny: I love penguins, so going down to Simon's Town to see the penguin colony was high on my list. Sitting at the Silo Rooftop Bar with a frozen cocktail looking out of the city of Cape Town and Table Mountain was very cool.
Billy: There was such a build-up to our honeymoon that when we finally arrived in Cape Town it was like, "Yes! This is the start of one month in Africa!" After all the stress, it was nice to spend a few days just relaxing and enjoying the weather, the great food, the great location, strolling around the V&A Waterfront. It was the perfect way to start our honeymoon. Everyone was lovely. And we had Nicky on our Kruger safari again. Nicky was our safari guide when we got engaged so it felt like we were continuing that story. To have Nicky be a part of our honeymoon was really cool.

Cape Town is such a beautiful city and the people there are so friendly. Did you feel safe walking around?
Jenny: That's one of the first questions people back home ask us about Cape Town. What about the crime? Did you feel safe? I tell them it's the same as any major city in the world. Have your wits about you. Don't walk around with all your valuables on you with your eyes closed. We've always felt safe in Cape Town and at no point during our honeymoon did we feel worried. It's one of the things we do our best to get across to people. South Africa is an amazing place to visit. It might have had a bit of bad press but we always feel really safe there.

After Cape Town, you explored Route 62, overnighting in the Winelands and the Karoo before continuing on to Knysna. What were your impressions?
Billy: The drive was stunning and quite a bit of fun really. It took about four or five hours from Franschhoek where everything was green and mountainous to Oudtshoorn which has a very different landscape.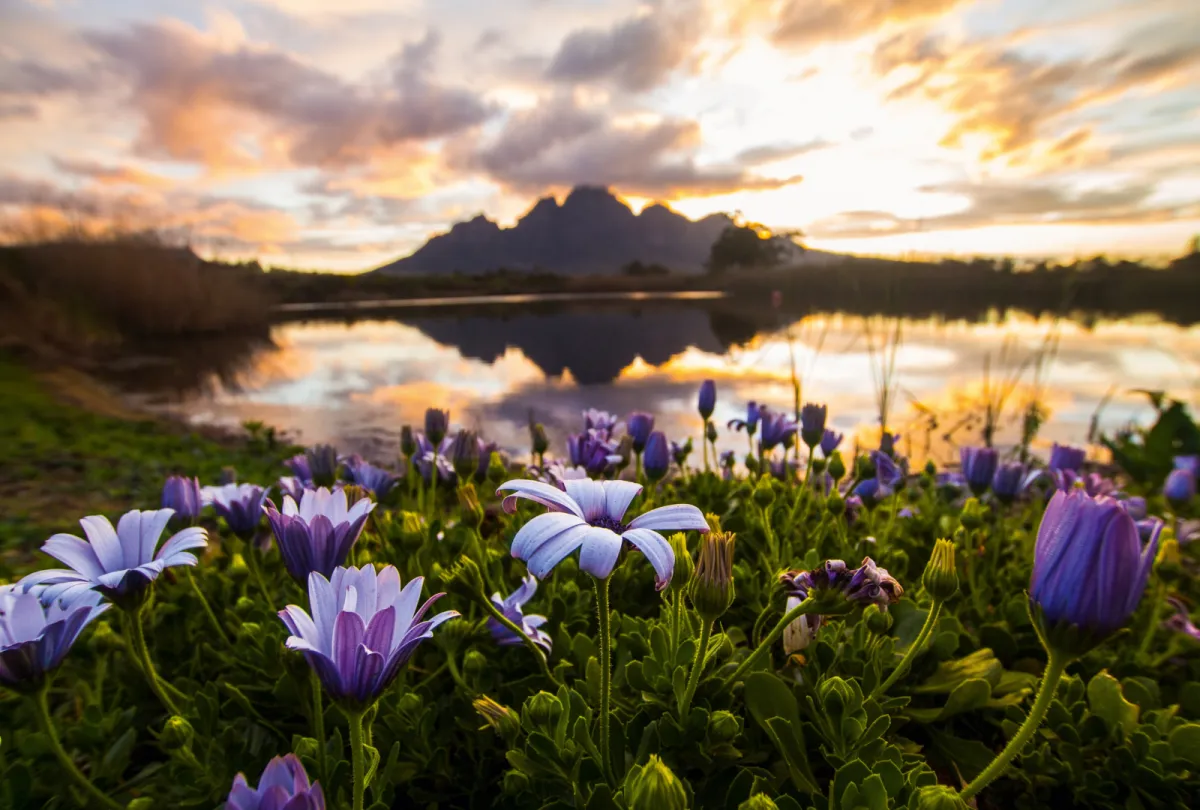 Jenny: Franschhoek is such a beautiful setting with the mountains in the background. The quaint seaside town of Knysna on the Garden Route had a lovely vibe. Very relaxed. It was nice to chill before our safari in Kruger with Nicky.
Billy: We did a five-day Wild Wings safari with Nicky in Kruger followed by two nights in the Timbavati. It was the first time we'd stayed at a private lodge inside a private game reserve.

How did the game viewing experience in the private game reserve compare to the one in Kruger National Park?
Jenny: Kruger is definitely our first love.
Billy: We preferred Kruger. We just love how Wild Wings do safaris. You sit outside at mealtimes and your safari guide cooks for you. What was cool about the private lodge is that the vehicles can go off-road but we didn't see as much game at the lodge as we did with Nicky in Kruger.
Jenny: Part of the joy of Kruger is just driving around, hearing the birds, taking in the scenery and landscape and soaking up the sense of peace. I think with the private lodge, the guides would really like their guests to experience as much wildlife as possible, especially if they know their guests are only there for a couple of days. I think that's why we didn't have many of those quiet periods on our game drives at the lodge. The social aspect of the Kruger safaris which we love so much wasn't really there. While the lodge was fabulous, Kruger comes out tops for us. Sitting outside at night, meat sizzling on the braai, chatting with Nicky and the other guests.
Billy: Simon was also on safari in Kruger at the time and he joined us for a bit.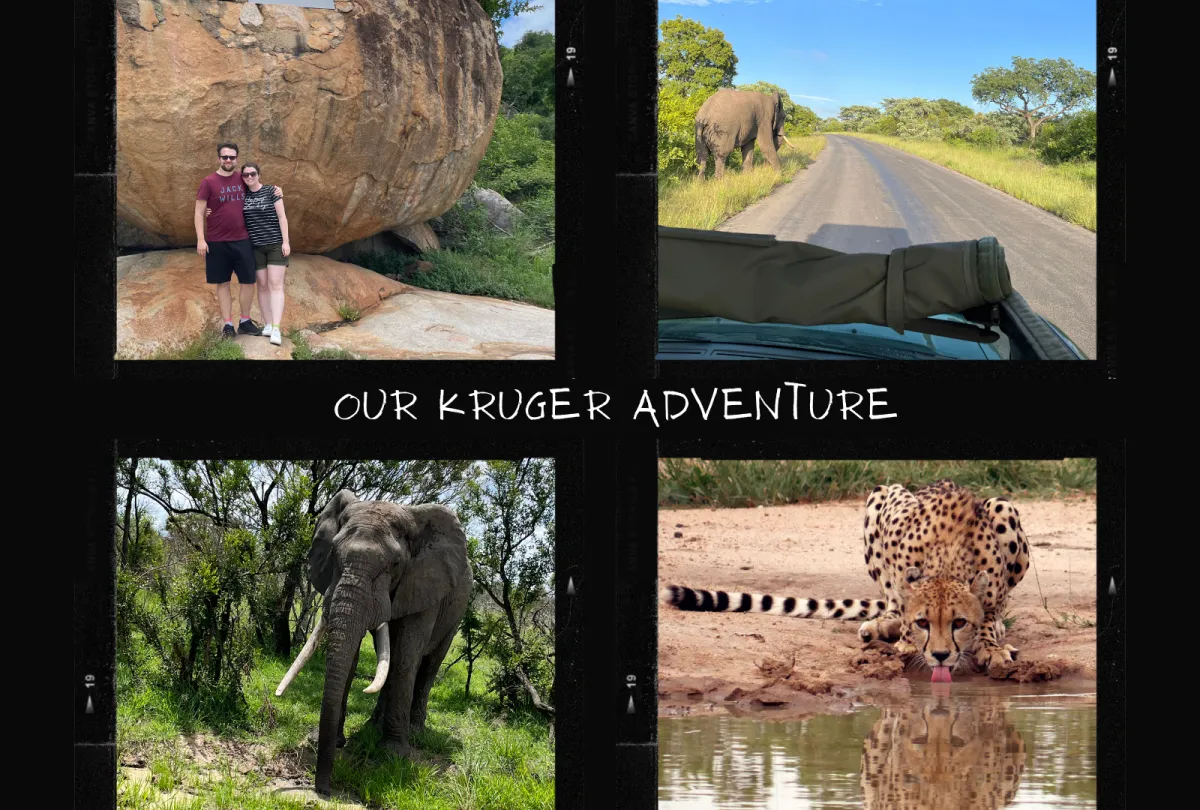 Jenny: It's like a little family, you know. When you go on a Wild Wings Safari and you run into Simon, The Barefoot Guide, it's like a homely feeling.

Billy: I'm glad we did the private game reserve but I think we still prefer Kruger. Yeah, I think when we come back next time, we're going to stick with Kruger.

What was the highlight of your Kruger safari?
Jenny: For me, one of the best sightings was our first cheetah. We really wanted to see a cheetah but we knew it was unlikely as we'd never seen cheetah in Kruger before. We'd just left camp and were starting our morning game drive when we turned a corner and there it was. A cheetah. Nicky and another guest on the vehicle spotted the cheetah first and got so excited, we were like, "What is it?! What is it?!"
Billy: It was really exciting. Our first cheetah! Not expecting one, turning a corner and there it was, lying on the side of the road. The cheetah rolled around a bit, got up and went to sit on a termite mound. There are only two other vehicles at the sighting.

Jenny: We did very well for leopard sightings, too. We were on a dirt road, enjoying the ride when Nicky said, "There's a leopard with a kill in the tree." We sat there for 45 minutes, the sighting mostly all to ourselves, watching the leopard. It was incredible.
Billy: Nicky is amazing. Driving a vehicle and spotting things no one else can see? Incredible!
Jenny: On your first game drive of your safari with Nicky, we love how she says, "If you see anything, no matter how big or small, stop me." If you ask Nicky to stop for impala by accident, there's no judgement. It's better to have stopped to have a look because it could have been something really exciting. We joked that I played Rock or Rhino more than I should have. But after a few days, I did spot some good game so I made up for it in the end."
After Kruger, you flew to Kenya for your Masai Mara safari.
Billy: That's right. The Masai Mara was incredible. Very different to Kruger. We'd always want to do East Africa and we're glad we did. It was interesting to compare the two safari experiences. For one thing, the safari vehicles are different. In the Mara, you go on safari in a pop-top, not an open safari vehicle. The roads inside the two parks are also very different. The roads in the Mara are made of clay while Kruger's roads are either tarred or gravel.
Jenny: The Mara is just so vast. You can't even take photos of the huge expanse of land because no camera can capture just how far it goes on. We could see rainfall in the distance and our guide was surprised when we told him that we'd never seen that before. We live in London surrounded by buildings so we don't necessarily get to see when it's raining somewhere else.
Billy: The Mara is definitely flatter than Kruger and there's no bushveld. Just a tree here and there. We also noticed that fewer people self-drive in the Masai Mara compared to Kruger and that the Mara seems geared towards mass tourism. Kruger seems to cater for local tastes with en-suite bungalows and outside braai areas. Buffets in the Mara are set up for large numbers. In Kruger, you sit outside around the fire with your guide at night.
What was the game viewing experience like in the Masai Mara?
Billy: Our guide in Kenya was amazing. He was a fantastic guide and his driving skills on the slippery roads inside the Mara in the rain were phenomenal. He was attuned to our expectations and he was also very flexible. He'd ask us what times we'd prefer to go game driving and he was happy to leave in the early morning for a five- to a six-hour game drive. We'd take a picnic lunch. When we were done, he was happy to take us back to camp so we could chill for the rest of the day.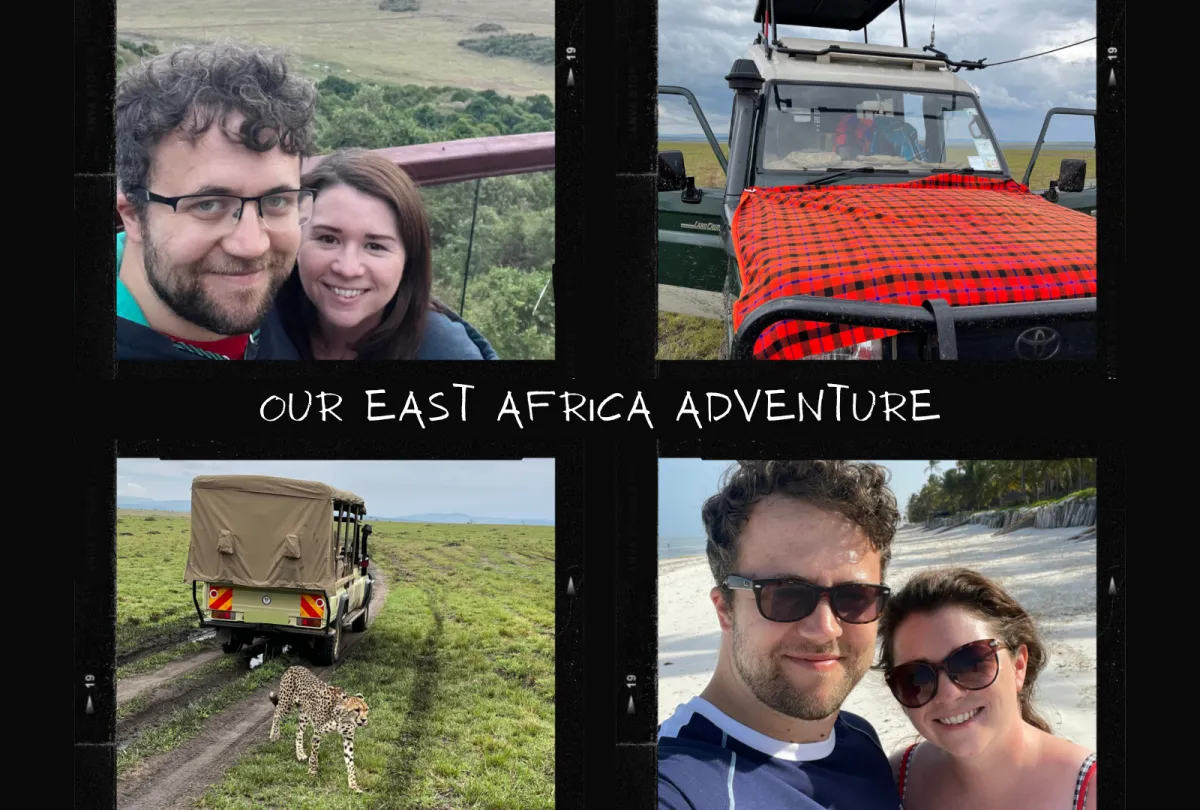 Jenny: We were so, so lucky with sightings on both our safaris. In the Masai Mara, we saw a cheetah mom with her cubs which was wonderful.
Billy: One of the highlights in the Mara was lions hunting eland. We'd never seen a kill before. It was very dramatic and the rain pelting down made it feel almost surreal when a lion took down an eland and another eight lions came in to help.
What was it like to end your honeymoon with a week of sunshine on Zanzibar?
Jenny: Finishing off on Zanzibar was perfect. We loved the chance to sleep in after the pre-dawn starts in the Masai Mara. It was so beautiful there. And really quiet. I was almost expecting to see more people on the beaches but they were pretty empty.
Billy: Zanzibar was the perfect way to end our honeymoon. We didn't do much. Just chilled out and relaxed. We'd been pretty busy for about four weeks so it was ideal to be able to relax before coming home to the wet and cold. The place we stayed was one of the nicest places we've ever stayed. The staff were amazing and the food was incredible. The view of the beach and the ocean every day when you woke up? You had to pinch yourself! White sand, warm water, real luxury.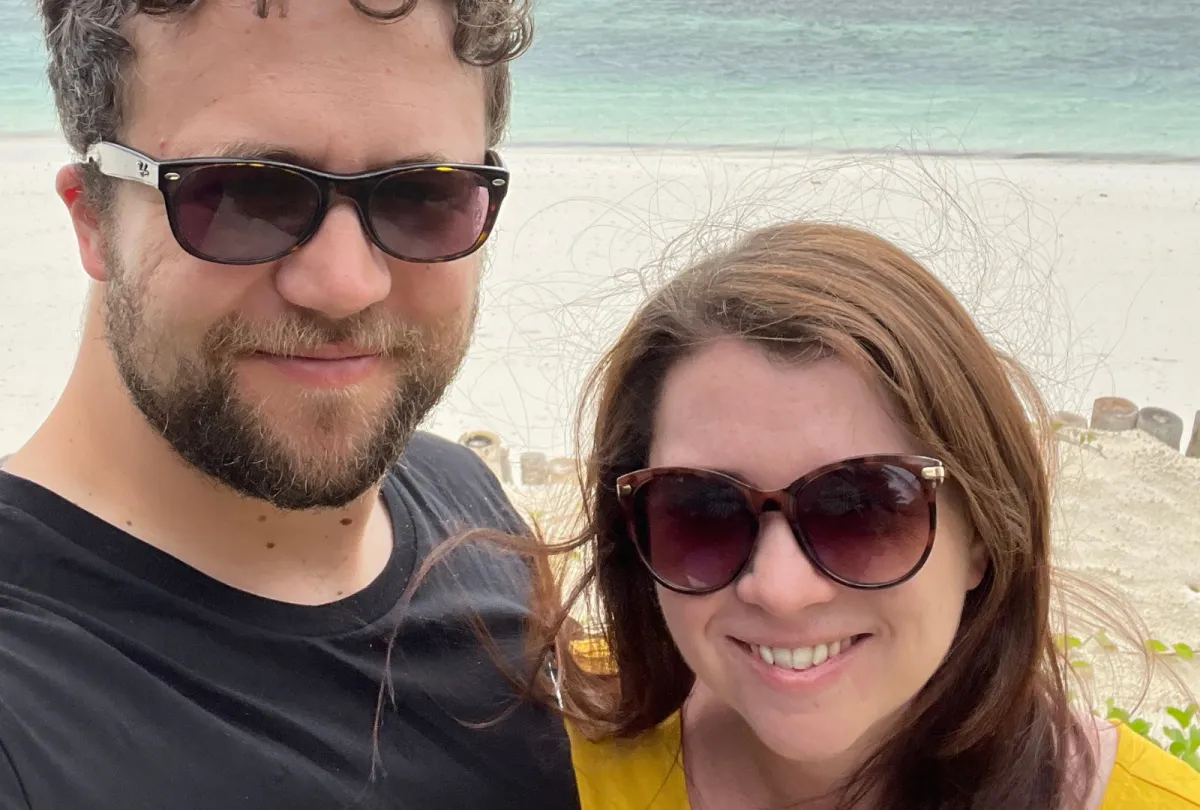 Thank you so much, Billy and Jenny. It was lovely chatting to you and we really appreciate you taking the time to talk to us about your honeymoon.
Billy: Just one final thing. Wild Wings were amazing. Having that security when it came to knowing when and where we needed to have PCR tests.
Jenny: I don't think we could have done it without our Wild Wings consultant, Cat. It would have certainly been a much more stressful experience.
Billy: Cat was amazing. She answered every single question we had and took care of last-minute changes to our itinerary. We wouldn't ever come to Africa without using Wild Wings Safaris.
Africa is home to awe-inspiring vistas like the endless Serengeti plains and breathtaking canyons like South Africa's Blyde River Canyon on the Panorama Route. With so many options to choose from, where do you begin when it comes to choosing the best country to visit for your dream honeymoon? Whether it's a romantic beach and bush escape or an exciting outdoor adventure you're looking for, contact us for a free quote.
You may also want to look at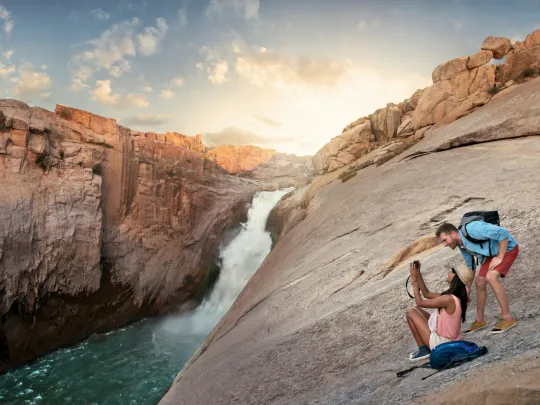 Amazing outdoor adventure, one of the most beautiful cities in the world, long stretches of untouched, sandy beaches, breathtaking scenery, Big Five safaris and luxury on a budget are just six reasons that make South Africa a wonderful destination for honeymooners.
About the author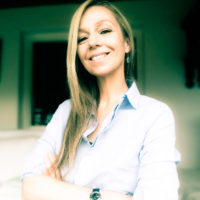 Dianne
Dianne Kokkonidis was born in Johannesburg, grew up in the Transkei and spent years exploring Europe. She returned to South Africa to live on a farm in the Outeniqua Mountains when the call of Africa got too loud to ignore. She comes from a family of storytellers, so it's no surprise she's now found her way into writing about one of the oldest stories known to mankind - the lure of Africa.