Zanzibar Travel Guide
Zanzibar Travel Guide
Zanzibar Island, along with Pemba Island to the north, are referred to as the Spice Islands. Zanzibar is best known as a tropical beach paradise, which is easily combined with a safari in Tanzania or Kenya. The history here harks back to ancient trade routes. In Stone Town, Indo-Arabic influences intertwine with African Swahili origins to create a heady fusion of sights, sounds and scents. Whether you're looking for the culture and bustle of historic cobbled streets in Stone Town or the peaceful beaches and the warm Indian Ocean with its dhow trips and excellent diving, Zanzibar is simply paradise.
Highlights
Stone Town with cobbled streets and romantic, multicultural history
Palm-fringed, sandy white beaches
Warm, inviting turquoise Indian Ocean
Watersports galore
Spectacular coral reefs, perfect for snorkelling and scuba diving
Range of accommodation, from large hotels to small private lodges
White-sail dhow trips
Spice farm visits
Zanzibar is one of those idyllic holiday destinations where you can spend your days lazing around on perfect white beaches. There is plenty to see and do if you're the active type. However, all the activity is set in a beautiful, relaxed island atmosphere so if you're wanting to sit back and enjoy the view, it's perfect for that too! The weather is balmy, the sea is warm, Stone Town's bustling activity is perfectly complemented by the aromatic spice farms and laidback sandy white beaches. Seriously, it's paradise.
History
The history of the islands is fascinating and is still evident in the crazy, cobbled streets of Stone Town. The island is known as the birthplace of Swahili and it became a major port for traders from Persia, Arabia, Indonesia, India, China, Malaysia and, later, Portugal. It is this mix of cultures that brought about the melting pot of architecture and tradition that still fills Zanzibar with an exotic sense of romance.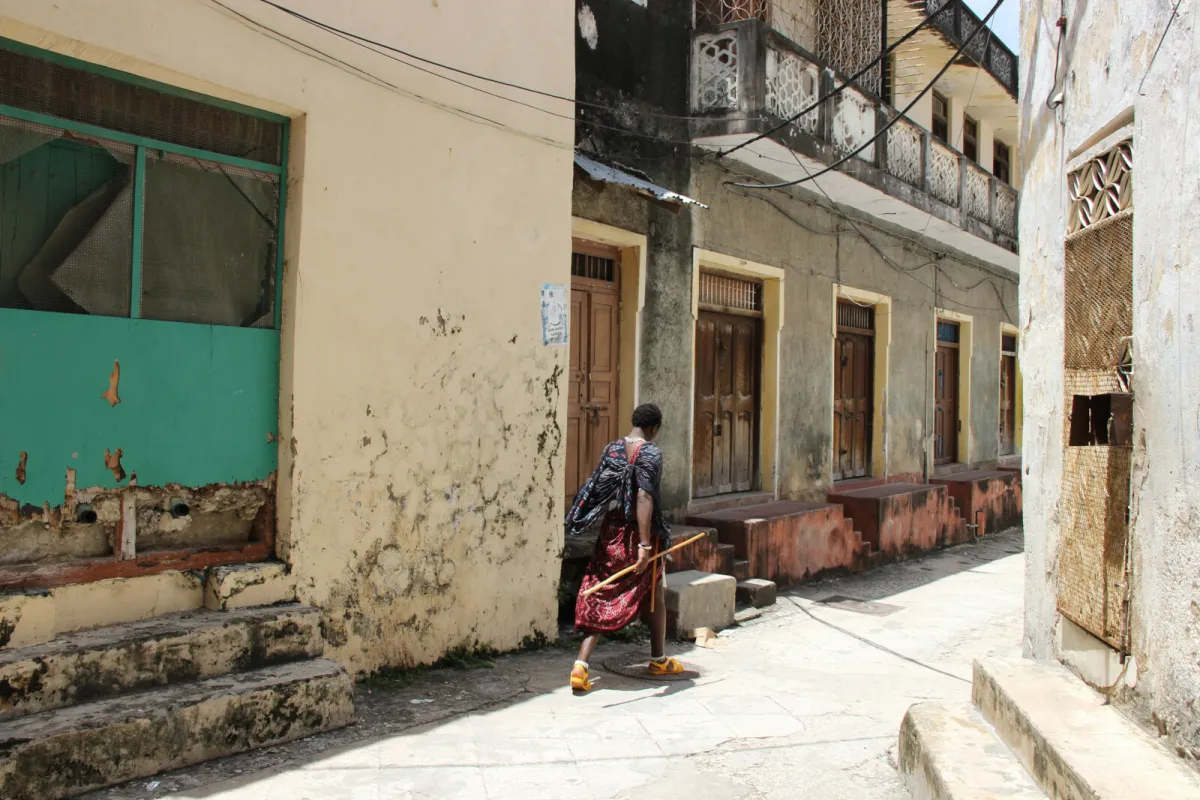 In the early 1500s, after Vasco da Gama's visit in 1498, Zanzibar became a colony of Portugal. The islands have a chequered history of rule from Arab sultans in the slave trade to British protectorate to full self-governance by Zanzibar in 1963. It was briefly ruled by Sultan Jamshid bin Abdullah until he was deposed. In 1964, Zanzibar and Tanganyika merged to form the United Republic of Tanzania, of which Zanzibar is a semi-autonomous region.
Zanzibar Islands
The biggest of the fifty islands that make up the archipelago, Zanzibar Island, is known by locals as Unguja. This island holds the capital with the historic city of Stone Town on its western shore. A little to the northeast is the second biggest island, Pemba, with all the rest of the islands being smaller.
The island beach resorts range from small, secluded boutique hotels and houses with private beaches to larger hotel resorts offering a range of activities. There is something to suit every person's ideal beach holiday on this archipelago. On many of the smaller islands, more exclusive, private holidays are offered, each one with its own charm and wonderful beaches, making it ideal for honeymooners.
On the islands, the rich and fertile soil provides for Zanzibar's spice and raffia farms which are major contributors to the island economy. The heady scent of cloves, cinnamon and vanilla float on the sea breeze and a farm is well worth visiting!
Stone Town
This historic city is where most people land after catching a 75- to 90-minute ferry from Dar es Salaam. It is noisy and busy and fascinating. Arabic influences mix with African flair in the ancient winding streets where mosques stand shoulder-to-shoulder with sultan palaces and bustling markets. There is so much to see, including the old, ornate, intricately-carved wooden doors for which Zanzibar is renowned.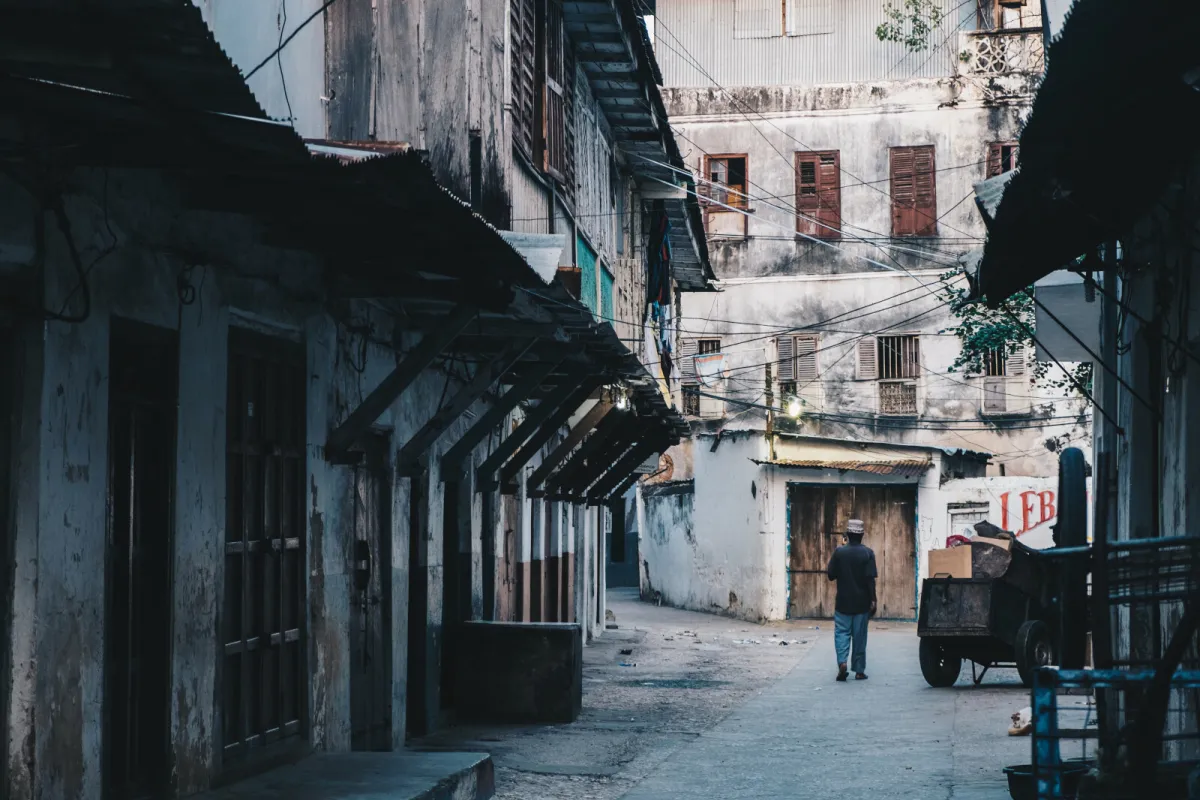 A couple of days in Stone Town makes for a wonderful experience, especially when coupled with a few days to relax at the beach. You'll be pleased to leave the hustle behind and enjoy the peace and relaxation of tropical island living.
Things to see and do in Zanzibar
There is no shortage of adventures and activities in Zanzibar. Whether it's relaxation or action you're looking for, it's available on Zanzibar. This is the ideal spot to lie back on a lounger and read a book on the beach while you listen to the gentle sounds of the Indian Ocean lapping at the shore. Look up every now and again, to see a traditional white sail dhow float by. If you're looking for more action, Zanzibar offers a range of watersports from kayaking, sailing, windsurfing, paddle boarding and snorkelling to some of the best reef diving in the world.
On land, there are beach activities like volleyball and bikes can be hired to ride around exploring. Need a gift to take home? Visit the markets in Stone Town or along the coast and support local traders by buying beautiful carvings or aromatic spices.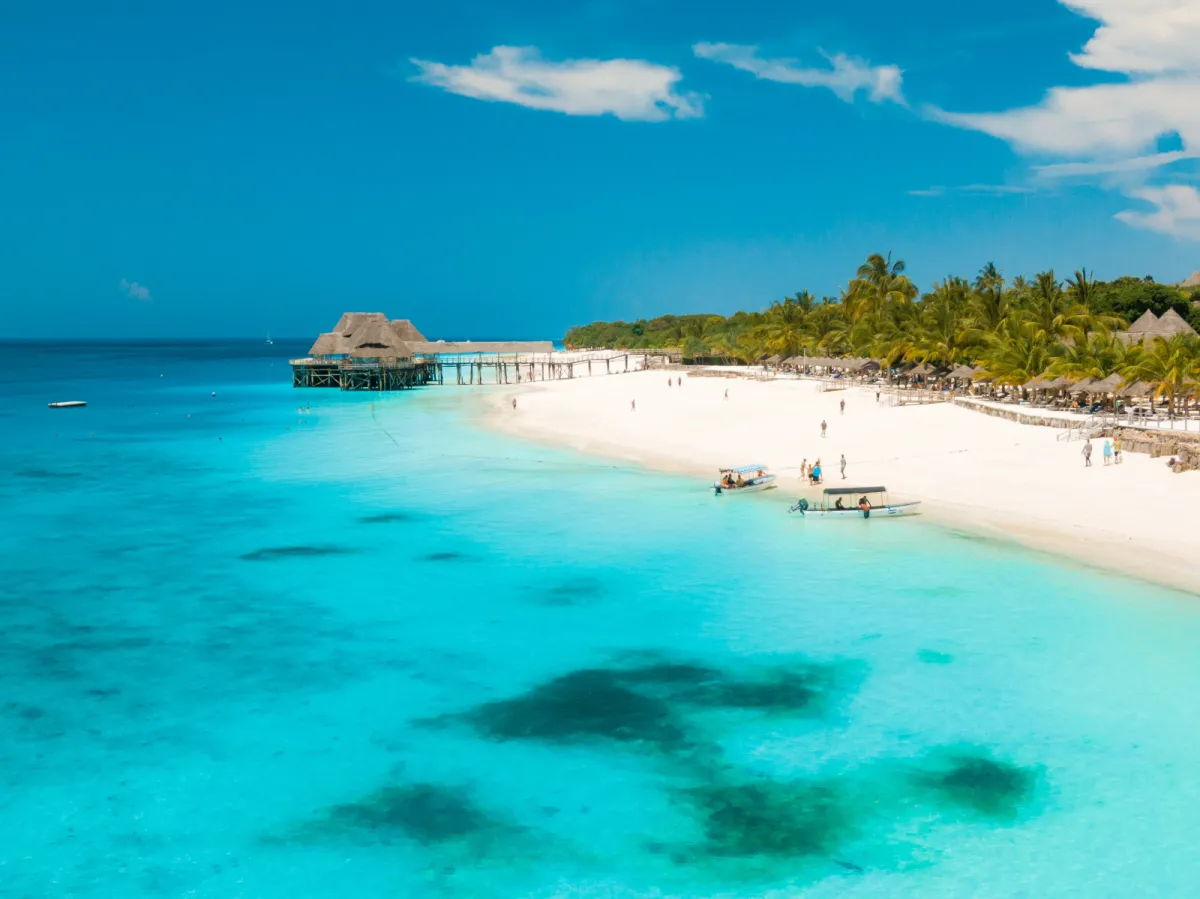 A Spice Tour is a must-do. Visit the coconut and spice plantations where the aromas of cloves, cinnamon and vanilla intermingle with the scent of oranges, limes, coconut and the more exotic custard apples and breadfruit. Depending on the season, you'll be able to sample these delights. There is plenty to do from a cultural point of view, too. Ancient ruins whisper secrets of long-forgotten times and there are a number of museums chronicling Zanzibar's rich history.
Best time to visit
Situated slightly below the equator, the coolest months in Zanzibar coincide with the northern hemisphere's summer months. However, its weather is pleasant and comfortable all year round with two distinct rainy seasons, the long rains and the short rains interspersed with dry periods.
The island of Zanzibar can have its own distinct weather patterns separate from the mainland. That said, the weather is generally similar. The long rainy season can stretch from mid-March until the end of May, bringing heavy early morning showers which often clear by midday. Many lodges close at this time.

The best months to visit are during the dry, winter months from June through to October when daily temperatures average a balmy 25ºC. The short rains occur erratically during November and December often with showers early morning and late afternoon. Summer stretches from December to March, with hot sunny days and often cloudless skies. Temperatures range from mid 20ºC to low 30ºC and the evenings are balmy and comfortable.
Getting there
By air - A number of international airlines offer flights to Dar es Salaam and some directly to Zanzibar. Domestic flights are available from Tanzania's main cities to Zanzibar. Mango Airlines offer 3 flights a week from OR Tambo in Johannesburg to Zanzibar Airport near Stone Town.
By sea - Several ferries run between the mainland and Zanzibar.
Sultan's Palace in Stone Town
The Sultan's Palace, or Beit el Sahel, is a museum in Stone Town about the Zanzibari royal family and history.

Situated in Zanzibar on a spectacular, long beach with pristine white sands, Breezes Beach Club and Spa gives guests everything they could desire of a holiday in paradise. Being a large hotel, they offer a wide range of activities, from all the watersports and a diving school to a number of restaurants, swimming pool and tennis courts, including an incredible spa. Whether you want to relax, be active, or combine the two, Breezes Beach Club and Spa is a good place to do it all.
Tanzania in East Africa is one of the top safari destinations in Africa. Tanzania's vast Serengeti National Park is the scene of the annual Great Migration, a breathtaking wildlife spectacle that every serious safari enthusiast should experience at least once in a lifetime. Equally unique is the famous Ngorongoro Crater, home to unparalleled numbers of wild animals. It is easy to combine a safari in northern Tanzania with a tropical beach holiday on Zanzibar. And for the serious traveller, the wild and remote southern region offers beautiful national parks which are relatively untouched by development and human settlement, with huge game reserves such as Selous Game Reserve and Ruaha National Park.
You may also want to look at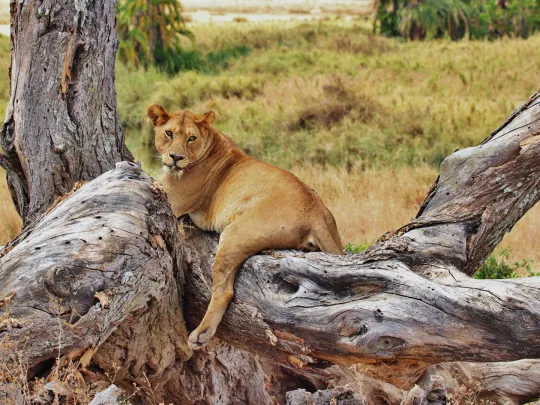 Welcome to untamed Africa! Tanzania's Southern Circuit has all the remoteness you could ask for. It's an uncrowded, unspoilt and unhurried safari experience that you'll be hard-pressed to experience elsewhere. Enjoy the top destinations of Ruaha, Katavi and Selous before rounding the trip off with 5 days at an exclusive tropical island paradise.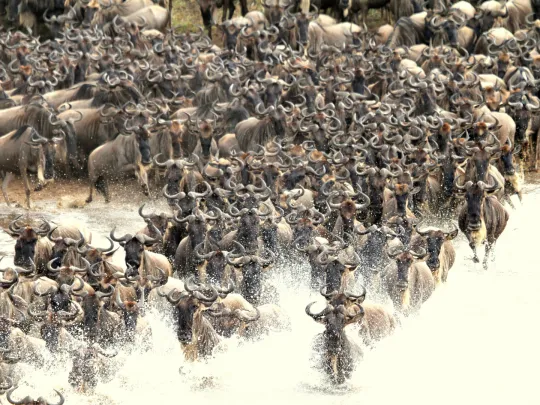 Experience the vast expanses of true wilderness and perhaps some of the best game-viewing areas on the African continent. Our 7-Day Taste of Tanzania Safari Tour takes in the untamed Tarangire, the world-renowned Serengeti (famous for the Great Migration) and Ngorongoro National Park. Accompanied by some of the country's best guides, your safety and comfort will be in excellent hands, leaving you to enjoy the safari of a lifetime at the best possible price.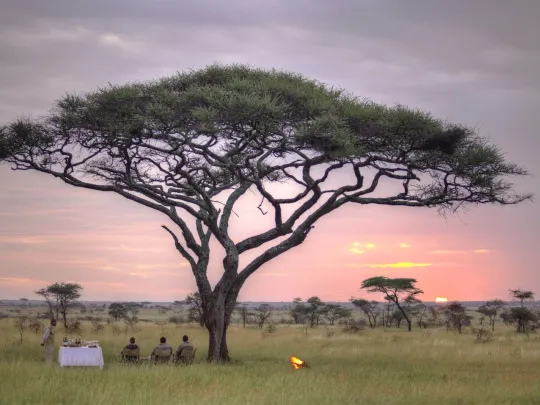 This fly-in 5 Day Luxury Serengeti Safari explores one of Tanzania's hidden gems, the big cat region of Soit le Motonyi. The safari includes a flight from Arusha to the Serengeti, game drives in a prime game-viewing area far from the jostling crowds and accommodation in a luxury, eco-friendly tented safari camp with uninterrupted views of the endless savannah. Speak to us about the best time to book if you also want a glimpse of the Great Wildebeest Migration.