Safari Serenity: Nine Rejuvenating Safari Spots
Safari Serenity: Nine Rejuvenating Safari Spots
Here in Africa, we know the value of nature. When you're on safari, everyday stress melts away. The calming and healing properties of the continent – the cradle of humankind – are well-known. African culture believes that healing doesn't lie only in medicines and doctors, but in recognising our place on earth and respecting nature. It's all about balance.
Spend some time breathing in Africa's fresh air, gazing over her vast open spaces. Enjoy the silence, interrupted only by birdsong and wild animal sounds, and stare up into the star-filled night skies, as you feel the stresses and strains of modern life fade away.
Why African safaris can have such healing power is hard to pinpoint. Perhaps it's the complete absence of the worries and concerns of our everyday lives. With every breath, you breathe out the stress and breathe in the peace and stillness of the wilderness. For some, immersing yourself in the beauty of nature and drawing closer to the Creator is just what the soul needs. In Africa, the light seems brighter, the air clearer, the water so precious. Africa has stolen the hearts of many who've visited it, not least Ernest Hemingway, who declared:
"I never knew of a morning in Africa when I woke up that I was not happy."
Many safari lodges have realised the need for complete relaxation and now offer a range of health and wellness facilities – from outdoor baths to massages in the bush and gyms that blend into the wild vegetation. After your safari, your transformation from stress-ball to peaceful calm will be complete.
Here we list nine of our favourite places to go on safari. Relax, breathe, and enjoy the peace of the African bush.
1. Finch Hattons
Tsavo West, Kenya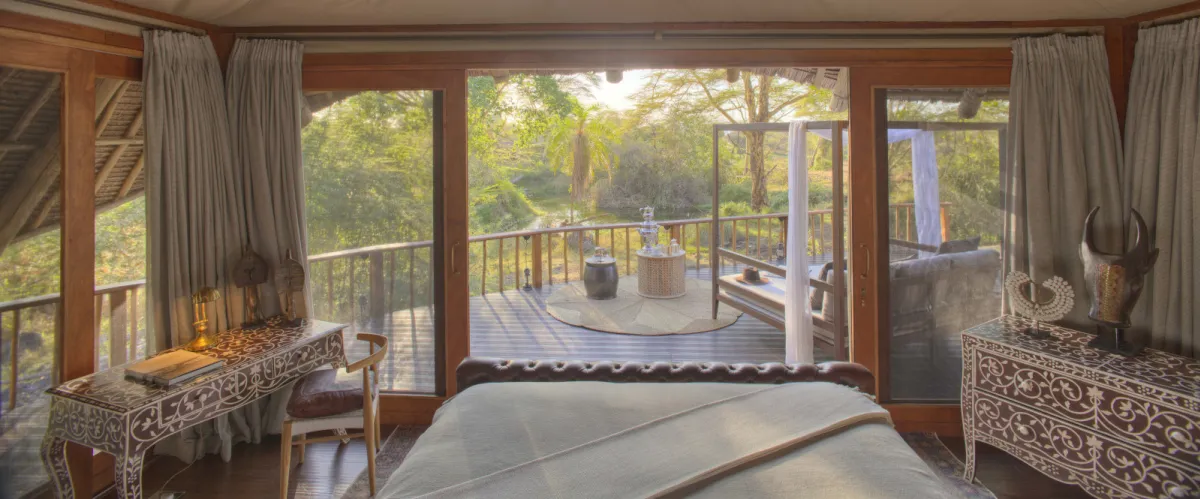 Situated in the southern corner of Tsavo West, Finch Hattons is a luxury tented camp that has incredible views towards Mount Kilimanjaro and the volcanic Chyulu Hills. Overlooking three spring-fed pools that attract an array of wildlife and birds, the private tents are tastefully decorated and luxuriously comfortable. Perfect for escaping the ravages of city life.
Spend your days on vehicle safaris or stretch your legs on a guided walking safari to get as close to nature as is physically possible. Get a glimpse of the Maasai culture on a visit to a local village and experience the warmth and hospitality for which Africa is renowned.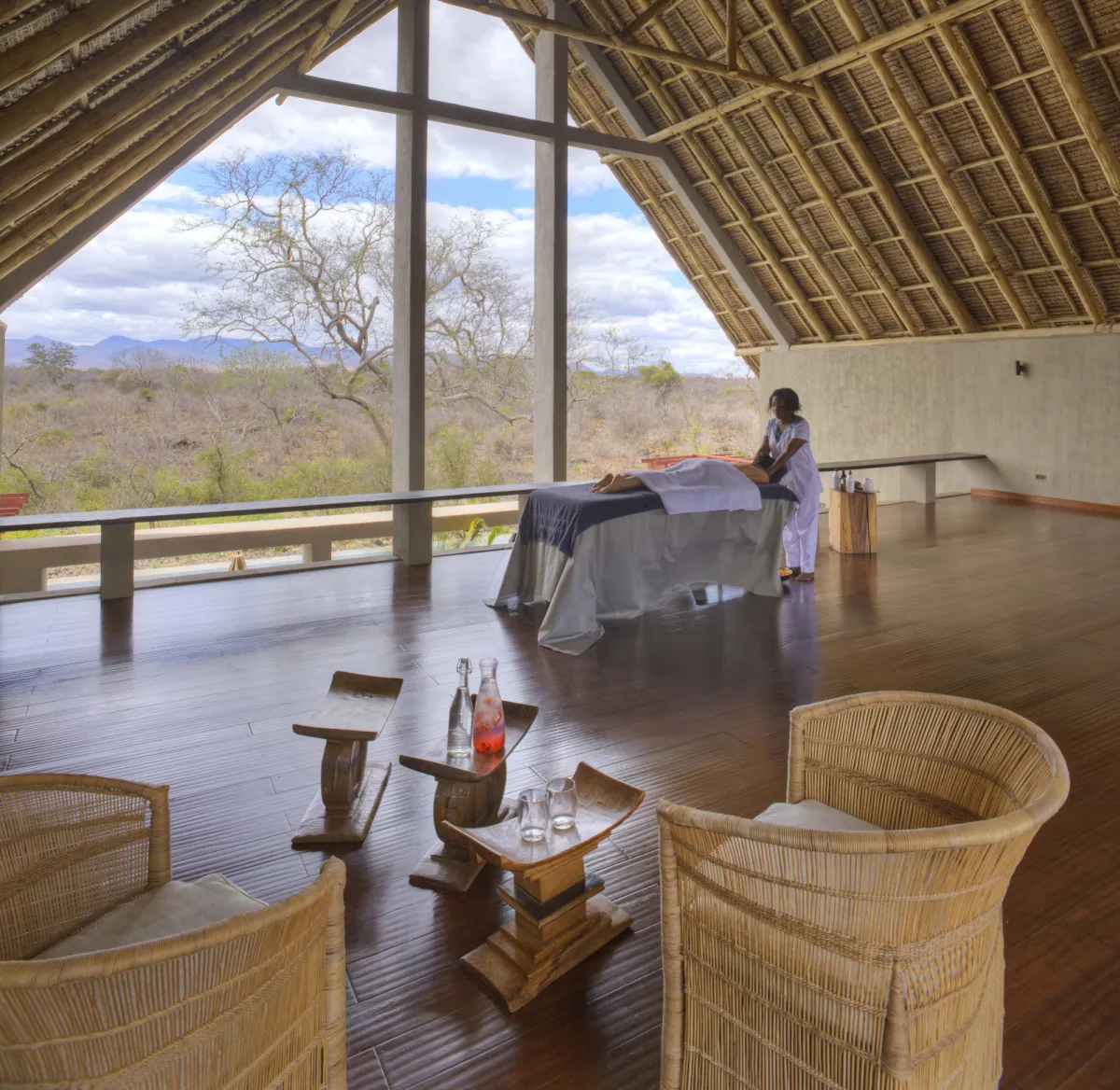 Finch Hattons has a fabulous spa and wellness centre, so any treatments you desire are available. An added bonus here is the elevated yoga deck, with a view over the Chyulu Hills to marvel at while you do your headstands.
2. Waterlovers Beach Resort
Diani Beach, Kenya
Can there be a more soothing sound than the waves of the warm Indian Ocean lapping at the white sands of the shore? Waterlovers Beach Resort on Diani Beach offers suites and villas, all of which have their own private veranda overlooking the turquoise sea.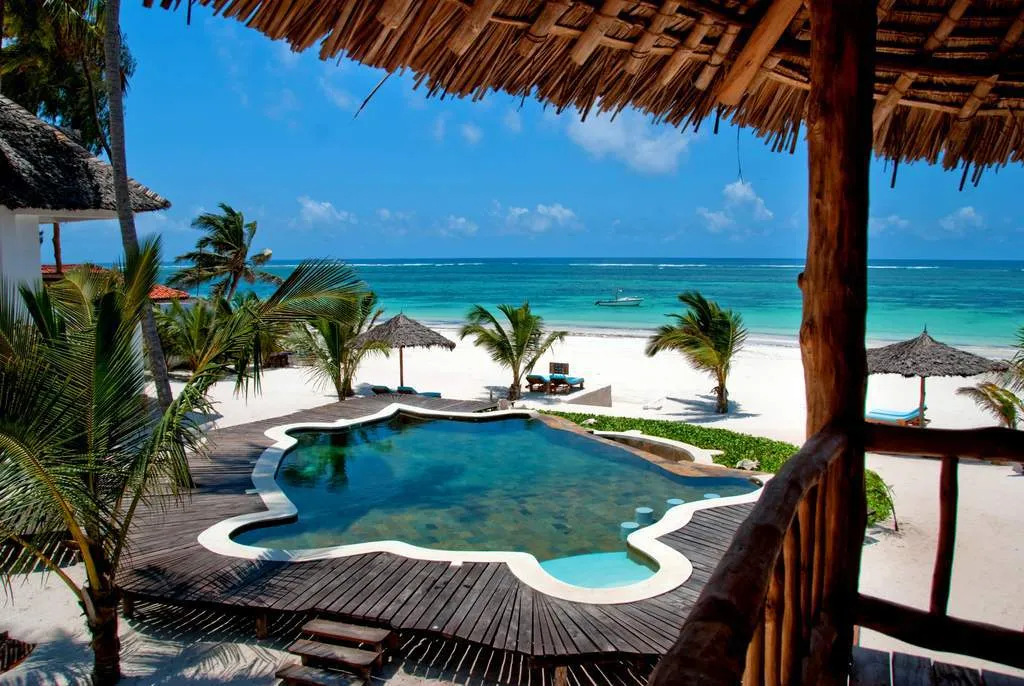 The lodge is owner-built and managed and is very eco-conscious. It was constructed using local, sustainable sources and every effort is made to adopt responsible tourism practices, adding to the feeling of well-being here.
Whether you hang out on the beach with a book, take a swim in the turtle-shaped pool or go snorkelling in the ocean, relaxation is a staple here. Feed your body, mind and soul with a visit to the Kola Spa in the tranquil gardens. They offer massages, beauty treatments and hair-braiding.
3. David Livingstone Safari Lodge & Spa
Livingstone, Zambia
Victoria Falls is surrounded by African myth and legend and a visit to the thundering falls leaves one in awe of nature. There's nothing quite like seeing (and hearing) 1,000 cubic metres of water per second falling down 100 metres into the gorge below to remind one of one's place in the world! The fine mist that rises off the falls is a cooling natural shower.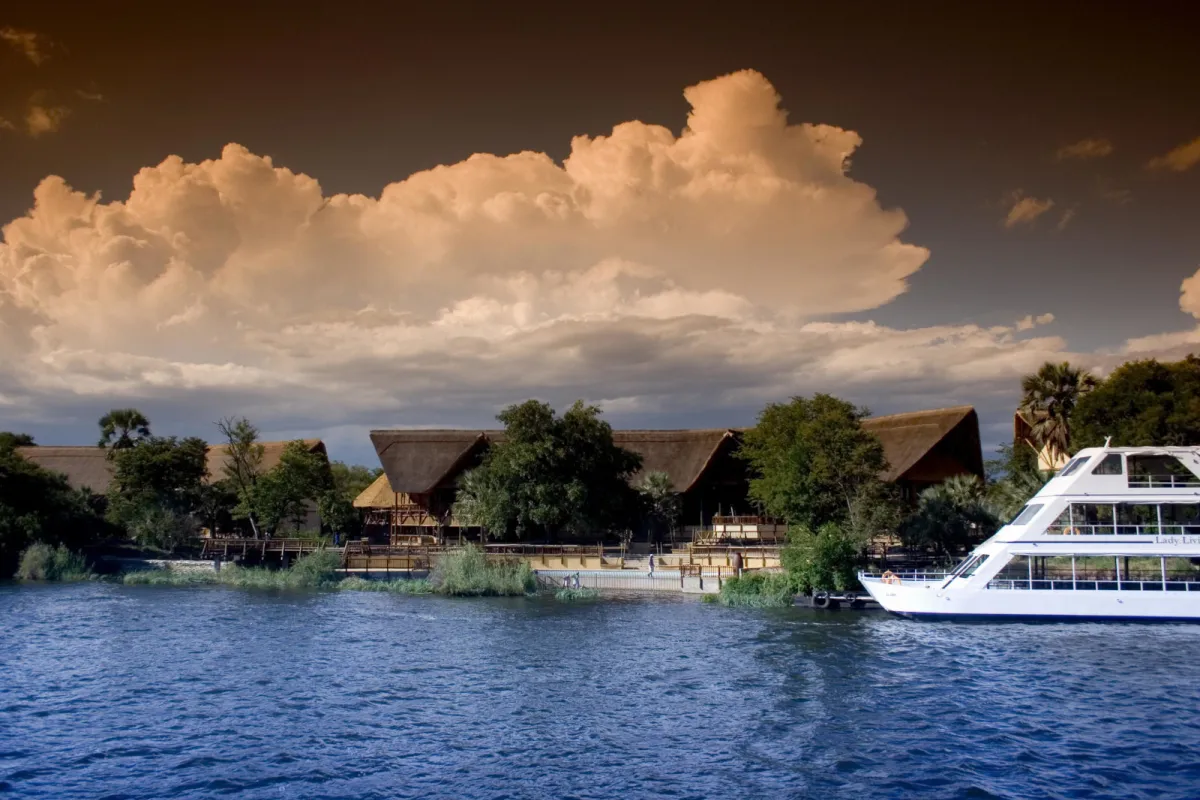 Seven kilometres upstream, away from the hustle and bustle, on the banks of the Zambezi River, lies the David Livingstone Safari Lodge & Spa. Built in 2008, it offers luxury rooms overlooking the great Zambezi River, beautiful gardens and a deck that is the perfect sundowner spot.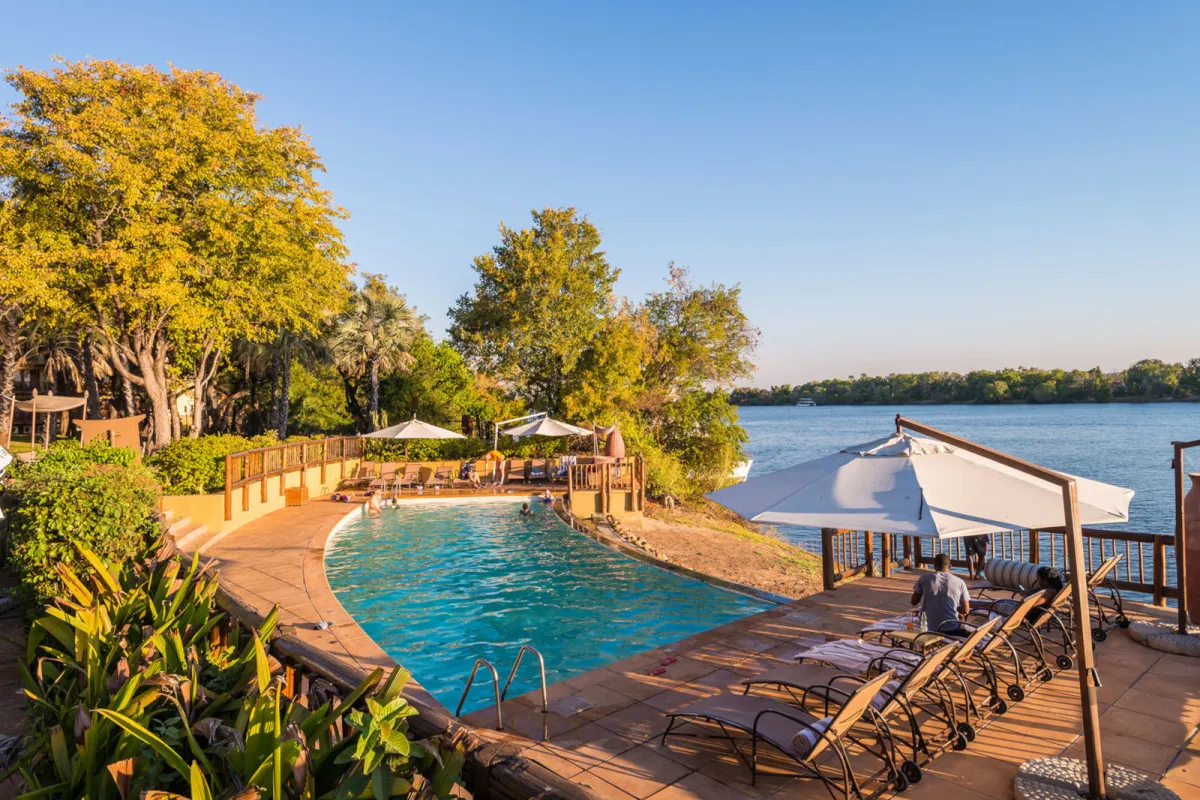 The Camelot Spa – part of the hotel – offers not only every massage and beauty treatment your heart could desire but also a gym with intensive sports therapies to get you fit and healthy, both head- and body-wise. The tranquil setting of the hotel will soothe your soul.
4. Tongabezi Lodge
Livingstone, Zambia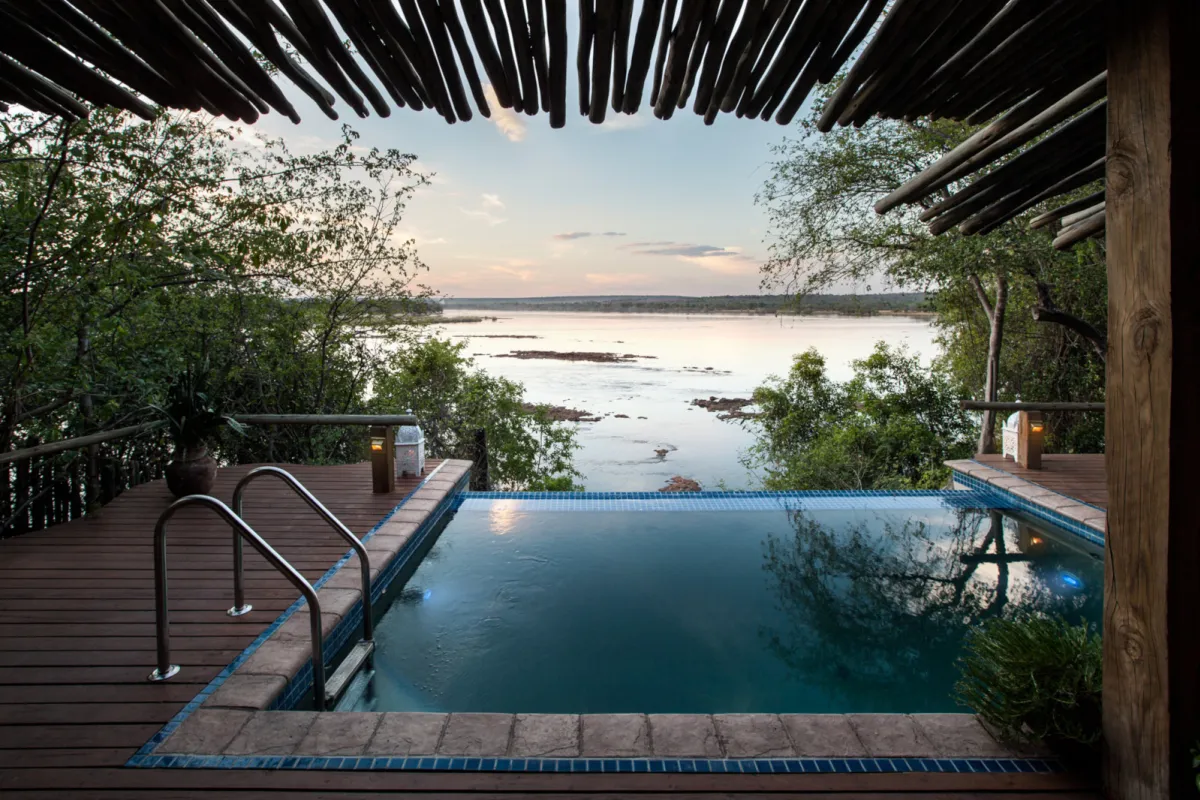 If you're looking for a secluded and tranquil place to regain your breath and destress, Tongabezi Lodge, tucked neatly on the banks of the Zambezi – away from the 'busy-ness' of the falls – is it. Enjoy the privacy of your own cottage, complete with a personal valet, to ensure that you do nothing but relax.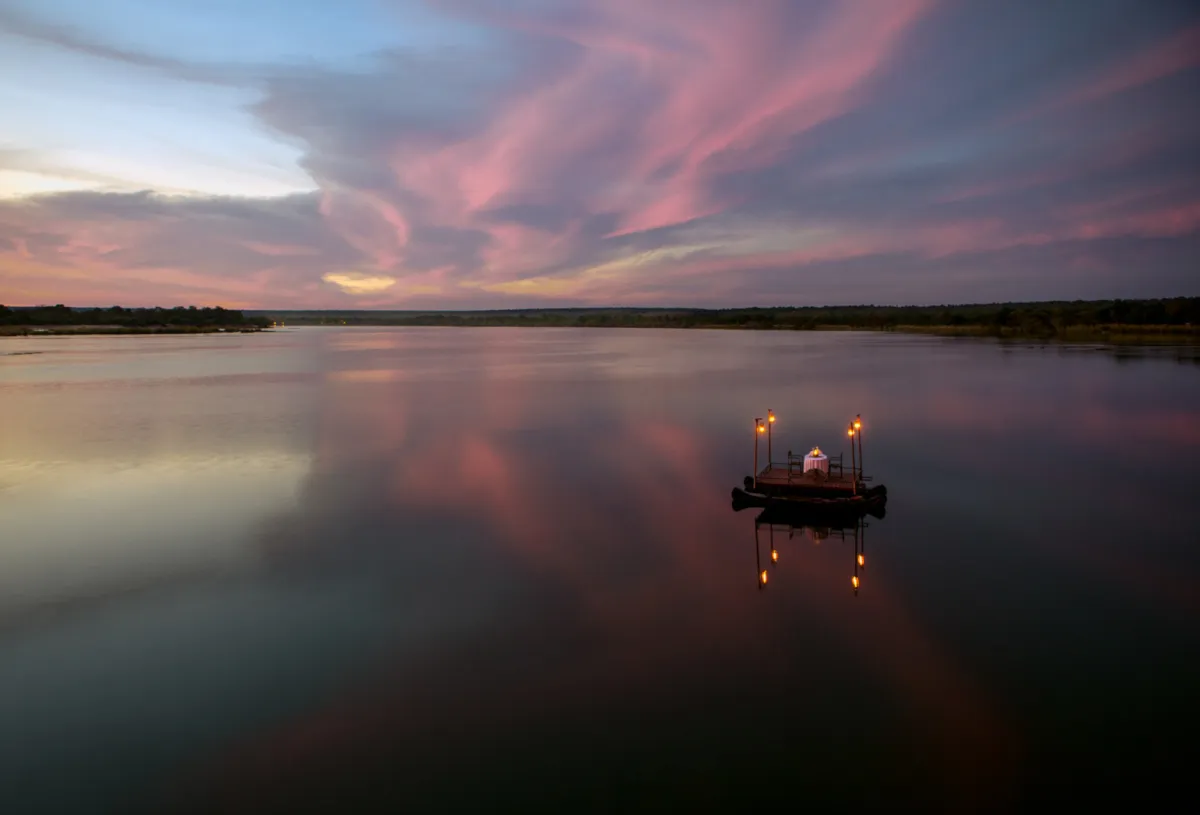 Each cottage has a view over the river and a deck on which to sit and watch the water flow toward Victoria Falls. Treat yourself to a shiatsu or aromatherapy massage followed by a bath in your very own bath-with-a-view – the height of luxurious relaxation as being in nature heals you.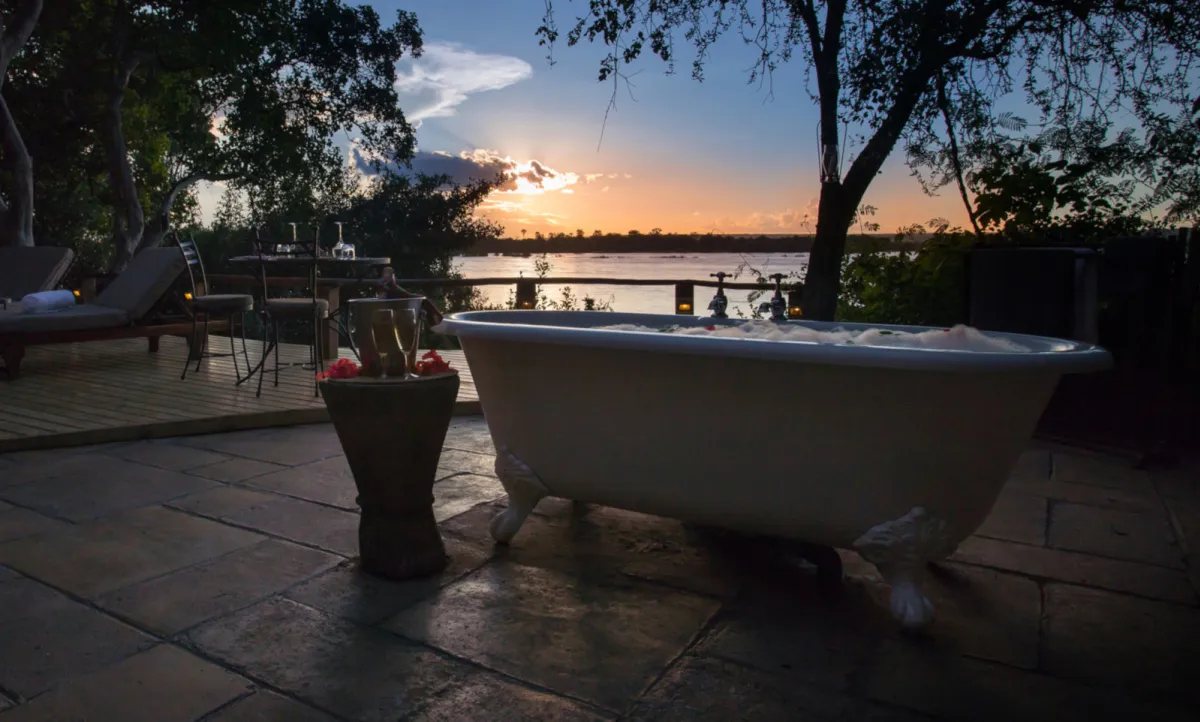 If it's your faith in humanity that needs restoring, take a visit to the Tongabezi Trust School, to meet the children and see the wonderful work done there.
5. Belmond Khwai River Lodge
Moremi, Botswana
What can be more relaxing than lying in a hammock? Lying in a hammock on your private deck with a panoramic view over the floodplains of the Khwai River in a private concession bordering the Moremi Wildlife Reserve! At Belmond Khwai River Lodge that's exactly what you can do. All day, if that's what you need.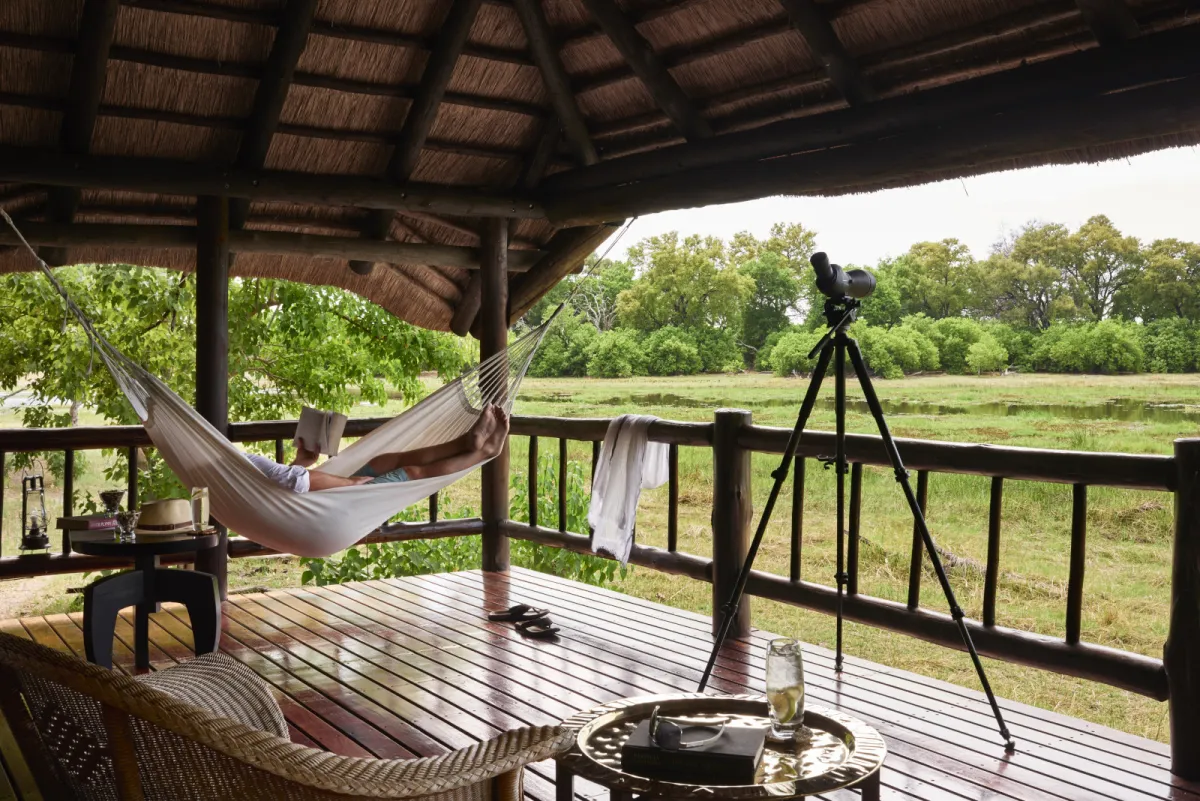 You'll, however, more than likely be tempted to go and spot the large number of wildlife on either a morning or afternoon game drive or a specialist safari walk. There's also a spa and gym for a little body rejuvenation and a 20-metre pool for cooling off after an invigorating session at the gym.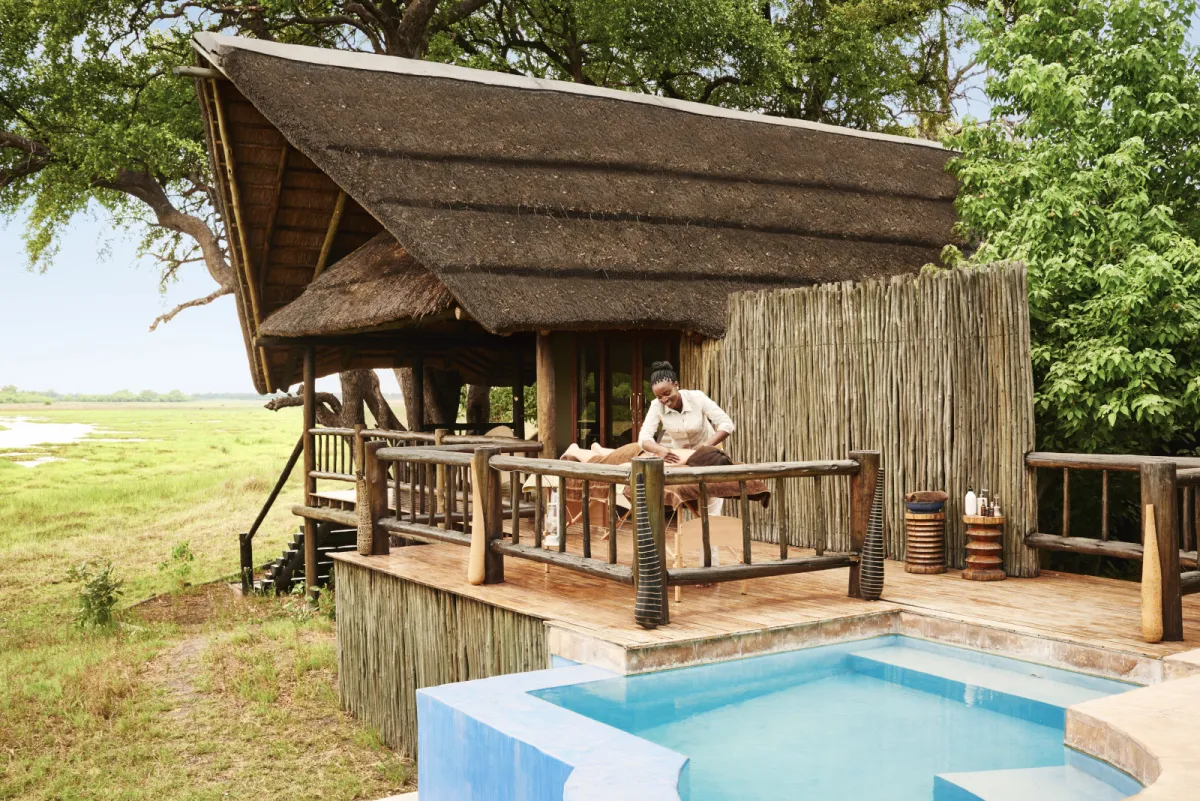 The thatched rooms are on raised wooden platforms and are situated far enough apart to ensure privacy and serenity, each with its own viewing deck, luxurious furnishings and en-suite bathroom. Perfect for holistic rejuvenation.
6. Bumi Hills Safari Lodge & Spa
Lake Kariba, Zimbabwe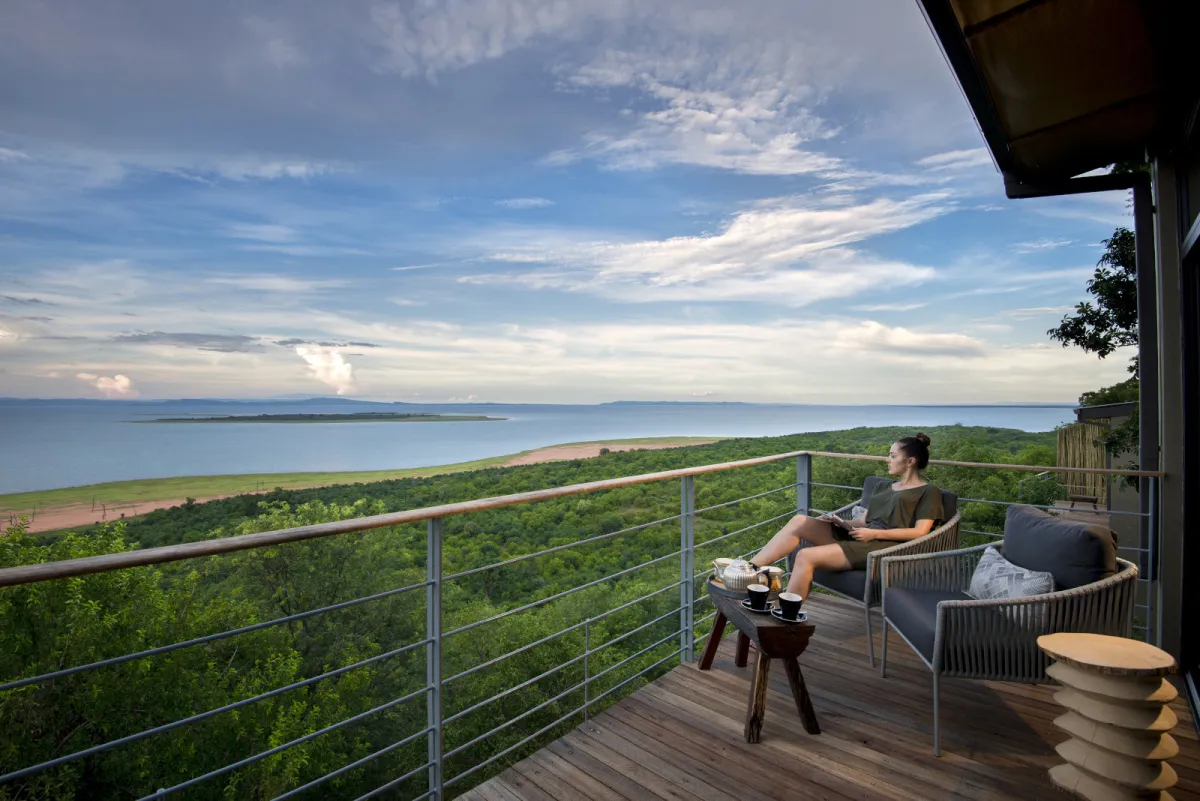 The infinity pool at Bumi Hills Safari Lodge & Spa looks like it flows into Lake Kariba. It's the perfect spot to just sit and chill, possibly with a cocktail in hand. The lodge is perched on a hill overlooking the lake, whose shores offer viewing of a wide range of wildlife.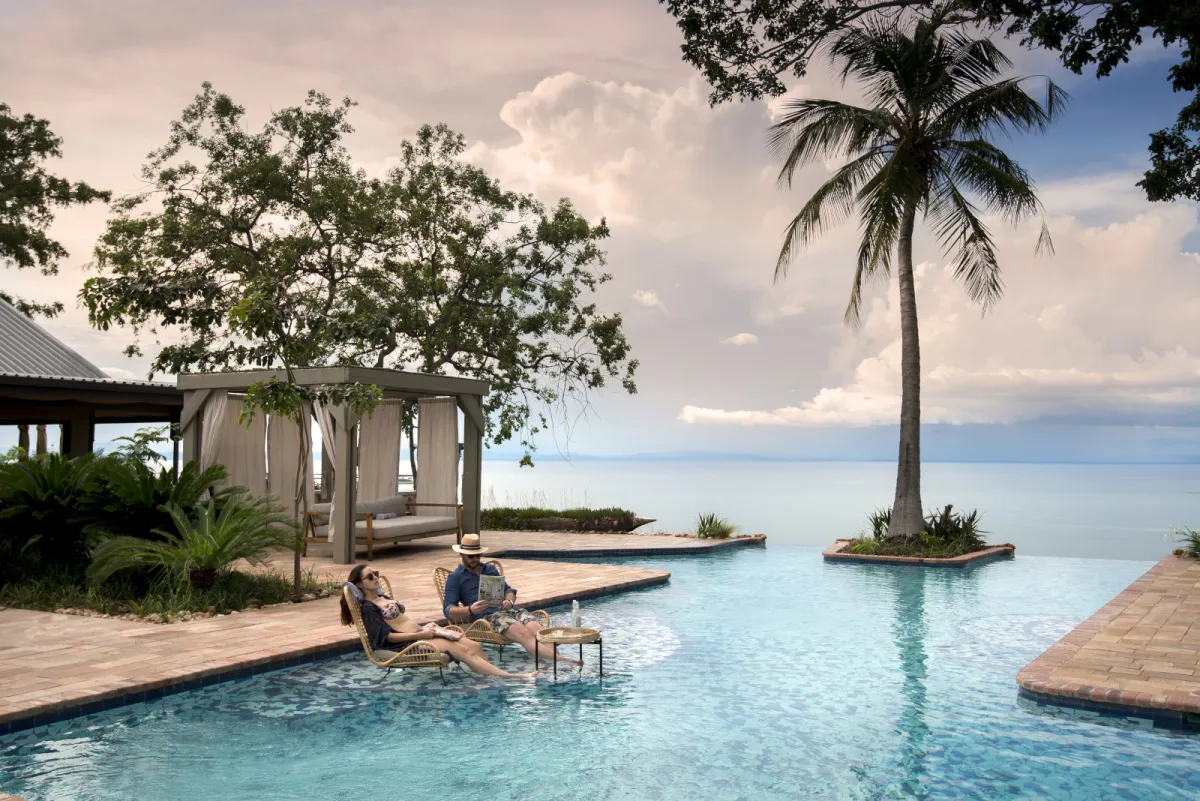 Sometimes all one needs is a bit of alone time in nature. A number of hides have been built around the estate, allowing you to sit quietly and watch the animals go about their day. There's a lot to be learnt from their (mainly) calm and gentle way of life.
At the Kukwonda Spa, Africology products are used to pamper you as you get treatments with a panoramic view across the lake. This must be up there amongst the 'Spas with the best views'!
7. Serra Cafema
Namib Desert, Namibia
If your head feels too full, an escape to the desert is just what the doctor ordered. There's something spiritually awakening about the vast open spaces, the spectacular, arid scenery and the silence of the desert.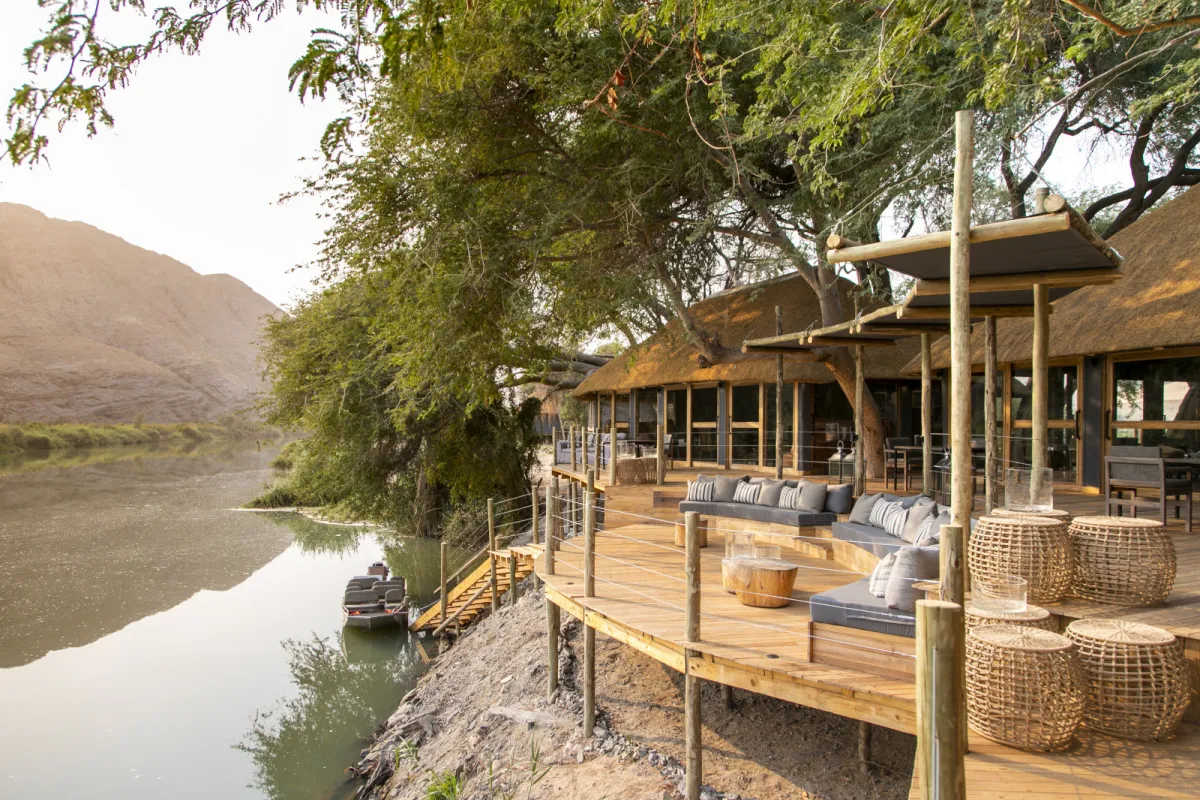 Serra Cafema is about as remote as you can get. Access is by light aircraft and then a bumpy one-and-a-half-hour road trip but if luxurious solitude is what you're looking for, it's absolutely worth the trip.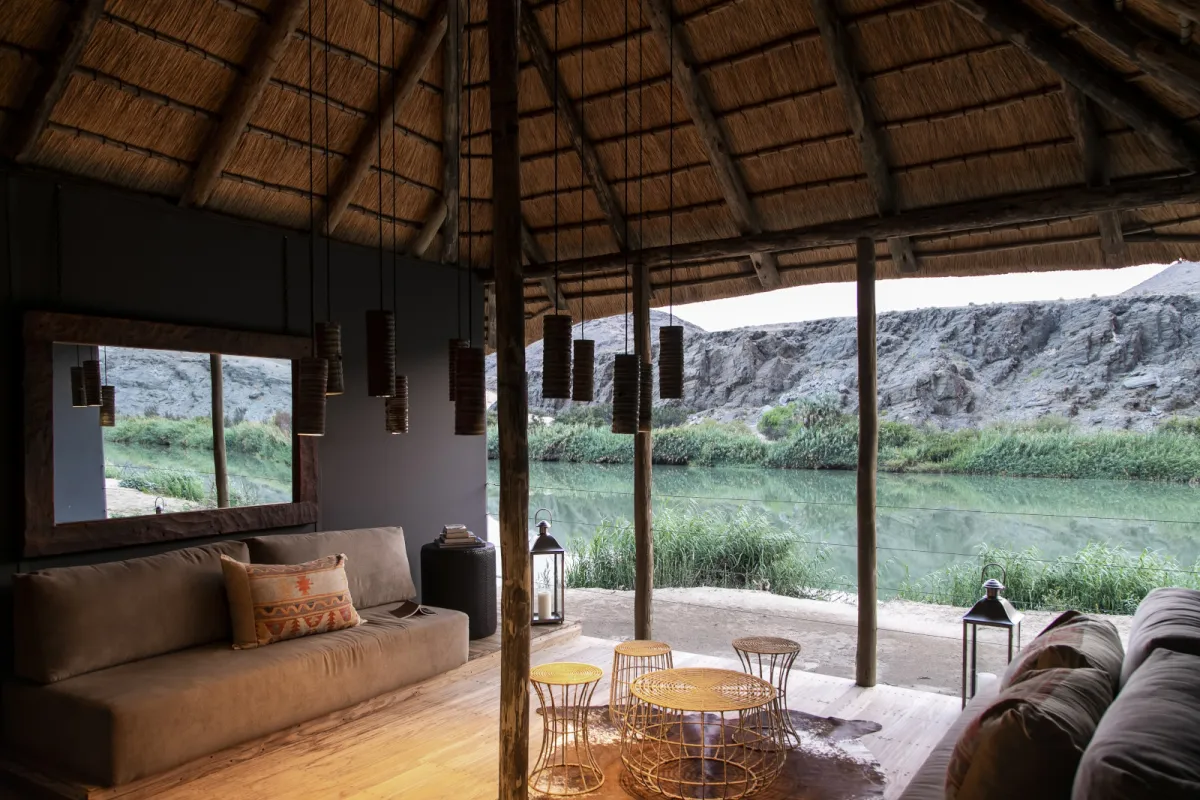 Located on the Kunene River, an oasis in the vast desert, complete with rushing rapids, Serra Cafema offers eight villas on elevated decks blended into the landscape and perfect for relaxed reclaiming of your sanity.
8. Kings Camp
Timbavati, South Africa
Perfectly placed in the private Timbavati Game Reserve (part of the unfenced Greater Kruger National Park), Kings Camp is the ultimate in luxury safari accommodation. With just eight luxury suites and two honeymoon suites, you're guaranteed privacy and quiet.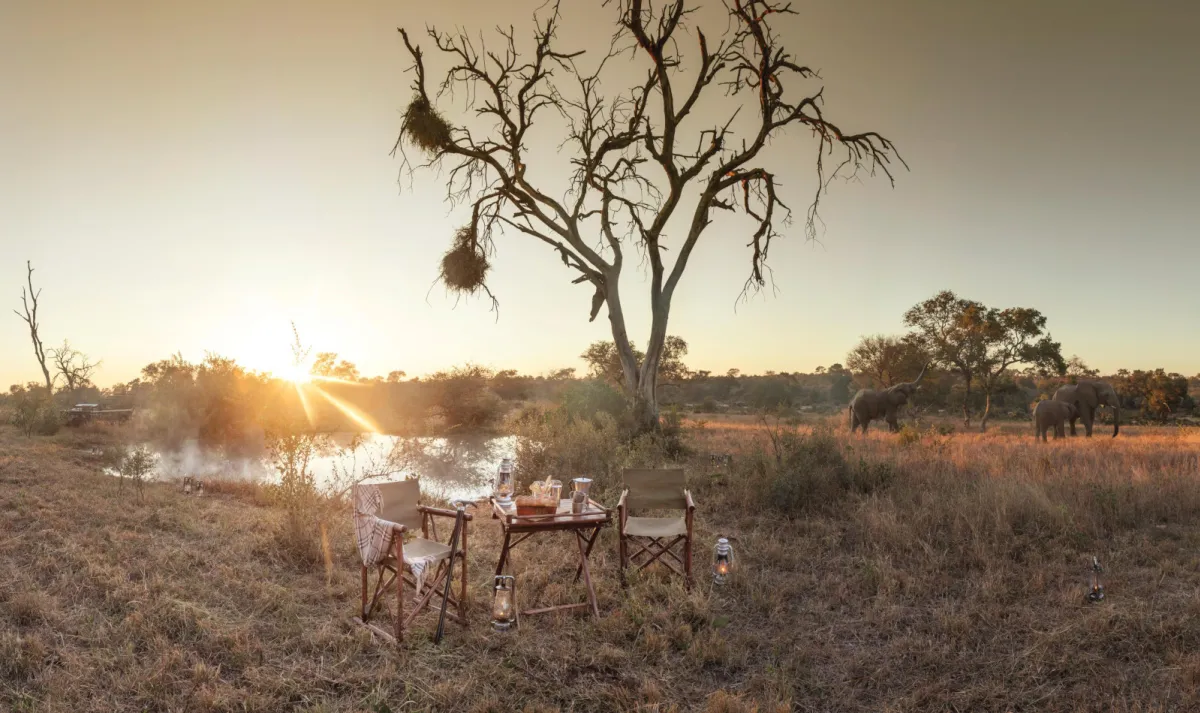 All the suites are luxuriously decorated and kitted with everything you need to soothe your soul, including outside double showers – showering alfresco is an incredibly freeing activity! Each suite has a private veranda with views over the bush and hammocks.
Soothe your soul on a game drive or nature walk, looking for The Big Five or contemplating the miracle of the smaller African creatures, like the dung beetle and tortoise. Knowledgeable guides will astound you with the facts.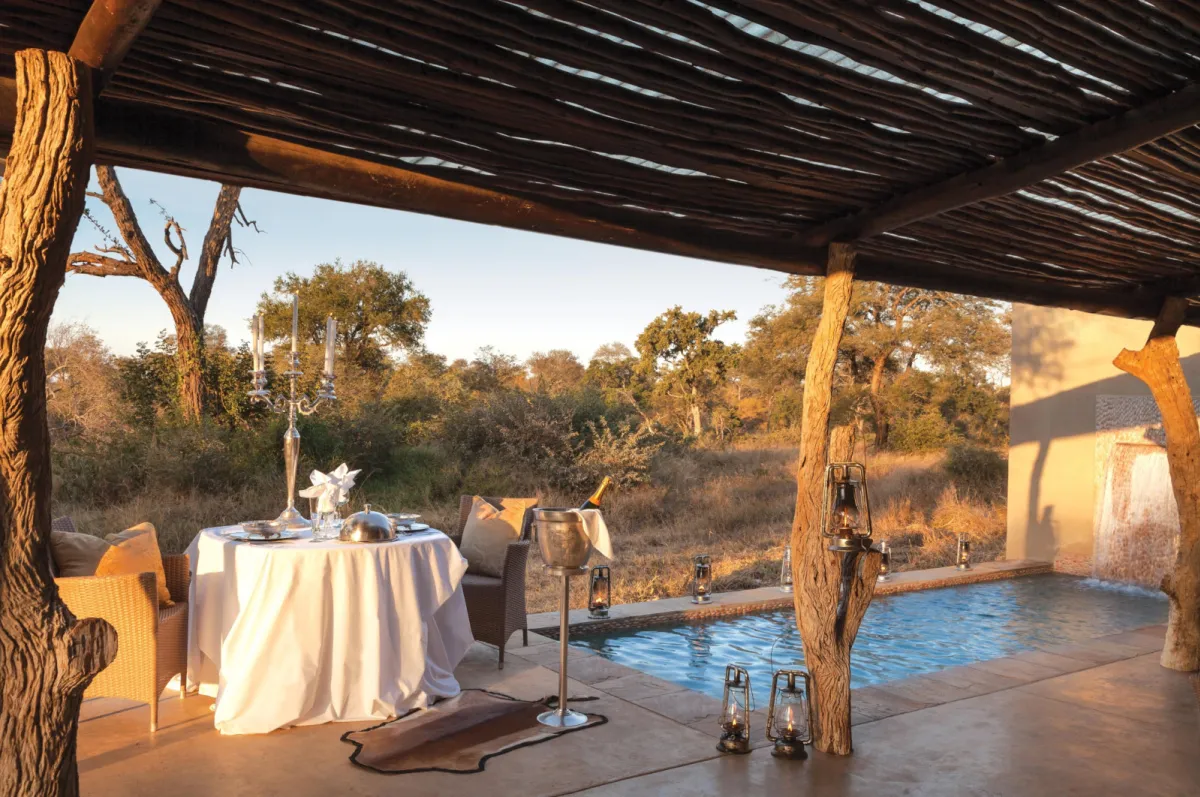 Kings Camp has a well-equipped gym and a special glass and thatch spa sala, allowing you to be pampered in the middle of the bush! Alternatively, the therapists are happy to come to your room.
9. Sabi Sabi Earth Lodge
Sabi Sabi, South Africa
Named as one of National Geographic's Unique Lodges of the World, the Sabi Sabi Earth Lodge is an architectural wonder, blending into the bush like a leopard lurking in the dappled shade. It's designed in harmony with nature, giving it a serenity that restores the spirit from the moment you arrive.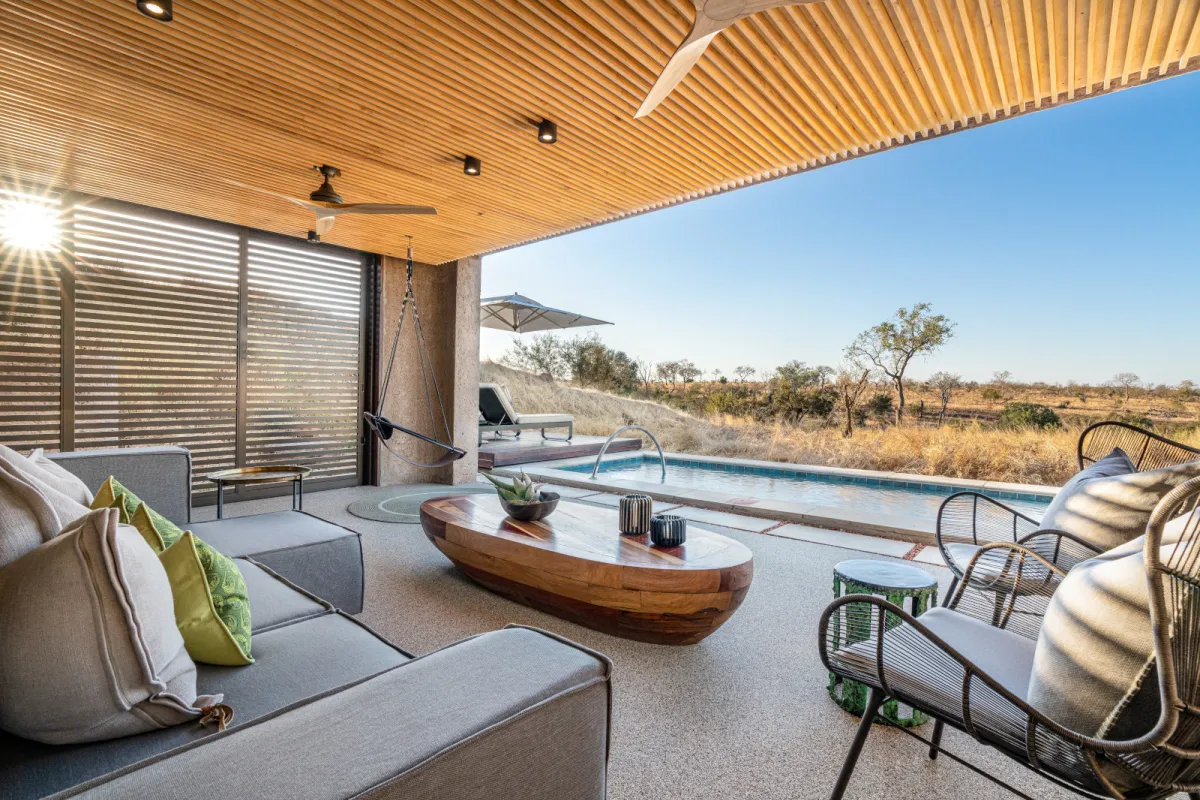 With 13 ultra-luxurious suites, the lodge is unlike any other. Each suite boasts a private plunge pool, glass-fronted bathroom and both indoor and outdoor showers, giving you the feeling of being one with nature every minute of the day.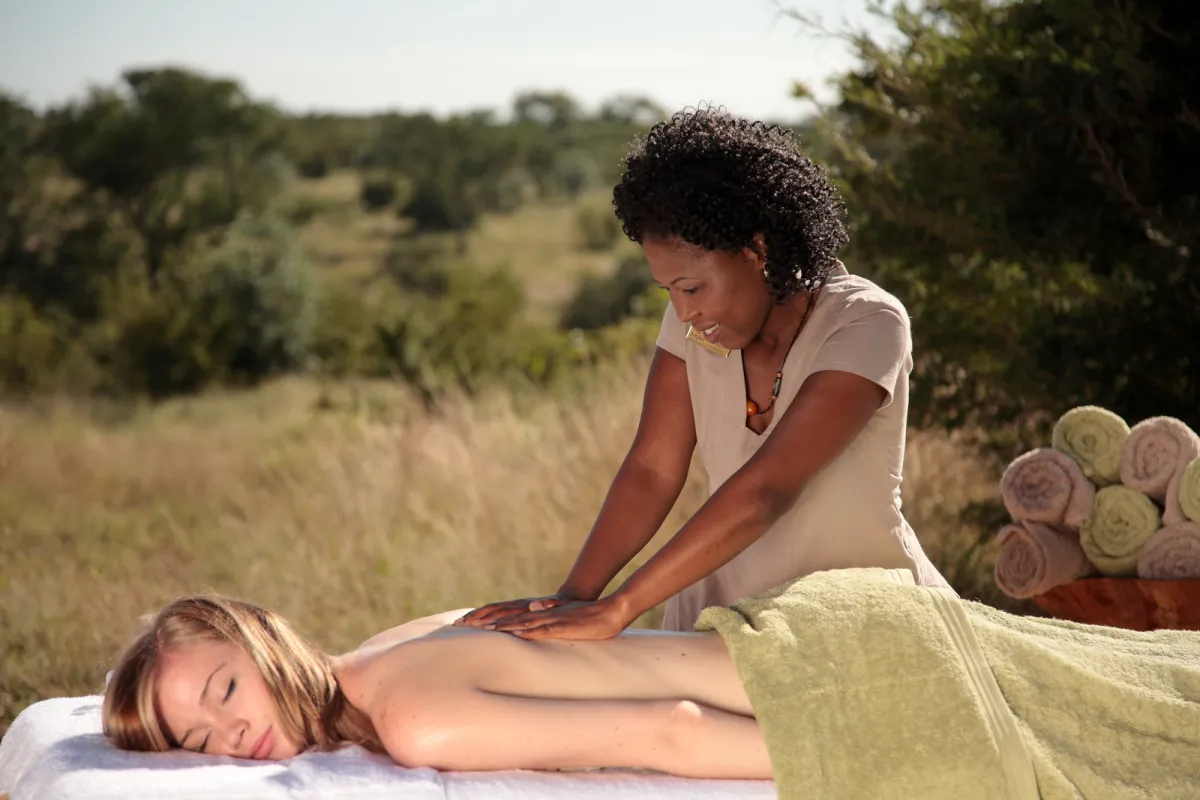 The lodge offers not only the usual safari activities but also has a secluded library, an art gallery and a meditation garden – all the things needed to soothe your soul. Add to that a well-equipped gym with views over the bushveld and the Amani Spa, and you're pretty much guaranteed to leave revitalised and refreshed!
"Wilderness gave us knowledge. Wilderness made us human. We came from here." —Boyd Norton, Serengeti: The Eternal Beginning
About the author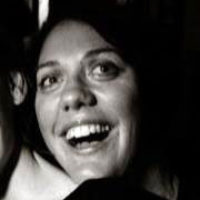 Briony Chisholm
Briony Chisholm has been travelling the back roads of South Africa for as long as she can remember – she's from one of those families. The safari writing, however, only started a couple of years' ago, and she loves it. She can even tell you the difference between safari vehicles now. Briony lives in Cape Town from where she does much armchair travelling and as much real travelling as she can fit in.