Ngorongoro Karatu Area Travel Guide
Ngorongoro Karatu Area Travel Guide
Accommodation and park fees within the Ngorongoro Conservation Area can be high. Just 20 km out of the park lies the bustling town of Karatu, surrounded by beautiful coffee plantations. It is here that comfortable, affordable accommodation in spectacular settings can be found. The area enjoys easy access to Ngorongoro, with its breathtaking scenery and teeming wildlife, especially at Ngorongoro Crater.
Highlights
Easy access to the Ngorongoro Conservation Area and Ngorongoro Crater
Prolific wildlife viewing and spectacular scenery at Ngorongoro Crater
Beautiful, lush surroundings with many established coffee plantations
An array of spacious and private accommodation in the area to suit all budgets
Plenty of activities in and around Karatu, including tours, walks, trekking and biking
Village walks and visits to meet local people and learn about their culture and traditions
The bustling town of Karatu lies about 20 km south of the gate into the Ngorongoro Conservation Area. From the gate, it is less than 10 km to the world-famous Ngorongoro Crater. Surrounding the town are well-established coffee plantations and forests, providing a spectacular setting for a wide array of accommodation.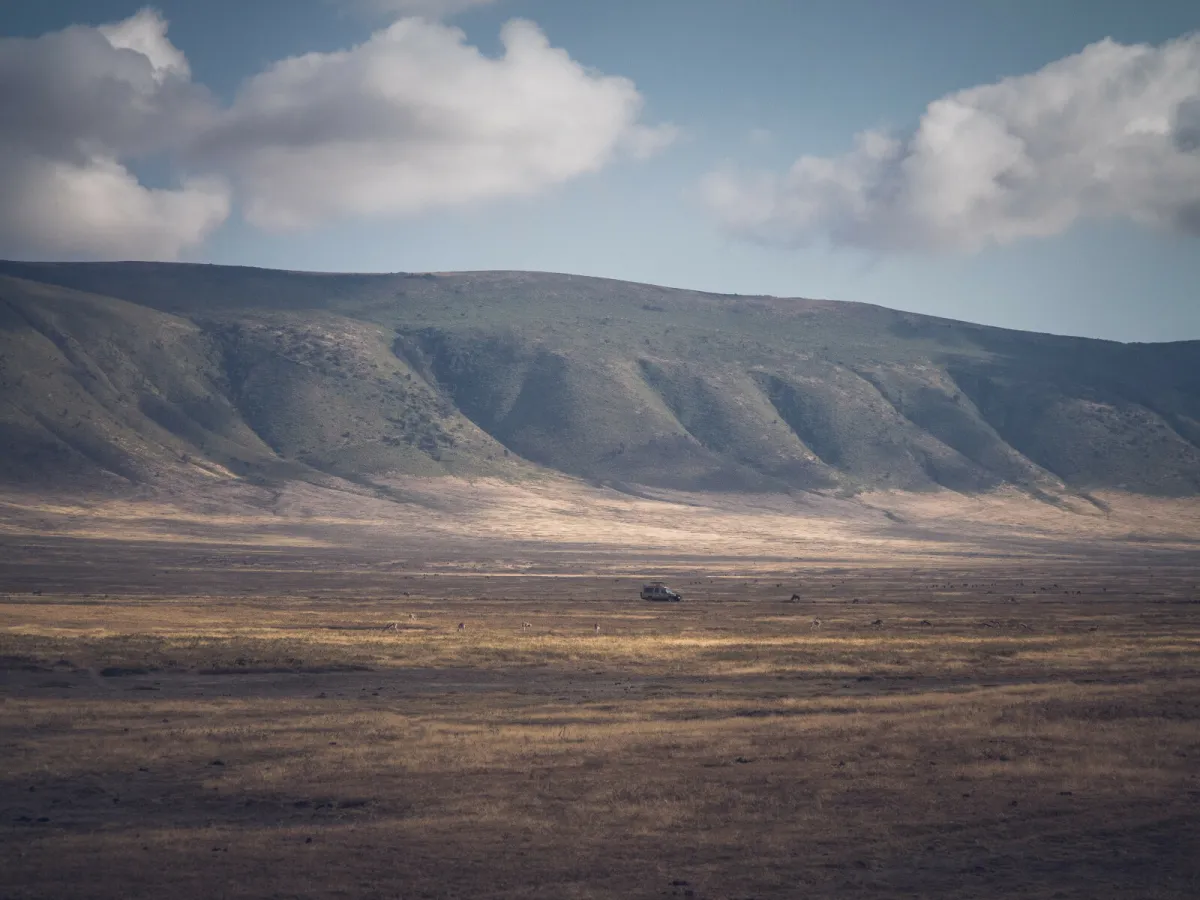 Many people opt to stay in this area rather than on the rim of the Ngorongoro Crater. Accommodation at the crater and daily park fees for staying in Ngorongoro may not suit everybody's safari budget and the area outside the park offers some beautiful, more affordable alternatives.
Ngorongoro Crater
Ngorongoro Crater is up there on the Tanzanian must-see list. The biggest intact caldera (collapsed volcano) in the world covers 260 km² and boasts an incredibly diverse array of habitats that attract huge numbers of animals, including the Big Five. This makes for incredible wildlife viewing.
Things to see and do in the Ngorongoro Karatu Area
Visit nearby Ngorongoro Crater with its teeming wildlife
Spectacular walks both in and out of the Ngorongoro Conservation Area
Mountain biking
Guided treks in the area, length, duration and difficulty to suit all fitness levels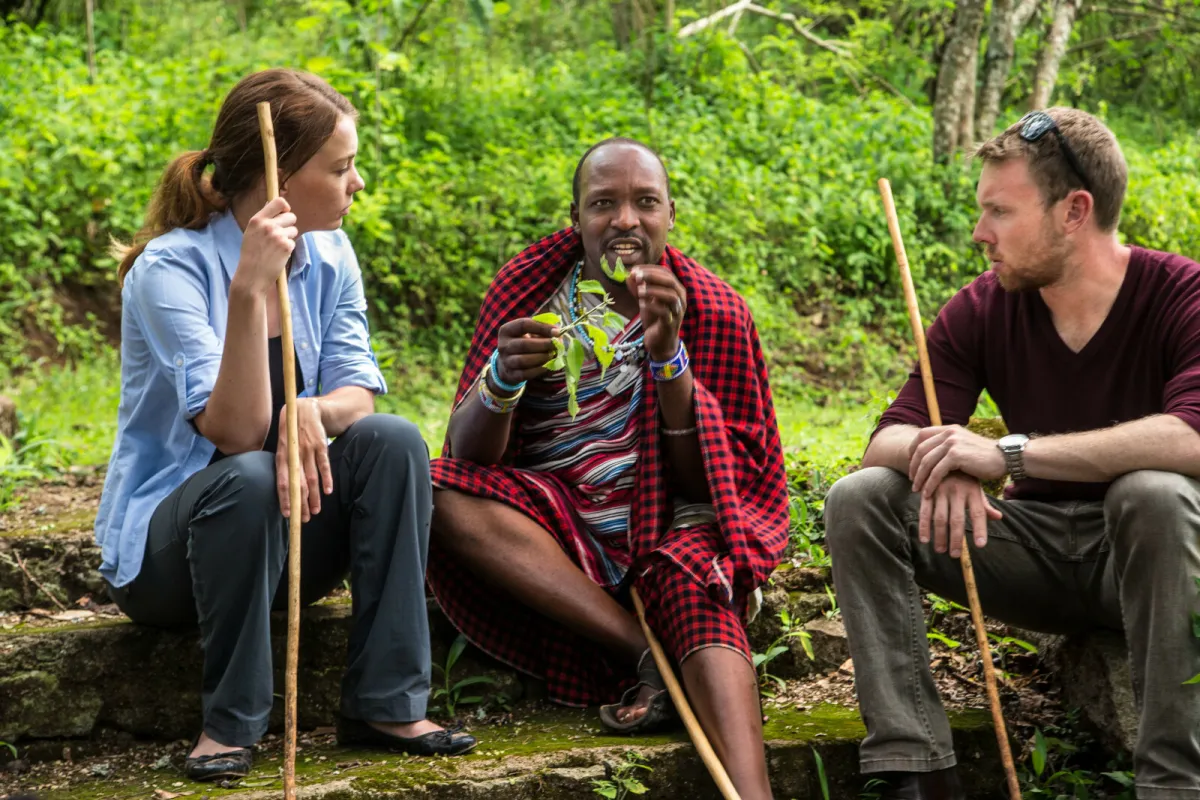 Visits to local villages to learn about the customs and culture of the people
Walks around the coffee plantations discovering the origins of Tanzania's famous coffee
When to visit Ngorongoro
The wildlife living in the Ngorongoro Crater itself are there all year, so from an animal viewing point of view, it's good all year. Due to its size, the area may get crowded during the peak tourist season which is pretty much all year round. Major rains generally fall in April and May, which make some roads unpassable, but this is the quietest season if you wish to avoid the crowds.
Getting there
By car - Karatu is about 150 km from Arusha by road. The trip generally takes just over two hours.
By air - There are daily flights from Arusha to Lake Manyara Airstrip. Arusha has two airports; Arusha Airport is the domestic option with daily flights from numerous local destinations. Kilimanjaro International Airport runs local, intercontinental and international flights.
With easy access to the spectacular scenery and abundant wildlife of Ngorongoro Crater, Ngorongoro Farm House has cottages spread out over beautiful gardens and a coffee plantation in the Karatu area. It's a working farm with an organic garden. Expect fresh, delicious food and the tantalising aroma of the farm's own coffee beans which are grown, picked, roasted, ground and enjoyed right there.
Set just 12 km from the entrance to Ngorongoro and with easy access to the spectacular scenery and abundant wildlife of Ngorongoro Crater, Plantation Lodge is the perfect spot to lay your head. With a range of different rooms set in a tranquil garden on a coffee plantation, it's hard not to relax here. Go game viewing in Ngorongoro, meet the local people, go for walks both in and around the Ngorongoro Conservation Area; the options are endless.
A historic farmhouse with elegant and comfortable guest cottages.
Maasai for Mountain of the God, Oldoinyo Lengai is an active volcano which can be spotted on a hike into Empakaai Crater.
Lake Manyara National Park
The spectacular alkaline Lake Manyara forms the centre point of this small and very beautiful park with surprisingly diverse fauna and flora. A circuit drive through the park passes through forest, wetlands, grassy plains and acacia forests, offering views of different animals and multitudes of birds. Elephant, hippo, giraffe, tree-climbing lion and baboon are just a few of the game that call Manyara home.
On an Empakaai Crater hike, you can expect to see buffalo, hyena, blue monkeys and the occasional elephant.
You may also want to look at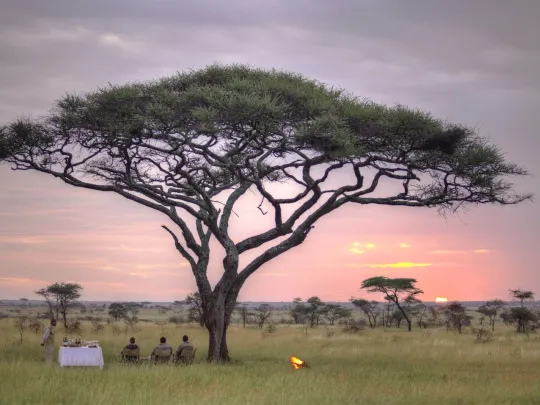 This fly-in 5 Day Luxury Serengeti Safari explores one of Tanzania's hidden gems, the big cat region of Soit le Motonyi. The safari includes a flight from Arusha to the Serengeti, game drives in a prime game-viewing area far from the jostling crowds and accommodation in a luxury, eco-friendly tented safari camp with uninterrupted views of the endless savannah. Speak to us about the best time to book if you also want a glimpse of the Great Wildebeest Migration.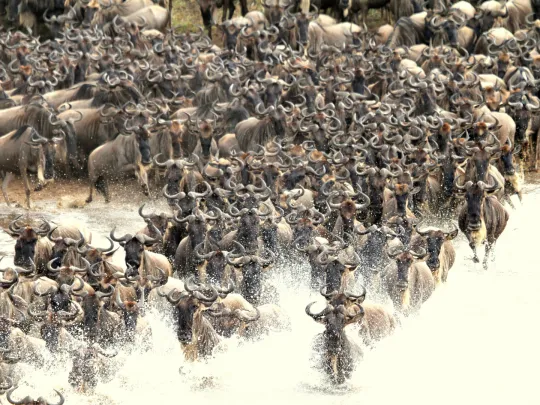 Experience the vast expanses of true wilderness and perhaps some of the best game-viewing areas on the African continent. Our 7-Day Taste of Tanzania Safari Tour takes in the untamed Tarangire, the world-renowned Serengeti (famous for the Great Migration) and Ngorongoro National Park. Accompanied by some of the country's best guides, your safety and comfort will be in excellent hands, leaving you to enjoy the safari of a lifetime at the best possible price.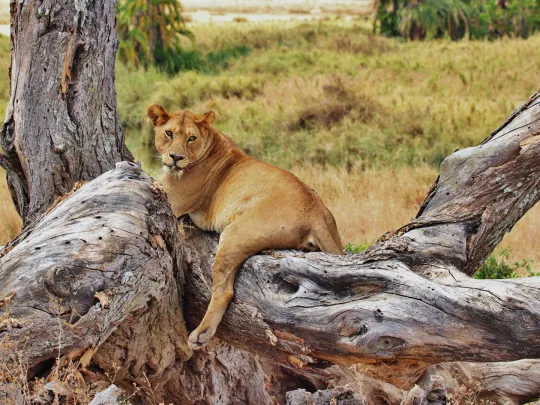 Welcome to untamed Africa! Tanzania's Southern Circuit has all the remoteness you could ask for. It's an uncrowded, unspoilt and unhurried safari experience that you'll be hard-pressed to experience elsewhere. Enjoy the top destinations of Ruaha, Katavi and Selous before rounding the trip off with 5 days at an exclusive tropical island paradise.