11 Day Botswana and Victoria Falls Safari
11 Day Botswana and Victoria Falls Safari
It is easy to combine Botswana and Victoria Falls. This trip idea combines four of Botswana's top safari destinations with two nights at Victoria Falls. The duration is flexible, and you can spend an extra night at any destination on this trip. Botswana has many excellent safari lodges, but we always recommend using ones in the same group or family so you can benefit from long-stay specials. This trip idea is based on Desert & Delta Lodges, which are reasonably priced and lie mainly in the national parks.
Highlights
Lodge-based fly-in safari
Two nights at Leroo La Tau, Makgadikgadi
Two nights in Moremi Game Reserve, Okavango Delta
Two nights in Savute
Two nights on the Chobe River
Two nights at Victoria Falls
Light aircraft flights between destinations
Excellent game viewing
Luxury accommodation
Days 1 to 3
Makgadikgadi Pans National Park
Arrive in Maun and transfer by air charter to Leroo La Tau game lodge, overlooking the Boteti River in the Makgadikgadi Pans National Park.
During the dry season from May to October, the Boteti River attracts thousands of animals to the remaining waterholes here. You can expect large herds of zebra, wildebeest and other animals coming to the watering hole in front of the camp to drink.
When the zebras are around, lions are abundant, so the chances of seeing them, perhaps even on a kill, are good.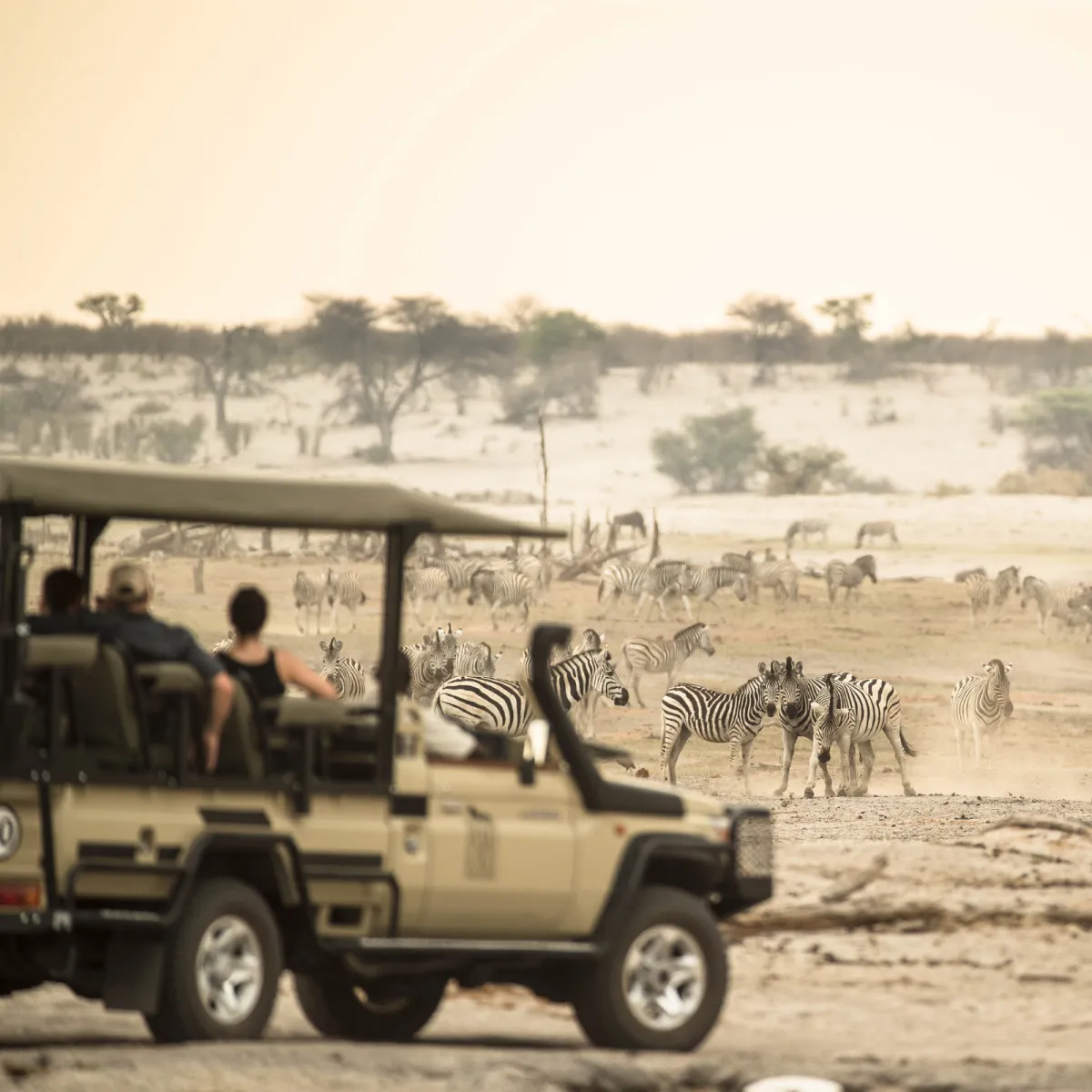 Leroo La Tau has access to a private concession area where night drives and off-road driving are permitted. Most game drives, however, happen in the Makgadikgadi Pans National Park. Spend two nights at Leroo La Tau in a luxury chalet overlooking the Boteti riverbed.
Days 3 to 5
Okavango Delta
Transfer by road and then by air to Camp Moremi, in the heart of the Moremi Game Reserve, on the edge of the Okavango Delta.
From Camp Moremi, you can do morning game drives in the Moremi Game Reserve in an open 4x4 safari vehicle. In the afternoon, you can choose between an afternoon game drive or a boat trip into the beautiful Okavango Delta.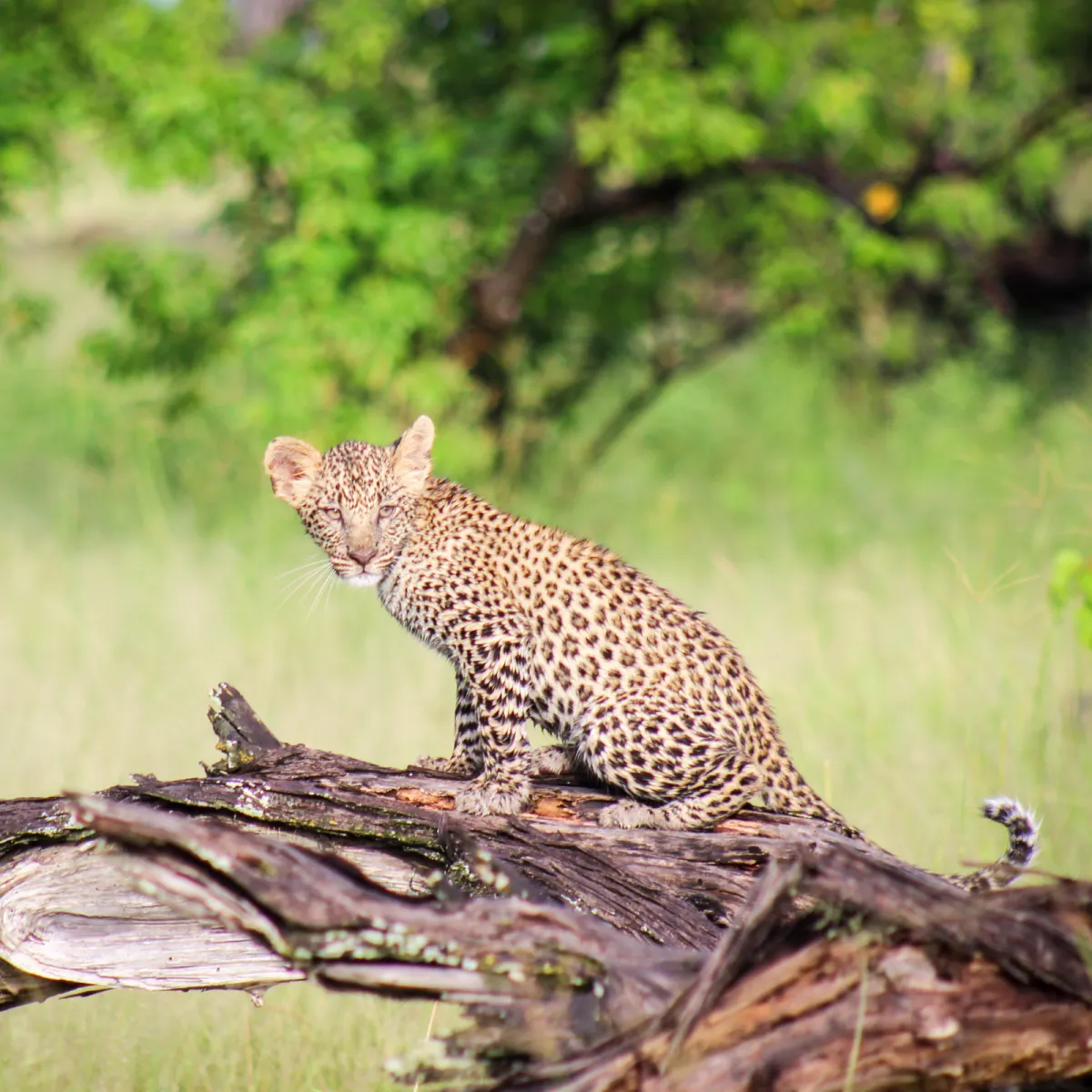 An alternative option is to stay at a camp even deeper in the Okavango Delta, where only water-based activities are offered, such as Camp Okavango. Spend two nights here and explore the wonders of the Okavango Delta and Moremi Game Reserve.
Days 5 to 7
Savute Channel
A short flight brings you to Savute Safari Lodge, overlooking a waterhole in the Savute Channel.
Here the scenery is different, and you can expect abundant wildlife, including elephants, buffalo, giraffes, zebra, various antelope species and lions.
Other predators that can be seen here include African wild dogs, hyenas, leopards and sometimes cheetahs.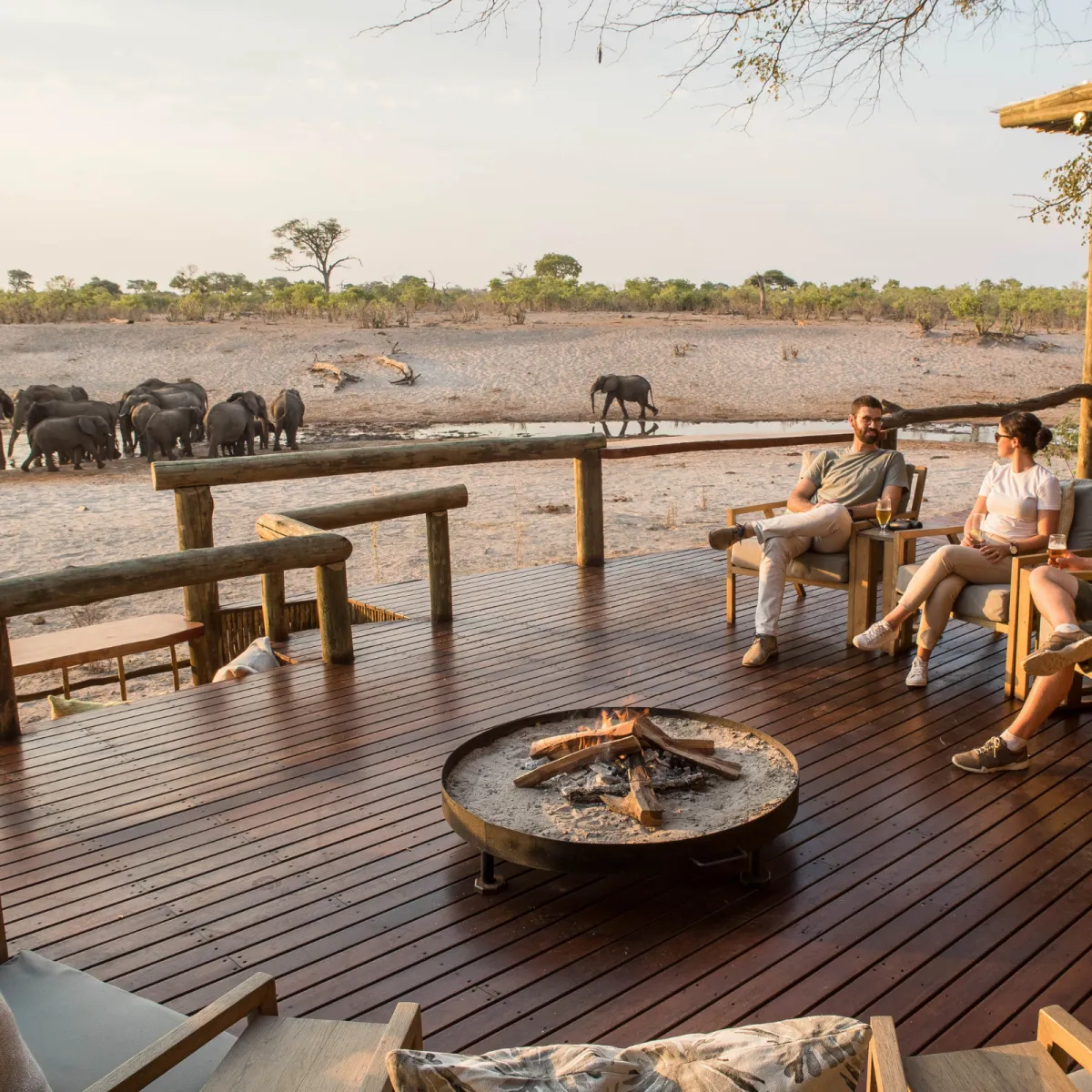 During the dry season at Savute, you can sit on the deck and watch the animals come down to the waterhole in front of the camp. Game drives in the Savute area are usually excellent and focus on the wildlife-rich areas around the Savute Marsh and Savute Channel.
Days 7 to 9
Chobe River
Another short flight and transfer bring you to Chobe Game Lodge, on the banks of the Chobe River in the far north of Botswana.
This is the best game viewing area in the Chobe National Park, and the activities include open-vehicle game drives and game viewing by boat.
During the dry season, the Chobe River offers the best boat-based game viewing in the world, and you can expect close-up, unobstructed views of hippo, crocodile, elephant herds, buffalo, sable antelope, lechwe, giraffe, zebra and various other animals. Lions, leopards and African wild dogs are often seen in this area.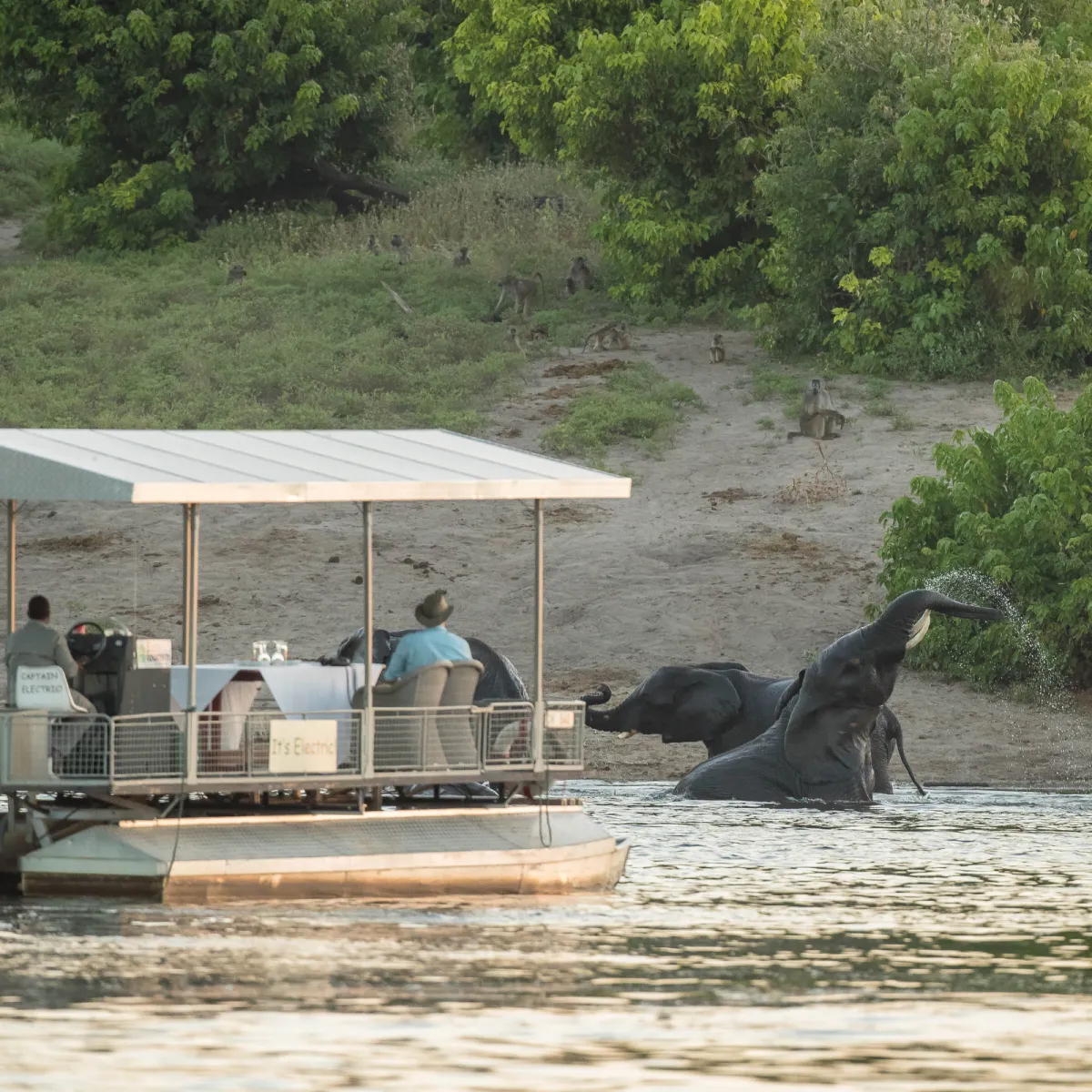 Chobe Game Lodge is a luxury lodge with a spotting scope on the game-viewing deck, a swimming pool, two bars, a full-size snooker table, stargazing by telescope from the astronomy deck, a gym and a spa.
This is a great destination to end the Botswana leg of your trip.
Days 9 to 11
Victoria Falls
The mighty Victoria Falls are less than two hours by road from Chobe Game Lodge.
You can visit them from the Zambian or Zimbabwean side, and we can safely recommend both. From August to December, the views from the Zimbabwe side are much better as the Zambian side is mostly dry during this time.
If you opt for the Zambian side, you will cross the Zambezi River and stay at one of the hotels in Livingstone.
For the Zimbabwe side, it is a 90-minute road transfer to the town of Victoria Falls. For this trip idea, we recommend the David Livingstone Hotel on the Zambian side or the Victoria Falls Safari Lodge on the Zimbabwean side.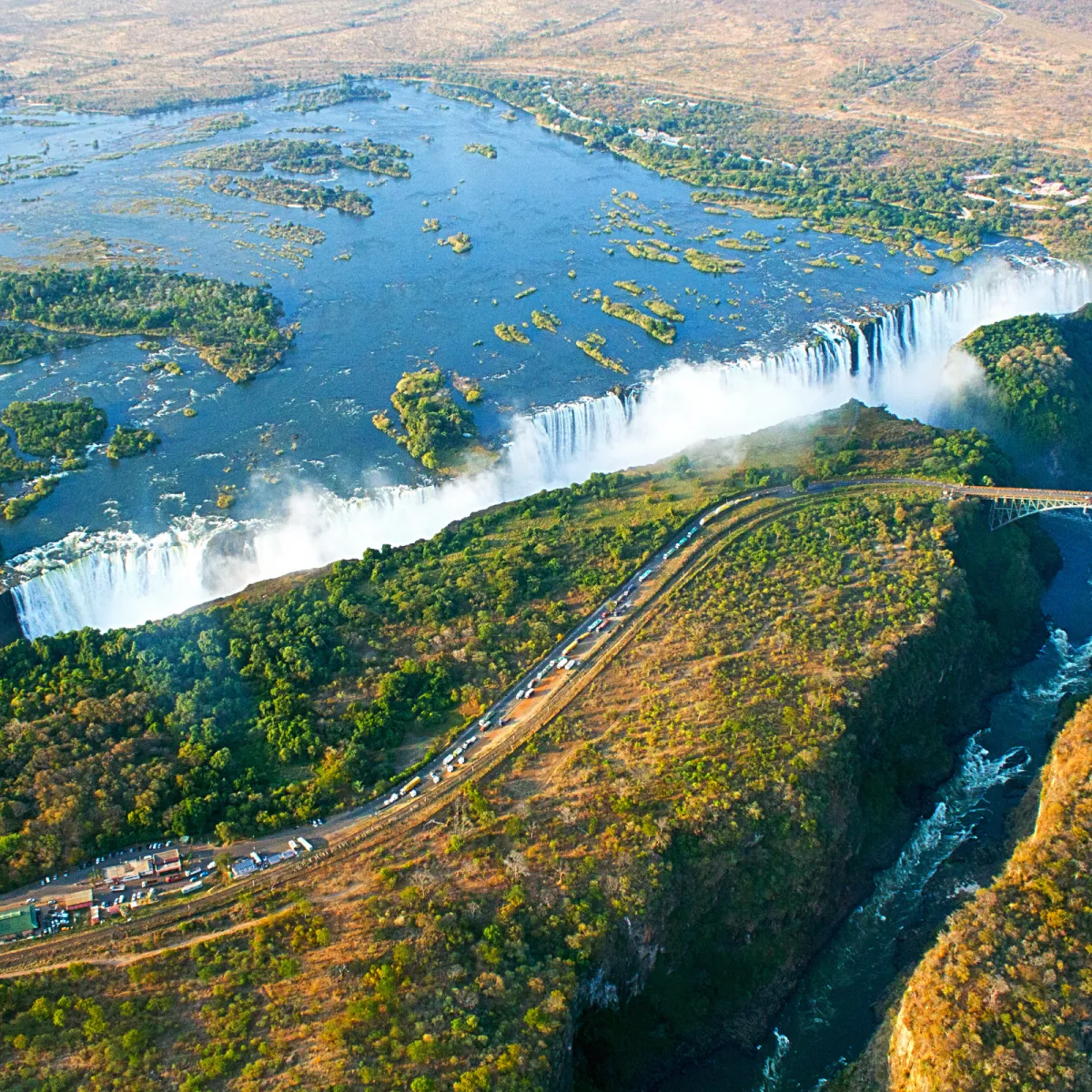 Spend your final two nights at the falls on a bed-and-breakfast basis (dinner can be included if you wish), and explore the breathtaking Victoria Falls. A variety of activities can be done in the area.
Fly out from Victoria Falls Airport, Zimbabwe or Livingstone Airport, Zambia.
Customise this trip idea
This is a travel idea, not a fixed itinerary. You can spend an extra night at any of the destinations suggested, and you can drop or add destinations to this itinerary.
This African safari will not disappoint, especially in the dry season from May to October.
Approximate cost
In Botswana, there is a notable difference in price between the low and high seasons. There's also a 'shoulder season' (usually April/May and November) when prices are lower than peak season rates.

This approximate rate is intended as a guideline only and includes all local flights, transfers, accommodation, meals and game drives.
As always, we will plan the best possible safari that gives you the most value for your time and budget. Contact us for a free quote with no obligation.
Rates
Period
Price per person (pp)
January 1, 2023 - March 31, 2023 and December 1, 2023 - December 31, 2023

$6,622

£5,303

€6,172

R124,646

April 1, 2023 - June 30, 2023 and November 1, 2023 - November 30, 2023

$7,964

£6,378

€7,422

R149,906

July 1, 2023 - October 31, 2023

$9,928

£7,950

€9,253

R186,875

January 1, 2024 - March 31, 2024 and December 1, 2024 - December 31, 2024

$7,420

£5,942

€6,915

R139,667

April 1, 2024 - June 30, 2024 and November 1, 2024 - November 30, 2024

$8,920

£7,143

€8,313

R167,901

July 1, 2024 - October 31, 2024

$11,120

£8,905

€10,364

R209,312
Your final quoted rate may differ depending on date of travel, choice of lodge, room type and exchange rate fluctuations.
All rates on our website are provided to give a price estimate only and should not be seen as a firm quote. Likewise, our currency converter will give you a rough idea of the price in another currency, but should not be seen as a firm quote. It is only intended as a guideline, based on the daily interbank exchange rate. Please contact us to receive an accurate, free quote with no obligation.
Includes
Accommodation as described
All meals in Botswana
Local beers, house wines and soft drinks in Botswana
Laundry service in Botswana
Breakfast at Victoria Falls
All game drives and scheduled activities
All park fees in Botswana
All scheduled inter-lodge flights
Departure tax
Airport transfers
Community levy
Excludes
International flights and visas
Border crossing costs (if applicable)
Lunches and dinners at Victoria Falls
Drinks at Victoria Falls
Park fees at Victoria Falls
Personal expenses and optional extras
You may also want to look at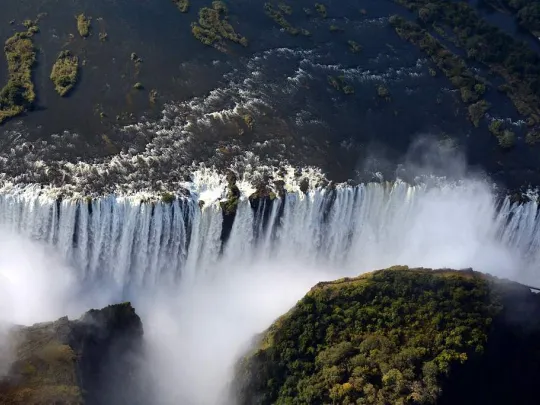 Combine these three top travel destinations in Southern Africa on this popular 12-day trip idea: Victoria Falls, Cape Town and the Kruger National Park. You can swap the order of destinations around, change the duration and choose accommodation according to your budget and wish list. Cape Town is regularly voted one of the best destinations in the world, Victoria Falls is one of the world's most breathtaking natural wonders and Kruger Park is the top safari destination in South Africa.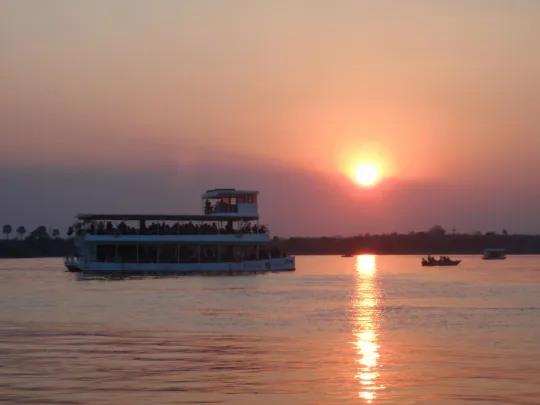 The majestic Victoria Falls on the Zimbabwean/Zambian border is within easy reach of the famous Chobe National Park in Botswana, making it easy to combine these two terrific destinations on one unforgettable safari itinerary. This trip idea combines three nights at Victoria Falls with two nights on safari at the Chobe National Park, enjoying both land- and water-based game viewing.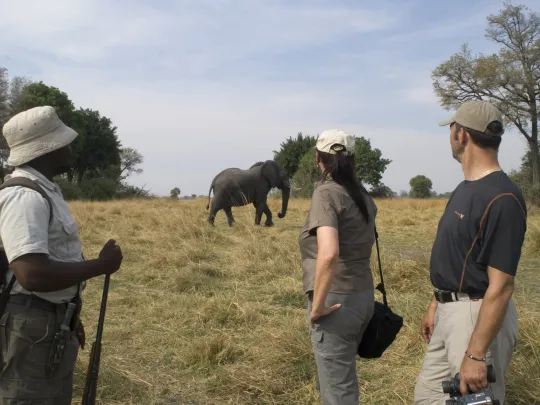 Fly in by light aircraft and spend six nights in some of Botswana's most productive game-viewing areas, combining Kwando's best camps: Splash, Lebala, and Lagoon. Spend two nights at each camp, or spend three nights at Splash and three nights at either Lagoon or Lebala. All three safari camps are in large private concessions and offer a variety of game-viewing activities. Kwando is known for its commitment to a high-quality, traditional safari experience that focuses on authentic bush encounters and the best possible wildlife sightings.