7 Day Classic Kenyan Conservancy Safari
7 Day Classic Kenyan Conservancy Safari
Our 7 Day Classic Kenyan Conservancy Safari combines two of the most popular travel regions in Kenya — Laikipia and the Masai Mara. The Ol Pejeta Conservancy in Laikipia, central Kenya, offers 365 km² of quality game viewing. Spend three nights at Kicheche Laikipia, situated at an active waterhole with frequent visits by elephant, black rhino, plains game and a wealth of birdlife. Then fly down the Rift Valley to an exclusive conservancy near the Maasai Mara National Park. Only a few vehicles are permitted here. Enjoy unhindered views of spectacular wildlife in some of the most breathtaking African scenery.
Highlights
Visit two of the best safari destinations in Kenya; Laikipia and Masai Mara
Excellent game viewing by open safari vehicle or on foot
Exclusive conservancy safari camps, away from the congestion and tourist crowds in the national parks
Accompanied by expert, experienced guides on all safari activities
Includes flights between destinations
Luxury tented accommodation with all meals
A wide choice of optional activities includes visits to chimpanzee sanctuary and local tribal villages, lion tracking on foot, mountain biking, canoeing and guided bush walks
Day 1 - Laikipia
You'll be met at Nairobi JKI Airport or your Nairobi hotel and transferred to Wilson airport for a morning flight to Nanyuki airstrip. On arrival, we transfer to Kicheche Laikipia Camp in Ol Pejeta Conservancy in Laikipia, approximately one hour's game drive time. We enjoy lunch at camp then have time to relax and settle in until afternoon tea.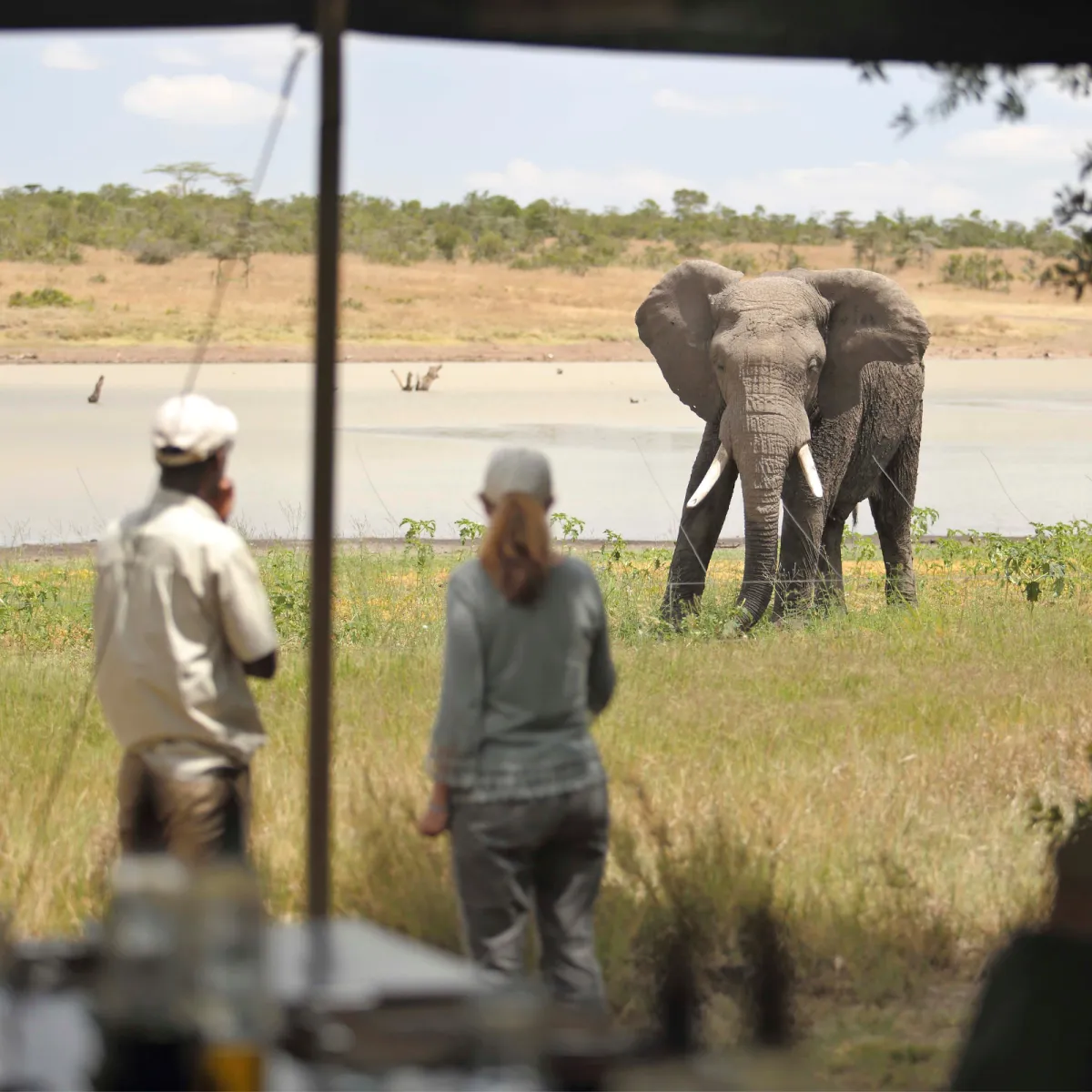 We head out on an open vehicle game drive to witness the enormous array of wildlife Laikipia has to offer. We return to camp for dinner and share drinks and stories around the campfire or in the cosy lounge tent. Fall asleep to the sounds of the bush outside your tent.
Day 2
Off to an early start with coffee, tea or hot chocolate, then a longer game drive with a delicious picnic breakfast out on the plains. Lunch will be alfresco back at camp with time to enjoy the game and birdlife around the waterhole. In the afternoon, you'll have the option to visit the Chimpanzee Sanctuary before heading out on a late afternoon/evening game drive. On a night drive, we can see the shy nocturnal animals seldom seen in daylight.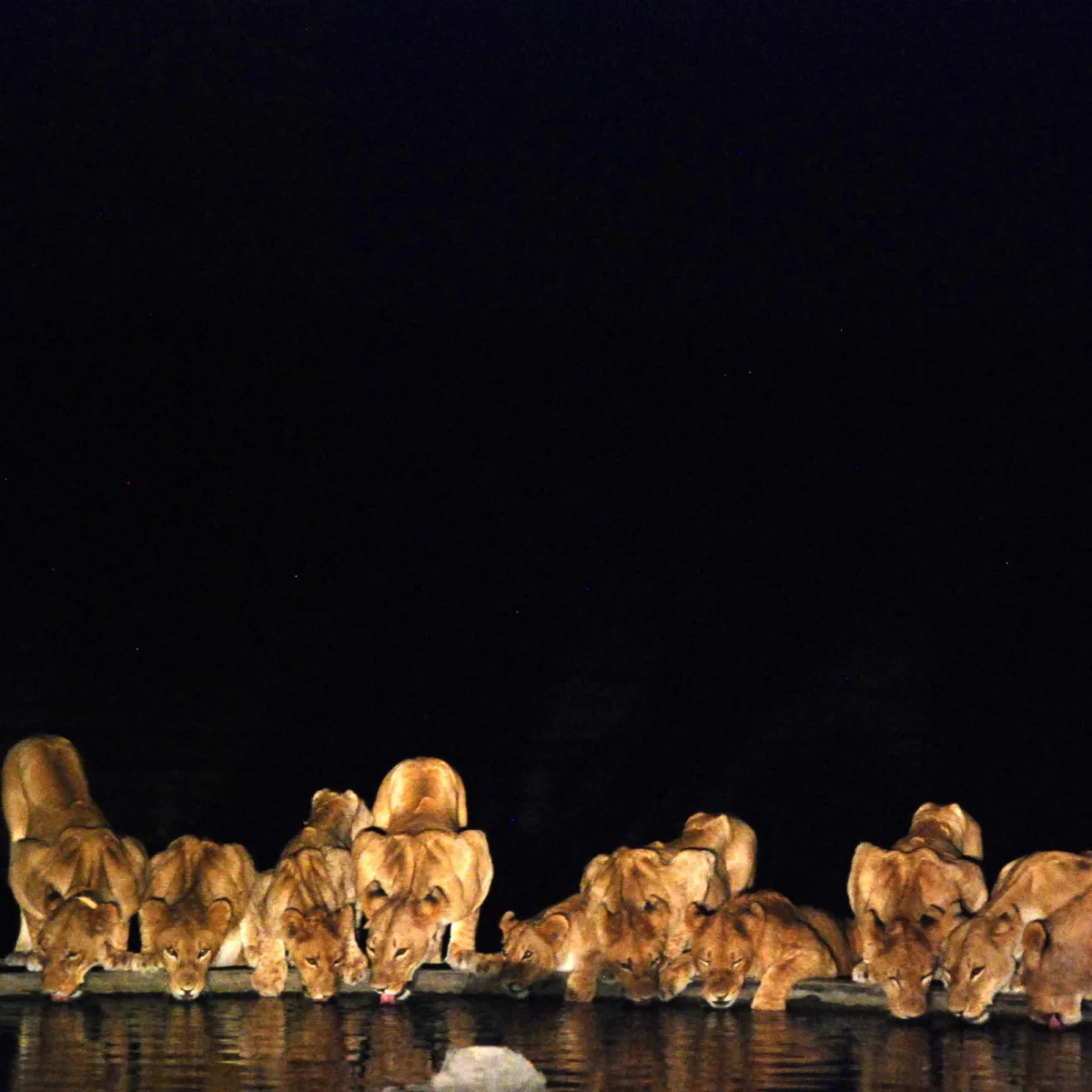 Day 3
Various optional activities include mountain biking, canoeing, game driving or going for a bushwalk with one of the guides and a ranger. Walks usually last two to three hours and are adapted to your preferences. Alternatively, head out on a morning game drive and enjoy another picnic breakfast out on the plains before returning to camp.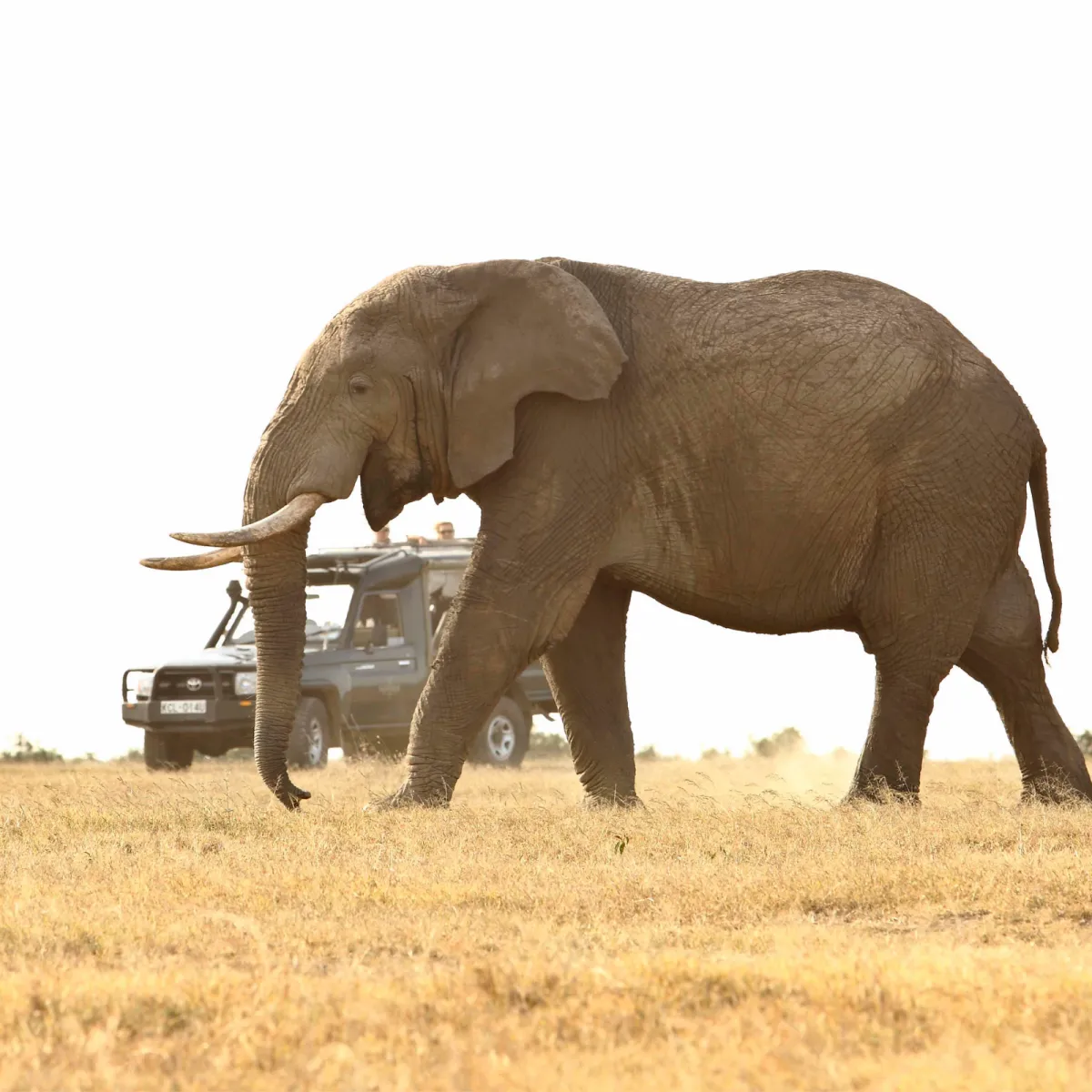 After lunch, you may want to take some time to visit the ranching program or the Wildlife Centre to learn more about the amazing Ol Pejeta conservation success story, where cattle ranching has successfully merged with wildlife conservation. After our afternoon/evening game drive, we return to camp to enjoy some drinks around the campfire or in the lounge tent. Dinner will be served in the adjacent dining tent.
Day 4 – Masai Mara
After a leisurely alfresco breakfast, we depart for the Nanyuki Airstrip for our morning flight by light aircraft to the Mara North Conservancy. For more information on what to expect from the game-viewing experience, take a look at our Maasai Mara National Reserve travel guide. Upon arrival, a local Kicheche guide welcomes us and drives us to Kicheche Mara Camp. There's a good chance of spotting some game en route. At camp, take some time to settle in, enjoy lunch and perhaps a siesta before afternoon tea. Afterwards, we set off for the afternoon game drive rounded off with evening sundowners overlooking the plains. We arrive back at camp in time for a shower and a drink before a delicious dinner.
Day 5
Up early with tea and coffee brought to your tent. Enjoy a hearty breakfast before heading out for a full day's game drive, either within the conservancy, to the Mara reserve, or to another conservancy.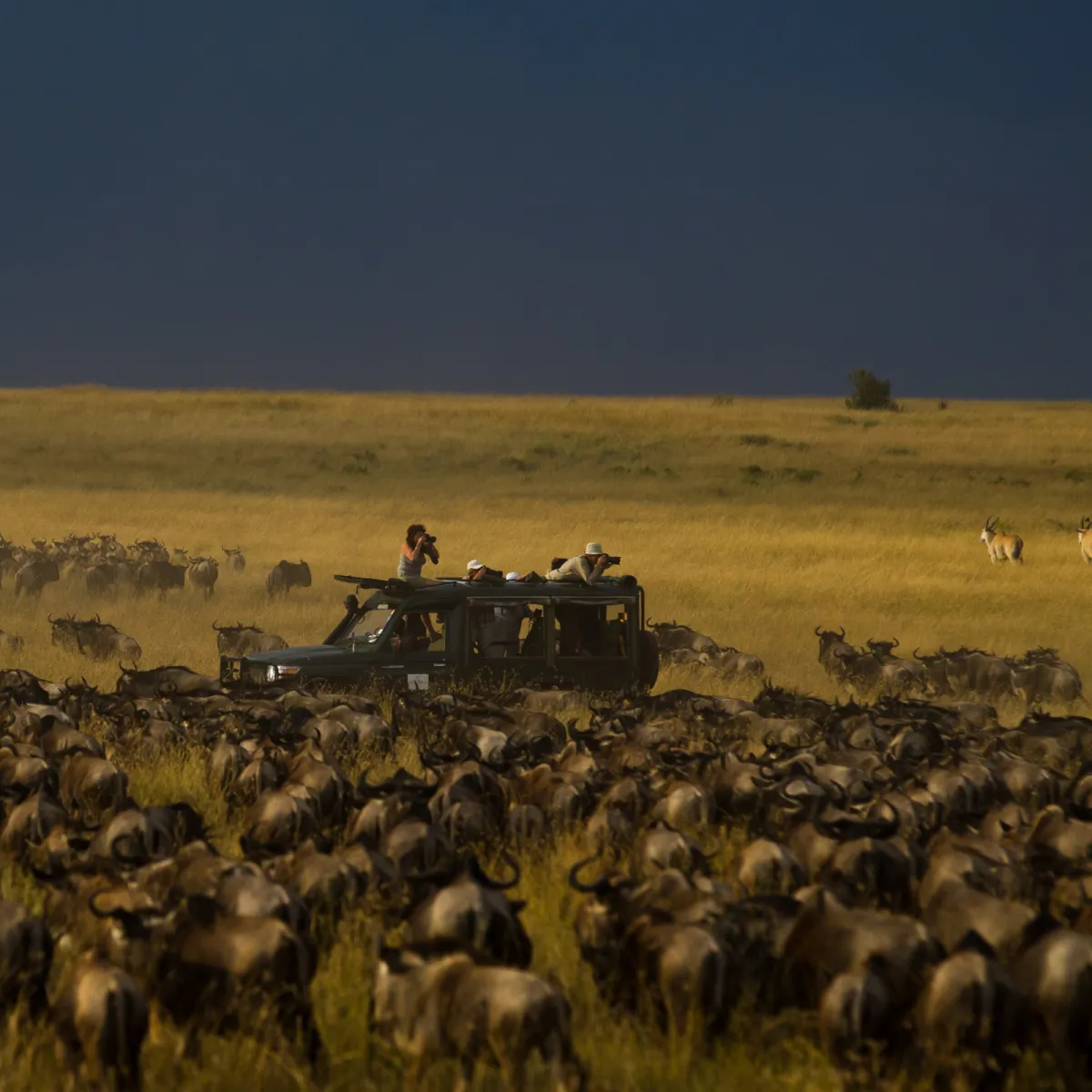 You'll see different terrain with a variety of animal and birdlife, stopping for a picnic lunch at one of the many scenic viewpoints. Arriving back at camp late afternoon, enjoy an aperitif and discuss the day's sightings around the campfire before dinner is served.
Day 6
In the morning we'll embark on a guided game walk of approximately two hours which offers yet another perspective of the terrain and fauna whilst crossing the plains. In the afternoon you may wish to visit a traditional Maasai manyatta (village) or opt for another afternoon/evening game drive.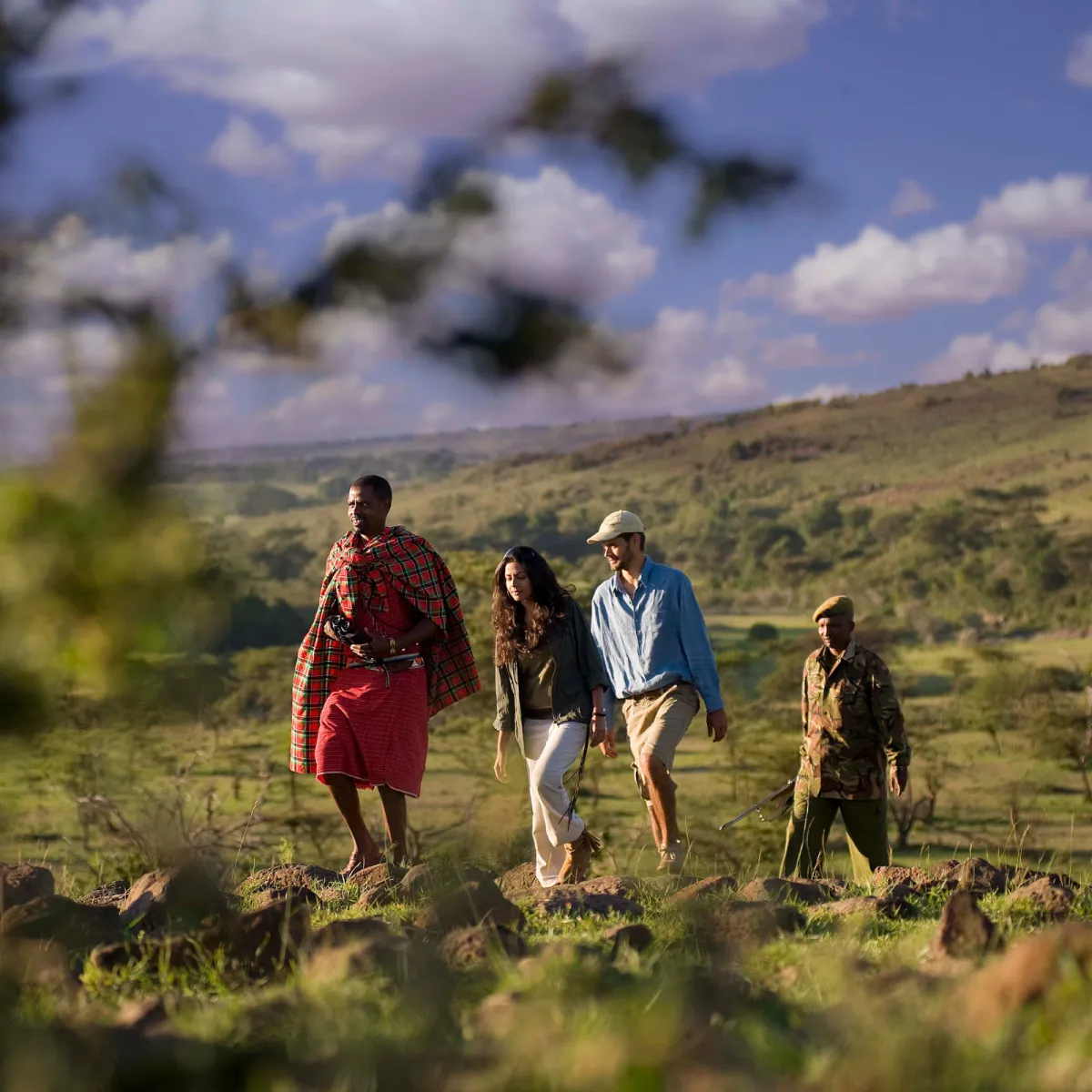 Day 7
Up early for our final morning game drive in the Mara. We return to camp to enjoy a sumptuous breakfast before our transfer to the airstrip for the 90-minute flight back to Nairobi. You'll be met at Wilson Airport and transferred to Jomo Kenyatta International for your evening outbound flight onwards or to your Nairobi hotel. We'll be happy to arrange accommodation for you in Nairobi for the night before and/or after your safari.
Accommodation in Ol Pejeta
Kicheche Laikipia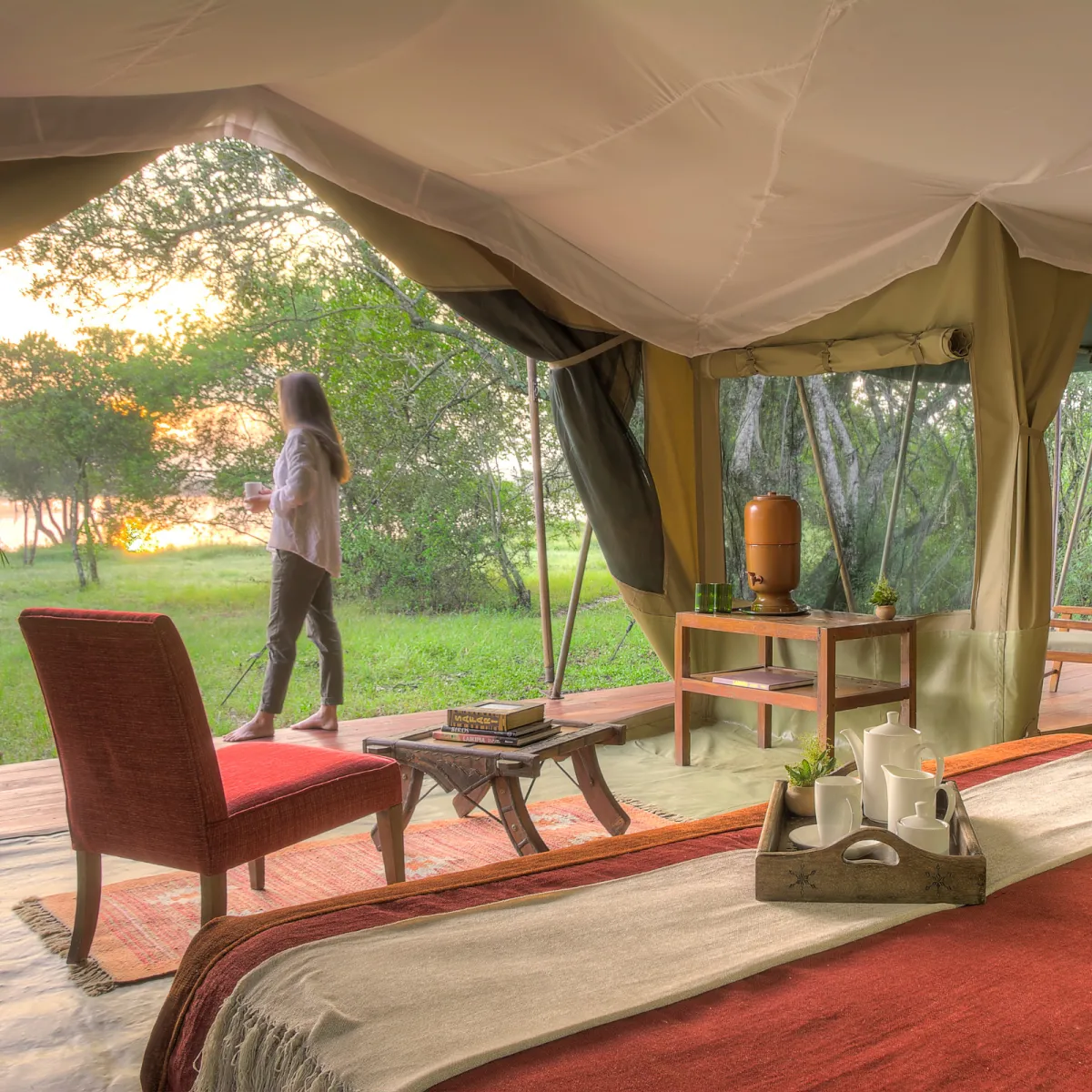 This camp consists of six luxurious tents set at the foot of an indigenous forest overlooking a waterhole in the centre of the Conservancy. The Ol Pejeta Conservancy has East Africa's largest population of black rhino along with elephant, buffalo, lion, cheetah and many other wildlife species including unique northern species such as reticulated giraffe, oryx, Grevy's zebra and Jackson's hartebeest. In addition to the incredible game viewing opportunities at Kicheche Laikipia Camp, there's a wide range of activities on offer to ensure you enjoy a complete wilderness experience.
Accommodation options in Masai Mara
Kicheche Mara Camp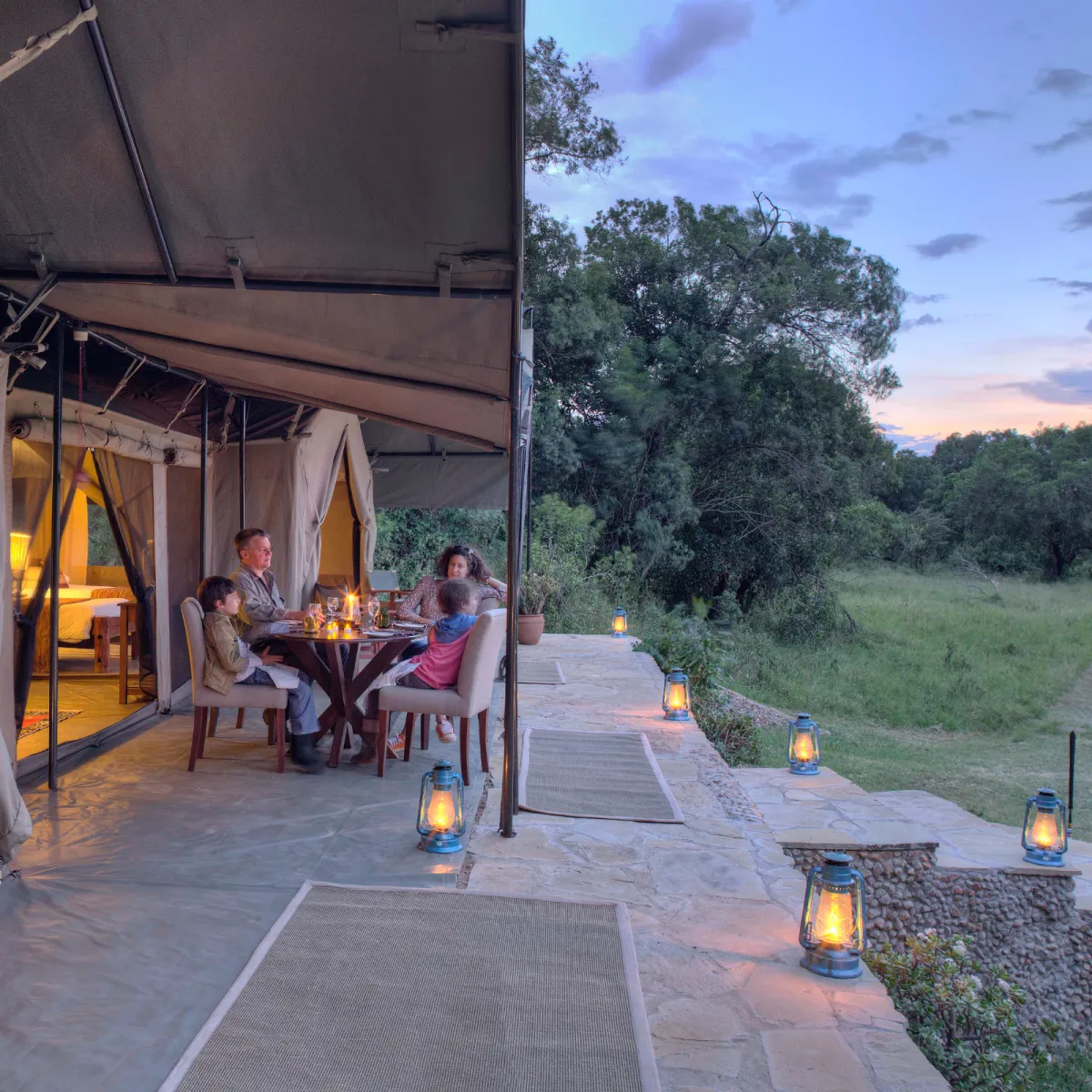 This is a classic tented camp hidden in a beautiful valley in a prime wildlife area of the Mara North Conservancy. There are only eight tents, set in an intimate and relaxed atmosphere alongside a seasonal stream where the resident birdlife and plains game come to drink and relax. Kicheche Mara Camp's location is ideal as game viewing frequently starts in the camp itself with prime wildlife habitat on all sides providing an ideal base for your safari in the Maasai Mara.
Kicheche Bush Camp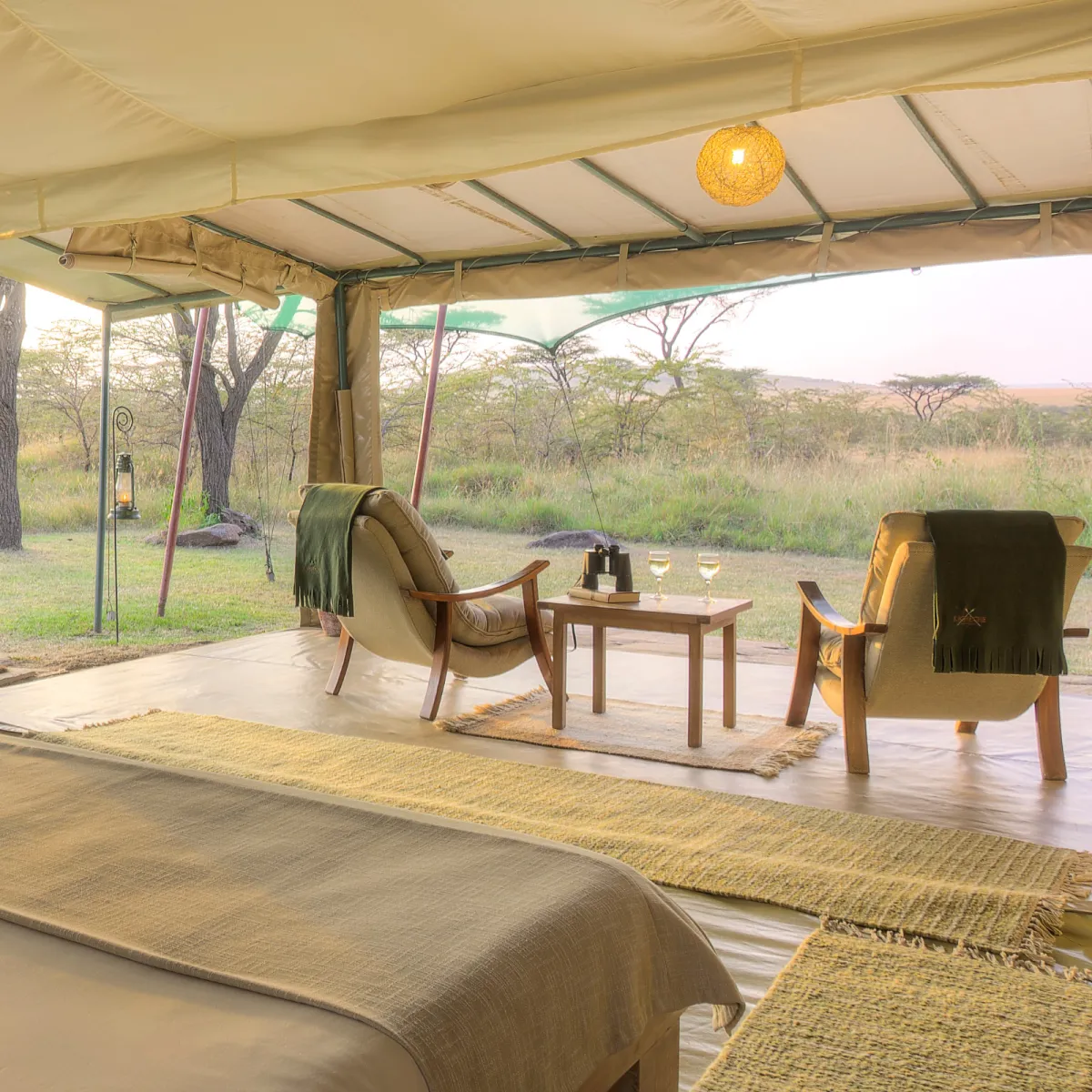 Located in a superb wildlife area in the Olare Motorogi Conservancy which borders the Maasai Mara Reserve, Kicheche Bush Camp has six luxury tents spread out beneath the acacia trees. All camp life revolves around the central campfire where you'll gather each evening for an aperitif before dinner. Game viewing here is top class and exclusive as vehicle numbers are strictly limited. Game drives start from the camp itself and it's an ideal location to witness the annual wildebeest migration.
Kicheche Valley Camp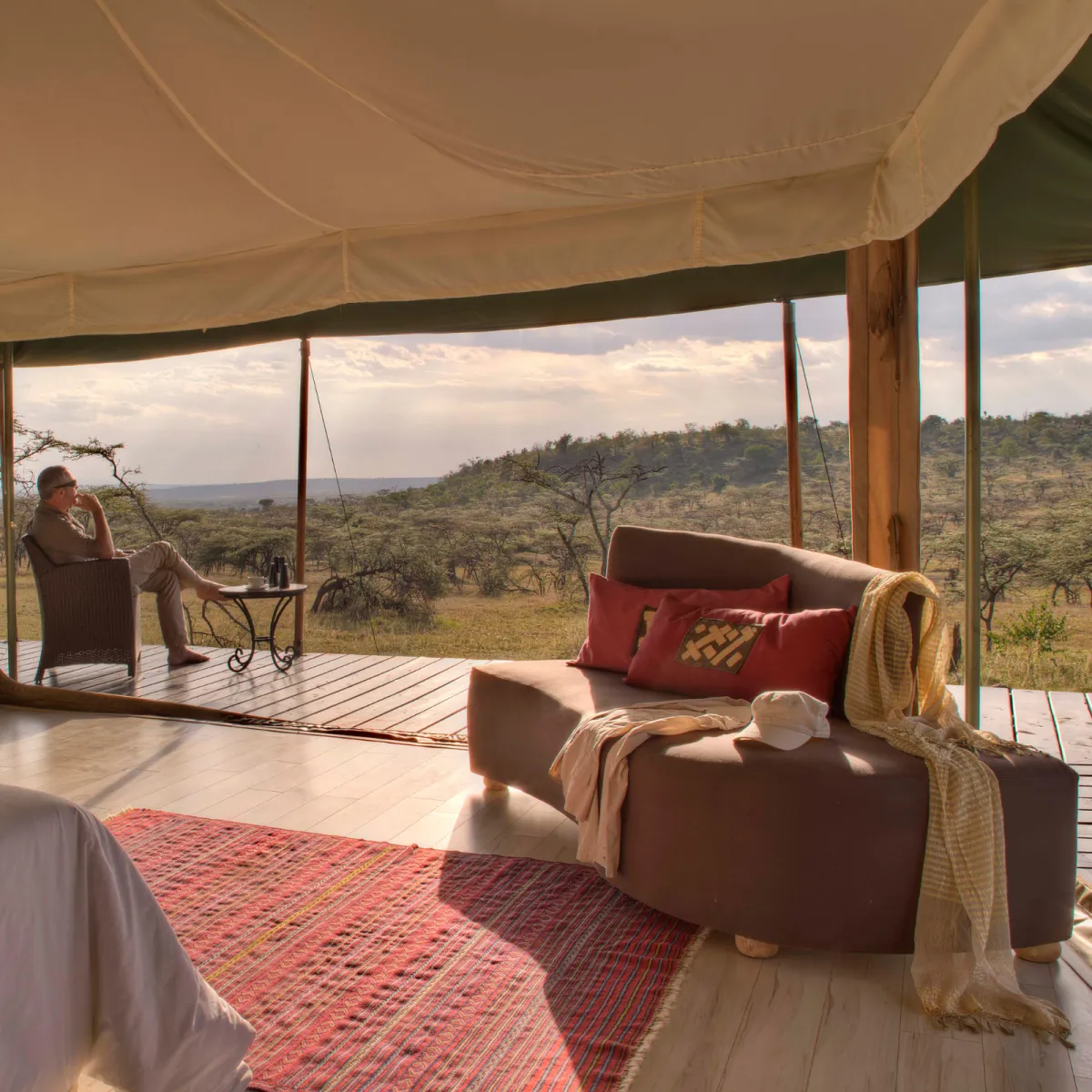 Located in acacia woodlands in a secluded valley of the newly established Mara Naboisho Conservancy, Kicheche Valley Camp is the most luxurious tented camp of the three Mara safari camps. The six luxury tents are built in a unique eco-style, set on platforms to provide the best views of the stunning wildlife and wilderness surrounds. Here, you'll enjoy an intimate, exclusive safari experience with very limited numbers of guests and vehicles.
Rates
Period
Price per person (pp)
January 3, 2023 - February 28, 2023

$4,775

£3,824

€4,450

R89,880

March 1, 2023 - April 15, 2023 and May 15, 2023 - June 30, 2023 and November 1, 2023 - December 21, 2023

$4,495

£3,600

€4,189

R84,609

July 1, 2023 - October 31, 2023 and December 20, 2023 - January 2, 2024

$5,646

£4,521

€5,262

R106,275

January 3, 2024 - February 28, 2024

$5,350

£4,284

€4,986

R100,703

March 1, 2024 - April 15, 2024 and May 15, 2024 - June 30, 2024 and November 1, 2024 - December 21, 2024

$5,035

£4,032

€4,693

R94,774

July 1, 2024 - October 31, 2024 and December 20, 2024 - January 2, 2025

$6,325

£5,065

€5,895

R119,055
This rate is per person sharing, based on staying at Kicheche Mara Camp in the Masai Mara. Kicheche Valley Camp and Bush Camp will cost slightly more. Please ask us about single supplements and rates and conditions for children.
Includes
Two transfers in Nairobi
Three flights (Nairobi - Nanyuki - Masai Mara - Nairobi)
Nanyuki and Mara airstrip transfers
Luxury accommodation with all meals and all drinks (excluding champagne)
Unlimited game drives
Night drives at Kicheche Laikipia Camp
Escorted bush walks
Services of a KPSGA-qualified guide
Laundry
Conservation fees
Excludes
Visas
Items of personal nature
Village visit entrances
Gratuities
Accommodation in Nairobi before and after safari
You may also want to look at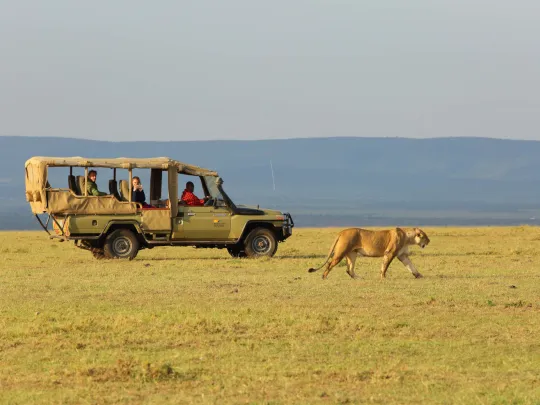 Our 6-Day Masai Mara Budget Safari delivers some of the best game viewing opportunities in East Africa, for an affordable price. This fully guided, small group safari overnights in eco-friendly, en-suite tents along the banks of the Talek River on the edge of the Masai Mara National Reserve. Book early to avoid disappointment!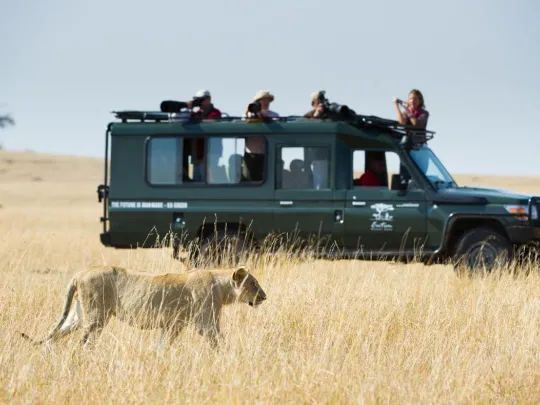 This affordable 6-Day Masai Mara Wildlife Safari takes you on the journey of a lifetime to one of the best game viewing areas in East Africa. Our small-group safari is fully guided and overnights in a luxury tented safari camp located in the heart of the Masai Mara National Reserve on the edge of riverine woodlands that overlook the Mara River. To avoid disappointment, be sure to book early!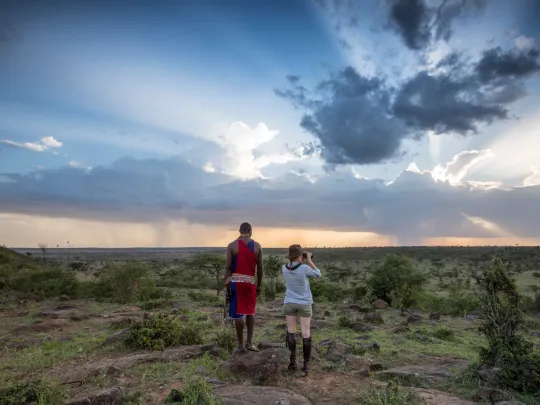 Our 7 Day Kenyan Adventure Safari Tour introduces you to the wilder side of Kenya on an affordable budget. Explore Laikipia Plateau's sweeping plains on foot, where the last of Kenya's African wild dogs have found refuge. Discover why the Masai Mara's lush grasslands, acacia woodlands, rolling savannahs and abundance of wildlife make it one of Africa's most iconic safari destinations. In season, witness one of the world's natural wonders, the Great Migration, where one and a half million wildebeest, zebra and antelope leave the Serengeti for the Masai Mara.