5 Day Kruger Park and Private Lodge Safari
5 Day Kruger Park and Private Lodge Safari
A guided safari in Kruger Park (using the national park camps) is quite different to a safari at a private game lodge. Both have their advantages. This trip idea combines two nights in Kruger, followed by two nights at a private game lodge for you to experience the best of both worlds. All game drives in open vehicles with expert and knowledgeable guides.
Highlights
2 nights in Kruger National Park
2 nights in adjacent Private Reserves
Evening drives continue after dark at the private lodge
Bush walk included at the private lodge
Two different ways of experiencing Kruger
Off-road game drives allowed on private reserves
Variety of different landscapes and animals
Flexible itinerary - more nights can be added if time and budget allow
The cost will depend on your choice of lodge
A question we get often is which safari is best - a Kruger National Park safari or a private game lodge safari? Check out this blog post about the differences between Kruger and the adjacent private reserves.
Indeed, a safari in one of the adjacent private reserves is different from one in the Kruger National Park. Our 5-Day Kruger Park and Private Lodge Safari lets you experience both.
Day 1-3
Depart from Johannesburg or Nelspruit and join one of our 3-Day Kruger Park Safaris, spending two nights at one of the best camps in the Kruger National Park, overlooking the Sabie River. We usually stay at Skukuza Camp or Lower Sabie Camp, using comfortable thatched bungalows for accommodation. All game drives are included in the cost and conducted on an open safari vehicle. Breakfasts and dinners are also included.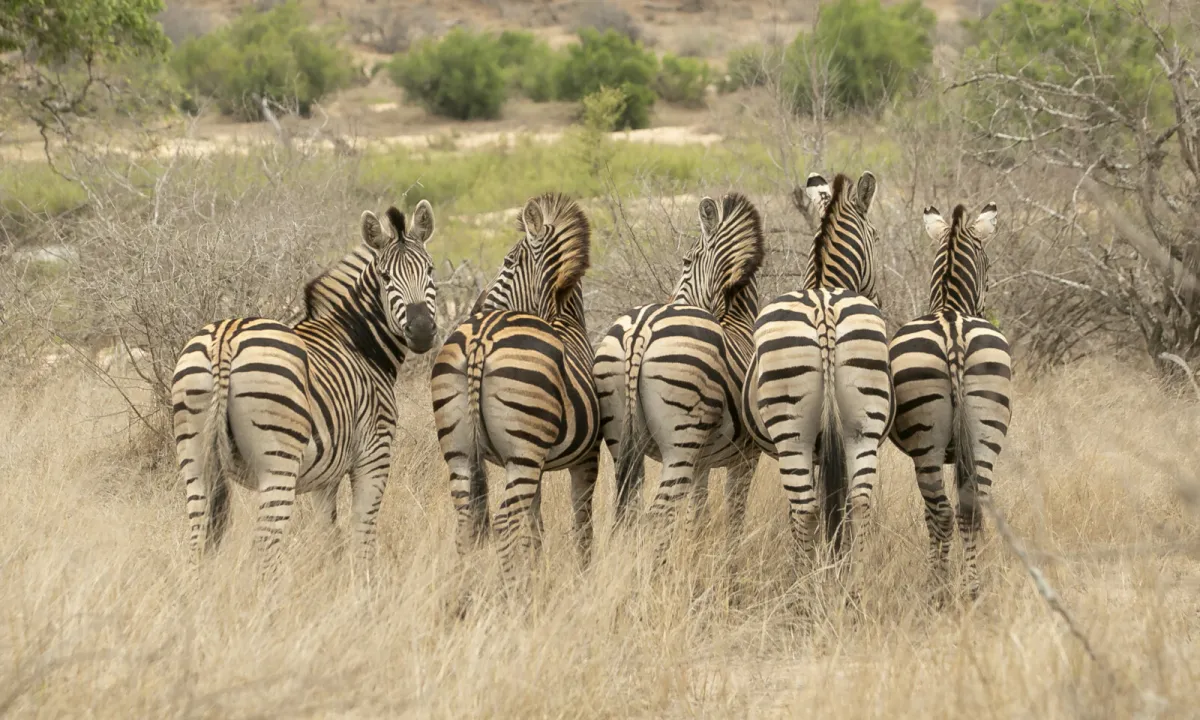 The benefits of this part of the safari are that you will have a highly experienced, English-speaking guide, you will get to see a wide variety of wildlife, and you will have the chance to explore a large part of the Kruger National Park, driving through different landscapes and vegetation types. All game drives are conducted on an open safari vehicle.

Day 3-5
On Day 3, we transfer you to a private game lodge in the Greater Kruger Park, such as the famous Sabi Sand or Timbavati Game Reserve. These private reserves form part of the Greater Kruger National Park, and there are no fences between Kruger and the private game reserves.
At a private lodge, all meals and game drives are included in the cost, and the accommodation is more luxurious than in the national park camps. Morning and afternoon game drives are conducted on open land rovers, and the vehicles can go off-road to get closer to the animals.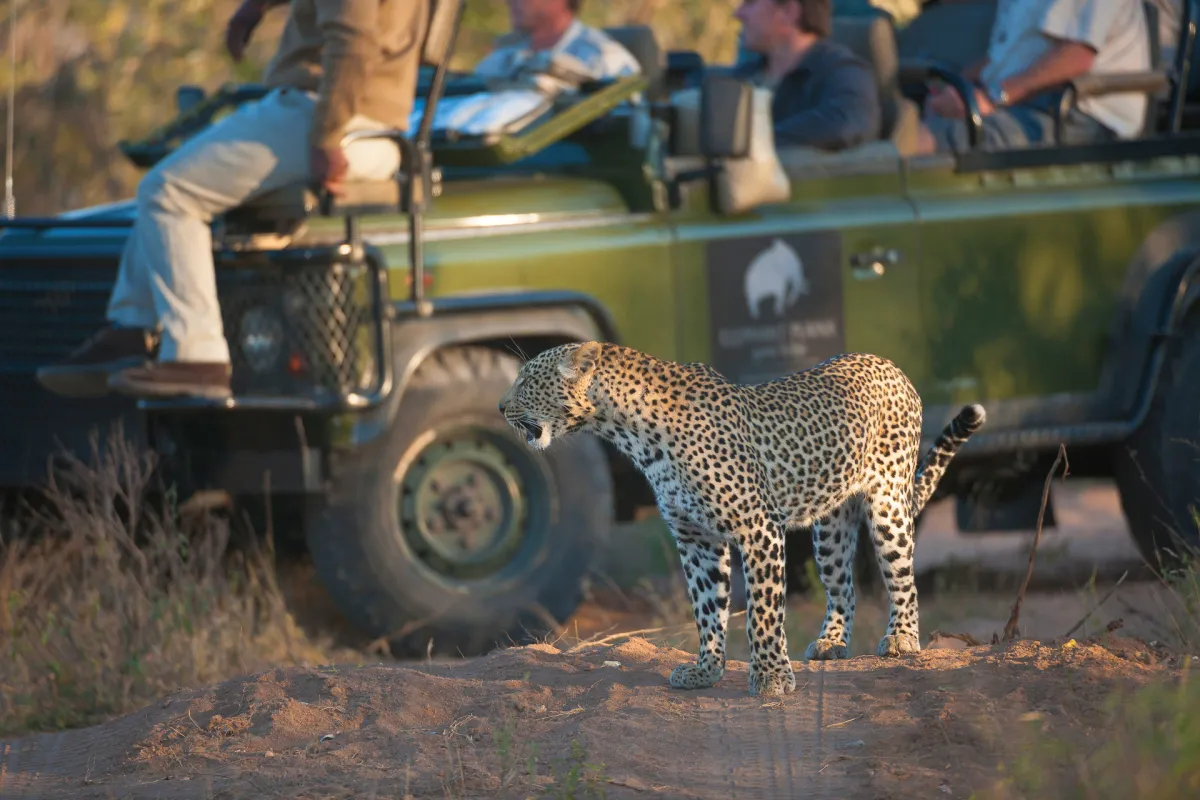 At a private game lodge, your chances of seeing big cats up close are pretty good because the vehicles are in radio contact and can follow the tracks of these magnificent predators into the bush. A night drive is included each evening, and a guided bush walk with an armed ranger is also included (not compulsory, of course).
The choice of the game lodge will depend on your budget and interests, as well as availability. Prices at private safari lodges can range from about $250 to over $2,000 per person per night sharing, depending on the level of luxury, room type and season. We add no booking fees, and there are no hidden costs when we give you a quote. For those on a tight budget, the more affordable lodges cost below $400 per person per night, which is excellent value for money, considering it includes all meals and game drives.
Spend two nights at a luxury private safari lodge of your choice. (This can be extended on request).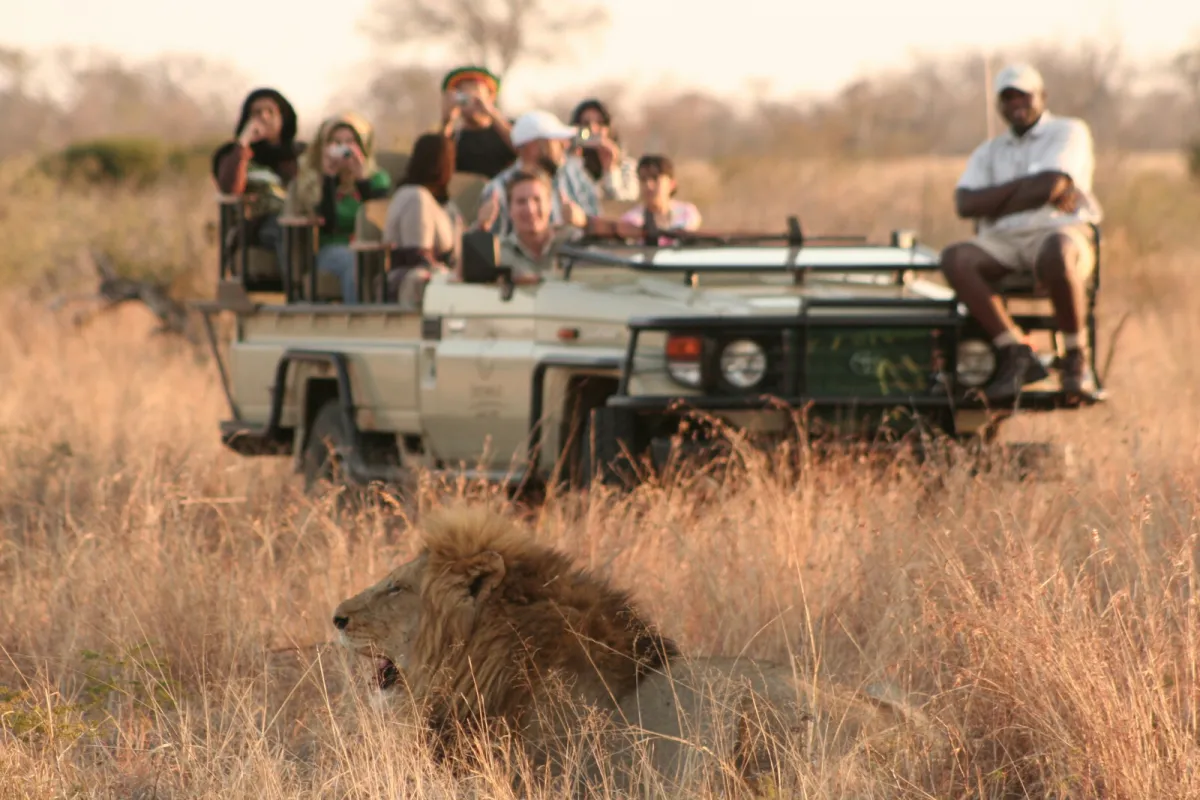 On the last day, enjoy a final early morning game drive followed by breakfast, and then it is time to check out and head back for Nelspruit or Hoedspruit (the closest airports) or Johannesburg (five to six hours by road or a one-hour flight). The flights are not included in the cost estimate below. Expect to arrive in Johannesburg at the end of the day.
Customise this trip idea
This is a travel idea, not a fixed itinerary. You can spend more nights in Kruger Park at the national park camp or extra nights at the private game lodge.
Approximate cost
The cost will depend on the choice of lodge, but the estimated rates below will give you an idea of the cost per person sharing for the whole five days with a transfer to either Hoedspruit or Nelspruit at the end.
Rates
Period
Price per person (pp)
2023 - Estimate based on budget-friendly lodge

$1,323

£1,059

€1,232

R24,895

2024 - Estimate based on budget-friendly lodge

$1,488

£1,191

€1,385

R28,000

2023 - Estimate based on mid-range lodge

$1,964

£1,572

€1,829

R36,970

2024 - Estimate based on mid-range lodge

$2,205

£1,765

€2,053

R41,500

2023 - Estimate based on luxury lodge

$2,859

£2,289

€2,662

R53,820

2024 - Estimate based on luxury lodge

$3,204

£2,565

€2,983

R60,300
This approximate rate is intended as a guideline only and includes all transfers, accommodation, meals and game drives, but excludes flights and visas. Your final quoted rate may differ depending on date of travel, choice of lodge, room type and exchange rate fluctuations.

All rates on our website are provided to give a price estimate only and should not be seen as a firm quote. Likewise, our currency converter will give you a rough idea of the price in another currency, but should not be seen as a firm quote. It is only intended as a guideline, based on the daily interbank exchange rate. Please contact us to receive an accurate, free quote with no obligation.
Includes
Road transfer from Johannesburg or Nelspruit to Kruger National Park
Kruger Park entrance fees and daily conservation fees
Two nights' accommodation in comfortable bungalows with air-con and a small private bathroom
All breakfasts and dinners in Kruger National Park
All game drives on open safari vehicles with an expert guide
Road transfer from Kruger to your private lodge
Two nights' accommodation at a private safari lodge
All meals at the private safari lodge
Daily conservation fees for private reserve
Road transfer back to Hoedspruit or Nelspruit airport on the last day
Excludes
International flights and visas
Flight or road transfer back to Johannesburg on your last day
Lunches in Kruger Park
Drinks
Gratuities (not compulsory)
Personal expenses and optional extras
You may also want to look at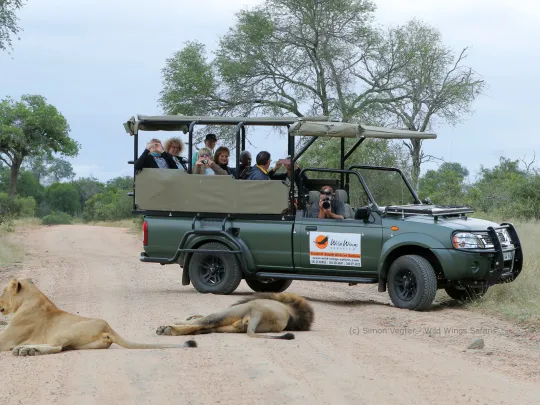 The popular 5-Day Best of Kruger Safari is a 4-night/5-day safari in the Kruger National Park offering open vehicle game drives with an experienced safari guide. Includes a night drive and guided bush walk. Spend two nights each at two different camps, in different areas of Kruger Park, giving you the best game-viewing opportunities. Book early to avoid disappointment!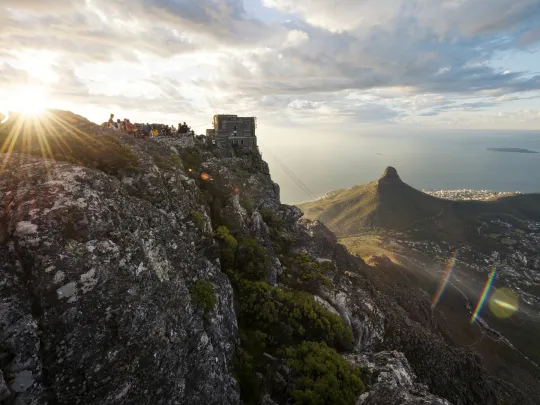 This trip idea combines the best of South Africa's top two destinations - Cape Town and Kruger National Park. Spend four nights in Cape Town, often voted the most beautiful city in the world, followed by four nights on safari in the world-renowned Kruger National Park, home to a diversity of wildlife larger than anywhere else in Africa. The trip can be booked on a self-drive or fully-guided basis, as you prefer.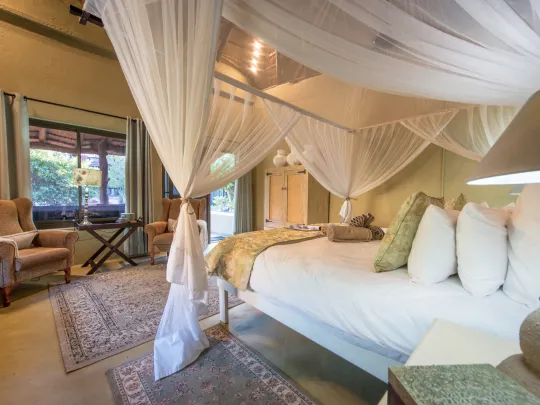 Kambaku Safari Lodge is located in the Timbavati Private Game Reserve which forms part of the Greater Kruger National Park, South Africa. This rustic yet luxurious lodge accommodates only 16 guests, which allows for an atmosphere of relaxed intimacy. Guests can watch game drinking from the waterhole at the lodge. Open-vehicle game drives afford great game viewing opportunities and a chance to spot the Big 5 in the unspoilt bush. The lodge offers a choice of family, double or twin suites.