What is the Difference Between the Kruger National Park and the Private Reserves?
What is the Difference Between the Kruger National Park and the Private Reserves?
There is one recurring question we get asked very often: What is the difference between the Kruger National Park and the private reserves adjacent to Kruger? Opinions are divided. Some prefer Kruger, others prefer the private reserves. There are pros and cons to each. Let's compare them and take a good look at the differences.
Kruger National Park vs Private Game Reserve - Which is Better?
The Greater Kruger Park refers to the combined conservation area of the Kruger National Park (managed by SANParks) and the adjacent privately owned game reserves, some of which share unfenced boundaries with Kruger.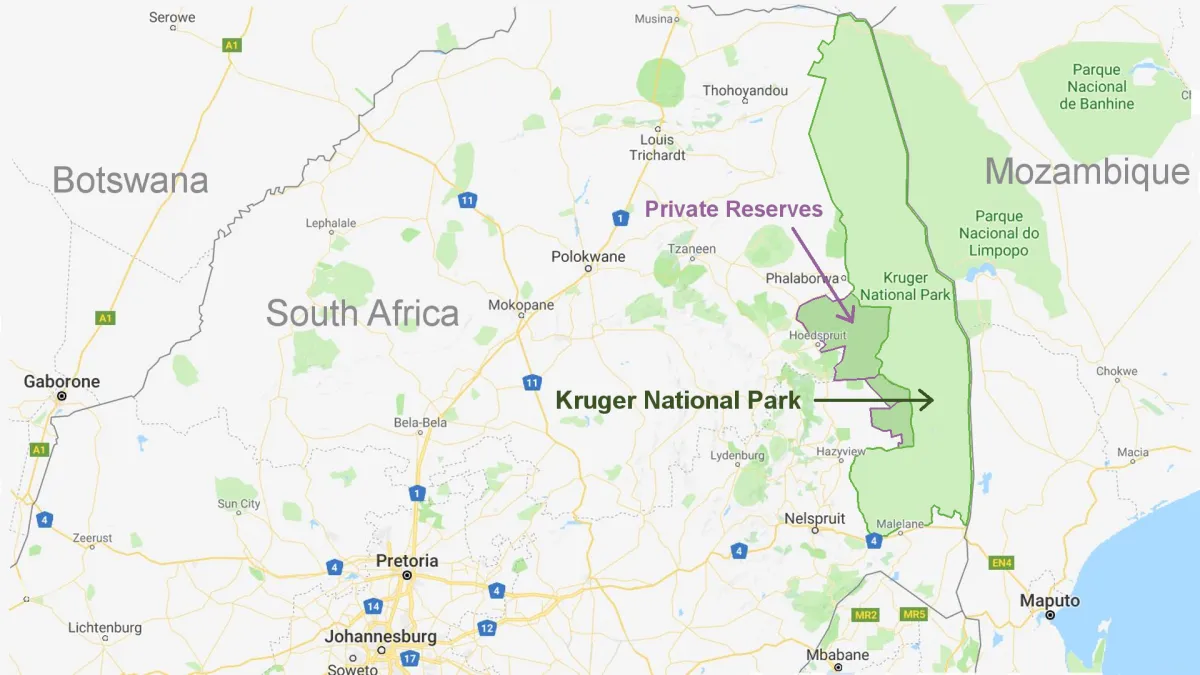 The Kruger National Park alone is just over 2 million hectares in size - about the size of Israel. A number of privately owned game reserves are situated adjacent to Kruger, and over the years fences have been dropped between these reserves and the national park, to allow for the free movement of wildlife between Kruger and the private reserves. The most recent reserve to have dropped fences is Thornybush, which was previously fenced in on its own. Today it is open to Kruger, having dropped its fence with neighbouring Timbavati Reserve, which in turn shares an unfenced boundary with Kruger.
In addition, Kruger forms part of the Great Limpopo Transfrontier Park initiative and shares an unfenced boundary with the Limpopo National Park in Mozambique. This extended conservation area allows for the natural movement of animals over one of the largest protected wildlife areas in the world.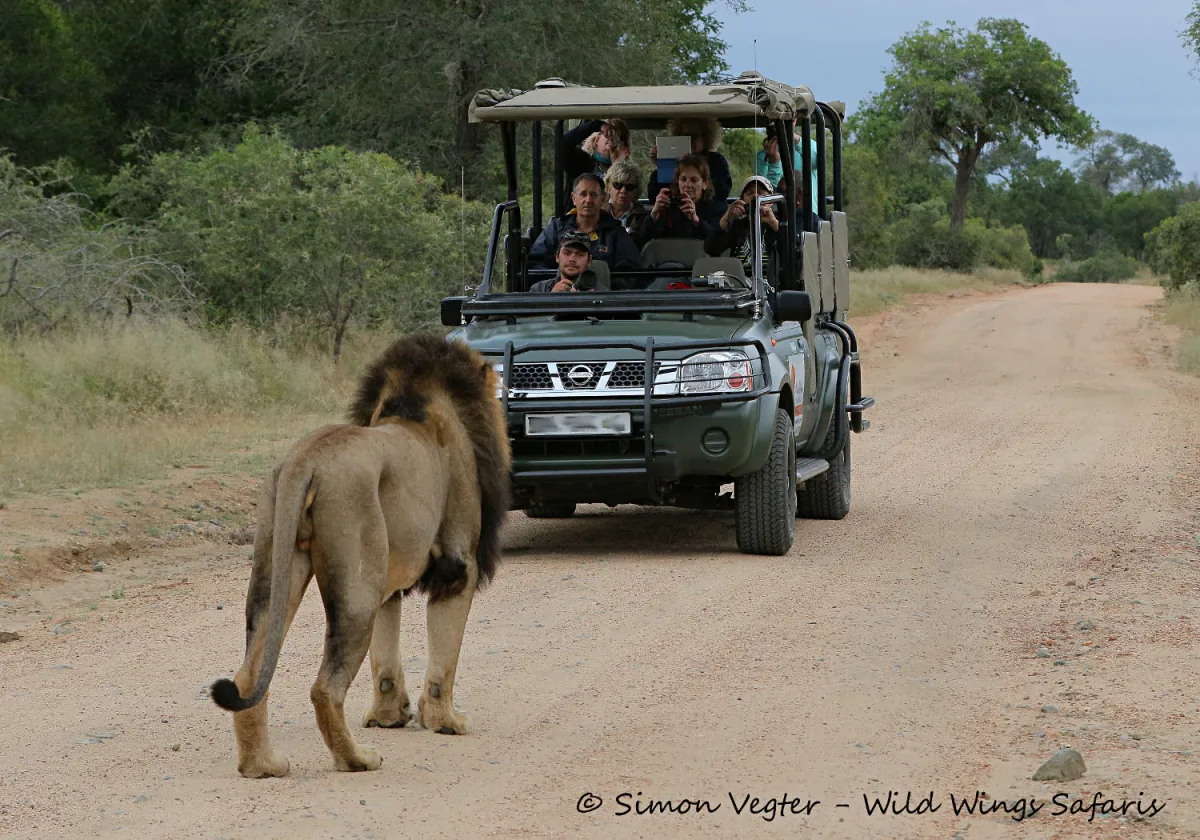 But we have still not answered the question. Here is a very simple bullet-point summary that will help explain the differences. Let's start with the Kruger National Park, and then we'll look at the private reserves.
Kruger National Park
The Kruger National Park is huge and you can expect to cover greater distances on your safari to Kruger.
Greater distances mean a greater variety of landscapes and vegetation types.
Overall you can expect to see greater numbers, bigger herds and a larger variety of wildlife in Kruger, compared to the private reserves.
Since you are not limited to a small traversing area, the animal sightings are more consistent in Kruger.
No off-roading is allowed in Kruger. All vehicles have to stay on the road.
In some areas, near the most popular camps, traffic congestion at prime sightings is common. Expect to see a lot of self-drive vehicles on the roads (especially during peak holiday seasons). It is possible to self-drive in Kruger, or you can join a guided open vehicle safari with an experienced safari guide. For a first-time safari, we recommend going with an experienced guide.
Open safari vehicles in Kruger have a canopy and canvas sides, offering a bit more protection from the elements. See image above. In Kruger, we don't use trackers. Only an experienced safari guide who is also your driver.
Game drive times are limited to daylight hours (sunrise to sunset). The only exception is if you book an evening drive with SANParks. Private operators and self-drive tourists may not drive after dark. The SANParks game drives differ in quality, ranging from very disappointing to outstanding.
It is possible to book a guided walk with an armed ranger, conducted by two of the SANParks rangers. The maximum group size for a walk is 8 people, and no children are permitted to walk. A typical morning walk takes about 4 hours.
Kruger has an excellent road network. You don't need a 4x4. Most of the main roads are tar roads. The secondary roads are good quality gravel roads, and there is much less traffic on these.
Accommodation inside the Kruger National Park is quite basic. There are more than 20 different camps managed by SANParks, with accommodation ranging from campsites (pitch your own tent) to luxury guesthouses. The standard accommodation in Kruger consists of basic 2-bed and 3-bed chalets with small en-suite bathroom, a fridge, and air-conditioning. Towels and linen are provided. These bungalows are not luxurious, but basic, comfortable accommodation with decent single beds. The quality of the units ranges from disappointing (in need of renovation) to excellent (newly renovated). The units are serviced and cleaned daily.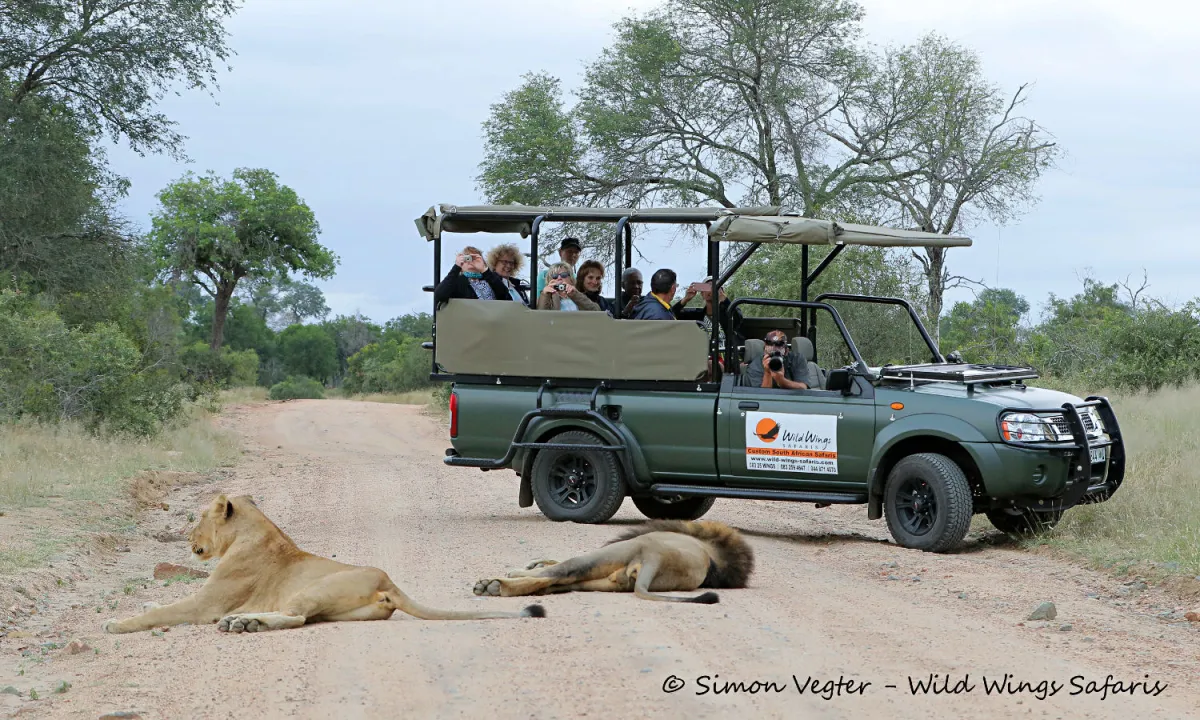 The picture above shows what an open safari vehicle in the Kruger National Park looks like. Notice the canvas sides and canopy.
The Private Game Reserves
There are lots of private reserves with many individual game lodges, and they are all different.
Examples of private reserves that form part of Greater Kruger include the Sabi Sand, Manyeleti, Timbavati, Klaserie, Balule, Thornybush and others. Each of these reserves has many different lodges to choose from, in different price ranges.
In general, accommodation in the private reserves is more luxurious and more expensive than the accommodation in Kruger (with a few exceptions - there are a handful of very basic and affordable camps in the private reserves).
The bush and animals are mostly the same, but the animals move around freely throughout Greater Kruger. The abundance of wildlife in a certain area depends on the type of vegetation, recent rainfall, and the natural movement of wildlife. Game viewing at a private safari camp can be very unpredictable. Some luck is involved, and you could have a very quiet game drive with almost no sightings the one day, and a very exciting game drive with excellent sightings the next day. It all depends on what animals are in that area at that time. There are also seasonal differences.
At most lodges, you are limited to a relatively small traversing area (one section of one reserve). The traversing area can range from very limited (less than 2,000 hectares) to fairly large (over 10,000 hectares), but even at the upmarket lodges with large traversing areas, you will not cover as much distance or see as much of the park as you do in Kruger itself. So you will only get to see one small part of Greater Kruger, with minimal variation in terms of landscape.
Choosing a lodge that offers the best game viewing is not an exact science, as it depends on the choice of reserve, the season, the location of the lodge, the movement of animals and the skills of the guide and tracker. But there are trends. For example, at most lodges in the Sabi Sand, leopards are common and seen almost every day on game drives, while at most lodges in the Balule reserve, leopards are more elusive and perhaps only seen about once a week.
Some reserves like the Sabi Sand are known for offering exceptional, close-up sightings of big cats like lions and leopards. In most other reserves, you need a bit more luck to see leopards. The Sabi Sand also happens to be the most expensive private game reserve, on average.
Lodge prices can range from less than $300 USD per person per night at budget-friendly camps, up to $1,800 USD per person per night and more at the high-end luxury lodges. Most of the lodges are priced in the local currency, South African Rand (ZAR).
At most private lodges, game drive vehicles are permitted to go off-road to get closer to the animals (usually only for prime sightings like the "Big Five", and predators). This is not possible in Kruger. At some lodges, vehicles may go off-road with little regard for the environment, but at most lodges, the guides are sensitive to the environment and will limit their off-roading to protect the bush. There are a small number of private lodges that do not allow off-road driving, due to policies set by the landowner.
Open vehicles in the private reserves are usually completely open (no side and no canopy). See the image with the elephant at the top of this blog post. However, some lodges do use canopies during the summer, as you can see in the image below.
Most lodges (but not all) in the private reserves use a tracker. The tracker is a knowledgeable local who sits on a small seat right on the front of the vehicle. His job is to look for animal tracks and to help the guide with spotting animals, as well as directing the vehicle when going off-road. The tracker assists, but all the driving and explaining is done by the guide.
The daily schedule at private safari camps is usually quite fixed, with set meal times and game drives limited to around 3 hours each. A typical one night schedule at a private lodge includes lunch on arrival, afternoon game drive (which continues after sunset as an evening drive with a spotlight), dinner back at camp, then an early morning game drive the next morning, followed by a late breakfast. Check out is after breakfast at around 10 am, but if you stay for more than one night there is sometimes the option of a short bush walk after breakfast.
Many private lodges offer short guided walks after breakfast, and some lodges offer longer bush walks, instead of game drives (as an option). At some of our favourite lodges, the guides will sometimes stop during a game drive if they spot fresh tracks, and take everyone on a short impromptu walk to follow the animal on foot (depending on what animal it is and whether the guests want to walk).
The quality of the guides can differ significantly from lodge to lodge, and even at the same camp, you can have some highly experienced guides with excellent people skills, and some inexperienced guides who are not very good at their job yet. The same is true of the SANParks rangers in the Kruger National Park - some are great, and some are really poor quality. Generally, it's luck of the draw and you will not know who your guide will be until you arrive at the lodge.
Although private lodges are expensive, the price includes all your accommodation, meals and game drives. At the more expensive lodges, drinks are often included too. Transport to the lodge and conservation fees or reserve entrance fees are extra.
No self-drive vehicles are permitted in the private reserves, and congestion at sightings is managed by limiting the number of vehicles at one sighting. In some reserves, they allow a maximum of two vehicles per sighting, and in other reserves, the maximum is three vehicles at one sighting. Other vehicles have to wait. The downside of this system is that you may have to wait your turn to see a special sighting and that you may only be given 10-20 minutes to enjoy a sighting, before moving on to allow other vehicles a chance.
In the private reserves, the vehicles all stay in radio contact with each other and call in sightings on the radio. The squawk of the radio can be disturbing at times, but the benefit is that other vehicles may call in special sightings, which allows everyone to see more wildlife on each game drive. Some open safari vehicles in Kruger also stay in radio contact with each other (a controversial point because calling in sightings on the radio is not permitted in the national park).
Most of the private reserves adjacent to Kruger do not have huge open grasslands as you see in the Serengeti (Tanzania) or Masai Mara (Kenya). In Kruger, the best areas of open grassland can be found in the vicinity of Satara camp, in central Kruger. The private reserves mostly have a mixture of savanna woodland, thorny bushveld dominated by Acacias and Bushwillows and some areas of mopane woodland further north. In other words, most of the private reserves are dominated by relatively thick bush rather than open grasslands. There are smaller open areas, but don't expect vast open plains like in other parts of Africa.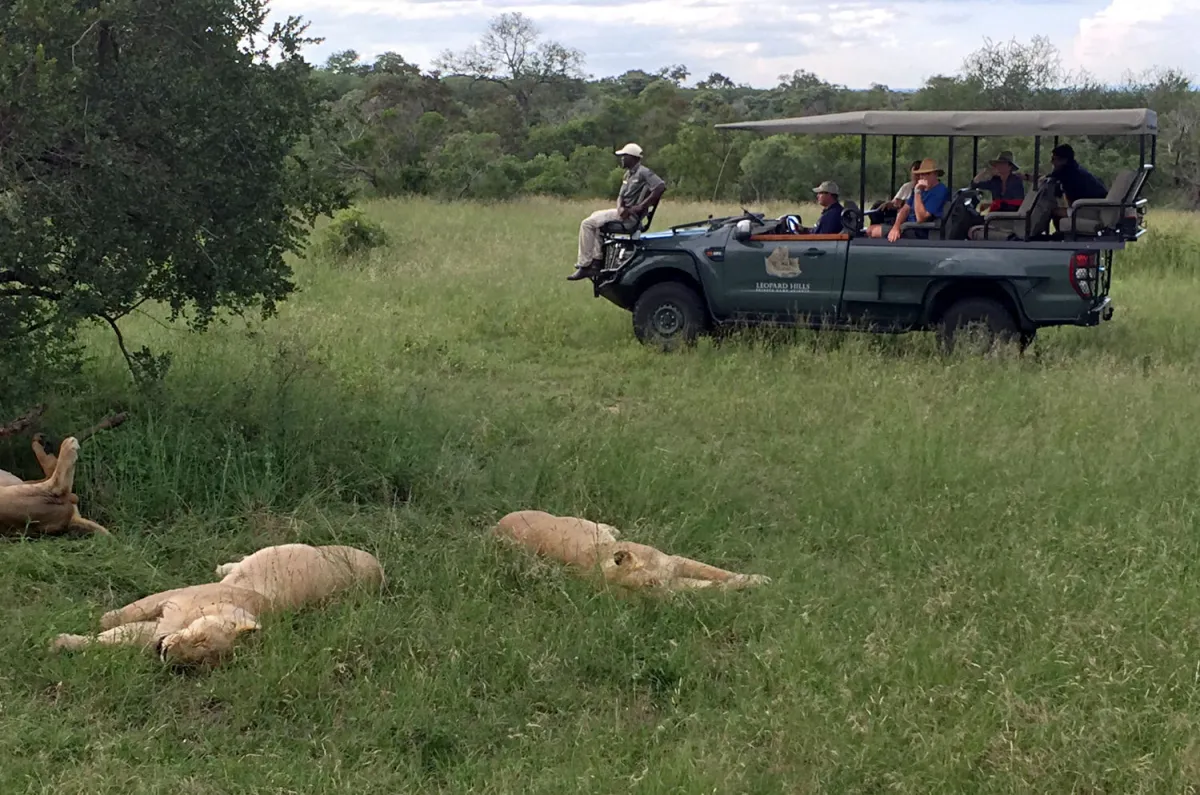 So which is better - the Kruger National Park or the adjacent private game reserves? Some people prefer the private reserves, because of the luxury accommodation, off-road game drives and better chances to see big cats like lions and leopards up close. Many others prefer the Kruger National Park, because you get to see more of Kruger, better overall game viewing, including greater numbers and variety of animals, more diverse landscapes, and the lower cost.

Best of both worlds: A Combo Safari!
If you cannot choose between the two, the answer is simple. If time and budget allow it, why not include both? We call this a "combo" safari. Combining the best of Kruger with the best of the private reserves. In Kruger, you will cover more distance and see more animals, but in the private reserves you can go off-road, enjoy bush walks and night drives, and hopefully get really close to some of the animals (including predators). In Kruger, you will save money but stay in simple accommodation. In the private reserves, you will spend more but enjoy luxurious accommodation.
Have you done a combo safari? Which you do prefer, Kruger or the private reserves? Let us know in the comments.
You may also want to look at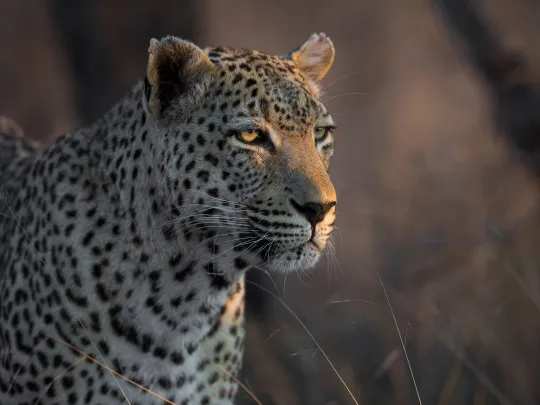 A guided safari in Kruger Park (using the national park camps) is quite different to a safari at a private game lodge. Both have their advantages. This trip idea combines two nights in Kruger, followed by two nights at a private game lodge for you to experience the best of both worlds. All game drives in open vehicles with expert and knowledgeable guides.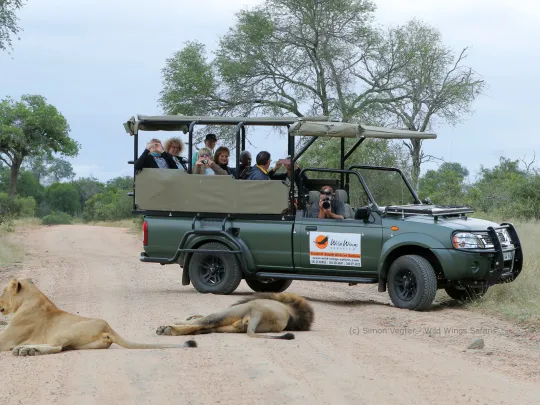 The popular 5-Day Best of Kruger Safari is a 4-night/5-day safari in the Kruger National Park offering open vehicle game drives with an experienced safari guide. Includes a night drive and guided bush walk. Spend two nights each at two different camps, in different areas of Kruger Park, giving you the best game-viewing opportunities. Book early to avoid disappointment!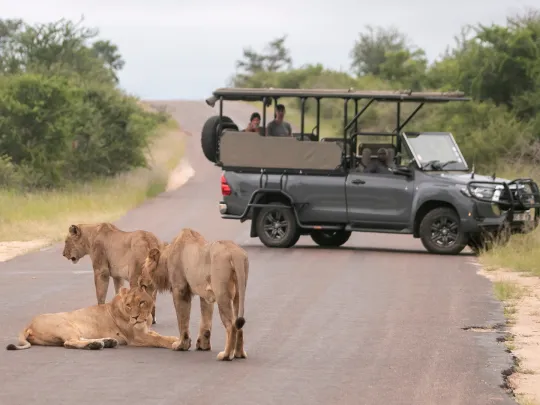 There's no contest that Kruger National Park is the top safari destination in Southern Africa. If it's not right up there on your bucket list, it should be! But what are the best ways of experiencing this wildlife wonderland?
About the author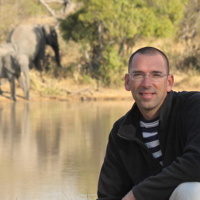 Onne
Onne Vegter is the managing director of Wild Wings Safaris. He has a deep love for Africa's people, wildlife and natural heritage. Onne has travelled to most of Africa's top safari destinations and his writing is based on years of personal experience in the safari industry. Follow him on Twitter at @OnneVegter.