Breezes Beach Club
Breezes Beach Club
Situated in Zanzibar on a spectacular, long beach with pristine white sands, Breezes Beach Club and Spa gives guests everything they could desire of a holiday in paradise. Being a large hotel, they offer a wide range of activities, from all the watersports and a diving school to a number of restaurants, swimming pool and tennis courts, including an incredible spa. Whether you want to relax, be active, or combine the two, Breezes Beach Club and Spa is a good place to do it all.
Highlights
Incredible location on a beautiful stretch of beach
Range of watersports, including kitesurfing, kayaking and windsurfing
World-class scuba diving centre
Frangipani Spa on site, offering all the pampering you need
Gym, aerobic centre and flood-lit tennis court
Number of restaurants and bars to suit all tastes
Cultural activities like Swahili language classes and cooking lessons
Romantic honeymoon activities
Number of day trips and tours to explore Zanzibar
Breezes Beach Club is expansive, with over 70 rooms spread out amongst beautiful tropical gardens. The rooms are grouped into a number of bungalows around the property. While sea views are not guaranteed, all of the rooms are large, light and airy, with romantic Zanzibari décor.
The 10 standard rooms and 40 deluxe rooms are similar in size and interior design, differing only in proximity to the sea. Air-conditioned, with en-suite bathrooms, they all have a double bed with mosquito net and a sofa which can be turned into an extra bed. Décor is light, with Zanzibari touches and no TV, ensuring a peaceful stay. All rooms have a veranda.
The 20 suites are situated on the second floor and have large balconies, including a shaded outside lounge area. The bedroom area is the same as the standard and deluxe rooms but the suites include a larger bathroom and walk-in dressing room. Honeymooners and other romantically inclined couples can request for the bed to be made out on the balcony under the stars.
Finally, a separate, two-storey villa offers four deluxe rooms sleeping up to six people. The villa has a living room with TV and a DVD player.
Main hotel area
The main area is large and centres around a huge, sparkling swimming pool, surrounded by sunbeds and shady thatched lapas while the warm, turquoise Indian Ocean plays with the pristine white sand of the beach.
Dining
The Salama Restaurant which is the main dining area is a large, thatched room with a buffet table where breakfast and dinner are served. Lunch is served at The Breakers Grill under the palm trees. Fresher-than-fresh seafood and barbecues are the main delights here.
For a romantic dinner for two, The Tides is a private table set up on the beach, overlooking the Indian Ocean.
A fourth restaurant, The Sultan's Table, offers an incredible, aromatic Swahili-Indian fusion menu with the most fabulous seafood.
Refreshments
There are three bars at Breezes, ensuring that you never need to go thirsty. The Dhow Bar at the pool serves up icy drinks and offers some shade from the African sun. In the evenings, the candlelit Safari Bar harkens back to yesteryear, and the Baraza Bar offers fine whiskies, liqueurs and cigars.
If you're looking for somewhere to enjoy Tanzanian coffee or tea, look no further than The Chai Room, which also serves cakes each day.
Frangipani Spa
With an international team of therapists, this is one of the best spas in Zanzibar. It offers treatments ranging from facials, manicures and pedicures to a number of different massages and meditation. The spa boasts numerous treatment and relaxation rooms, including a yoga room. In the Sultan's Bath House, the heady aromas of essential oils fill the air.
Watersports and beach activities
Breezes Beach Club offers pretty much every watersport possible. From kitesurfing to windsurfing, kayaking to pedal boating and sailing, you can do it here.
Explore the beautiful coral reefs by renting reef shoes and walking out, or spend an afternoon snorkelling. For those wanting to scuba dive, the Rising Sun Dive Centre, the only PADI 5* Gold Palm and National Geographic Dive Centre in Zanzibar, offers diving from beginner to professional level.
On the beach, games are available. Regular frisbee, volleyball, football, tennis and sandcastle building activities are organised.
Things to do nearby
Hire a bike and explore the island, visiting nearby villages like Bwejuu
Read up on Zanzibari history, culture and traditions in the well-stocked library
Learn Swahili, how to cook traditional Swahili food or do palm weaving
Play a game of tennis, day or night (the courts are floodlit)
Go on a day trip to explore the winding, bustling streets of Stone Town
Visit the aromatic spice farms
Getting there
By air - A number of international airlines offer flights to Dar es Salaam, some directly to Zanzibar. Domestic flights are available from Tanzania's main cities to Zanzibar. From Dar es Salaam, it's a 20- to 30-minute flight to Zanzibar. A 50-minute drive on good roads takes you from the airport to Breezes Beach Club and Spa.
By sea - Several ferries run between the mainland and Zanzibar.
Our take on Breezes Beach Club and Spa
While the resort is large, it is family-run and retains a personal touch. Its wonderful position and multitude of activities, combined with pure island relaxation, make this a perfect holiday destination and an incredible place to wind down after a safari.

Includes
Accommodation, full breakfast and dinner
All supplements and taxes
Use of gym and tennis courts
Internet in public areas
Excludes
Airport transfers, tours and excursions
Lunch
Laundry, room service, babysitting and telephone
Spa services and treatments
Gift shop purchases
Watersports activities (snorkelling safari by boat, sailing, kitesurfing) and scuba diving
Cappuccino and espresso
You may also want to look at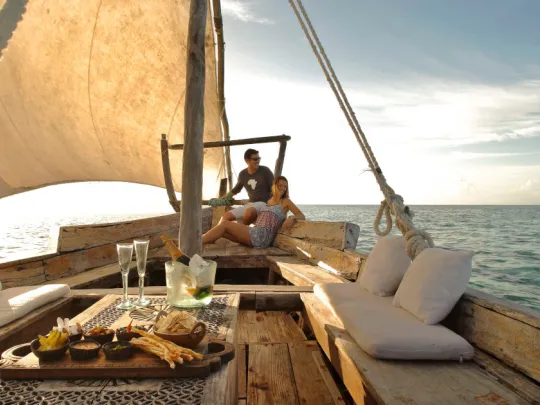 Zanzibar Island, along with Pemba Island to the north, are referred to as the Spice Islands. Zanzibar is best known as a tropical beach paradise, which is easily combined with a safari in Tanzania or Kenya. The history here harks back to ancient trade routes. In Stone Town, Indo-Arabic influences intertwine with African Swahili origins to create a heady fusion of sights, sounds and scents. Whether you're looking for the culture and bustle of historic cobbled streets in Stone Town or the peaceful beaches and the warm Indian Ocean with its dhow trips and excellent diving, Zanzibar is simply paradise.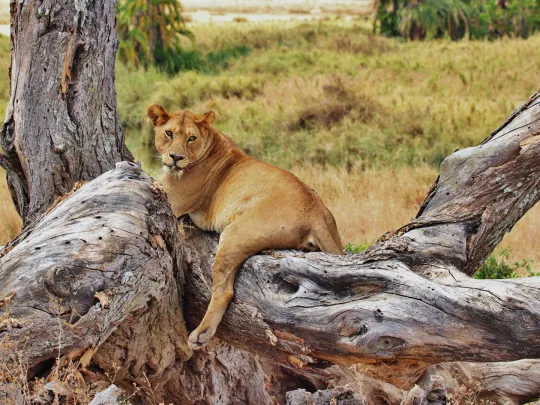 Welcome to untamed Africa! Tanzania's Southern Circuit has all the remoteness you could ask for. It's an uncrowded, unspoilt and unhurried safari experience that you'll be hard-pressed to experience elsewhere. Enjoy the top destinations of Ruaha, Katavi and Selous before rounding the trip off with 5 days at an exclusive tropical island paradise.