Accommodation in Zanzibar
Accommodation in Zanzibar
Zanzibar is a popular holiday destination, both on its own and as an add-on to a safari in Tanzania. There is a wide range of accommodation available in both the bustling historic city of Stone Town and on the islands. From basic accommodation for backpackers and those on a budget to high-end luxury on secluded, private islands, there's something to suit every traveller's needs and budget.
The bustling and fascinating historic Stone Town offers visitors a glimpse into what the world was like in a bygone era when this was a central stop on the trade routes. The mix of African and Arabic influences in its narrow streets, with sultan's palaces, ancient mosques and busy markets is a feast for the senses!
Both on Zanzibar Island, the largest of the 50 in the archipelago and other islands, you'll find palm-fringed, white sandy beaches with the warm, turquoise Indian Ocean lapping the shores. In the sea, beautiful coral and fish make for excellent snorkelling and deepsea diving. A range of other watersports is offered including windsurfing, kayaking and paddling.
Zanzibar earned its name, Spice Island, from the farms which grow spice and tropical fruit, filling the air with the aromatic scent of cloves, vanilla, cinnamon and oranges. A day tour to the farms is highly recommended.
Beach accommodation ranges from large resorts offering a wide range of activities to small, secluded boutique hotels with private beaches which are perfect for a honeymoon.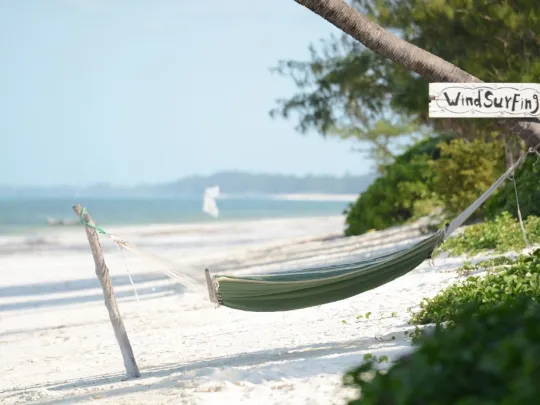 Situated in Zanzibar on a spectacular, long beach with pristine white sands, Breezes Beach Club and Spa gives guests everything they could desire of a holiday in paradise. Being a large hotel, they offer a wide range of activities, from all the watersports and a diving school to a number of restaurants, swimming pool and tennis courts, including an incredible spa. Whether you want to relax, be active, or combine the two, Breezes Beach Club and Spa is a good place to do it all.