Accommodation in Greater Serengeti Migration Area
Accommodation in Greater Serengeti Migration Area
This area is known for the Great Migration, the annual circular route followed by millions of wildebeest, zebra, antelope and the predators who prey on them. It covers a vast tract of land including a number of the worlds most famous game parks.
While the Great Migration moves on its annual circular route through the area, many animals remain resident in specific areas. So, if you miss the main event, you'll still have an incredible safari.
A wide range of accommodation is offered in the area from basic camping or high-end luxury lodges to mobile tented camps. Speak to our consultants for advice on where to stay and when to book so you have the best safari experience possible.
You may also want to look at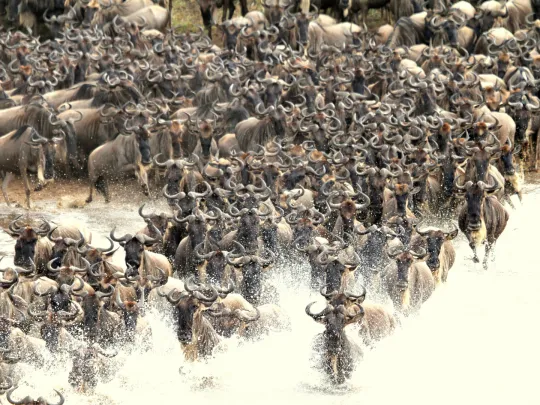 Experience the vast expanses of true wilderness and perhaps some of the best game-viewing areas on the African continent. Our 7-Day Taste of Tanzania Safari Tour takes in the untamed Tarangire, the world-renowned Serengeti (famous for the Great Migration) and Ngorongoro National Park. Accompanied by some of the country's best guides, your safety and comfort will be in excellent hands, leaving you to enjoy the safari of a lifetime at the best possible price.