Lake Masek Tented Camp
Lake Masek Tented Camp
With raised, beautifully decorated permanent tents placed far enough apart to ensure privacy, Lake Masek Tented Camp offers guests stylish accommodation in the African bush. Its position in the Ndutu area of Ngorongoro, just south of the Serengeti, is on the annual Great Migration route of millions of wildebeest, zebra and antelope, followed closely by predators. Depending on rainfall, the plains are filled with herds between November and May.
Highlights
Beautifully decorated, cool and airy raised permanent tents
Outdoor showers under the stars
Fantastic game viewing especially from November to May
Vast acacia-dotted plains stretching as far as the eye can see
Deck overlooking Lake Masek, perfect for birdwatching and sundowners
Special breakfasts or sundowners in remote areas of the park
Close to Olduvai Gorge
Hot air balloon flights can be arranged
Guided walks and village visits with Maasai guides
Lake Masek Tented Camp has 20 permanent tents spaced far enough apart to ensure privacy. Set up on wooden platforms, there are five tents with king size beds, 10 with twin beds and five triples. They are all en-suite with a spacious bathroom with a stand-alone bath and beautiful outdoor showers with hot water. Each tent has a veranda protected by gauze mesh to keep insects out and a cool breeze flowing through. Mosquito nets are provided over the beds.
Joined to the main area by gravel paths, the camp is unfenced, so animals wander through and Maasai escorts are there to accompany you when walking in the evenings. At night, be thrilled by the grunts of hippo and the calls of hyena as they go about their nighttime activities.
Main lodge area
The main area in the camp is a cool, thatched building with a lounge area and library, Internet room, small gift shop, dining area and a wonderful large deck with views across Lake Masek. It's comfortable and airy.
Buffet meals are served either in the dining room or on the deck and the bar provides a range of cooling drinks that are perfect to sip on as you watch the African sun set on another perfect day.
Game viewing activities
Usually, guests have their own vehicles and guides when arriving at Ndutu. This can be arranged for you if booked in advance. The area comes alive with wildlife when the herds pass through on their annual circular route. Depending on the rain, on this leg of the Great Migration, they remain on the vast grasslands of the area to calve between November and April.
While the plains empty during the dry season as the migration heads off, there is still plenty of resident game to see. They gather around the waterholes and include the Big Five and all six of the cats – lion, leopard, cheetah, serval, caracal and African wildcat.
Things to do
Game viewing especially from November to May
Guided Maasai walks around the lake
Hot air balloon flights over the plains
Fascinating archaeological site at nearby Olduvai Gorge
Sundowners in the bush
Visit a local Maasai village and learn about their culture and traditions
Getting there
By car - Lake Masek Tented Camp is 280 km from Arusha and takes about six hours by car.
By air - There are several airstrips in the area; Ndutu, Seronera and Kusini. Flight time from Arusha to Ndutu Airstrip is just under an hour and daily scheduled flights are available during high season. Charter flights are also available. Arusha is served by two airports; Arusha Domestic and Kilimanjaro International.
Our take on Lake Masek Tented Camp
The raised permanent tents with tranquil verandas on which to relax and soak up the African bush make this a great stop. During the calving season, the plains are alive with grazing herds, new calves and predators, offering loads of wildlife action. The staff are welcoming and friendly and the main deck offers superb views of Lake Masek. It's a great lodge to include on any Tanzanian safari circuit.
Includes
Accommodation and all meals
Mineral water, tea and coffee
Soft drinks, beer and house wine
Happy hour sundowner cocktail and finger food from 18:00 to 19:00
Contribution of US$ 0.5 per guest to Emusoi Center educational project for Masaai women
Bed levy
Excludes
Premium brand drinks, imported wines and champagne
Gratuities
Items of a personal nature
You may also want to look at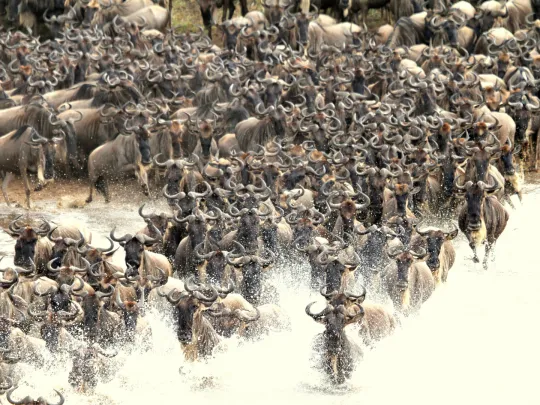 Experience the vast expanses of true wilderness and perhaps some of the best game-viewing areas on the African continent. Our 7-Day Taste of Tanzania Safari Tour takes in the untamed Tarangire, the world-renowned Serengeti (famous for the Great Migration) and Ngorongoro National Park. Accompanied by some of the country's best guides, your safety and comfort will be in excellent hands, leaving you to enjoy the safari of a lifetime at the best possible price.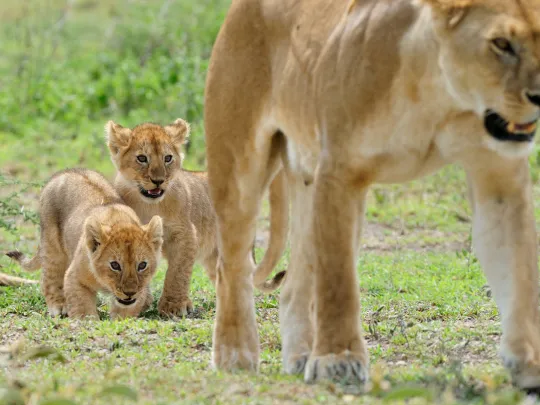 Consisting mainly of sweeping grasslands, the Ndutu area in the northern part of the Ngorongoro Conservation Area joins the Serengeti. As such, it forms part of the annual migratory route of hundreds of thousands of wildebeest, zebra, antelope and their predators who come to graze and calve between November and March, depending on the rains. The forests around Lake Ndutu and small koppies are also home to prolific resident wildlife.