7 Day Wildlife Volunteer Safari
7 Day Wildlife Volunteer Safari
Our 7 Day Wildlife Volunteer Safari takes you to a sprawling tourist-free Big Five private game reserve in South Africa's untamed Kalahari. Sleep in comfortable safari tents on raised platforms under millions of stars at night and participate in hands-on wildlife conservation activities and fieldwork with qualified rangers and conservationists during the day. This is an unforgettable once-in-a-lifetime, malaria-free, eco-safari experience.
Highlights
Escape tourist hotspots and experience wild animals in their natural environment at close quarters.
Help monitor the population and predator/prey dynamics of lions and the endangered African wild dog.
Help place and monitor camera traps used for scientific research and wildlife identification.
Assist in game count surveys to identify potential ecological problems.
Participate in vegetation surveys to determine the impact of environmental factors on the vegetation of the area.
Help remove invasive plant species and old fencing wires that may ensnare wildlife.
Get involved in anti-poaching efforts with experienced wildlife rangers.
Learn from qualified experts about the area's ecology, biology and fascinating animal behaviours.
Wild and untamed Kalahari in South Africa's North West Province is a fascinating, wildlife-rich, semi-desert expanse that extends into neighbouring Namibia and Botswana. Tucked away in the remote Eastern Kalahari Bushveld on the South African side is a 240,000-acre Big Five reserve, and it is here that your 7 Day Wildlife Volunteer Safari takes place and where you get to contribute to the reserve's vital conservation efforts.
Giving the land back to nature
Our 7 Day Wildlife Volunteer Safari allows you to participate in a conservation initiative that began in 2007 when North West Province farmland was purchased and returned to nature. Naturally occurring Kalahari species were reintroduced, and the reserve is now once again home to free-roaming rhino, elephant, buffalo, lion, leopard, cheetah, brown and spotted hyena, giraffe, aardvark, aardwolf, Cape and bat-eared foxes and a thriving population of the critically endangered African wild dog.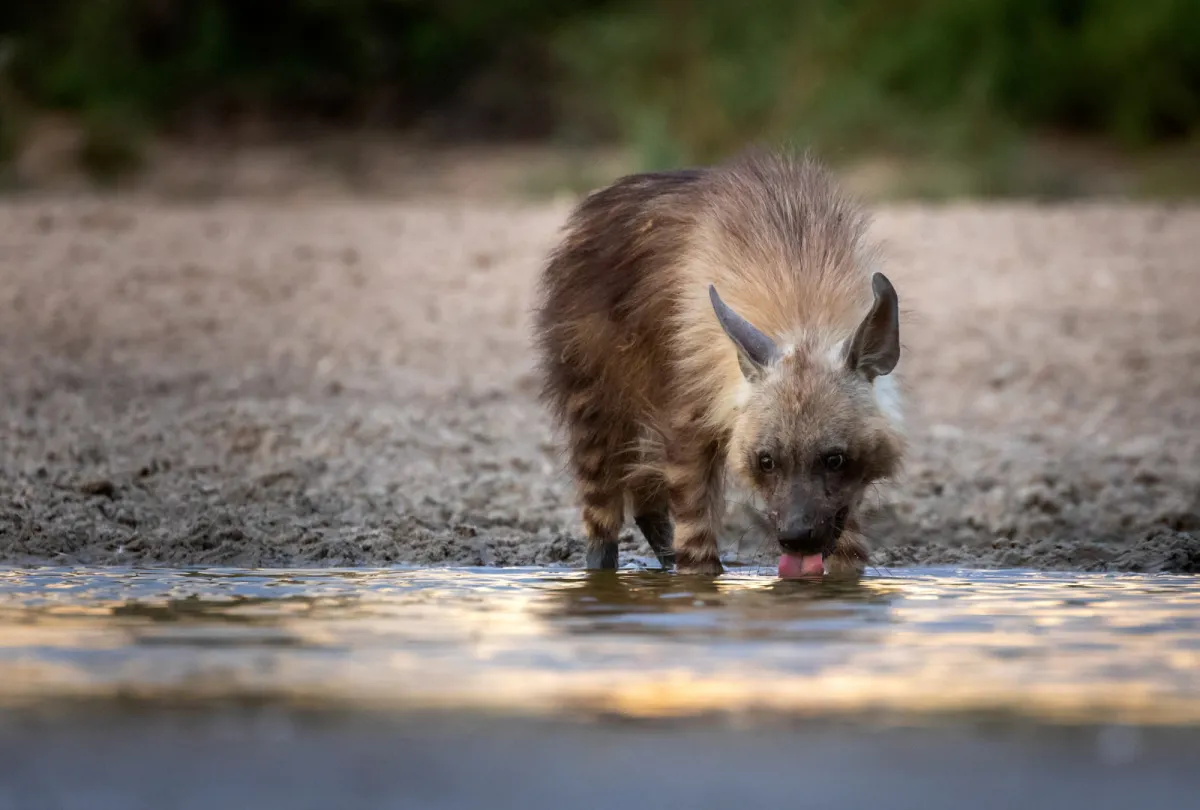 This unique eco-safari experience gives you the hands-on opportunity to help the reserve's highly specialised anti-poaching team and ecologists maintain and protect the reserve's delicate ecosystem by helping them conduct wildlife research, vegetation surveys and game counts.
Authentic, safari tent accommodation
Accommodation consists of four two-sleeper, en-suite safari tents on raised platforms with uninterrupted views of the surrounding Kalahari bushveld. On your 7 Day Wildlife Volunteer Safari, meals will be served in the reserve's dining tent, and, at night, guests can gather around the fire in the outdoor boma.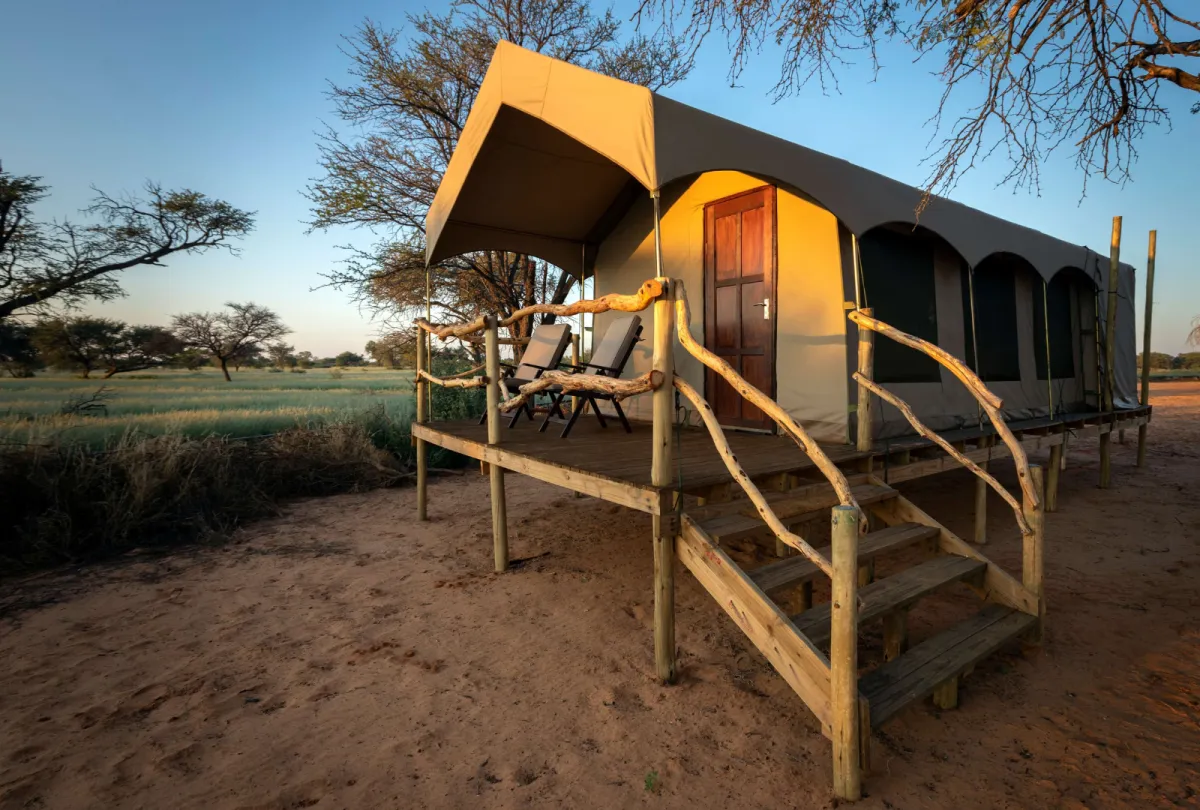 Each tent has a private shaded veranda and guests who want to mingle are welcome to relax in the communal shaded outdoor section. Electricity, hot water and safe drinking water are also available. Further adding to the authentic Kalahari wildlife experience is the fact that the reserve is not open to the general public.
Itinerary
A local guide will meet you at OR Tambo International Airport in Johannesburg and drive you to the reserve (a seven-hour transfer) where the daily programme and conservation activities will be discussed with you on arrival. During the course of your eco-safari, you will be actively contributing to the ecological sustainability of the reserve by lending a hand in a variety of wildlife research activities. Conservation projects may include:
Monitoring the increase, stability and decrease in numbers of lions, African wild dogs, cheetahs and other wildlife such as leopards, buffalo, elephants, rhinos, spotted and brown hyenas and vultures.
Nocturnal monitoring of lions and camera traps.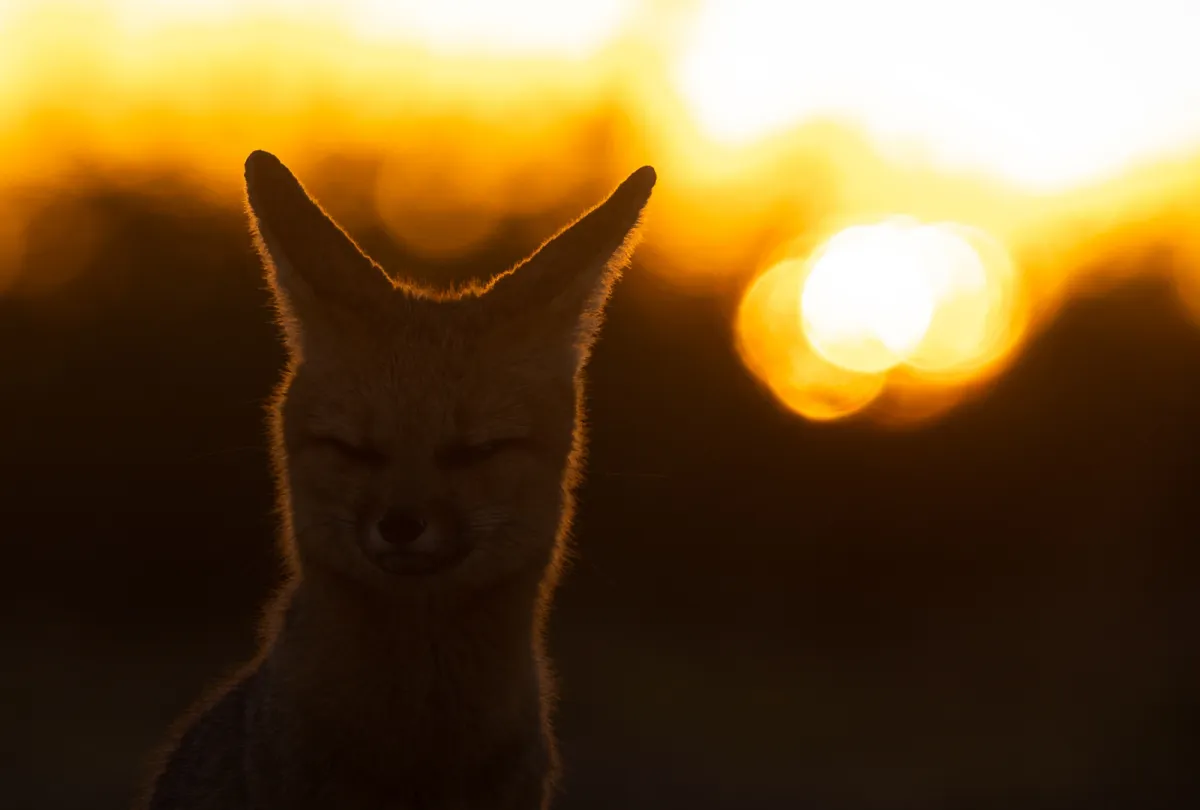 Placing, monitoring and collecting camera traps located throughout the reserve.
Conducting game counts of the reserve's wildlife populations.
Carrying out vegetation surveys.
Assisting in the removal of invasive plant species and leftover fencing wires.
Helping to trim back vegetation encroaching on the reserve's infrastructure.
Accompanying experienced anti-poaching rangers on their daily patrols.
Recording the activities of wildlife in key areas to identify potential poaching point vulnerabilities.
A unique wildlife experience
This unique, hands-on, eco-safari experience in South Africa's malaria-free Kalahari not only provides wildlife research volunteers with the opportunity to encounter some of Africa's most vulnerable species, such as African wild dogs, Lappet-faced vultures, pangolin, brown hyena, cheetah and rhino (black and white) but it also allows participants to leave the reserve with:
A deeper understanding of the area's ecological niche and the importance of the reserve's conservation efforts.
An insight into the persistent rhino poaching crisis and the anti-poaching tactics used to combat common poaching practices.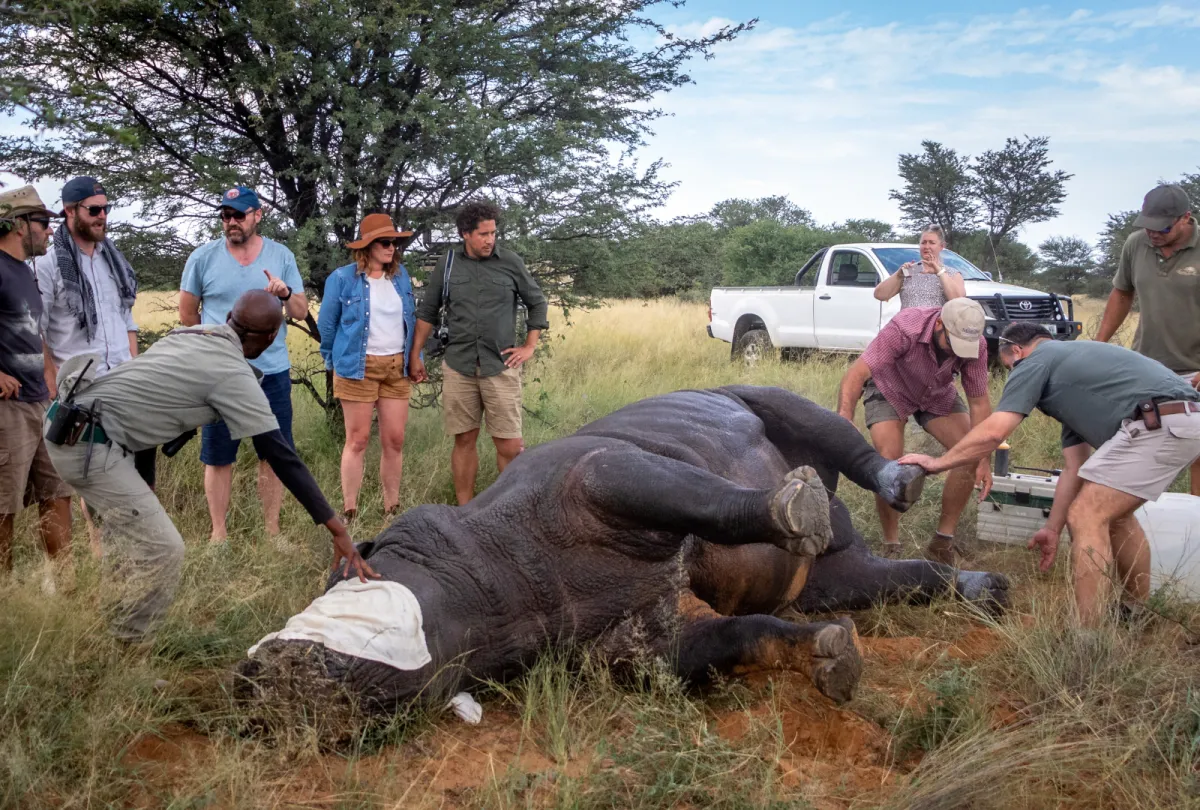 Animal tracking skills by way of GPS, radio antenna, spoor and other forms of identification.
A keen understanding of what impact certain species have on the ecosystem, the role wildlife population increase and decrease plays in the environment and the importance of genetic diversity.
Knowledge about how different predators hunt.
An awareness of how invasive plant species impacts the ecosystem.
An appreciation for how eco-tourism supports conservation efforts.
A deep respect for the threats and challenges faced by the wildlife that inhabits the harsh environment of the Kalahari.
Responsible conservation practices
Depending on the environmental needs of the reserve, you may also be involved in special activities such as lion and rhino ear-notching, the fitting and/or removing of tracking collars or the capturing and releasing of predators into other wildlife reserves for the purpose of maintaining genetic diversity.
These activities are conducted exclusively in line with the ecological requirements of the reserve under the strictest ethical best practice standards, and there can be no guarantee that these activities will be part of your 7 Day Wildlife Volunteer Safari experience. Please note that under no circumstances whatsoever will any animal be darted for unethical purposes.
Rates
Period
Price per person (pp)
January 1, 2023 - December 31, 2023

$2,204

£1,817

€2,085

R41,470

January 1, 2024 - December 31, 2024

$2,426

£2,000

€2,295

R45,650
The rate is per person sharing. Please ask us about exclusive use of the camp.
All rates on our website are provided to give a price estimate only and should not be seen as a firm quote. Likewise, our currency converter will give you a rough idea of the price in another currency, but should not be seen as a firm quote. It is only intended as a guideline, based on the daily interbank exchange rate. Please contact us to receive an accurate, free quote with no obligation.
Includes
Return transfer between Johannesburg and the conservation camp in North West Province
Six nights accommodation
Three meals a day and snacks
Vehicle and guide
All conservation and game drive activities
Daily conservation fees
Excludes
International flights
Visa and border crossing costs
Airport tax if applicable
Personal travel insurance
Meals not specified
Drinks
Gratuities (not compulsory)
Personal expenses and optional extras
You may also want to look at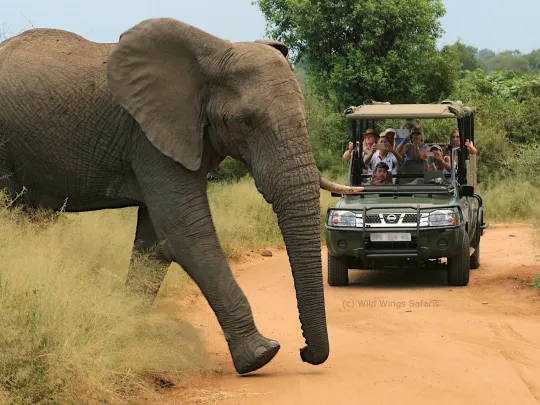 Our popular 3-day Kruger Park safari is designed for those who want a quick and affordable way to see the Kruger National Park in the company of an expert guide, but are really short on time. This 3-day Kruger Park safari is sometimes called our Kruger Quick Safari. We offer regular scheduled departures from Johannesburg or Nelspruit. Custom departure dates and private departures can be arranged on request. Book early to avoid disappointment!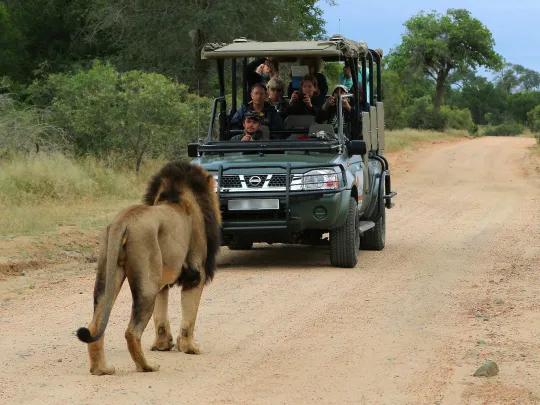 The 4-day Budget Kruger Park Safari is easy on your budget and big on game viewing. This small group, fully-guided safari in Kruger National Park overnights inside the park with scheduled departures from Johannesburg or Nelspruit. Custom departure dates may be arranged (additional cost applies). Book early to avoid disappointment!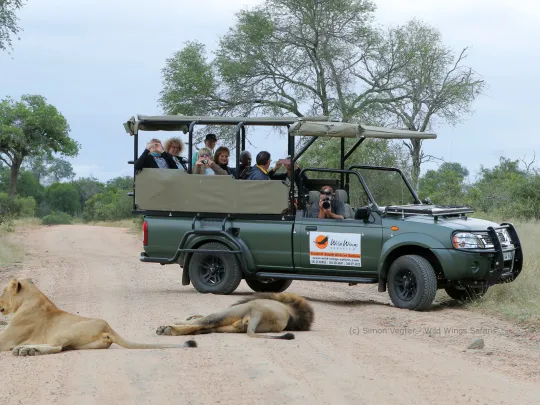 The popular 5-Day Best of Kruger Safari is a 4-night/5-day safari in the Kruger National Park offering open vehicle game drives with an experienced safari guide. Includes a night drive and guided bush walk. Spend two nights each at two different camps, in different areas of Kruger Park, giving you the best game-viewing opportunities. Book early to avoid disappointment!