Kalahari Desert Travel Guide
Kalahari Desert Travel Guide
The Kalahari is a malaria-free destination loved by wildlife enthusiasts for its tranquil, immersive and uncrowded safari experience. Several reserves and national parks, such as Kgalagadi Transfrontier Park, Central Kalahari Game Reserve and Nxai Pan National Park, provide safari-goers with the opportunity to encounter a wide variety of animals in their natural habitat and the chance to witness breathtaking sunsets and clear starry skies.
Highlights
A vast and captivating desert region in Southern Africa with a diverse range of unique species
Tranquil and intimate game-viewing experience
Fascinating desert-adapted game such as black-maned lions, cheetahs, meerkats, oryx and more
Home to the San people, also known as Kalahari bushmen, who have lived here for thousands of years
Stunning sunsets and starry night skies
The perfect escape from the stress of the modern world
Covering an area twice the size of California, the malaria-free Kalahari Desert spans a large portion of Botswana, a third of Namibia to the east and the northernmost parts of South Africa. The Kalahari's semi-arid savanna landscape is home to a surprisingly rich tapestry of resilient wildlife that has evolved to survive in this harsh terrain. From iconic apex predators to fascinating desert-adapted creatures, safari-goers can expect to encounter a wide range of wildlife.
Rich in biodiversity
Despite its harsh environment, the Kalahari Desert is rich in biodiversity. Iconic predator species in the Kalahari include the magnificent black-maned lion, the elusive leopard and the cheetah, which thrives in the open plains.
The inquisitive African meerkat is one of the most remarkable and well-adapted Kalahari creatures. These small mammals live in close-knit social groups called mobs, and they are incredibly entertaining to watch as they forage insects and small vertebrates.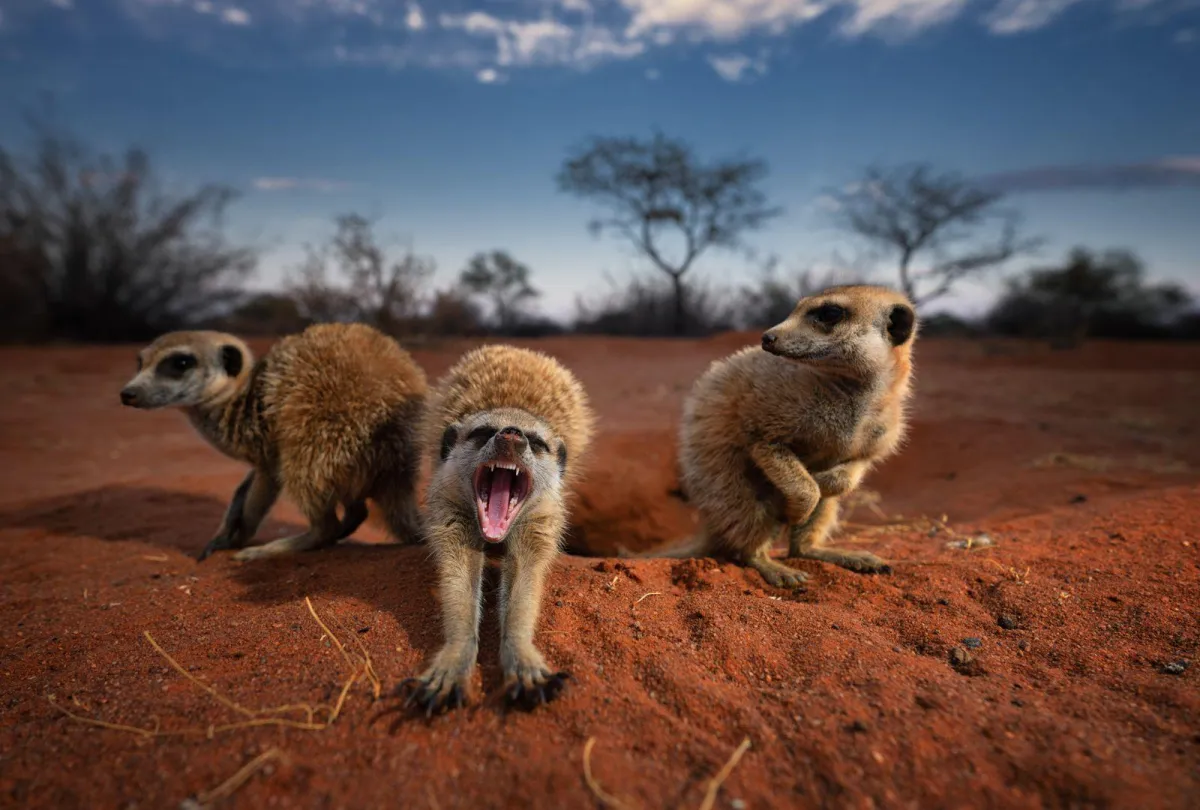 Another iconic species you're almost certainly bound to encounter in the Kalahari is the gemsbok or oryx, a desert antelope with striking black and white facial markings. These majestic creatures have adapted to survive without water in the Kalahari for extended periods.
The Kalahari Desert is also home to various nocturnal creatures like the elusive brown hyena, a rare and solitary species that is only active under cover of darkness, aardvarks, African wildcats and African porcupines.
Birdwatchers can expect to spot martial eagles, tawny eagles, the African fish eagle, the ostrich and the kori bustard.
Home to San (Kalahari bushmen) people
One of the unique aspects of the Kalahari is its ancient history and culture. The San people, also known as Kalahari bushmen, have lived there for thousands of years, and safari-goers can experience their traditions firsthand by spending time with the San on guided walks.
Although the local San people now live more modern lives, they have retained their ancient traditional knowledge, and combining a safari in the Kalahari Desert with a bush excursion with Kalahari bushmen is a once-in-a-lifetime opportunity.
A secret zebra migration
In 2012 and 2013, researchers identified two wildlife migrations in the Kalahari that very few people had known about, one of which is now recognised as Africa's longest terrestrial wildlife migration. Every year in November, more than half of all the zebra in the southeastern Okavango Delta migrate 250 km to the Makgadikgadi Pans.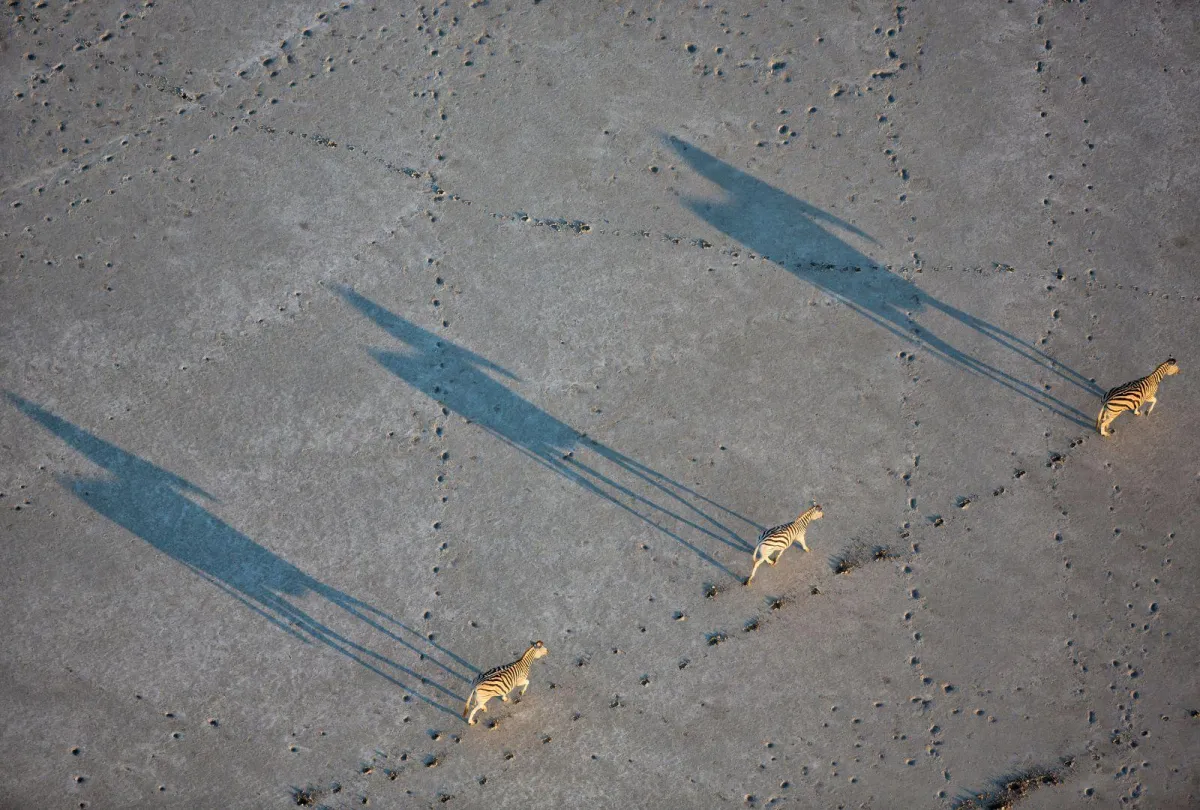 Another migration also takes place in the Kalahari around the same time. Triggered by the arrival of rainfall in the Nxai Pan area, the zebras on the floodplains of the Chobe River in both Namibia and Botswana start moving southwards. It takes them about 14 to 20 days to cover the 250 km journey to the Nxai Pan National Park, where they stay until around February.
Where to go on safari in the Kalahari
Southern Africa's Kalahari Desert is a semi-arid savanna with more rainfall than traditional deserts, making it a haven for plants and animals. Extending across Botswana, Namibia, and the northernmost parts of South Africa, the Kalahari, Africa's second-largest desert, is home to several sprawling national parks and game reserves.

Botswana
Nxai Pan National Park
A great mix of desert and savannah wildlife in easily accessible environments.
One large dry-season waterhole that makes game viewing in winter easier.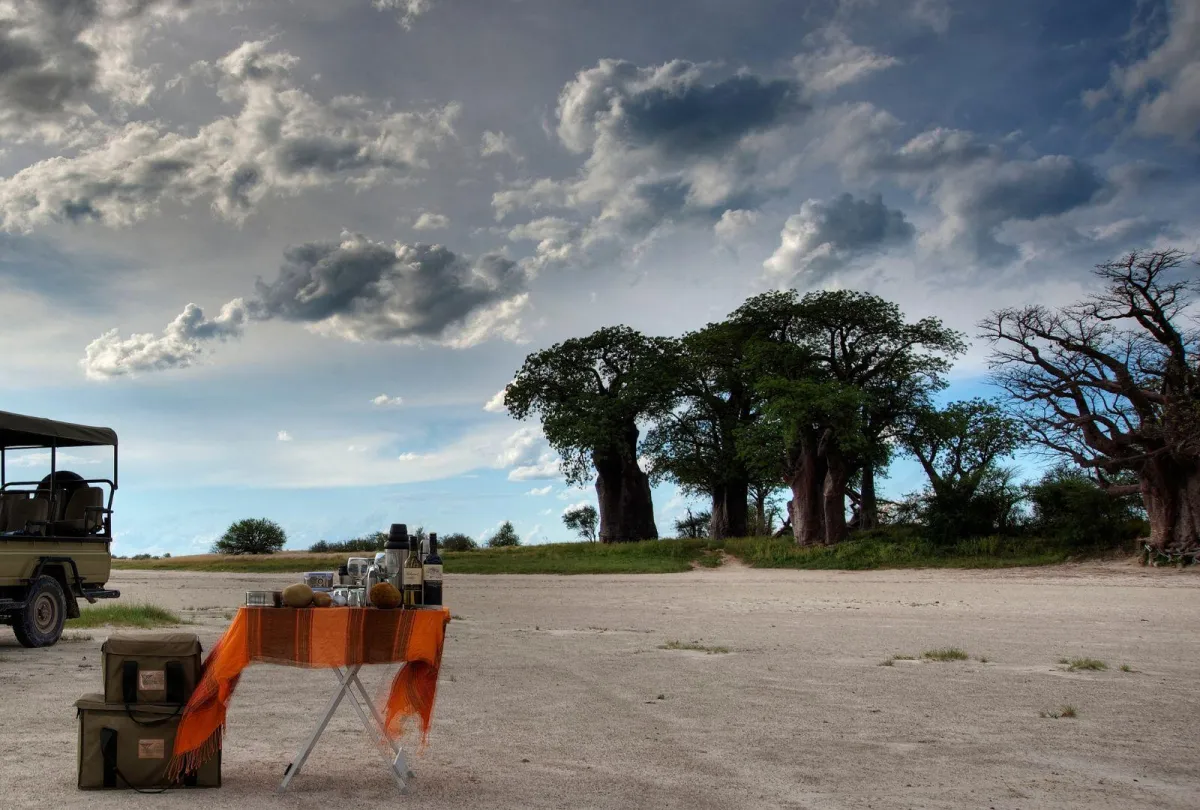 During the green summer, zebra, buffalo and elephant congregate in large numbers in the Nxai Pan National Park.
Home of Baines' Baobabs, a cluster of ancient baobab trees marooned on a salt pan island.
Central Kalahari Game Reserve
About the same size as Belgium, the Central Kalahari Game Reserve is Botswana's largest conservation area.
The density of classic Kalahari wildlife and the prevalence of waterholes makes for great predator game-viewing in the dry season.
Predator action is also good in December when it's springbok birthing season.
Makgadikgadi Pans National Park
The summer rains in the Makgadikgadi herald the arrival of masses of zebra.
Wildfowl, flamingos and waders arrive en mass, attracted by the vast rainwater-filled salt pans.
Predators like lions, cheetahs and African wild dogs thrive in the open landscape of the park.
A good sample of Kalahari wildlife can be seen all year round.
Botswana and South Africa
Kgalagadi Transfrontier National Park
The Kgalagadi Transfrontier Park lies within the southern Kalahari Desert, straddling the border between Botswana and South Africa.
Almost twice the size of South Africa's Kruger National Park, the Kgalagadi consists of red dunes covered with grass, sporadic tree life and the ancient dry riverbeds of the Nossob and Auob Rivers.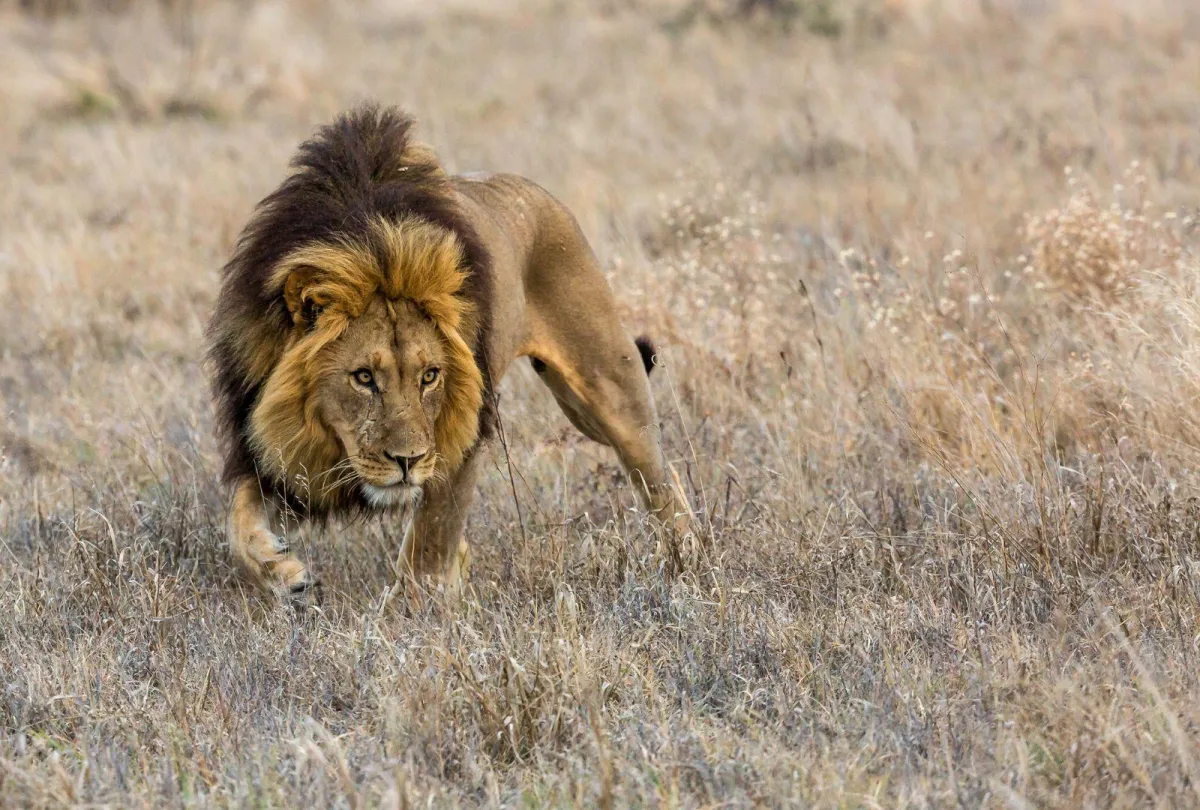 Wildlife is plentiful and underground water sources sustain a variety of carnivore species, including the critically endangered African wild dog, the iconic black-maned Kalahari lion, cheetahs, honeybadgers and the rarely seen brown hyena.
South Africa
Tswalu Kalahari
Tswalu Kalahari, in the far northern reaches of South Africa's Northern Cape Province, is one of the largest privately protected conservation areas in South Africa.
Three luxury safari camps provide dramatic views of the savannahs, dunes and mountains that characterize this part of the Kalahari Desert.
Game drives take place in private safari vehicles with a dedicated guide and tracker.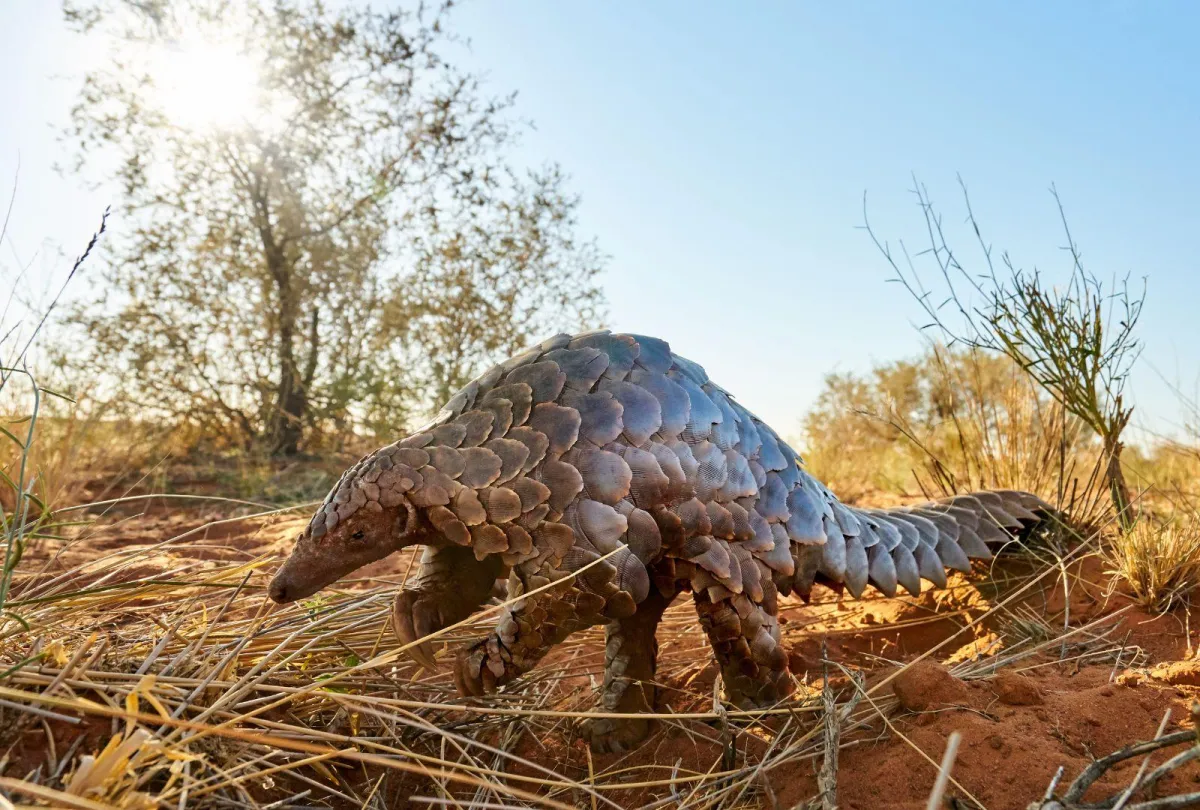 Tswalu Kalahari is home to the black-maned Kalahari lion, the rare desert black rhino and cheetahs, and giraffes, kudu, eland and oryx are plentiful.
One of the best places to spot five of the most elusive nocturnal species in Africa — pangolin, brown hyena, aardvark, aardwolf and bat-eared fox.
!Khamab Kalahari Reserve
!Khamab Kalahari Reserve falls within the Eastern Kalahari bushveld bioregion of South Africa's North West Province, which shares a border with Botswana to the north.
The reserve's landscape is characterised by a combination of open and wooded savanna, which has more grass than some other areas of the Kalahari.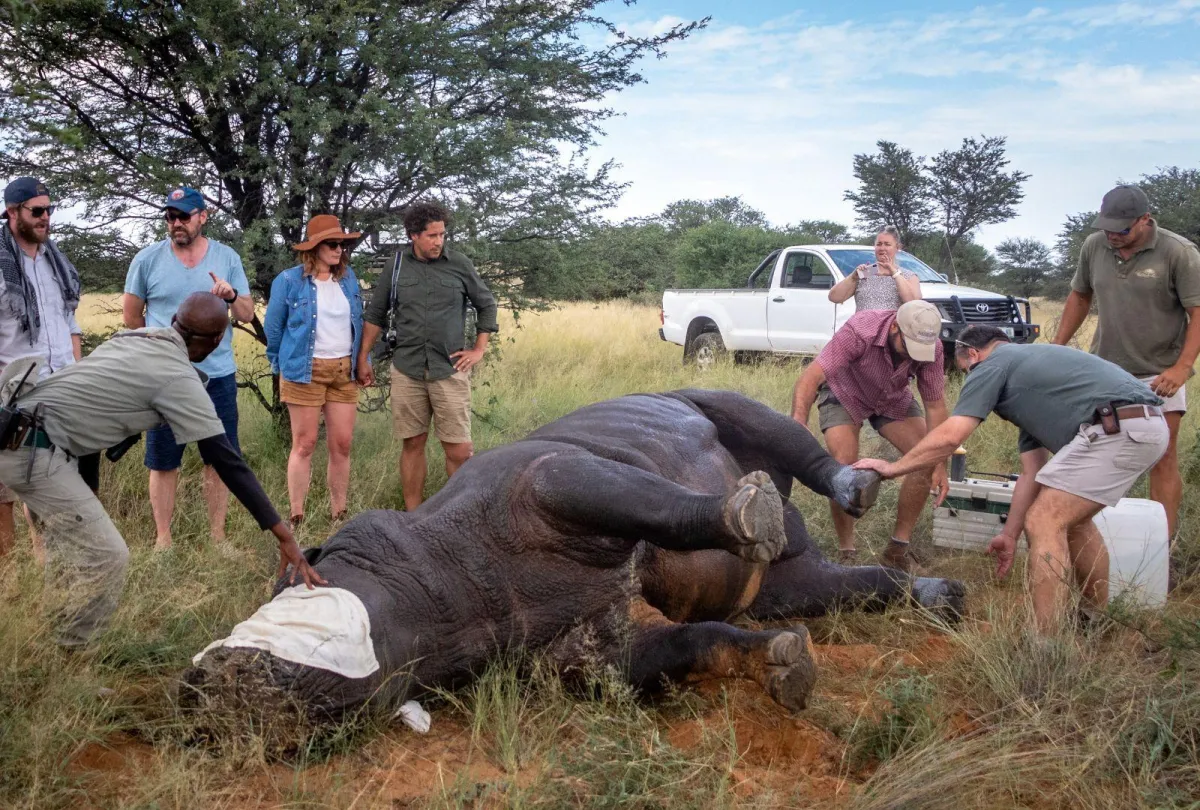 Free-roaming wildlife includes the Big Five (lion, leopard, elephant, buffalo and rhino), shy carnivore species such as black-backed jackal, caracal, aardwolf, African wild cat, honey badger, bat-eared fox, Cape fox, meerkat and mongoose, African wild dog, cheetah, spotted and brown hyena and other typical Kalahari game.
!Khamab Kalahari is one of the few private reserves to offer hands-on wildlife conservation safaris where guests can participate in wildlife conservation activities and fieldwork with qualified rangers and conservationists.
Best time to visit
There is no "bad time" to visit the Kalahari Desert, as wildlife can be found throughout the year. It all depends on the type of game-viewing experience you are interested in.
If you're interested in a classic dry-season safari, the winter months of July and August are great for watching large game gather at the few remaining waterholes. September and October also offer great dry-season game-viewing opportunities but daytime temperatures are extremely high.

Rainfall in November triggers the migration of thousands of zebra to the Nxai Pan National Park and Makgadikgadi Pans in Botswana. From December to around April, the Kalahari Desert turns into a field of green, and safari-goers can enjoy watching newborn antelope and large herds of elephants and buffalo grazing.