North West Province Travel Guide
North West Province Travel Guide
Malaria-free North West Province lies within easy reach from Johannesburg. Bordered by Botswana in the north and fringed by the Kalahari Desert, North West Province is a fantastic safari destination for families. Home to Sun City, famous for its casino, waterpark and Gary Player golf course, the region offers great Big Five game viewing options in Pilanesberg National Park, an extinct volcano that is home to a wide range of wildlife, and Madikwe Game Reserve which offers some of the best family-friendly safaris in South Africa.

Highlights
Big 5 game viewing
Fantastic malaria-free safari destination for families
Almost year-round sunshine
Mountains, bushveld and desert
Easy to get to from Johannesburg
Home to Sun City, Pilanesberg National Park and Madikwe Game Reserve
Full of historical, archaeological and geological surprises
Work with wildlife as a volunteer
North West Province is a popular holiday destination for families. Within easy reach of Johannesburg, the region has much to offer in the way of authentic Big 5 game viewing and family-friendly options.
Pilanesberg National Park is a comfortable two- to three-hour drive from Johannesburg and offers accommodation to suit all budgets from basic tented camps to luxury bush lodges. Set inside the crater of an extinct volcano, the park is home to a rich range of southern African wildlife from the Big 5 to cheetahs, Hartmann's mountain zebras, giraffes, hippos, crocodiles and over 260 species of birds.
Sun City Resort borders the Pilanesberg National Park to the south and is famous the world over for its glamorous casinos, golfing facilities, sporting and entertainment events and fun-filled, child-friendly activities.
Further north on the border to Botswana, prime safari destination Madikwe Game Reserve is a 4.5-hour drive from Johannesburg. Home to a wide range of fauna and flora, Madikwe is a popular malaria-free destination for families who want to see free-roaming Big Five and endangered African wild dogs on open-safari vehicle game drives, enjoy the year-round sunshine and take advantage of specially designed child-friendly wildlife and entertainment programmes.
Closed to the public, a private Kalahari conservation reserve offers families and small groups the unique opportunity to volunteer and work with wildlife in one of South Africa's largest private Big Five game reserves. Wildlife conservation efforts volunteers can participate in include activities like doing predator research, placing and monitoring camera traps, counting game, doing vegetation surveys and going on anti-poaching patrols.

North West Province is a fantastic holiday destination with great weather, a wide range of activities for all ages and wonderful accommodation options to suit all budgets.
Madikwe is one of South Africa's popular Big 5 safari destinations for those looking for a malaria-free safari. It's especially family friendly as there's no need for malarial prophylactics. Most lodges in Madikwe Game Reserve welcome children and offer specially designed child-friendly programmes to keep the little ones busy and to help them really enjoy their safari experience, too.
Pilanesberg National Park
Framed by three concentric rings of hills rising from the surrounding plains, malaria-free Pilanesberg National Park in North West Province is one of South Africa's most popular game reserves. Located in an ecologically diverse transition zone between the Lowveld and the Kalahari, Pilanesberg attracts visitors looking for an easily-accessible Big Five safari experience close to Johannesburg that offers a wide range of accommodation options.
You may also want to look at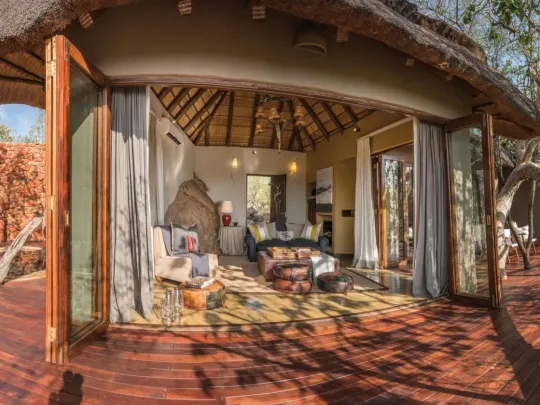 Set on a hilltop in the heart of malaria-free, Big 5 Madikwe Game Reserve, Madikwe Hills Private Game Reserve is the essential 5-star safari lodge where the emphasis is on privacy, discreet and intuitive service and culinary excellence. It's the perfect safari choice for romantic getaways, corporate breakaways and special family gatherings.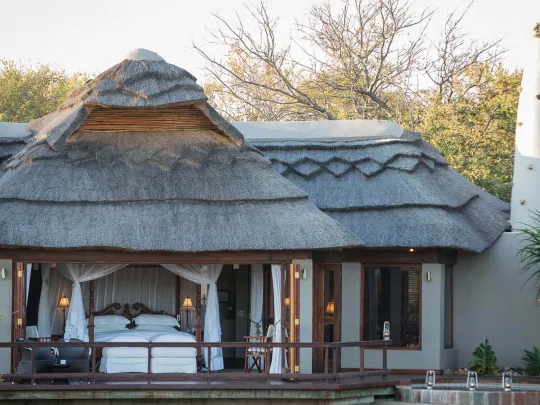 Wherever you are at Jamala Madikwe, you'll have front-row seats to all the action at the expansive and highly-frequented waterhole that stretches the length of the lodge. In Madikwe's eastern section, Jamala offers a luxuriant safari experience in exquisite surrounds.