The Skeleton Coast & Cape Cross Travel Guide
The Skeleton Coast & Cape Cross Travel Guide
The incredible wealth of fauna at the Skeleton Coast will surprise you. Its river courses sustain large species such as Namibia's renowned 'desert elephant', giraffe, black rhino, lion and many smaller species, while the plains have springbok, ostrich and gemsbok in large numbers. It's a fascinating area where interdependent dune-dwelling insects, reptiles and small mammals survive against all odds by getting sustenance from frequent sea fog and wind-blown detritus.
Highlights
Encompasses the northern third of Namibia's coastline
The Skeleton Coast is well-named for the scores of shipwrecks and old whale bones littering its beaches
Stark, arid area ranging from wind-swept dunes to rugged canyons and mountain ranges
Cold Benguela Current, dense fog and pounding surf characterise the coastal climate
Home to a great variety of adapted species – big cats, elephant, black rhino, gemsbok and more
Cape Cross seal colony – one of the biggest Cape fur seal breeding grounds
Increasingly popular surfing destination with endless left breaks
Although Namibia's entire coastline was formerly known as The Skeleton Coast, today it refers more to the Skeleton Coast National Park which stretches from the Angolan border/Kunene River to the north for some 500 km to the Ugab River in the south, making up one-third of Namibia's coastline.
Skeletons littering the coastline
The area's name comes from a book written in 1944 about a famous shipwreck, the Dunedin Star, but this coastline has quite a collection of shipwrecks, ancient whale and seal bones from its former whaling station days and shell middens from early strandlopers who inhabited the area.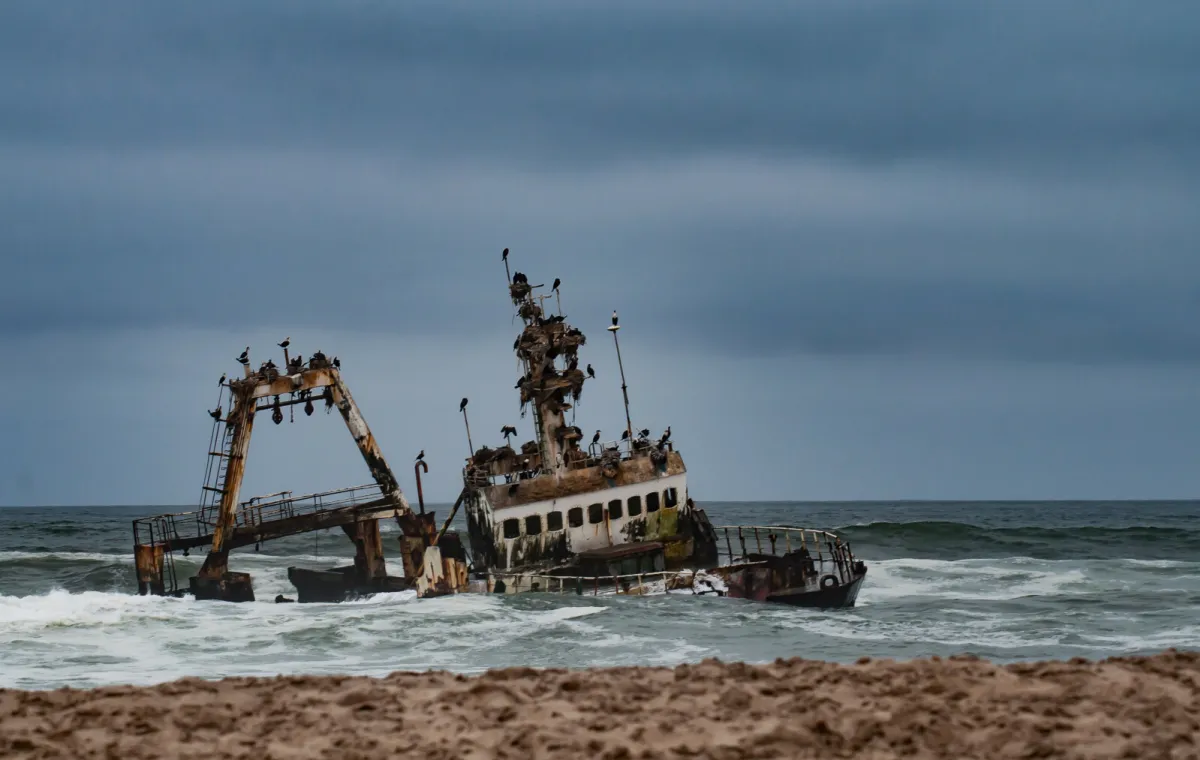 The shipwrecks are the result of the swelling cold Benguela current which also causes dense ocean fog and rough surf. With the endless movement of the dunes, some of these shipwrecks are now located many kilometres from shore where they rest in a sea of sand.
A surprising wealth of wildlife
The many plant and insect species found here are perfectly adapted to get moisture from the dense sea fog that engulfs the coast and to feed off windblown detritus. A fascinating example is the Welwitschia plant – only seen here and in Angola – which has its own specialised botanical family. This messy-looking, two-leafed plant is known as a 'living fossil', as it dates back to the Jurassic period.
Despite its arid, inhospitable appearance, the Skeleton Coast Park has a greater variety of species than many other parks in Southern Africa such as Namibia's famous desert-adapted elephant, black rhino, lion, cheetah, giraffe, gemsbok, zebra, springbok, spotted hyena, brown hyena and unusual endemic reptiles like the armour-plated lizard and Nile soft-shelled turtles.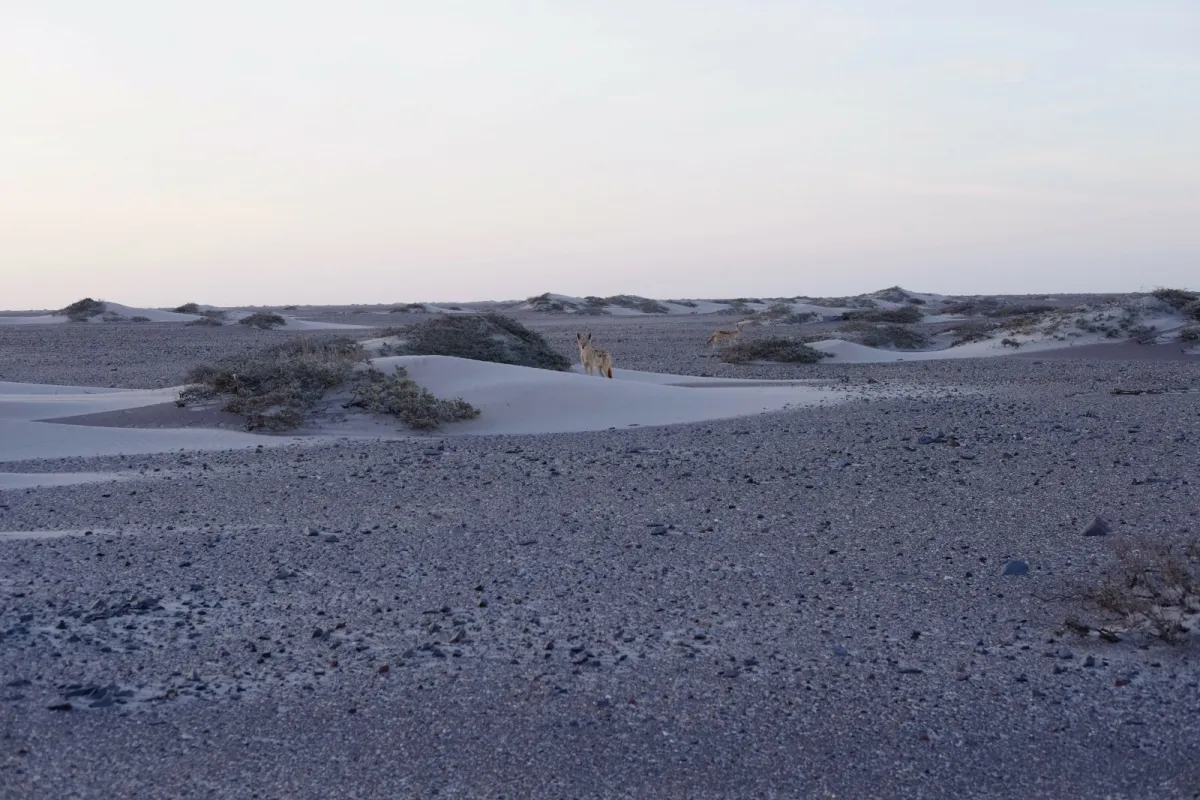 Some 247 species of birds have been recorded in the area, including the near-endemic Damara tern, which nests and breeds on the gravel plains near the coast. Fishing is said to be spectacular and in season, June to November, you're likely to see shoals of endemic Benguela dolphin, killer whales, southern right whales and humpback whales.
Visiting the Skeleton Coast Park
Day visitors are only allowed to visit between sunrise and sunset and permits are obtainable at the two entry gates: Ugab River in the south and Springbokwasser in the east. The area north of Terrace Bay is ecologically-sensitive and closed to the general public. It's only accessible to a few operators who conduct fly-in safaris around Namibia – a highly-recommended way to experience this extraordinary area of Namibia.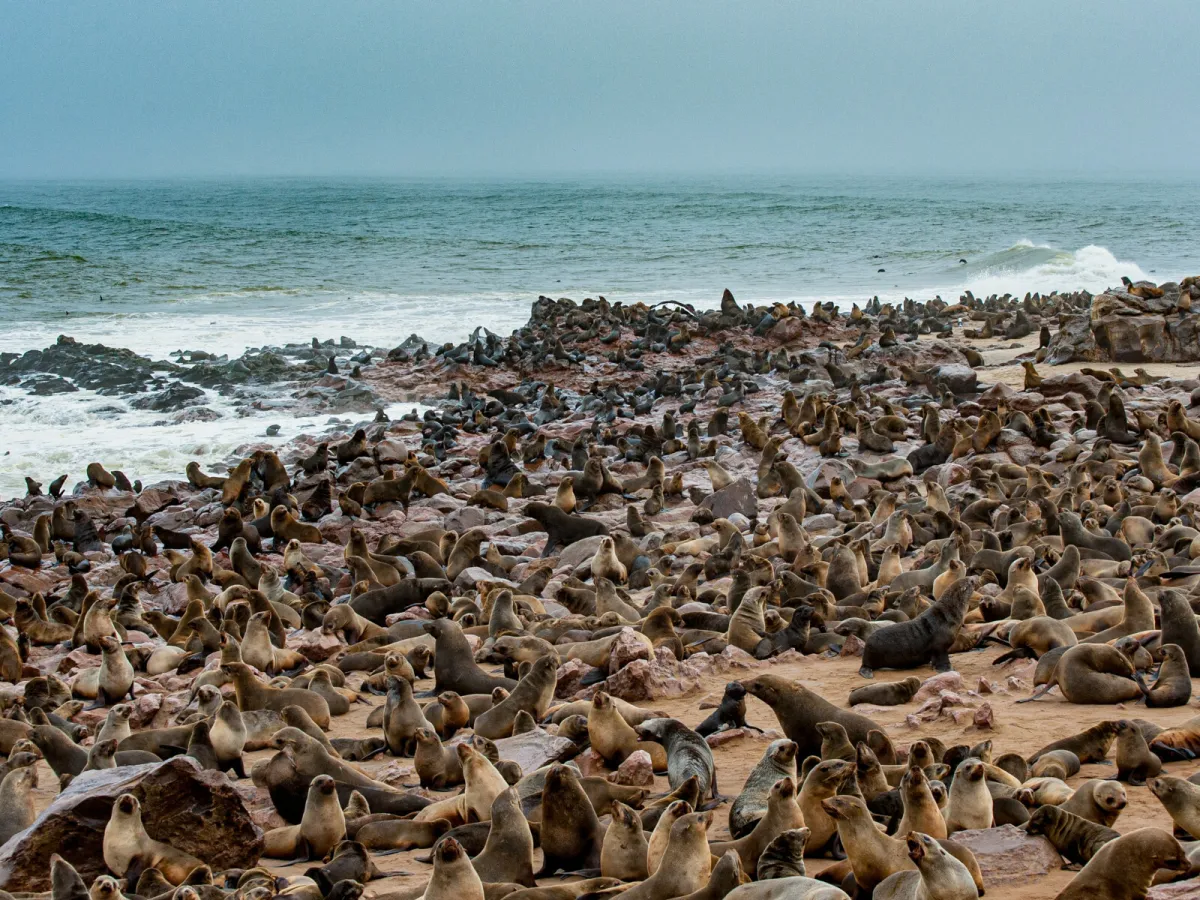 A visit to the Cape Cross Seal Colony is definitely worthwhile, but be warned! It has to be one of the smelliest places in Namibia!
Climate
The Skeleton Coast and Cape Cross are arid and desolate. The area rarely gets more than 10 mm (almost 0.40 in) of rain annually. Summer is from October to April and temperatures range from 20°C to 40°C (68°F to 104°F). Winter is from May to September, with temperatures from 0°C to 23°C (32°F to 73°F). It's good to visit any time of the year.
You may also want to look at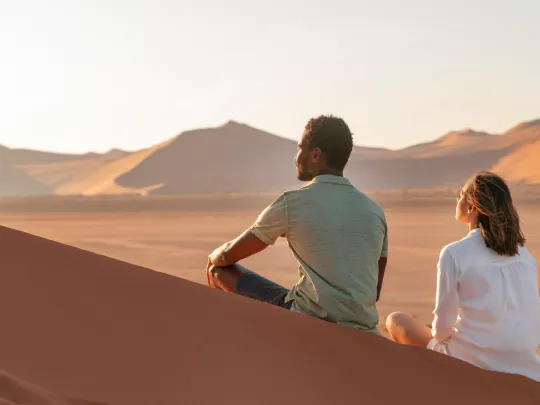 This seven-day luxury fly-in safari explores some of Namibia's most iconic safari destinations – the distinctive ochre dunes of Sossusvlei, the rugged, desolate landscape of Damaraland and the Kaokoveld where you're likely to spot the legendary desert-adapted elephant and Etosha, Namibia's ancient national park. Flying over this vast country, you'll also get an insight into its fascinating detail and incredible landscapes.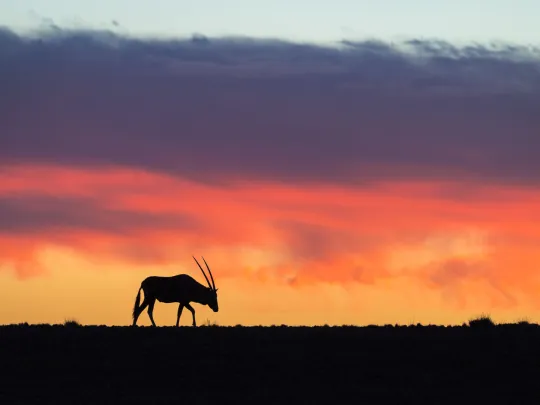 Explore some of Namibia's most iconic destinations in the company of a highly experienced personal guide. Our 10-Day Best of Namibia Safari takes you from the towering red dunes of Sossusvlei and lonely stretches of beach along the Skeleton Coast to the quaint seaside town of Swakopmund and Damaraland with its startling geographical features. We round our trip off with a safari in Etosha National Park with its ancient salt pan in search of Namibia's famous desert-adapted elephants and lions.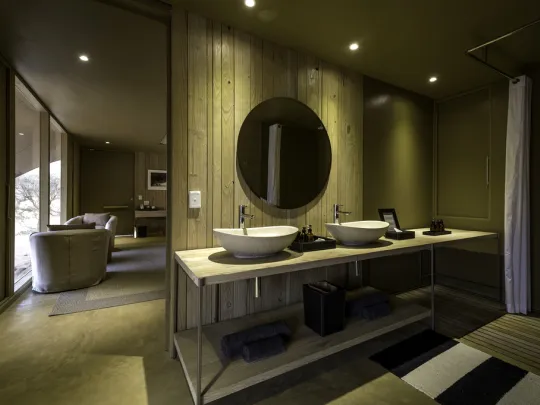 Hoanib Skeleton Coast Camp sits in scenic, wide valley where two tributaries of the Hoanib River meet. It straddles two wilderness areas: the private Palmwag Concession and the iconic Skeleton Coast National Park, in one of Namibia's most remote areas. Dramatic scenery, sightings of remarkable desert-adapted wildlife and huge seal colonies are just some of its attractions.