Hoanib Skeleton Coast Camp
Hoanib Skeleton Coast Camp
Hoanib Skeleton Coast Camp sits in scenic, wide valley where two tributaries of the Hoanib River meet. It straddles two wilderness areas: the private Palmwag Concession and the iconic Skeleton Coast National Park, in one of Namibia's most remote areas. Dramatic scenery, sightings of remarkable desert-adapted wildlife and huge seal colonies are just some of its attractions.
Highlights
Vast, remote wilderness area with good sightings of Namibia's iconic desert-adapted wildlife
Small, intimate, remote, luxury camp with only eight tented units
A range of activities to take in spectacular scenery, towering dunes and unexpected oases
Enormous seal colonies with ever-attendant predators (black-backed jackal and brown hyena)
Historical Cape Cross – ancient landmark and one of the largest Cape fur seal colonies on the coast
One of the greatest concentrations of desert-adapted elephant
Common residents include Hartmann's zebra, gemsbok (oryx), giraffe, springbok, desert lion and brown hyena
Interesting and diverse birdlife with regular endemics
Shipwrecks litter the Skeleton Coast, from ancient ones now lying 100km inland due to the shifting sands, to more recent examples
Situated in one of Namibia's most remote areas, Hoanib Skeleton Coast Camp enjoys the best of both worlds: the private Palmwag Concession with its healthy population of desert elephants and the desolate Skeleton Coast National Park – renowned for its enormous seal colonies and shipwrecks.
Small, Intimate Luxury Camp
This remote camp consists of seven en-suite large tents and one two-bedroomed, double en-suite family unit. Each of the tents is elevated with a shaded outdoor deck from which to look out over the stark, beautiful surrounds. Pedestal fans are provided.
Low-Impact Main Area
The entire camp has been sensitively designed for minimum impact on its delicate desert environment. The main camp has outdoor lounges, a dining and bar area, an inviting pool and a campfire to enhance evenings out under the stars. There's also a curio corner and a computer station with free internet access.
Surprisingly Good Game Viewing
Despite its seemingly inhospitable, harsh environment, the area sustains healthy populations of desert elephant, giraffe, lion and brown hyena as well as gemsbok (oryx), springbok and steenbok. Birdlife is equally diverse, with regular sightings of endemics such as Rüppell's korhaan, the Benguela long-billed lark and lark-like bunting. Around the seal colonies, you're likely to spot the tractrac chat, jaeger and skua.
Variety of Activities
In one of the harshest environments on the planet, daily activities at Hoanib Skeleton Coast Camp vary according to the weather, seasons, your preferences and the advice of the staff. For example, overly hot conditions, sea mist, high winds and flooding rivers can affect plans which may include:
Game drives conducted in closed safari vehicles with a pop-up roof
Presentations and interaction with wildlife researchers if and when they are in camp
Pre-dinner and fireside chats with knowledgeable staff about research being conducted in the area
Stargazing with a laser pointer
Morning or afternoon nature drives including the Hoanib riverbed and its floodplains
Day trips with picnic lunches to local areas of interest:

Mudorib Springs area to the south with excellent chance of seeing desert-adapted rhino and Hartmann's mountain zebra
North and eastern Hoanib to the north, known for its dramatic scenery and good game viewing
Full day Coastal Excursions – available to guests staying three nights or more – a four-to-five-hour drive to the coast, visiting the Klein Oasis Spring and seal colonies, exploring the coastline, dune driving, viewing shipwrecks plus a picnic lunch before flying back to camp by light aircraft. (Can be arranged on a private basis if you're staying for a shorter period. Additional costs apply.)
Conservation Matters
Hoanib Skeleton Coast Camp is involved in the conservation of the famous 'desert' lions and finding ways for them to live in harmony with local communities. This camp exists in a fragile ecosystem and every care is taken to minimise impact on the environment, including innovative design, using 100-percent solar power and eco-friendly waste systems to recycle, reduce and reuse. It's also a partnership with the local community that contributes to the sustainable development of the area.
Getting There
By road: Currently, Hoanib Skeleton Coast Camp is not accessible on a self-drive basis. You'd need to park at the Doro !Nawas hub at your own risk and fly to Hoanib.
By air: Wilderness Air Namibia flights connect to Hoanib Skeleton Coast, followed by a 10-minute drive to camp, depending on stops along the way for wildlife, scenery or photographs.
Our Take on Hoanib Skeleton Coast
In true Wilderness Safari style, this camp will amaze you. The location, rooms and staff are superb and get consistently great reviews. It is a remote camp in a remote area – but you'll enjoy absolute luxury, attentive staff and unforgettable wildlife and scenery. It's definitely worth going the extra mile to get there – you won't regret it.

Includes
Luxury accommodation and all meals
Twice-daily scheduled camp activities
Park fees
All local drinks
Laundry
Excludes
Premium, imported brands and champagne
Gratuities
Curio purchases
Any items of a personal nature
You may also want to look at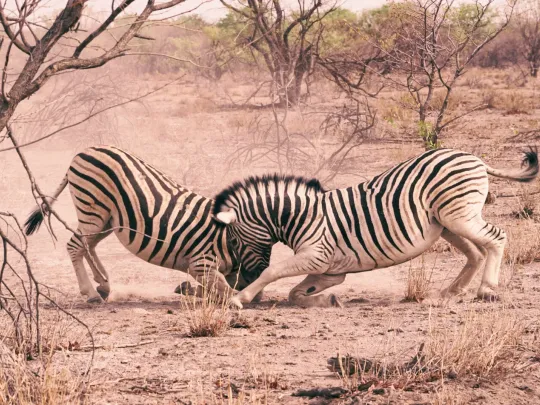 Famous for its arresting desert scenery and outstanding game viewing, Namibia is one of Southern Africa's top travel destinations. Its most captivating attraction, the ancient Namib Desert, presents endless ochre dunes and parched salt pans, while the game-viewing gem of Etosha National Park offers a world-class safari experience. Natural wonders include the Fish River Canyon, Etosha Pan, Sossusvlei, Waterberg Plateau and the fertile Caprivi Strip.
The incredible wealth of fauna at the Skeleton Coast will surprise you. Its river courses sustain large species such as Namibia's renowned 'desert elephant', giraffe, black rhino, lion and many smaller species, while the plains have springbok, ostrich and gemsbok in large numbers. It's a fascinating area where interdependent dune-dwelling insects, reptiles and small mammals survive against all odds by getting sustenance from frequent sea fog and wind-blown detritus.