Madikwe Game Reserve Travel Guide
Madikwe Game Reserve Travel Guide
Madikwe is one of South Africa's popular Big 5 safari destinations for those looking for a malaria-free safari. It's especially family friendly as there's no need for malarial prophylactics. Most lodges in Madikwe Game Reserve welcome children and offer specially designed child-friendly programmes to keep the little ones busy and to help them really enjoy their safari experience, too.
Highlights
Regular sightings of critically endangered African wild dogs
Lions thrive here and are often seen on safari
No risk of malaria
Family-friendly safari lodges (children are welcome)
Exclusive game viewing from open safari vehicles – no day visitors
Scenic reserve combining Kalahari and Savanna bushveld
Diversity of species not often seen together in one game reserve
Easy access from Johannesburg and Pretoria
Madikwe Game Reserve is in the remote North West Province of South Africa, on the Botswana border. It is one of the largest game reserves in South Africa (over 75,000 hectares) and combines two unique ecosystems; Kalahari Thornveld (western and northern parts of Madikwe) and Lowveld or Savanna Bushveld (southern and eastern parts of Madikwe).
Madikwe is also famous for its thriving population of rare African wild dog (also known as painted wolves or Cape hunting dogs) that are more likely to be spotted here than in any other game reserve in South Africa.
Besides being malaria-free, another attraction of the Madikwe Game Reserve is its exclusivity. No day visitors are allowed so your game viewing opportunities are less crowded and more personal. All game drives are in open, off-road safari vehicles.
About Madikwe
Proclaimed in late 1991, Madikwe Game Reserve is a model of successful conservation. Originally reclaimed from struggling cattle farms to create jobs, it has thrived and now sustains the local communities. The restocking of Madikwe with more than 8,000 animals (Operation Phoenix) was the largest wildlife translocation project in the world.
Incredibly diverse wildlife
Madikwe has 66 species of mammals, including the Big 5 (lion, leopard, elephant, rhino and buffalo) and healthy populations of African wild dogs. There's also a mix of buck and other animals you don't normally see together in one game reserve, such as impala and springbok, gemsbok (oryx) and kudu, brown and spotted hyena.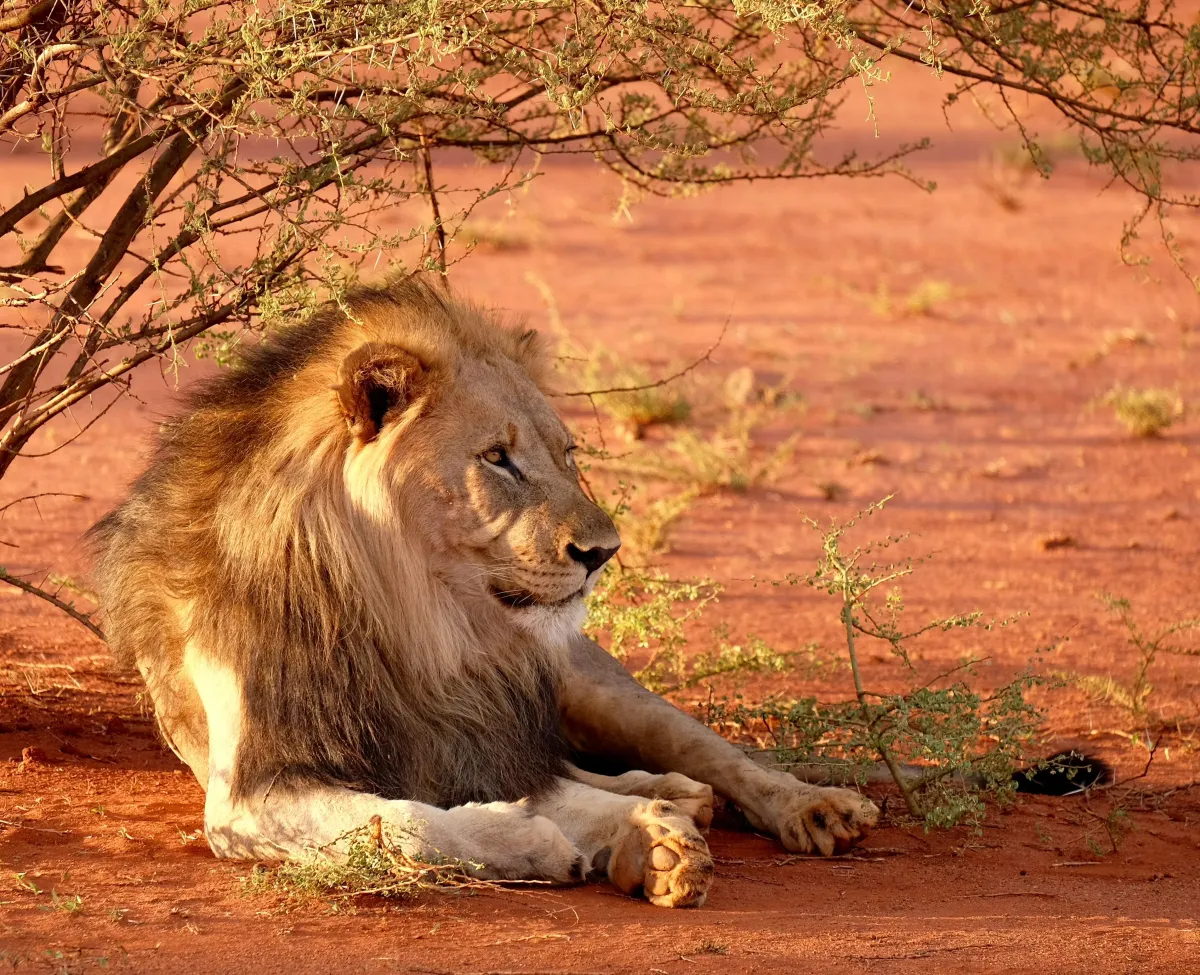 The birdlife is also prolific at Madikwe, with more than 350 bird species already recorded, including spectacular raptors like black-breasted snake eagles and lappet-faced vultures, and some interesting endemics like the Marico flycatcher.
It's a scenic reserve with a variety of vegetation, from vast plains and wooded hills to thickets, grasslands and lush riverine bush.
Best time to visit Madikwe Game Reserve
Mostly sunny all year round, any time is good safari time at Madikwe. Summers are hot and wet, averaging 31°C (88°F). The drier winter months offer prime game viewing. Days are crisp and clear at 22°C (72°F) on average. Nights can get cold with temperatures dropping to 2°C (35.5°F). Bring warm jackets, scarves, gloves, beanies, warm socks and long pants, especially for late afternoon and evening game drives.
Getting there
By air - A daily shuttle (one-hour flight) connects OR Tambo International (Johannesburg) and Madikwe. Charter flights and helicopters transfers are also available.
By road - From Johannesburg, Madikwe is an easy 4-hour drive on good, tarred roads (± 350 km). We will gladly arrange road transfers for you.
Please note there are several gates to the reserve and some roads may close temporarily due to flooding. Please don't rely on GPS or Google maps. We will send you all the latest updates.
You may also want to look at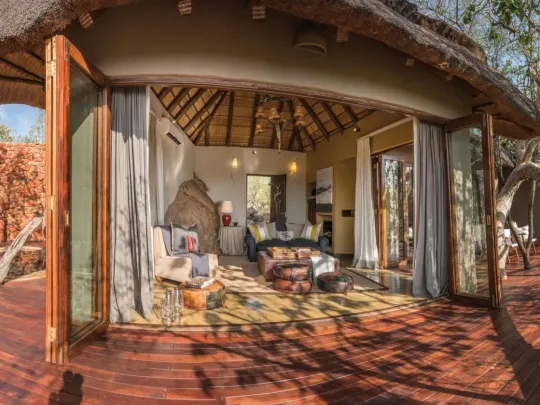 Set on a hilltop in the heart of malaria-free, Big 5 Madikwe Game Reserve, Madikwe Hills Private Game Reserve is the essential 5-star safari lodge where the emphasis is on privacy, discreet and intuitive service and culinary excellence. It's the perfect safari choice for romantic getaways, corporate breakaways and special family gatherings.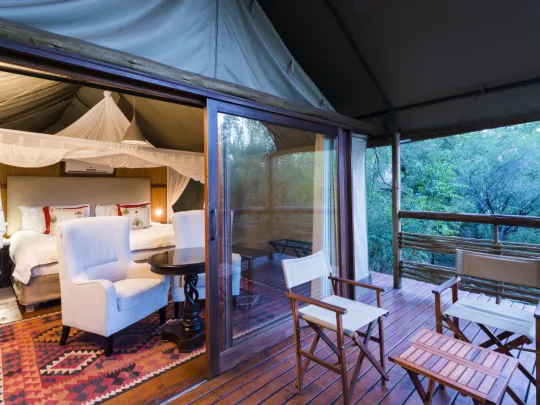 Thakadu River Camp has 12 luxurious safari tents on the banks of the Marico River in malaria-free, Big 5 Madikwe Game Reserve. Thakadu is a wholly-owned, community-based project and an ecotourism success story. This exclusive, tented safari bushcamp is situated in the far eastern part of Madikwe, in a good area for game viewing.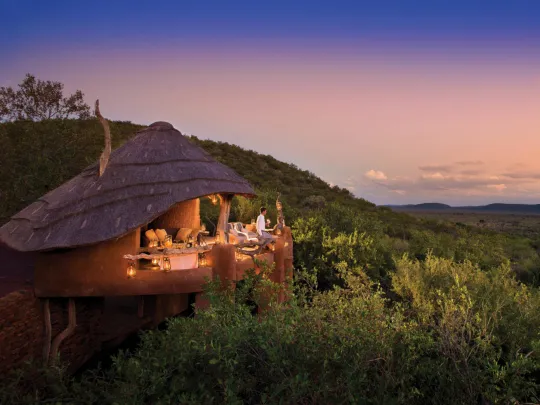 Madikwe Safari Lodge offers 20 luxury suites in three private lodges: Lelapa, Dithaba and Kopano, each with its own purpose and personality - in the best game-viewing section of malaria-free, Big 5 Madikwe Game Reserve. Set on a ridge overlooking the reserve, the lodge offers sweeping views out over the plains of Madikwe.