Tortilis Camp
Tortilis Camp
About 140 km south of Nairobi, Amboseli National Park is second only to the Maasai Mara as the most popular safari area in Kenya. Tortilis Camp is recognised as the only boutique safari camp in the area, famous for its huge elephant population and scenic beauty with the iconic snow-capped Mount Kilimanjaro acting as a backdrop.
Highlights
One of Kenya's most popular safari destinations
Unsurpassed views of snow-covered Mount Kilimanjaro
Famous for its massive elephant population
Lush wetlands attract over 600 bird species
Excellent game viewing in a pristine, uncrowded area of Amboseli
Vast traversing area in both Amboseli and private Kitirua Conservancy
Exclusive, luxury lodge with 16 safari tents, 1 family tent and 1 private house
Mount Kilimanjaro is the world's largest free-standing mountain. Tortilis Camp, one of the most luxurious and exclusive safari stays in the Amboseli National Park, offers unrivalled views of this Kenyan icon.
Luxury safari tents
At Tortilis Camp, you can choose one of 16 luxury en-suite safari tents, a family tent and a newly-renovated private house complete with an exclusive-use swimming pool. The family tent and private house each have a master bedroom and a separate twin-bed room, both en-suite, with a shared veranda.
Huge variety of wildlife
With a resident population of 1,500 elephants, numerous Cape buffalo, impala, hyena, zebra, wildebeest, lion, cheetah and many varieties of gazelle, the Amboseli National Park attracts over 600 species of birds, including pelicans, kingfishers, crakes and hamerkops. 47 types of raptors have been sighted here.
Most of the lodges in Amboseli are centrally situated with game drive traversing rights over 10% of the park. Tortilis Camp is in a remote south-west corner of the park and has traversing rights on both Amboseli National Park and the 30,000-acre private Kitirua Wildlife Conservancy.
Responsible tourism
Tortilis Camp was awarded Silver Level Ecotourism Kenya and was one of the first eco-lodges in East Africa.
It operates 100% on solar power. All glass, engine oil, tyres, scrap metal, PET plastic and e-waste is recycled and all organic matter is composted. Guests are issued with refillable "anti-bottles" which has reduced the use of plastic bottles by 90%. Tortilis Camp works closely with the local Maasai community to actively promote conservation, provide employment, build and equip schools and offers conservation-based educational scholarships. Their vehicles are open 4x4s, with inverters that charge while you're on game drives.
Getting there
By Air - Daily flights connect from Wilson, Nairobi and Mombasa Airports as well as the Maasai Mara to Amboseli Airstrip, which is a 45-minute game drive away from Tortilis Camp. Charter flights can be arranged.
By Road - Just over a 4-hour drive from Nairobi.
Our take on Tortilis Camp
A luxury, well-run, community-and-conservation-minded camp, Tortilis Camp is safely tucked away from the crowds and has some of the best game viewing in Kenya. Their hands-on guiding, hospitality and excellent cuisine are superb. Yes, definitely gets our vote!
Includes
Full board, water, tea and coffee
Soft drinks, house wines, local beers and spirits
Safari activities, including game drives, guided bush walks, bush picnics, sundowners
Amboseli Airstrip transfers
Limited laundry
All statutory taxes (approx. 25%), including VAT
Excludes
Conservancy fees
Premium brand drinks and cellar wines
Massage treatments
Maasai cultural visit entry fee
KWS Park fees & Kitirua Conservancy fees
Extra lunch and picnic lunch
Exclusive use of vehicle
Namanga transfer
Cynthia Moss' Elephant Research visit
Late departures
You may also want to look at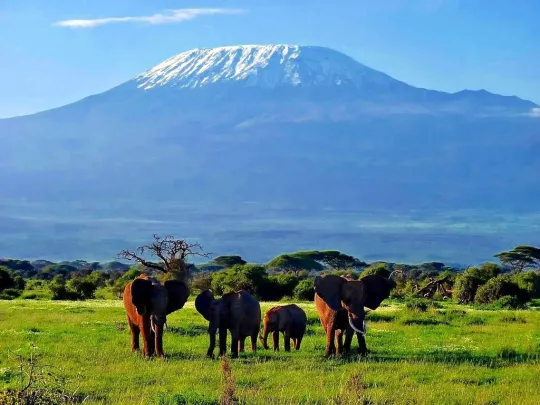 Probably second only to the Maasai Mara in popularity, Amboseli National Park is a fairly small park known for its vast elephant herds. They're often photographed with nearby Mount Kilimanjaro as a backdrop. Only 200 km from Nairobi, Amboseli combines well with a number of other game parks for an outstanding Kenyan safari experience.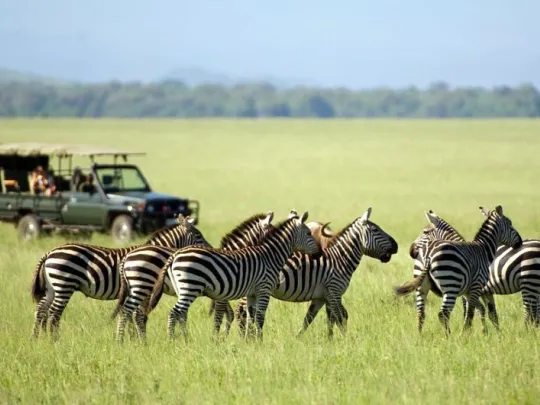 A co-operative venture between the owners and the local Maasai, Ol Donyo Lodge is a conservation success story near Amboseli in Kenya. With an established trust, a sustainable balance exists between the pastoral Maasai, the abundant wildlife, and the game ranch.