Accommodation in Ngorongoro Crater Region
Accommodation in Ngorongoro Crater Region
The Ngorongoro Crater Region is known for its spectacular scenery and fantastic wildlife viewing. Accommodation is available around the crater rim or in nearby Karatu. There is no accommodation on the floor of the crater itself. Numerous, luxurious, high-end lodges perch around the rim of Ngorongoro Crater, offering spectacular views across the crater.
A little way off, halfway between Manyara and the crater, is Karatu, where there are a number of comfortable and more affordable lodges set amongst beautiful, lush plantations. These provide an excellent base from which to explore the area.
The Ngorongoro Crater region's main attraction is the crater itself, with its amazing concentration of wildlife, including the Big Five. The whole area has much to offer, including the archaeological site at Olduvai Gorge and the Ngorongoro Highlands with breathtakingly beautiful scenery. Popular activities include game drives on the crater floor, hiking and game walks in the highlands, mountain biking and learning about Maasai culture and tradition.
You may also want to look at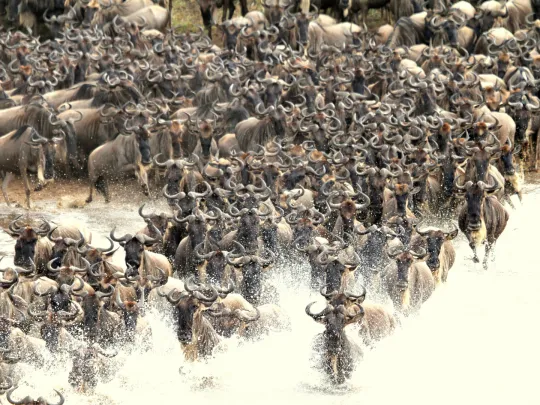 Experience the vast expanses of true wilderness and perhaps some of the best game-viewing areas on the African continent. Our 7-Day Taste of Tanzania Safari Tour takes in the untamed Tarangire, the world-renowned Serengeti (famous for the Great Migration) and Ngorongoro National Park. Accompanied by some of the country's best guides, your safety and comfort will be in excellent hands, leaving you to enjoy the safari of a lifetime at the best possible price.