Accommodation in Kwando/Linyanti Area
Accommodation in Kwando/Linyanti Area
There are relatively few safari camps and lodges in this vast, pristine wilderness. Most are accessible only by air, especially when the water levels are high. Privately owned and run, they are not subject to the restrictions of national parks, so game viewing opportunities are many and varied: day and night game drives, off-road driving, bush walks, horse-back safaris, canoe and mokoro safaris and trails.
The safari camps are mostly tented in style and offer a luxurious, personal and private safari experience. The traversing areas are vast and the perennial waterways ensure plentiful game all year round. The area is particularly known for its healthy wild dog population.
We have personally visited most of the camps and are familiar with the various settings and unique characters of each lodge. We'll gladly advise you on which lodge would best suit your preferences and expectations.
You may also want to look at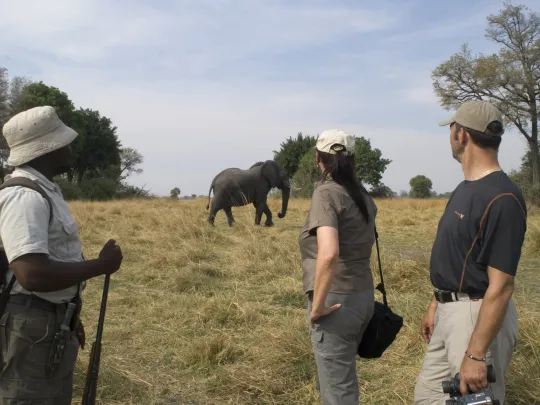 Fly in by light aircraft and spend six nights in some of Botswana's most productive game-viewing areas, combining Kwando's best camps: Splash, Lebala, and Lagoon. Spend two nights at each camp, or spend three nights at Splash and three nights at either Lagoon or Lebala. All three safari camps are in large private concessions and offer a variety of game-viewing activities. Kwando is known for its commitment to a high-quality, traditional safari experience that focuses on authentic bush encounters and the best possible wildlife sightings.