When to visit Cape Town
When to visit Cape Town
January to March
The height of summer - hot, dry and sunny weather.
It can be windy, but it seldom rains.
Average daytime temperature is between 24-30 °C, on some days even higher.
Arguably the best time for visiting Cape Town because of the clear skies and long, sunny days with the sun setting only after 8 pm.
It's the low season for whale watching and shark cage diving.
Keep in mind that even on the hottest days, the ocean waters around Cape Town are always very cold.
April and May
The weather is starting to cool down.
May is considered the start of the rainy season.
Average daytime temperatures are 18-23 °C.
Shark viewing season picks up (although this is not only influenced by the seasons, but also by movements of predators and prey species).
Good time for visiting Cape Town.
The first of the winter fronts might bring some cloudy weather, but most days are still sunny.
June and July
Winter time, often cold, rainy and windy.
You may get some sunny days but it is not beach weather.
Whale watching season picks up.
Average daytime temperature between 14-19 °C.
This is low season for Cape Town, which means hotel rates are at their cheapest.
The Table Mountain Cableway usually closes for annual maintenance in the second half of July.
We advise using the first available clear day to go up Table Mountain.
August and September
End of winter, early spring.
It can still be cold with plenty of rain, but you can expect more sunny days.
Peak season for whale watching and shark viewing.
Prime time for the spectacular wildflower season along the West Coast.
Average daytime temperatures range between 16-20 °C.
This is a popular time for Cape Town because it overlaps with the most popular safari season yet you still pay low season rates.
October and November
The beginning of summer and end of the rainy season.
This is a popular time to visit, and with good reason.
The weather can vary but usually, it is pleasant and warm, with more sunny days than cloudy ones.
Whale watching is still good.
The shark season and flower season are coming to an end.
Average daytime temperatures are 20-25 °C but the wind can make it chilly.
The strong south-easterly wind (known as 'The Cape Doctor') that is common during summer picks up.
December
Peak season in Cape Town - book far in advance if you plan to visit in December.
The South African summer school holidays bring thousands of people to Cape Town.
The weather is usually sunny and windy, with strong south-easterly winds.
Temperatures are up to 30 °C, on some days, even hotter.
The beaches are packed and the city comes alive with festivity: events, live music and parties, ending with the annual Cape Minstrel Carnival (also called the Kaapse Klopse Festival) on 2 January.
From around 16 December to early January, expect long queues at key tourist attractions like Cape Point and Table Mountain.
---
Combining Cape Town with Other Destinations?
Email us for expert advice on which destinations work well together at the different times of the year.
Keep in mind every year is slightly different. The rains may be early or late. You might have beautiful sunny weather in the middle of winter, or rainy weather in summer! This travel calendar is just a rough guideline.
Read more about Cape Town in our Cape Town Travel Guide.
See our recommended tours and safaris that include Cape Town.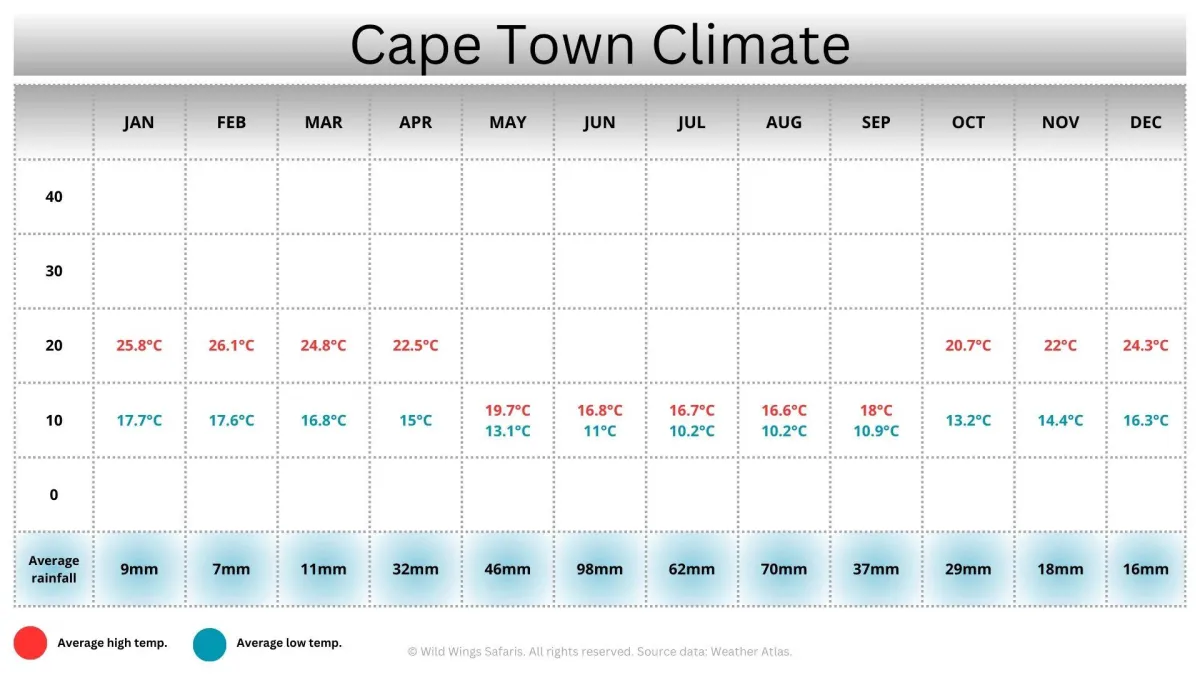 You may also want to look at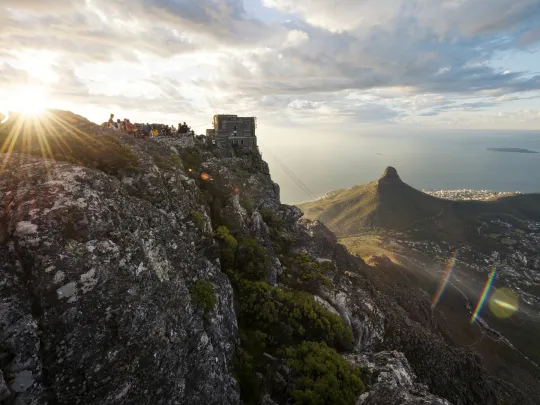 This trip idea combines the best of South Africa's top two destinations - Cape Town and Kruger National Park. Spend four nights in Cape Town, often voted the most beautiful city in the world, followed by four nights on safari in the world-renowned Kruger National Park, home to a diversity of wildlife larger than anywhere else in Africa. The trip can be booked on a self-drive or fully-guided basis, as you prefer.