10 Day Best of Namibia Safari
10 Day Best of Namibia Safari
Explore some of Namibia's most iconic destinations in the company of a highly experienced personal guide. Our 10-Day Best of Namibia Safari takes you from the towering red dunes of Sossusvlei and lonely stretches of beach along the Skeleton Coast to the quaint seaside town of Swakopmund and Damaraland with its startling geographical features. We round our trip off with a safari in Etosha National Park with its ancient salt pan in search of Namibia's famous desert-adapted elephants and lions.
Highlights
Small groups of 1 to 7 people per safari
Accompanied by one of Namibia's top nature guides
Climb to the top of some of the world's tallest sand dunes
Kayak with seals and dolphins off the Skeleton Coast in the Atlantic Ocean (optional boat trip)
Go in search of famous desert-adapted elephants
Visit Twyfelfontein petroglyphs – a UNESCO World Heritage Site
Discover the world-famous Etosha National Park on game drives
Experience game viewing at a floodlit waterhole at night
This is an ideal tour for first-timers to Namibia, as it gives you an excellent overview of some of this country's most popular and spectacular highlights. You also have the benefit of small groups and the safety of your own dedicated, expert guide.
Departures are 100% guaranteed with a minimum of one person and a maximum of seven people per safari. These tours depart on a Tuesday and finish the following Thursday. There are selected departures on a Saturday, too.

Basic Itinerary
Day 1 & Day 2: Windhoek to Sossusvlei in the Namib Desert
Day 3 & Day 4: Coastal town of Swakopmund, the adventure capital of Namibia
Day 5 & Day 6: Explore Damaraland highlights
Day 7 to Day 9: Game drives in Etosha National Park
Day 10: Visit Wildlife & AfriCat Centres en route back to Windhoek
10 Day Best of Namibia Safari
Day 1: Windhoek to Sossusvlei area
Includes
Overnight accommodation
Lunch, dinner and excursions with your guide
You'll be collected from your guesthouse or Windhoek International Airport should your plane land before 07h00. Setting off in a safari vehicle with your own private guide, you'll head southwest through the scenic Khomas Hochland highlands, down the Great Escarpment into the vast Namib Desert, stopping for a picnic lunch along the way. Towards mid-afternoon, you'll arrive at your accommodation for the next two nights. Activities include exploring the centuries-old Sesriem Canyon and towering red Sossusvlei dunes with your guide or simply relaxing and enjoying the tranquil desert views from the lodge.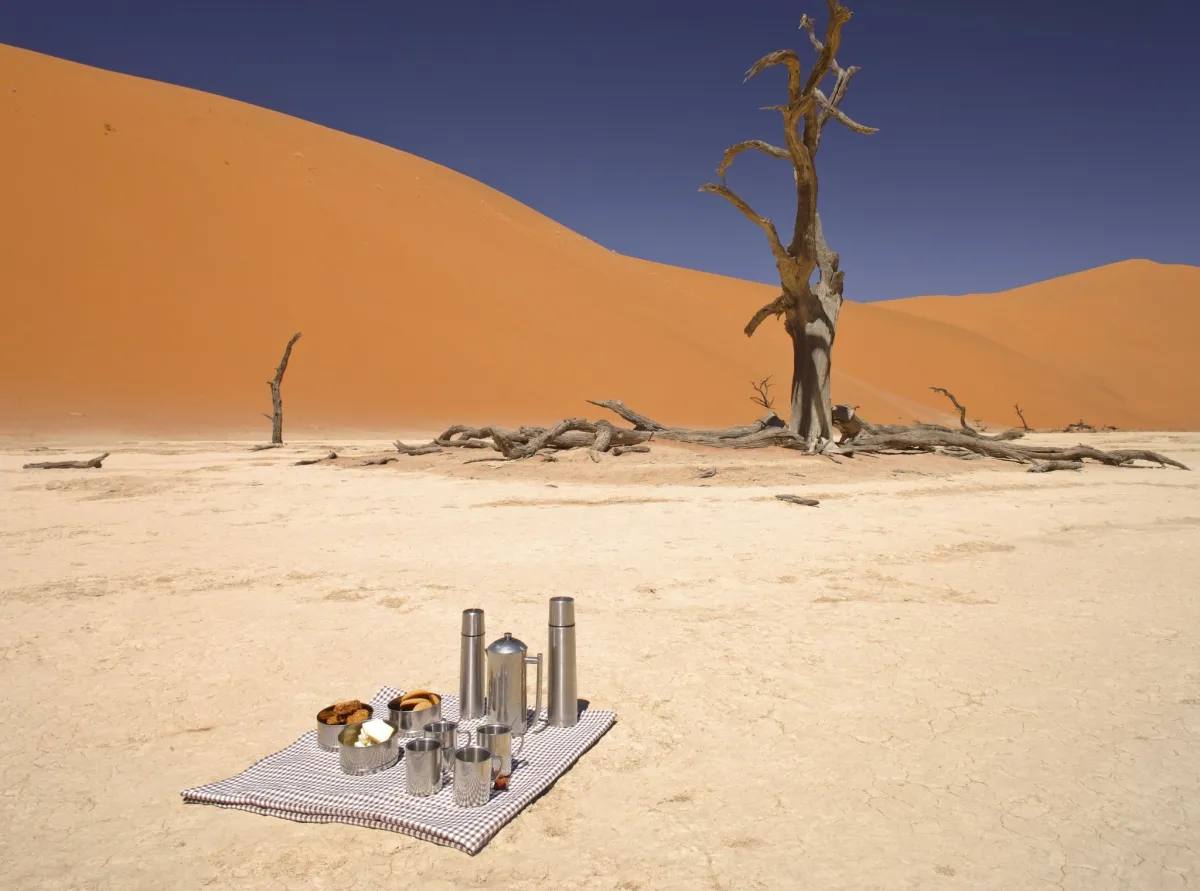 Day 2: Sossusvlei/Namib Desert
Includes
Overnight accommodation
Breakfast, lunch, dinner and excursions with your guide
Up early, you'll head for the Namib Naukluft National Park with your guide before sunrise to see the dunes in the soft, shadowy morning light. These are some of the highest free-standing dunes in the world. Your guide will share insights into how this desert was formed and how the incredible variety of curious creatures, plants and wildlife have adapted to these fierce conditions. You'll enjoy a picnic brunch under a shady camel-thorn tree with the option to explore Dune 45, Elim Dune, Sossusvlei and Dead Vlei. You'll return to the lodge for a late lunch. If you haven't already managed it, a trip to Sesriem Canyon is on the agenda or enjoy some leisure time at the lodge.
Day 3: Sossusvlei to Swakopmund
Includes
Overnight accommodation
Breakfast, lunch and dinner
[Optional sunrise hot air balloon safari over Namib-Naukluft and Sossusvlei dunes in the morning before departing for Swakopmund. This activity needs to be pre-booked and involves an additional cost.]
En route to Swakopmund, you'll witness the ever-changing vistas of this captivating land, including the Gaub and Kuiseb Canyons. Passing through coastal Walvis Bay, you'll continue northwards to Swakopmund, a popular German colonial-style seaside resort that enjoys cooler coastal air. You'll have time to explore the town and waterfront before dinner at a popular local seafood restaurant. A centrally-located guesthouse in Swakopmund will be your accommodation for the next two nights.
Day 4: Swakopmund
Includes
Overnight accommodation
Breakfast, lunch and dinner
After breakfast, your guide will drive you to Walvis Bay for an unforgettable kayaking adventure where you have every chance of encountering Cape fur seals, dolphins, pelicans, flamingos, numerous seabirds – and hopefully, whales, turtles and sunfish.
You'll also take a short drive to Pelican Point and its lighthouse. Light refreshments will be enjoyed on the beach. If you prefer, you may opt for a motorised boat trip and savour snacks of fresh oysters washed down with local sparkling wine instead of kayaking!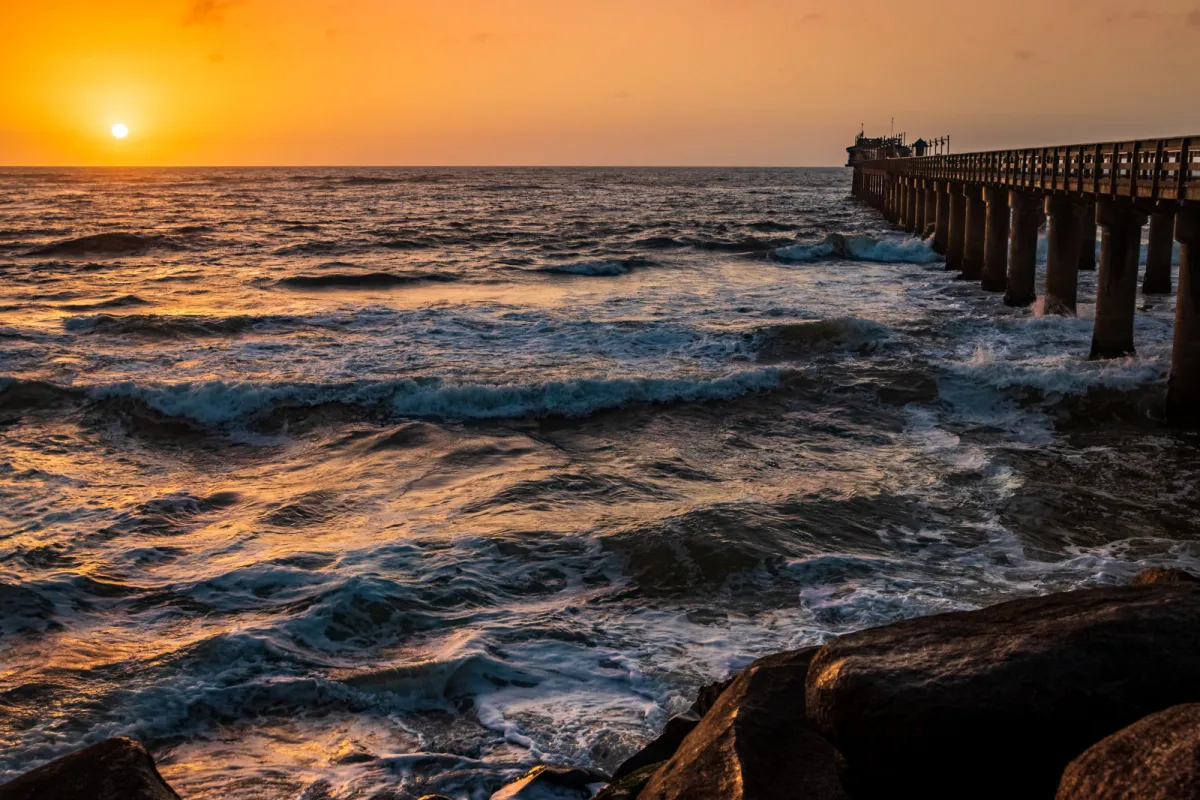 You'll have the chance to explore Walvis Bay's waterfront area before returning to Swakopmund for an afternoon at leisure at your guesthouse or around the town. A host of activities can be booked at an extra cost such as camel rides, scenic flights, quad-biking, dune buggies, tandem or solo skydiving and more. Swakopmund is known as the adventure capital of Namibia.
Day 5: Swakopmund to Damaraland
Includes
Overnight accommodation
Breakfast, lunch, dinner and excursions with your guide
Heading off to the northeast today, you'll encounter the diverse and dramatic Damaraland. Passing Namibia's highest mountain, the Brandberg (2,573 metres), you'll be able to view wildlife and take in the vast expanse of scenery. This ancient wilderness area is characterised by incredible displays of light and colour, rugged flat-topped mountains, intriguing rock formations and odd-looking vegetation.
Time permitting, you'll visit the prehistoric Twyfelfontein rock engravings (a UNESCO World Heritage Site), one of Namibia's key national monuments and the geological phenomena of Burnt Mountain and Organ Pipes (or they'll be saved for tomorrow's highlights).
The next two nights are at a desert camp nestled amongst an outcrop of gigantic granite boulders in the heart of Damaraland with easy access to nearby local attractions.
Day 6: Damaraland
Includes
Overnight accommodation
Breakfast, lunch, dinner and excursions with your guide
After an early breakfast, you'll go on an exciting 4x4 game drive to explore the river valleys and search for wildlife, including the famed desert-adapted elephant. There's an option to stop for a picnic lunch en route and to visit the local attractions if you haven't already done so. Once you return to camp, you may have time to go on a guided nature walk or you can simply enjoy some well-deserved downtime if you prefer.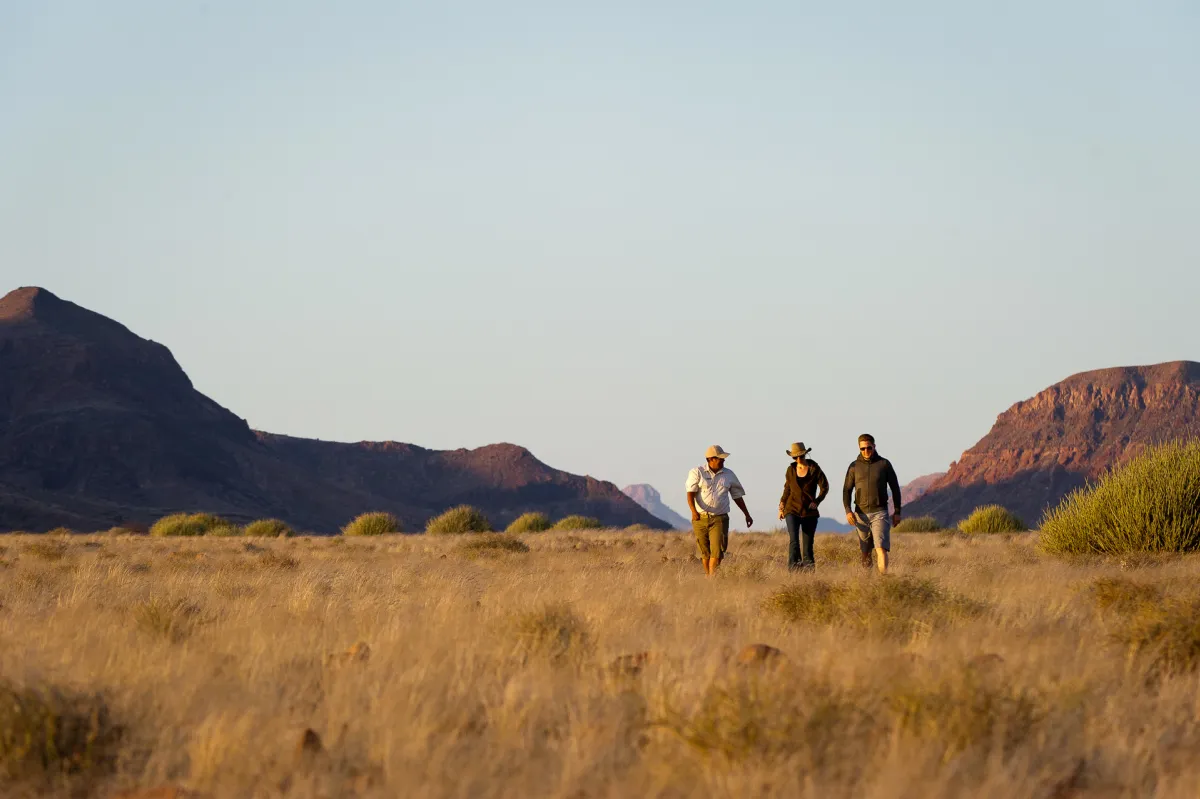 Day 7: Damaraland to Southern Etosha National Park
Includes
Overnight accommodation
Breakfast, lunch, dinner and game drives in a private game reserve
Another early start sees you setting off for Ongava, a beautiful private game reserve along the southwest border of Etosha National Park. You will arrive in time for an afternoon game drive in open safari vehicles.
Day 8 & Day 9: Etosha National Park
Includes
Overnight accommodation
Breakfast, lunch, dinner and game drives in Etosha National Park and Ongava Game Reserve
Game viewing in Etosha National Park is extremely rewarding. Home to 114 mammals and over 340 bird species, you have every chance of seeing elephant, lion, giraffe, wildebeest, eland, kudu, gemsbok (oryx), zebra, cheetah, leopard, hyena, honey badger and warthog, along with the endangered, endemic black-faced impala. Etosha is perhaps most famous for its salt pan, which is so large it is visible from space and its waterholes, each one different from the other, drawing wildlife that varies from season to season.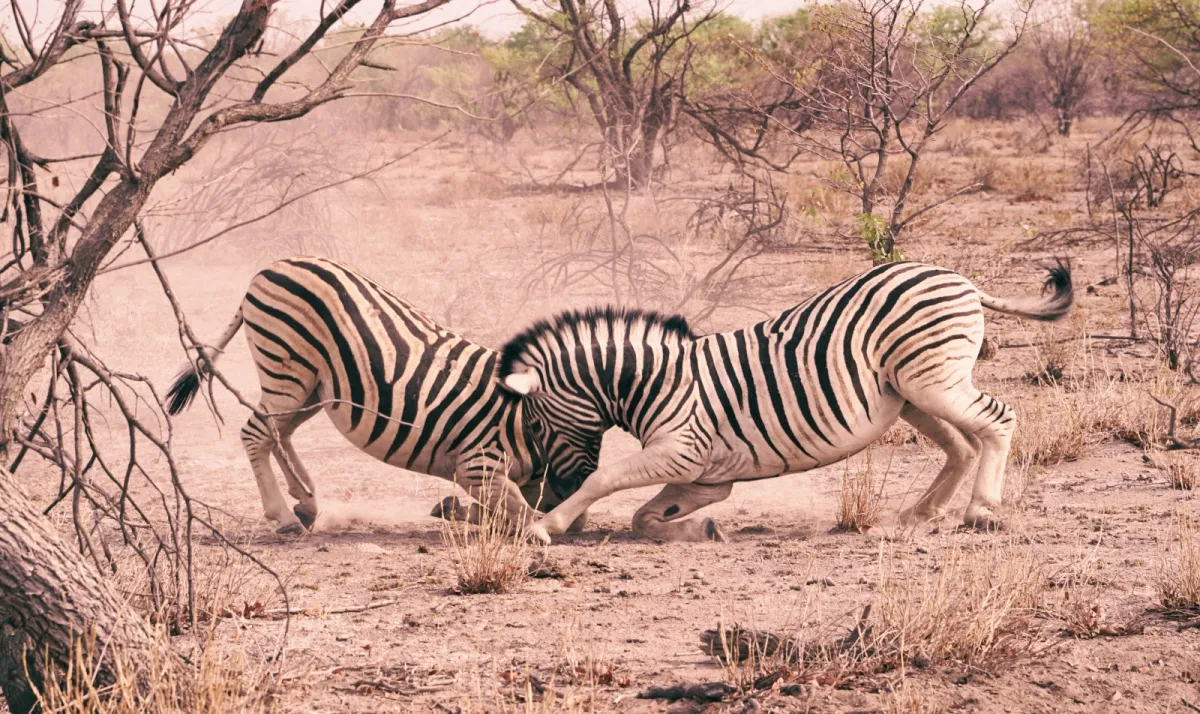 Game drives take place in the early morning and then again in the afternoon. You can while away the lazy midday hours by the swimming pool or take a siesta. If you opt to go on a full-day game drive instead, you can enjoy lunch at one of the rest camps inside the park or eat a packed picnic at a waterhole.

Day 10: Etosha to Windhoek
Includes
Breakfast, lunch and AfriCat Day Centre game drive
Leaving early, you'll travel south to Okonjima's AfriCat Day Centre, the final highlight of a truly memorable safari, in time for lunch, before going on an informative game drive and tour of the centre which researches and rehabilitates injured or captured leopard and cheetah. After your excursion, it's back to Windhoek by late afternoon where you'll be taken to your accommodation or to Windhoek International for your onward flight.
Optional Extension:

Please speak to us about extending your safari for another night or two at Okonjima Bush Camp. This luxury safari camp gives you an in-depth look into the fantastic work being done by the AfriCat Foundation and the opportunity to view many more cheetah, leopard and other big cats in the wild. Please ask us about rates and procedures if you'd like to enjoy this option.

Scroll down for regular Tuesday scheduled tour 2023 and 2024 departure dates.
Selected Saturday departure dates 2023:
15.07.2023 / 22.07.2023 / 29.07.2023 / 05.08.2023 / 12.08.2023 / 19.08.2023 / 26.08.2023 / 02.09.2023 / 09.09.2023 / 16.09.2023 / 30.09.2023 / 07.10.2023 / 14.10.2023
Selected Saturday departure dates 2024:
13.04.2024 / 27.04.2024 / 11.05.2024 / 18.05.2024 / 25.05.2024 / 15.06.2024 / 22.06.2024 / 29.06.2024 / 13.07.2024 / 20.07.2024 / 27.07.2024 / 03.08.2024 / 10.08.2024 / 17.08.2024 / 24.08.2024 / 31.08.2024 / 07.09.2024 / 14.09.2024 / 28.09.2024 / 05.10.2024 / 12.10.2024

Rates
Period
Price per person (pp)
June 1, 2023 - December 31, 2023

$4,297

£3,440

€4,001

R80,876

January 10, 2024 - May 31, 2024

$4,274

£3,422

€3,980

R80,452

June 1, 2024 - January 9, 2025

$4,643

£3,717

€4,323

R87,395
The above rates are per person sharing. Please contact us regarding single supplements and rates and conditions for children.
All rates on our website are provided to give a price estimate only and should not be seen as a firm quote. Likewise, our currency converter will give you a rough idea of the price in another currency, but should not be seen as a firm quote. It is only intended as a guideline, based on the daily interbank exchange rate. Please contact us to receive an accurate, free quote with no obligation.
Includes
Accommodation as stated
Three meals daily
Entrance fees and excursions as described
Excursions and game drives as stated
Sea kayaking OR catamaran boat cruise at Walvis Bay
Transportation in a luxury air-conditioned safari vehicle
Mineral water provided on the vehicle
Services of a registered, experienced, English-speaking nature and safari guide
Welcome pack
Excludes
Breakfast on Day 1 and dinner on Day 10
Hot air ballooning at Sossusvlei
Any entrance fees and excursions not included in the itinerary
Any items of a personal nature (telephone expenses, curios, medicines, etc)
All beverages (except mineral water consumed on board the safari vehicle)
Laundry (service available at lodges at extra cost)
Gratuities
International flights to Namibia and airport taxes
Return airport transfers to and from Windhoek International Airport
Pre- and post-safari accommodation in Windhoek
Visa fees and airport taxes

Bank charges
You may also want to look at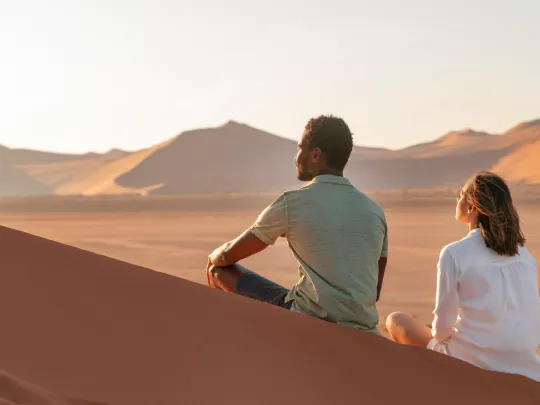 This seven-day luxury fly-in safari explores some of Namibia's most iconic safari destinations – the distinctive ochre dunes of Sossusvlei, the rugged, desolate landscape of Damaraland and the Kaokoveld where you're likely to spot the legendary desert-adapted elephant and Etosha, Namibia's ancient national park. Flying over this vast country, you'll also get an insight into its fascinating detail and incredible landscapes.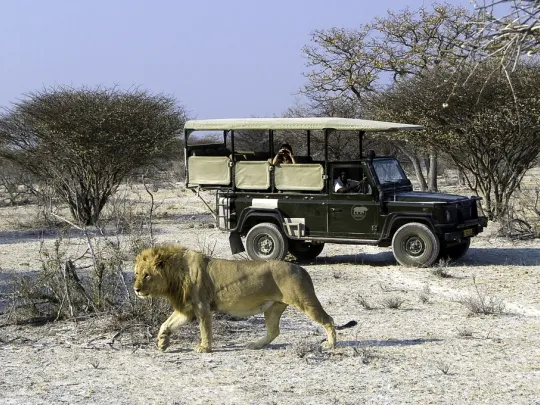 Talk about going on a safari in Namibia and the first name that comes to mind is Etosha National Park. But where exactly is Etosha - and why is it the number one destination for wildlife enthusiasts and photographers?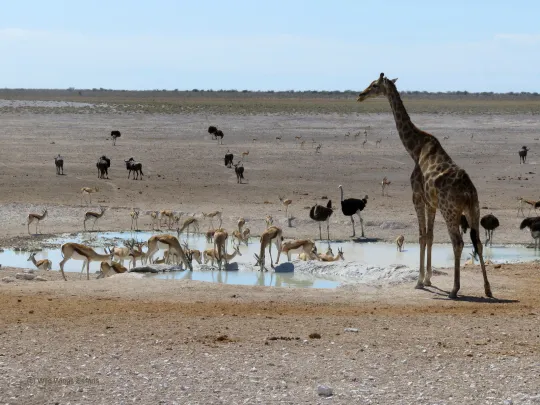 A visit to Namibia could change you forever. There's something about its largely-uninhabited wide open spaces, fascinating people and cultures, vast distances, desert-adapted wildlife and arid, stark landscapes that touches your very soul.