Enticing Etosha - why it's Namibia's Number One
Enticing Etosha - why it's Namibia's Number One
Nestling in Namibia's north western corner, Etosha was originally proclaimed as a game reserve in the early 1900s by the governor of the day, it was reduced, resized and officially declared a national park in 1967.
Today, Etosha spans an area of 22,270 km² (8,600 mi²), of which 23% is covered by the giant Etosha Pan, from which the area gets its name, meaning "Great White Place" in the Oshingonga tongue.
Seasons of Etosha
In wintertime (and most of the year), Etosha National Park is bone dry with stark white sands blown by winds to coat the wildlife and bushes with fine white clay dust. In fact, it's so white that you need decent sunglasses to avoid the midday glare and reflection. Yet, it's this dry season (May to October) which is is peak season in Etosha as it is the best season for game viewing and the temperatures are much cooler. At this time of year, the vegetation is almost non-existent and animals gather and congregate around the few remaining waterholes, dotted strategically around the park.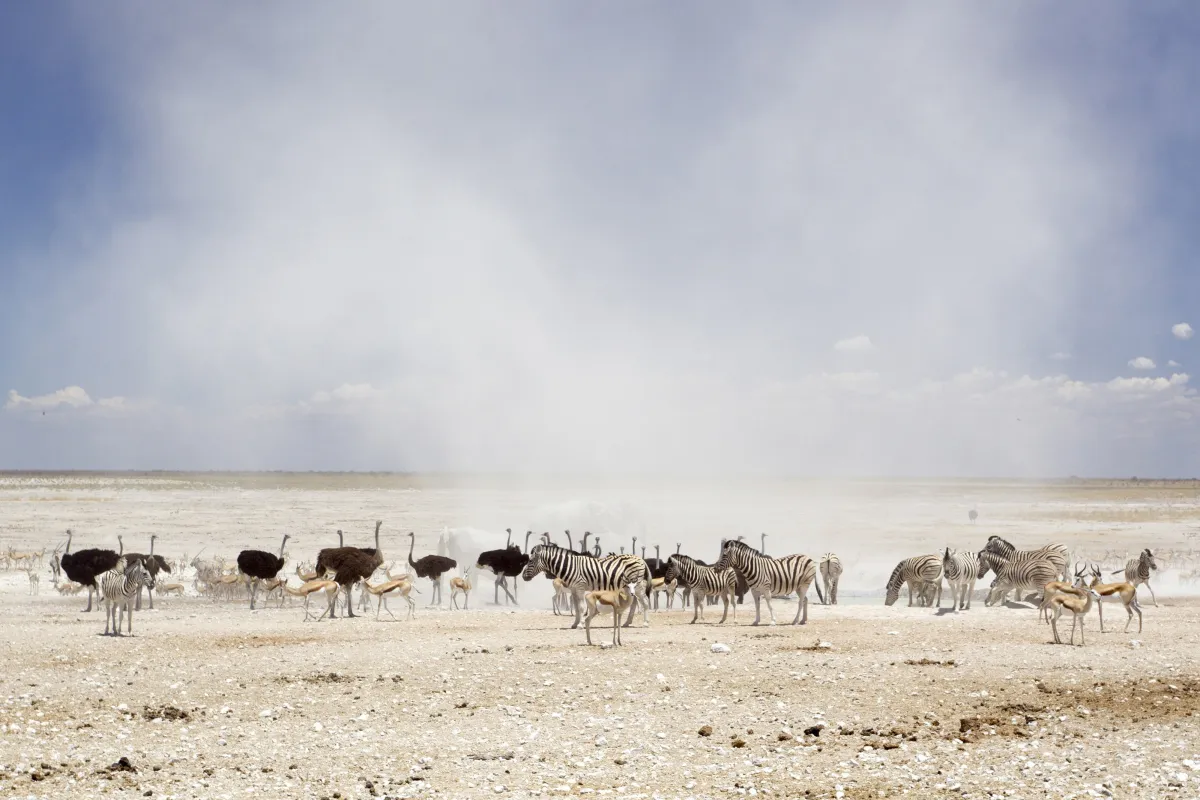 It's said that the best way to do game viewing in Etosha is simply to sit at a waterhole and wait for the wildlife to come to you. Also, most of the camps overlook floodlit waterholes where you can watch a wealth of wildlife – even the shy, bad-tempered black rhino – come to drink by the cover of 'darkness'. It's like taking in an all-night theatre show.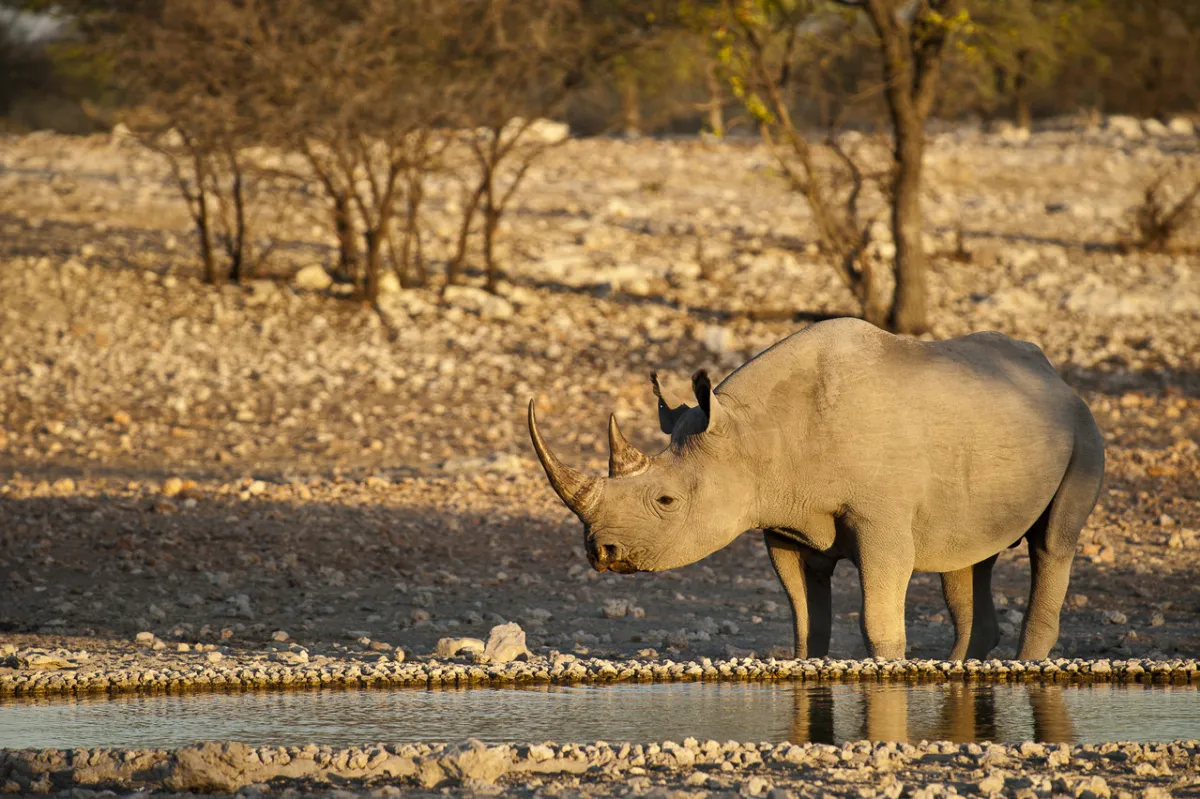 In summertime, the area bursts into a kaleidoscope of colour with verdant grasses and an array of wildflowers. The brief rains breathe fresh life into the area. It's the time of birthing and new borns of every species abound. A word of caution though, the heavier rains between January and March can turn the dusty roads into sticky toffee terrain and 4WD is definitely advisable at this time of the year if you're planning on self-driving.
Etosha National Park has a savanna desert climate with an annual average temperature of 26 °C. In mid-winter, daytime temperatures range between 12 -17 °C (54 – 62 °F) and in mid-summer, they can soar well over 45 °C (113 °F).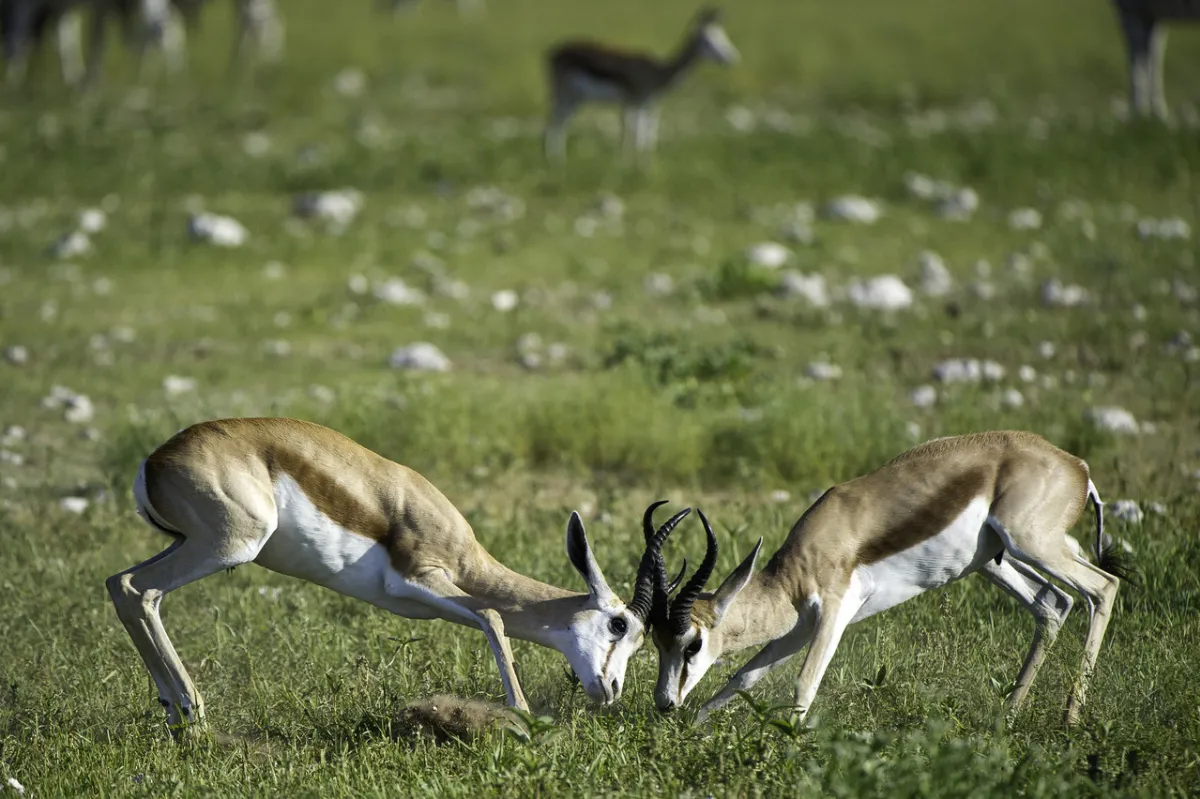 Rainfall is scarce, perhaps 40 – 50 mm (1.5 – 2 inches) in good months. The rainy season stretches from November to April but some years see no rain at all in some areas. However, when the rains come, dry rivers quickly fill and the landscape transforms into a green and colourful spectacle.
Etosha's Fauna & Flora
With a variety of vegetation and landscapes, Etosha changes from saline desert to woodlands, sandveld to savanna and rolling grassland to dolomite outcrops. This variety attracts a wealth and variety of wildlife to the area. There are 114 mammals and 110 reptiles in the area. Its vast plains teem with herds of springbok in their thousands and dizzying dazzles of zebra. In the western sector, you may see the rare black-faced impala and the dainty and shy Damara dik-dik.
Etosha is home to four of the Big 5 (there are no buffalo in Etosha), both spotted and brown hyena, a healthy population of black rhino, numerous antelope species from the massive eland to the slight steenbok, as well as the main predators: lion, cheetah, leopard, caracal, fox and jackal. The 'white elephants' of Etosha are icons of this fascinating region.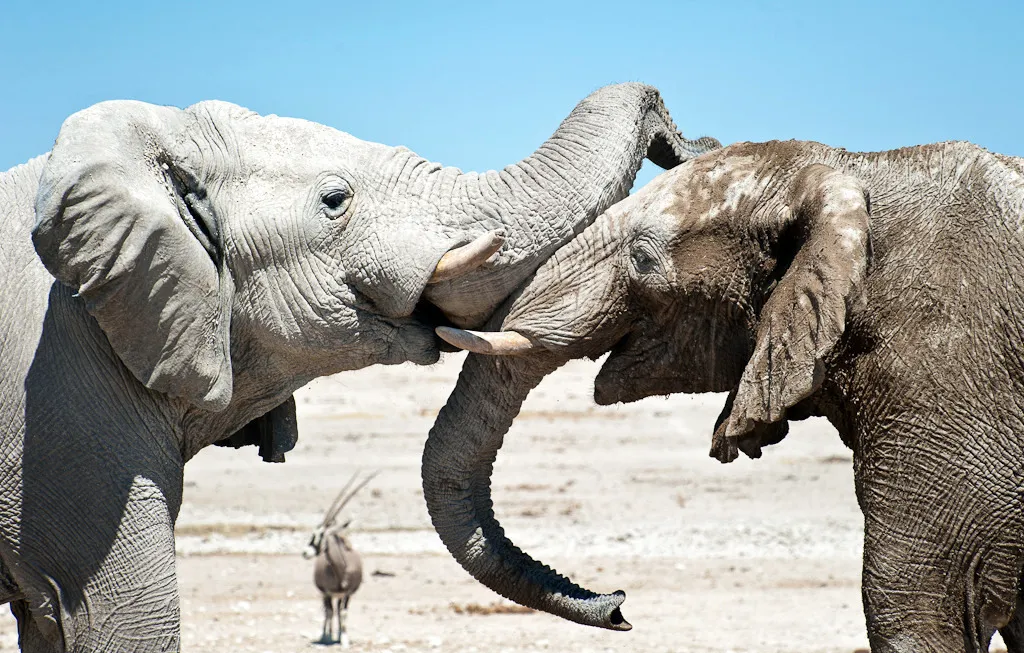 Over 340 birds have been listed, including 35 raptors which thrive in the dry conditions: bateleur, tawny and martial eagles; various goshawks; eight species of owl; lapped-faced, white-backed and hooded vultures and many other kestrels and falcons.
Birdlife is even more prolific in the rainy season. Migratory birds return from Europe and in January and February especially, large birds like blue cranes, flamingos and pelicans flock to the area.
Camps of Etosha National Park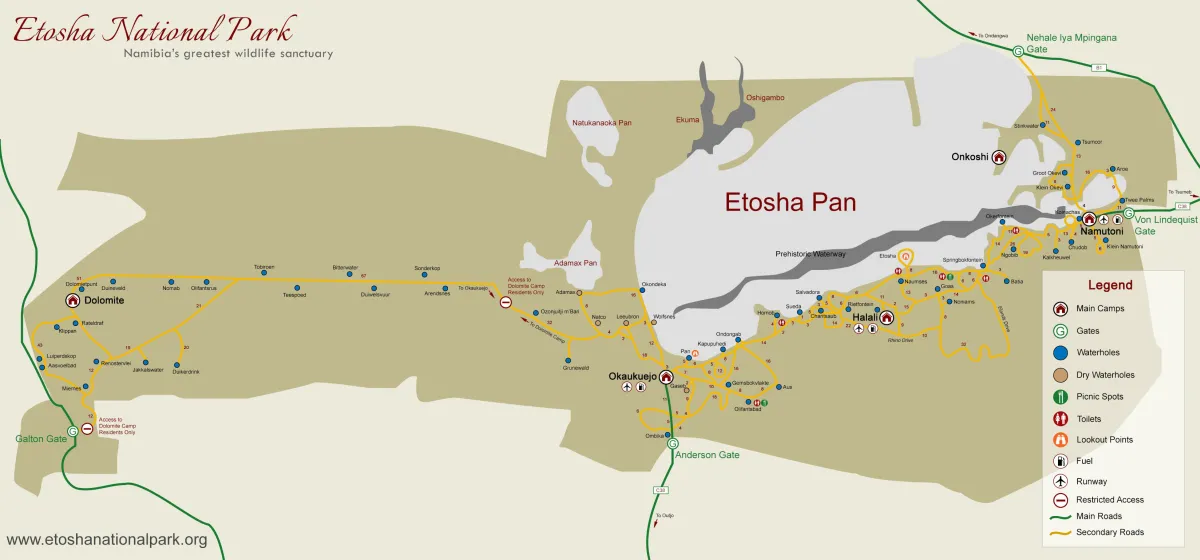 There are six rest camps inside Etosha Park, ranging in size and style from the new remote and rustic Olifantsrus Campsite in the north-western section with only 10 campsites to the large, established main camp and Etosha's administrative centre, Okaukeujo, with its famous floodlit waterhole, situated in the southern section. Dolomite Camp to the west has 20 chalets on elevated wooden decks; Onkoshi Camp, in a secluded area of the park on a peninsula of Etosha Pan is exclusive and environmentally friendly, with just 15 units ; Halali, midway between Okaukeujo and Namutoni, also with a floodlit waterhole, offers a choice of accommodation from camping to double rooms and chalets, including family and honeymoon options; and finally, Namutoni with its former German fort character, which offer doubles and chalets, restaurants, curio shop, lounge and bar and overlooks an active waterhole in Etosha's eastern sector.
Private Reserves and Lodges of Etosha
On Etosha's outskirts lie three private reserves:
1. Onguma
Set to the north east of Etosha Pan, Onguma game reserve borders Fisher's Pan. It offers a unique safari experience more than 34,000 hectares of protected land and a rich variety of wildlife. There are 30 different species of game, ranging from kudu, eland, gemsbok (oryx) to zebra, giraffe and many different antelopes. Most of the predators are also here – lion, leopard, cheetah, caracal and smaller cats. You'll have an excellent chance of spotting the rare, recently-introduced black rhino.
Onguma offers various accommodation options from DIY camping to deluxe treehouses and safari lodges. It also has its own private airstrip.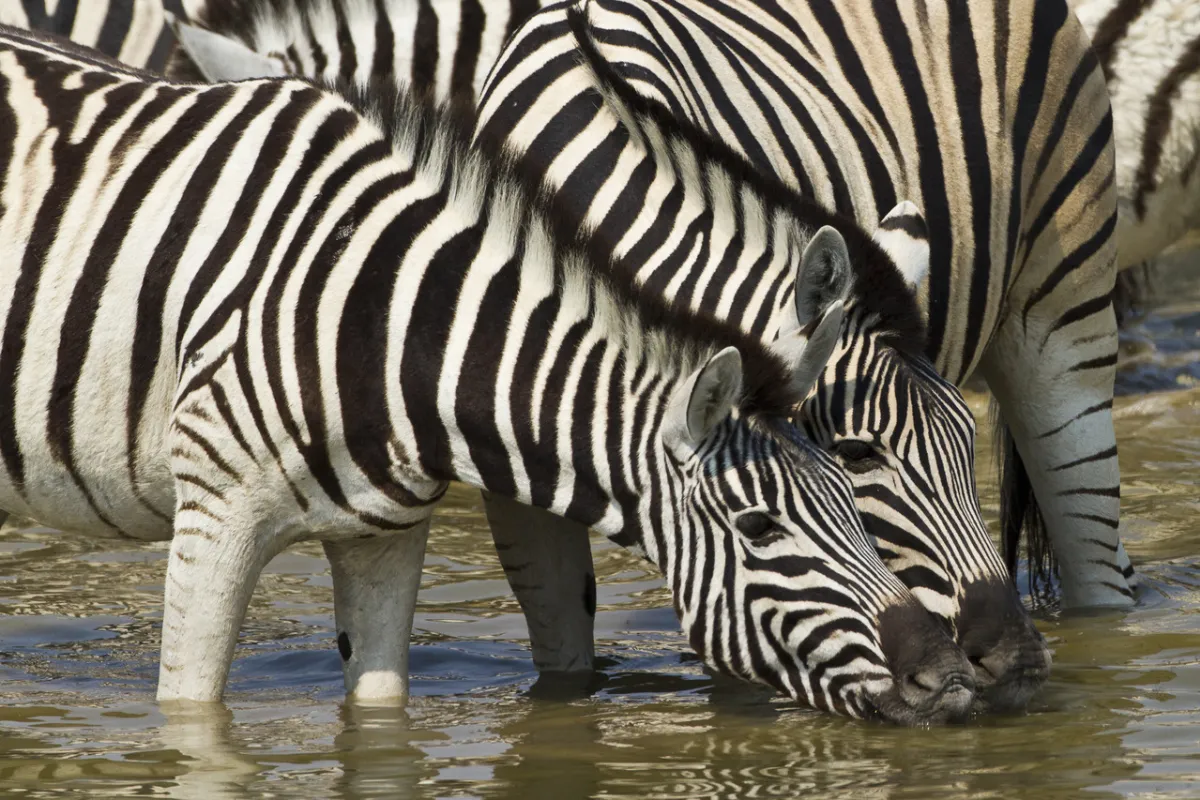 2. Ongava
Straddling both the northern dolomite mountains and the plains below, Ongava Game Reserve offers the last word in luxurious lodges. Little Ongava the most luxurious option in the Etosha region with only three spacious and luxurious chalets built into a rocky outcrop offering incredible views out over the plains and an active waterhole below. Other lodges in the Ongava family include a tented camp and a safari lodge as well as the family-friendly Andersson's Camp.
Ongava has received international acclaim for its forward-thinking conservation efforts, ground breaking research and rewarding safari experience. Ongava lies to the south west of Etosha Park.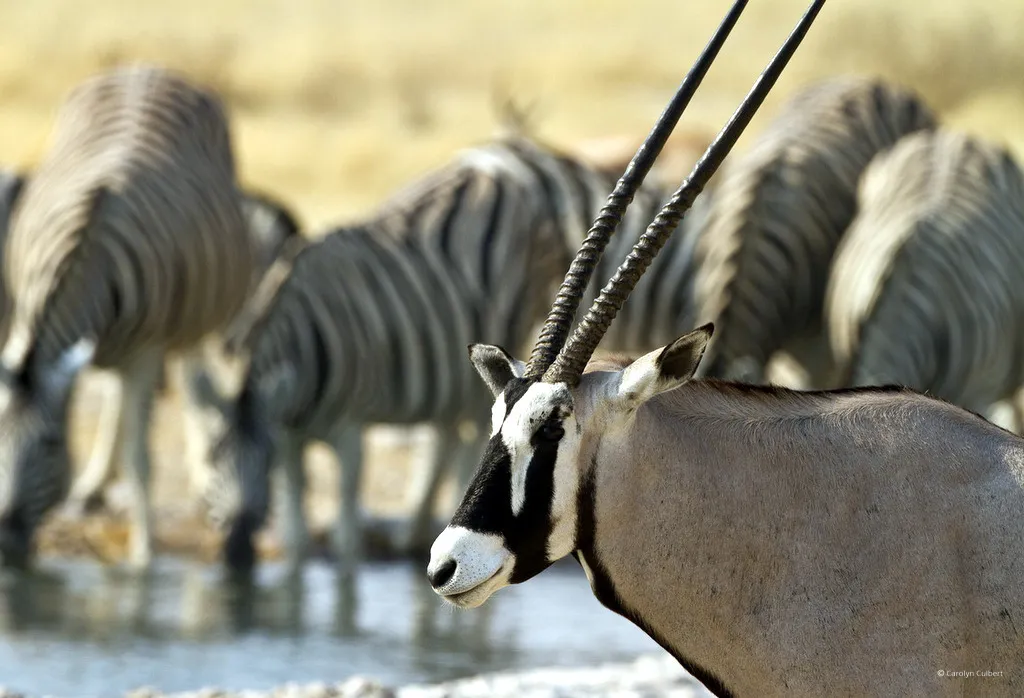 3. Mushara
The Mushara lodges are privately owned and situated some 8 – 10 km from the Von Lindequist Gate on Etosha's eastern border. It's also just 80 km to the town of Tsumeb and en-route to Etosha Park. The lodges are family run and range from family-friendly Bush Camp to luxurious safari villas. Mushara Private Reserve is on the south east border of Etosha.
So whether you choose to DIY and self-drive in Etosha and stay at the very comfortable national park camps, or opt for more luxury, exclusivitiy and open-vehicle safari style in one of the surrounding private reserves, a word of warning. Etosha, like Okavango Delta in Botswana, is one of a kind with a very unique magnetism. Once you've been there, you'll want to return again and again. And again.
Have you been fortunate enough to visit Etosha? What are your thoughts? What did you love most about it? Please share your views in the comments below.
You may also want to look at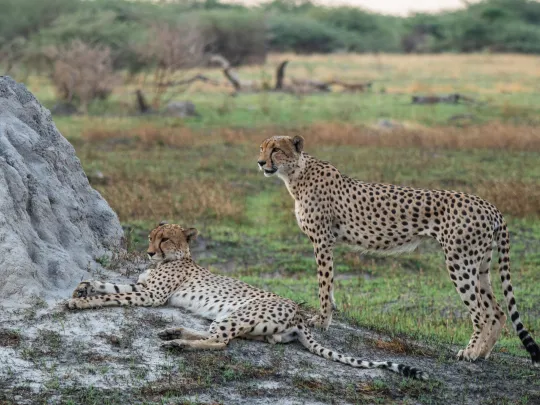 Etosha National Park is Namibia's top game-viewing destination and is rated as one of the best safari destinations in Africa. Covering some 22,270 square kilometres of dramatic landscapes in northern Namibia, Etosha is home to a rich diversity of wildlife and birds, despite its stark appearance. The open terrain and sparse vegetation are ideal for spotting animals, especially when they congregate at watering holes during the winter months from June to August. The unique Etosha Pan stretches out over about a quarter of the park in an endless dry expanse where mirages rise in the heat. When the rains come, the barren desert transforms into shimmering, shallow lakes.
About the author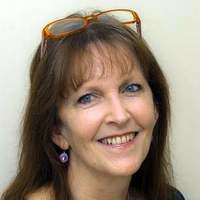 Alison
A 'word smith' or copywriter with over 25 years experience, love travelling, wildlife and conservation; fascinated by alternative energy, alternative building and alternative health. Consummate reader and traveller, both internationally and southern Africa. Have two remarkable daughters that continue to amaze and teach me daily. Consider myself privileged to live on the best continent on the planet.