Kunene Damaraland Region Travel Guide
Kunene Damaraland Region Travel Guide
The Kunene Region in north-western Namibia is wild, remote and sparsely populated. A transitional area with a distinctive desert region, Kunene has a surprising wealth of desert-adapted wildlife, including the largest population of free-ranging black rhino, elephant, lion, cheetah, leopard, hyena, Hartmann's zebra, springbok and gemsbok (oryx). It's also home to the Damara, Himba and Herero tribes who live in this stark and fascinating 28-million-acre arid expanse.
Highlights
Home to the famous desert-adapted elephant
White Lady rock art at Brandberg
Organ Pipes rock formation
Burnt Mountain volcanic phenomenon
The petrified forest
Marienfluss and spectacular Epupa Falls
Largest population of free-ranging black rhino
Fascinating Himba, Herero and Damara people
This is a remote, desert area of Namibia, encompassing most of its far north-west corner. Although it incorporates parts of the Skeleton Coast, it includes the interior sections of Kaokoveld, Torra, Marienfluss, Twyfelfontein/Damaraland and Palmwag.
Torra Conservancy
To the south, between the Huab and Koigab Rivers, is the Torra Conservancy – a rugged, remote area with pitted valleys and rocky hills. It's one of the most biodiverse areas of the region and is known for its healthy population of desert elephants. Other large game that can be spotted here include black rhino, lion, cheetah, giraffe, Hartmann's zebra and the gemsbok (oryx) – it's a feat of nature that these creatures are able to survive in this arid, unforgiving region.
A conservancy success story, Torra is well managed and profitable, providing much-needed income and job opportunities for the local communities. It's one of the first community conservancies that has become self-sustaining, without the need for donor funding.
Some of the terrains here are challenging. There are areas easily accessible by 2WD, while some lodges and areas can only be accessed by 4WD vehicles.
Marienfluss Conservancy
The vast Marienfluss Conservancy (over 300 000 hectares) lies to the north along the Kunene River. One of the most remote areas in Namibia, it's a mix of dunes, grassy fields and valleys, and in times of good rainfall, narrow strips of riverine vegetation and palm trees along the river courses. The beautiful and dramatic Epupa Falls are also found here. Game you can expect to see include gemsbok, springbok, brown hyena and Cape fox.
The area is also home to the fascinating Himba people, one of the last truly nomadic tribes on Earth, with their intricate customs, ochre-covered bodies, jewellery and skins.
Many of these areas and lodges are best reached by 4WD or by fly-ins.
Twyfelfontein/Damaraland
Situated in the Huab Valley in southern Kunene, also known as Damaraland, Twyfelfontein contains some of Namibia's most popular landmarks. The area is full of ancient rock engravings by the early San people, known to be the most impressive collection of petroglyphs in Africa – the White Lady rock painting at Brandberg being the most well known of these.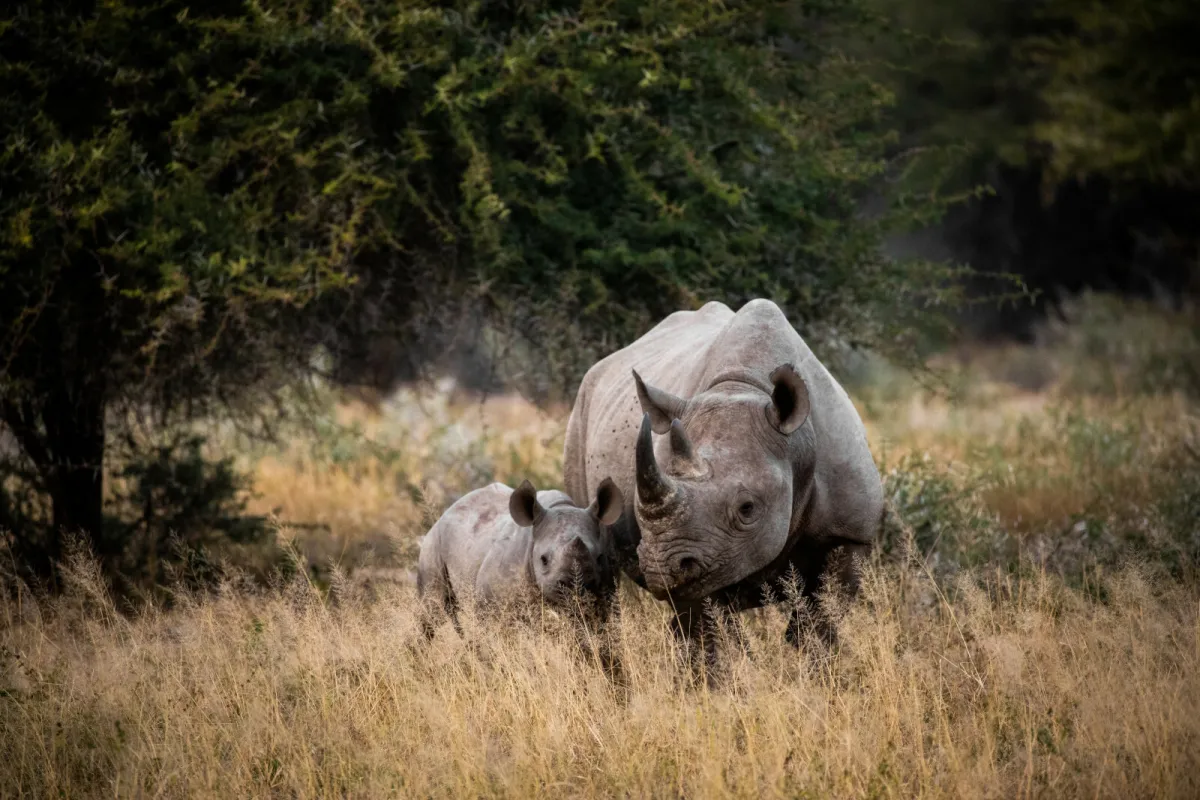 Other sites worth visiting are the Organ Pipes – a valley lined with dolerite columns, similar to those of the Giant's Causeway in Northern Ireland; Burnt Mountain, a section of ancient volcanic activity; and the petrified forest – a national monument, about 50km west of Khorixas – the resting place of enormous, fossilised tree trunks about 280-million years old that must have been washed down by an ancient river.
This area is a transitional zone, ranging from areas of semi-desert to savanna and shrubland, that receives less than 150 mm (5.9 in) annual rainfall. Daytime temperatures vary from 10°C to 28°C (50°F to 82°F) in the winter months and 21°C to 35°C (70°F to 95°F) in summer. Although some of the lodges have their own airstrips, most are accessible by 2WD vehicles.
Palmwag Concession
Made up largely of rolling, rocky hills, this 450 000-hectare concession is one of tranquil, stark beauty and a surprising wealth of desert-adapted wildlife. It has the largest population of free-roaming black rhino in Africa. If you're lucky enough, you may also see desert elephants here.
You may also want to look at