Tours and Safaris to Tarangire National Park
Tours and Safaris to Tarangire National Park
Tarangire National Park is traversed by the perennial Tarangire River. As the only water source in the dry season from July to October, it attracts scores of animals to the park, transforming it into a veritable wildlife paradise.
Somewhat off the popular northern safari circuit, Tarangire National Park offers visitors an unhurried, uncrowded, game-rich safari experience. With its varied landscapes, interspersed with termite mounds and clusters of magnificent baobabs, Tarangire attracts plentiful game during the dry season, making it an ideal safari destination.
Tarangire is easy to drive to and there are various self-drive and luxury guided safari options available to take in the best of this diverse game park. Let us know what you have in mind and we'll gladly help you plan a seamless Tanzanian safari without obligation.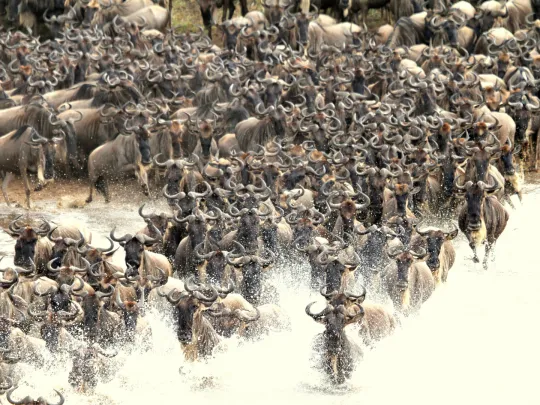 Experience the vast expanses of true wilderness and perhaps some of the best game-viewing areas on the African continent. Our 7-Day Taste of Tanzania Safari Tour takes in the untamed Tarangire, the world-renowned Serengeti (famous for the Great Migration) and Ngorongoro National Park. Accompanied by some of the country's best guides, your safety and comfort will be in excellent hands, leaving you to enjoy the safari of a lifetime at the best possible price.