Tick 5 top destinations off your bucket list on ONE spectacular safari
Tick 5 top destinations off your bucket list on ONE spectacular safari
If you're looking for the quintessential African safari, there's a magic triangle of safari heaven where Botswana, Zambia and Zimbabwe meet.
It's the perfect place to plan the ultimate safari, incorporating five of Africa's top destinations: Chobe National Park in north-east Botswana, Victoria Falls on the Zimbabwe-Zambia border, Hwange National Park in north-western Zimbabwe, and Lake Kariba and Mana Pools in northern Zimbabwe.
A two-week itinerary including these spots will mean seeing incredible wildlife, spectacular scenery and a range of different ecosystems.
You will also be able to view said wildlife in every way humanly possible.
Think open vehicle game drives, guided bush walks (Zimbabwe has arguably the best walking guides), cruises on the river and lake, kayaking, or simply sitting on the deck watching the wild animals of Africa as they amble down to the water to drink.
Victoria Falls
Victoria Falls is majestic, with its powerful thundering that can be heard from as far away as 40 km. Every second, over 1,000 m3 of Zambezi River water pours over the 1,700 m wide sheer cliff and drops 108 m into the spectacular ravine below.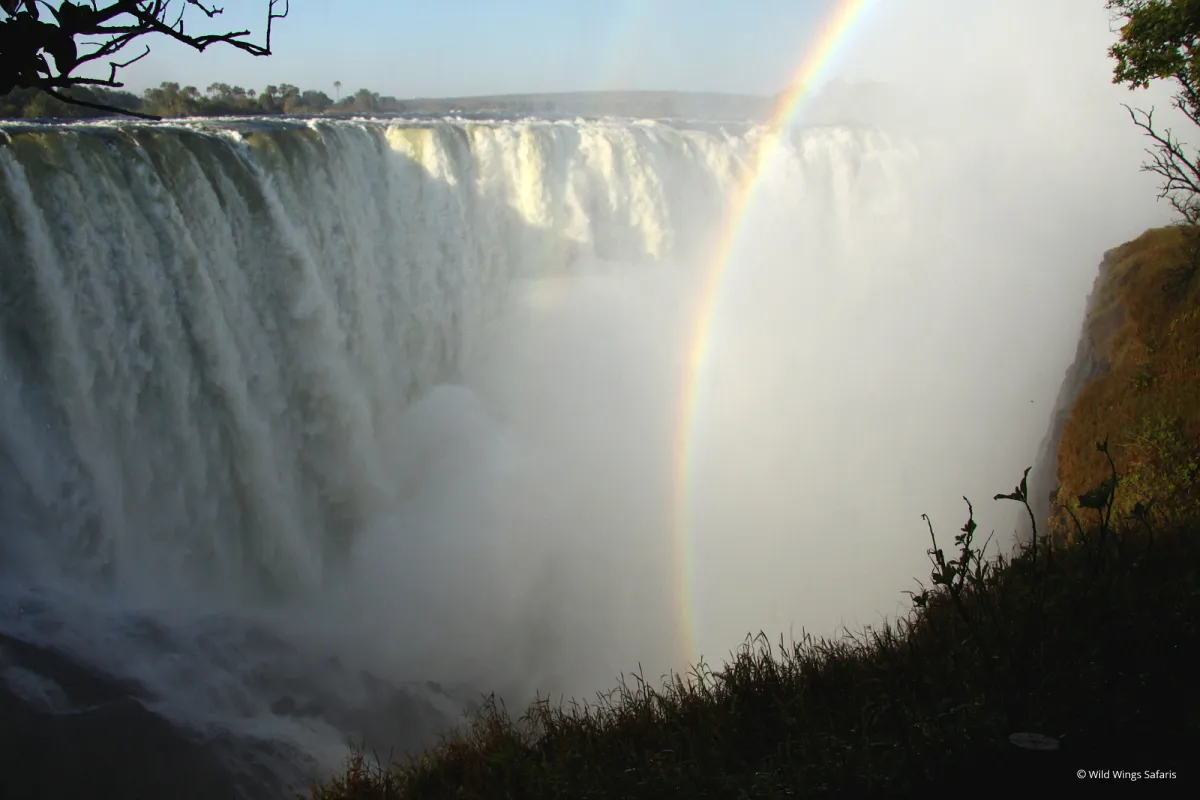 Here you'll find every adrenaline-pumping activity your heart could desire: white water rafting, bungee jumping, microlight or helicopter flips over the falls, zip-lining across the gorge, and swimming in the Devil's Pool at the Falls' edge are just some of the activities on offer.
Closing hours to view Victoria Falls have just been extended from 18h00 to 22h00 with new activities on the menu like a lunar rainbow tour, bush dinners next to the Falls and night drives within the Zambezi National Park.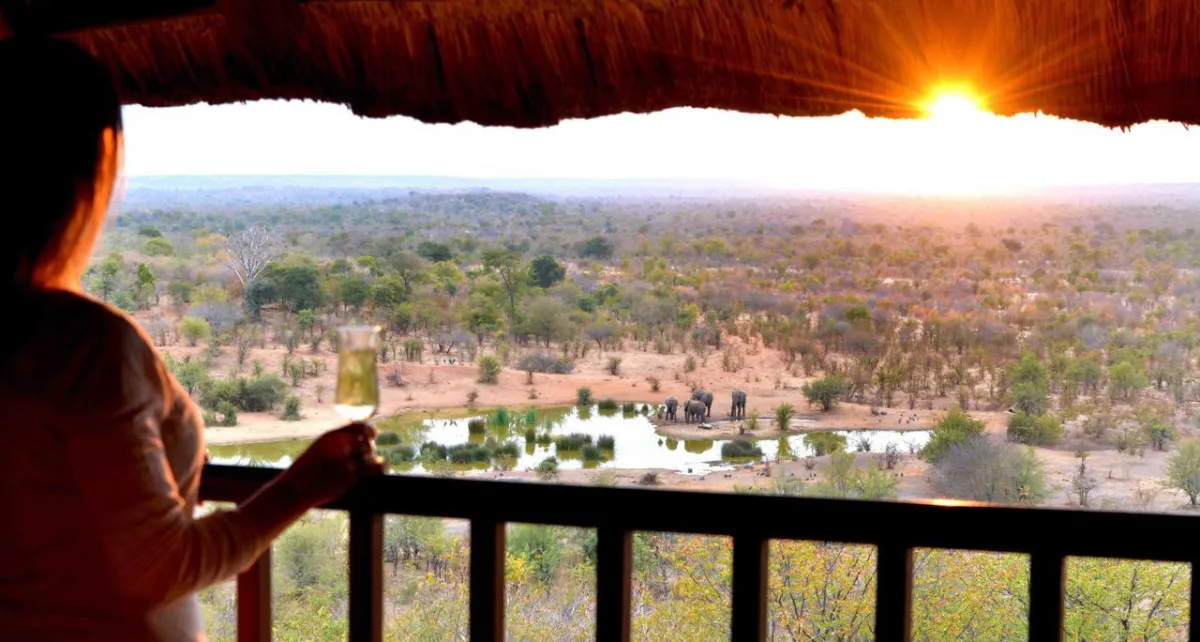 A little way away (4 km) from the bustling surrounds of the Falls, lies the beautiful Victoria Falls Safari Lodge. It almost feels like a luxury 'tree-house' built amongst the indigenous bush. Most of the rooms face the waterhole and the sunset views must be seen to be believed.
Chobe
An hour west of Victoria Falls lies one of Africa's iconic parks, Chobe National Park. Known for its huge populations of elephant and lion, and the beautiful, bird-rich Chobe River floodplain, it is a dream safari destination and photographer's heaven.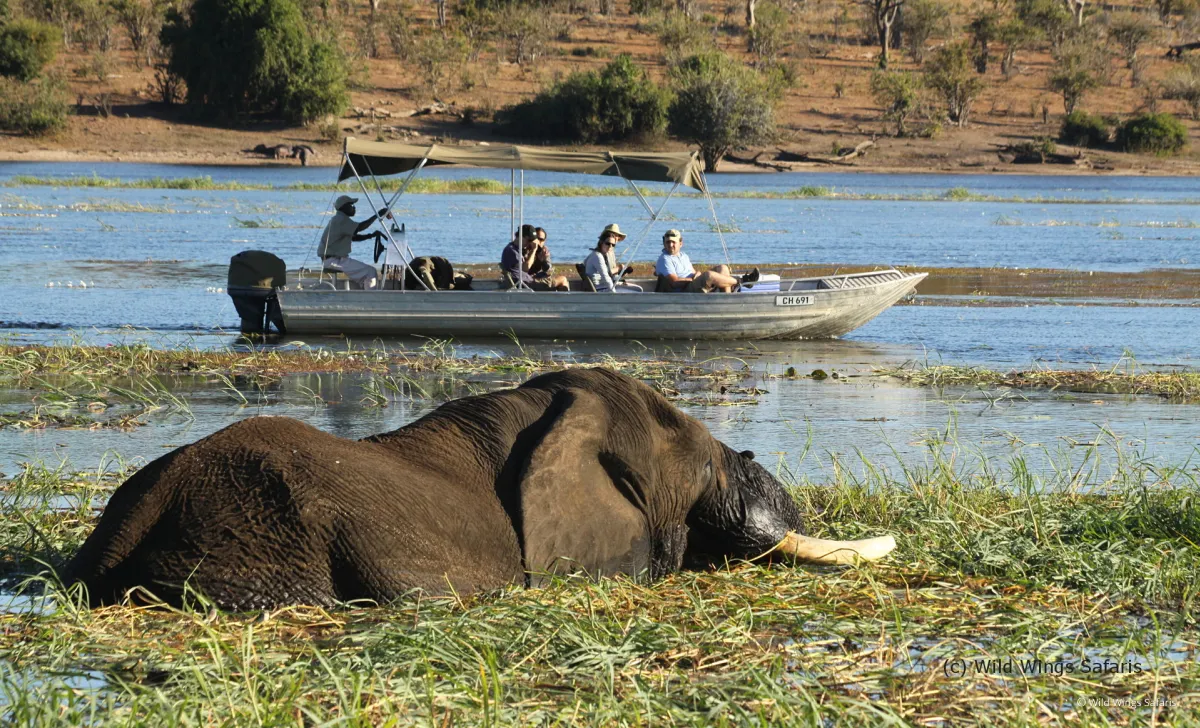 Chobe offers the best boat-based game viewing in the world. Cruising on a boat along the Chobe River can include sightings of herds of antelope – sable, roan, lechwe and more – elephant, buffalo and zebra as they come down to the river, treading carefully as this is crocodile and hippo country. Predators like lions, leopard and wild dogs are also often seen along the water's edge.
At the Chobe Game Lodge – a permanent, luxury safari camp inside the park – the river-facing rooms offer breathtaking views across the Caprivi floodplains. It's the perfect base for the variety of land- and water-based game viewing activities on offer.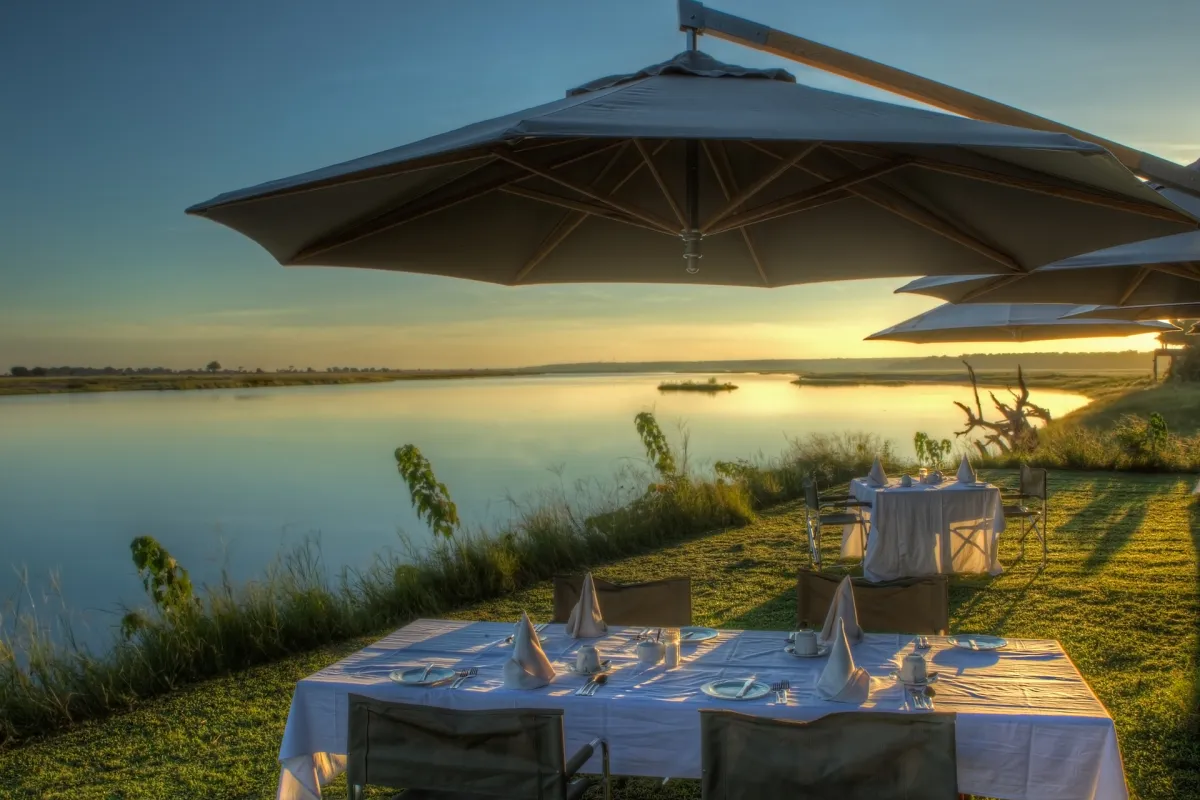 Hwange
A short drive south of Victoria Falls lies Zimbabwe's biggest game reserve, Hwange National Park. This magnificent reserve includes a wide variety of habitats and, therefore, a wide variety of wildlife. Its main attraction, if one had to choose just one, is the park's large herds of elephant. These gentle giants share the area with an array of other African favourites: giraffe, buffalo, zebra, lions, wild dogs and plenty of antelope species.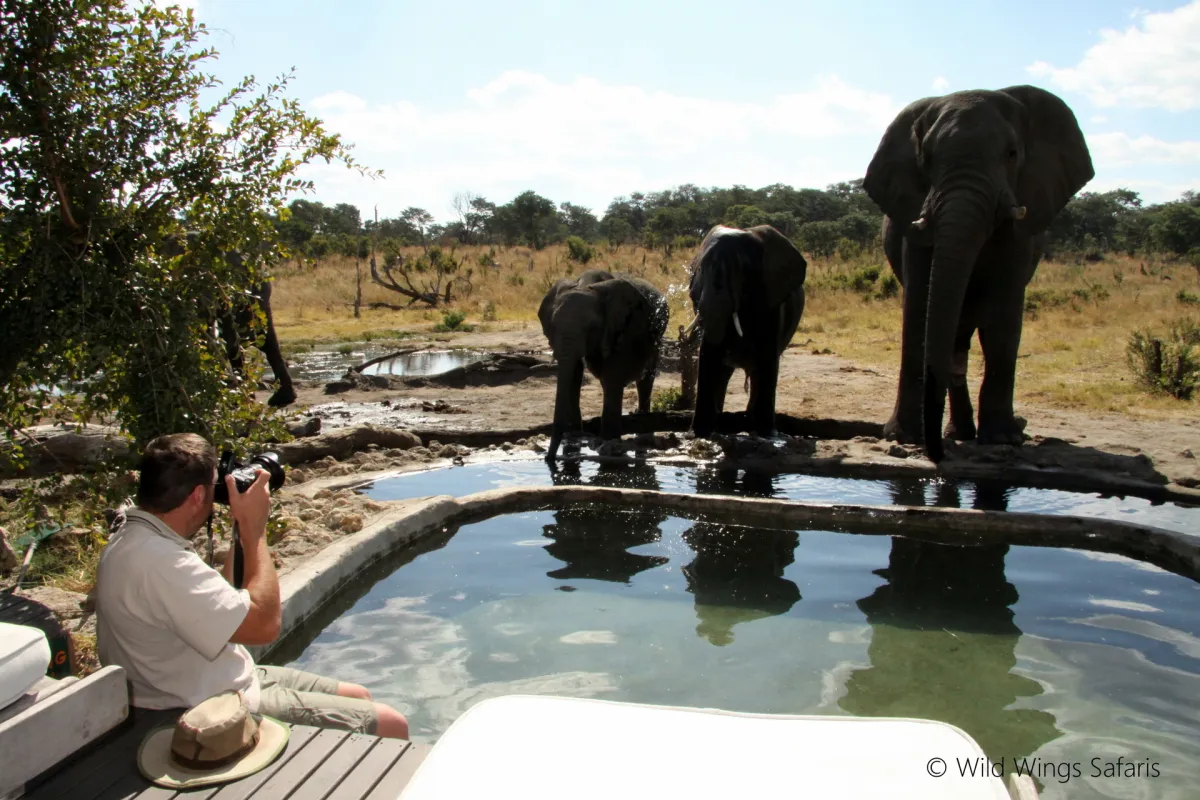 Somalisa Camp is set on a seasonal floodplain with a perennial pan that attracts loads of animals, you feel like you've gone back in time. With just seven luxury tents and the main area looking over the pan, you don't even have to leave the deck to view the game. In fact, the elephants are known to walk among the tents and drink from the camp's swimming pool.
It's situated within a concession so that when you do decide to reluctantly leave the deck, you can either go on game drives or guided walks to get the real feel of the African bush.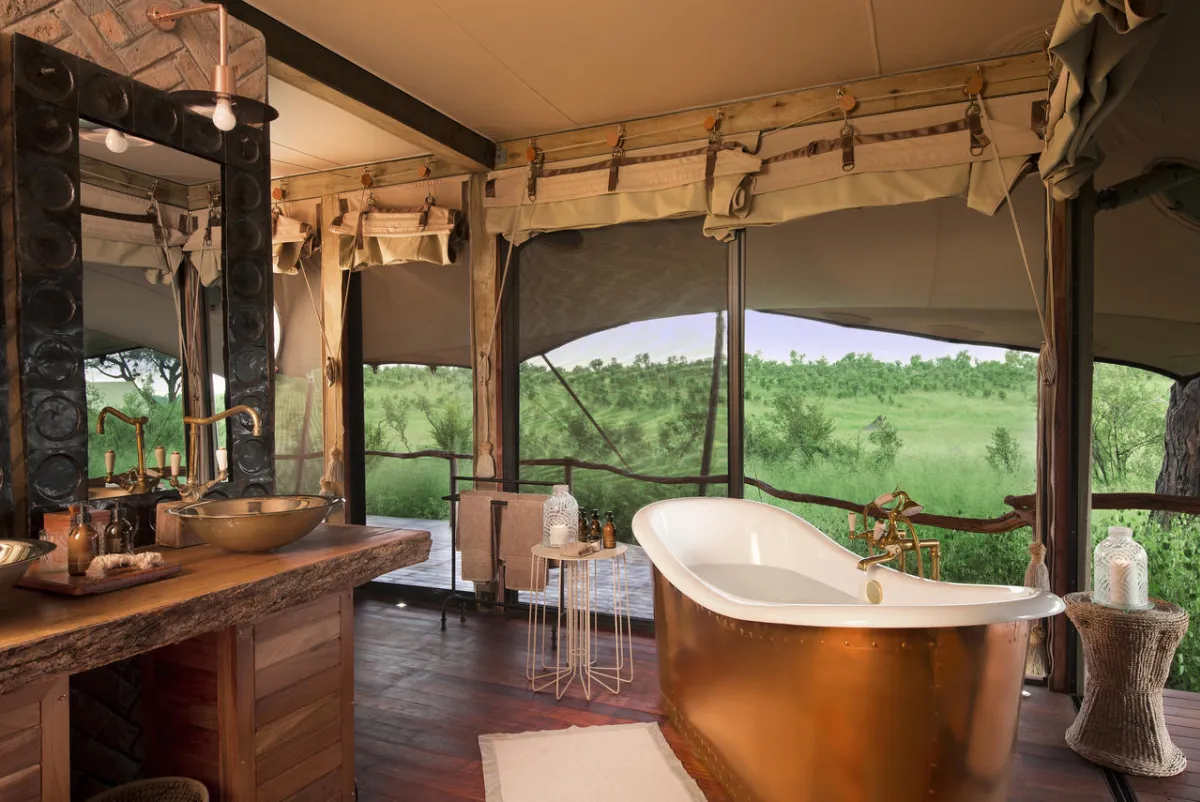 Lake Kariba
A short flight will bring you to one of Africa's largest man-made lakes. The roads around Lake Kariba and the beautiful Matusadona National Park on its shores are rough, making it a slightly less 'touristy' area and giving you a wonderful, remote African experience. The shores of the lake abound with game, particularly in Matusadona National Park, which was established to accommodate all the game that fled the valley when Kariba was built and is currently the only park in Zimbabwe that is home to all of the Big 5.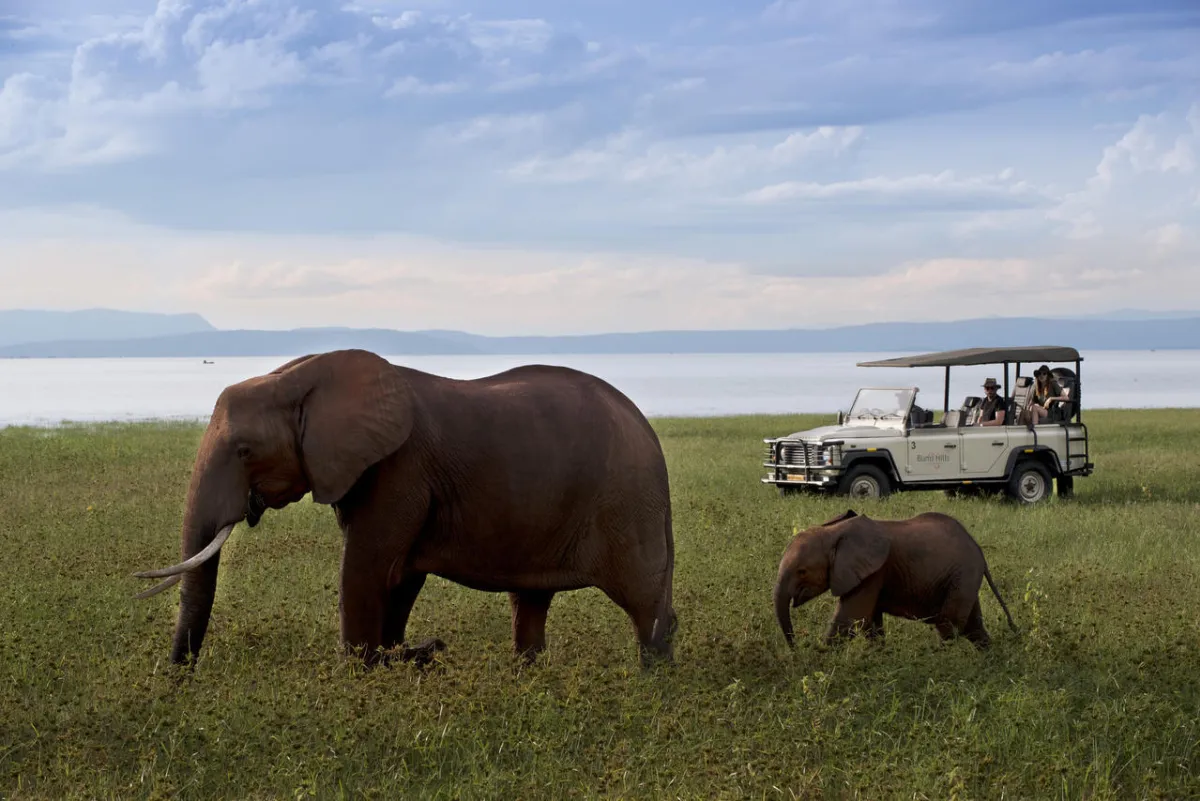 During the dry season, the grasslands next to the lake attract herds of buffalo, often followed closely by stalking lions! At Matusadona there's also a good chance you'll get to see leopard, cheetah and hyena.
Just along the shore from Matusadona lies Bumi Hills Safari Lodge, with its spectacular views over Lake Kariba. From here you can go on game drives, boat cruises, or try your hand at fishing for the infamous tigerfish. The lake is home to huge crocodiles and lots of hippos so if you're going to swim, Bumi Hills' beautiful infinity pool is where you should take that dip!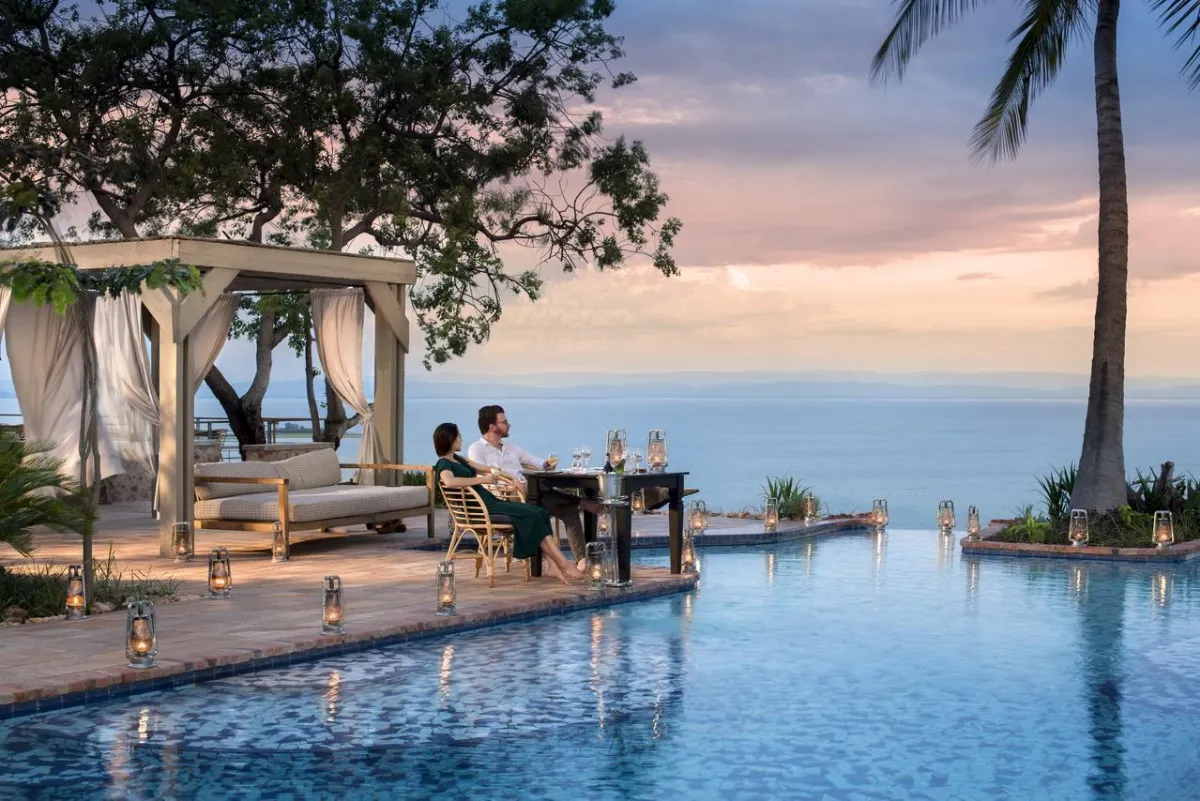 A popular activity on Kariba is houseboating. The boats range from basic, 'self-catering' boats to high-end luxury houseboats. Bask in the sun, watch for game on the shore, enjoy fish caught from the deck and sleep to the lulling sounds of the waters of Kariba lapping.
Mana Pools
Another spot with fewer tourists, as it's difficult to reach by road (but you can easily fly in) is Mana Pools on the edge of the Zambezi River, downstream from Lake Kariba. Known for its fantastic guides, canoe trails and walking safaris, the area is filled with wildlife and is a firm favourite of many safari enthusiasts.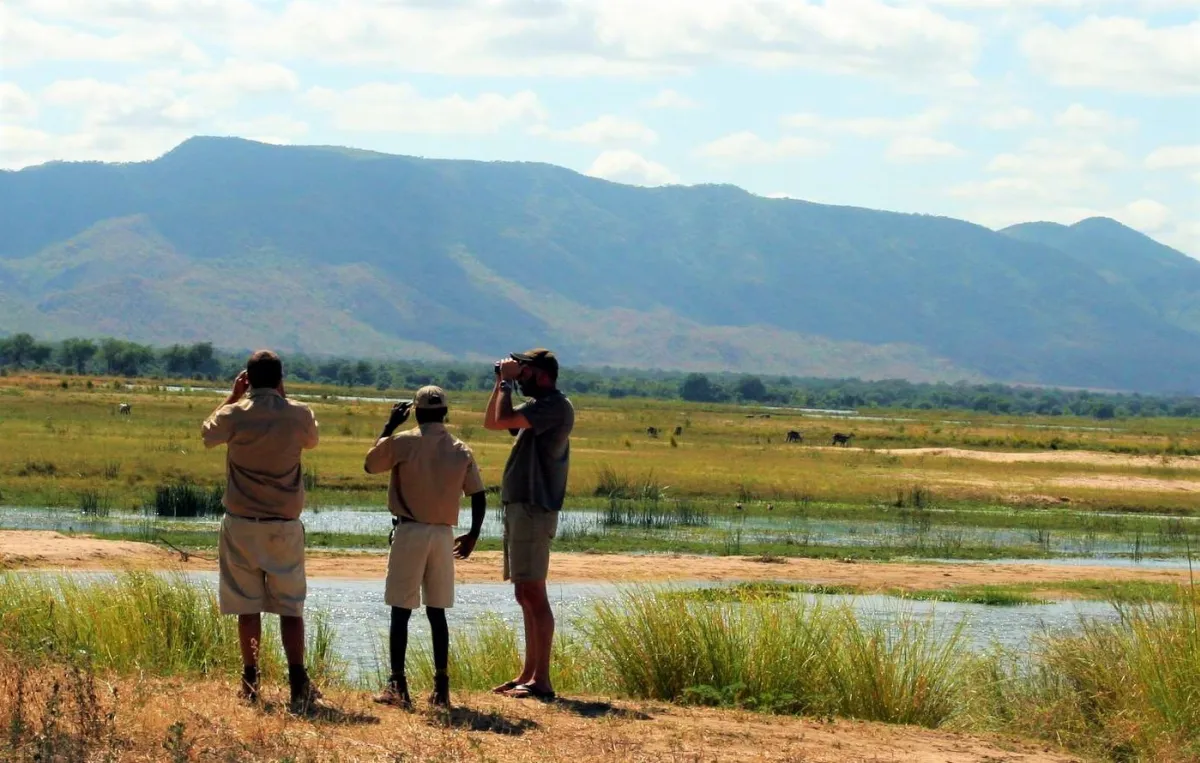 Many of the camps in Mana Pools are seasonal and close during the main wet season (usually December to March). This includes the spectacular Kanga Camp, situated in a remote and pristine area near Chitake Springs, overlooking an active waterhole.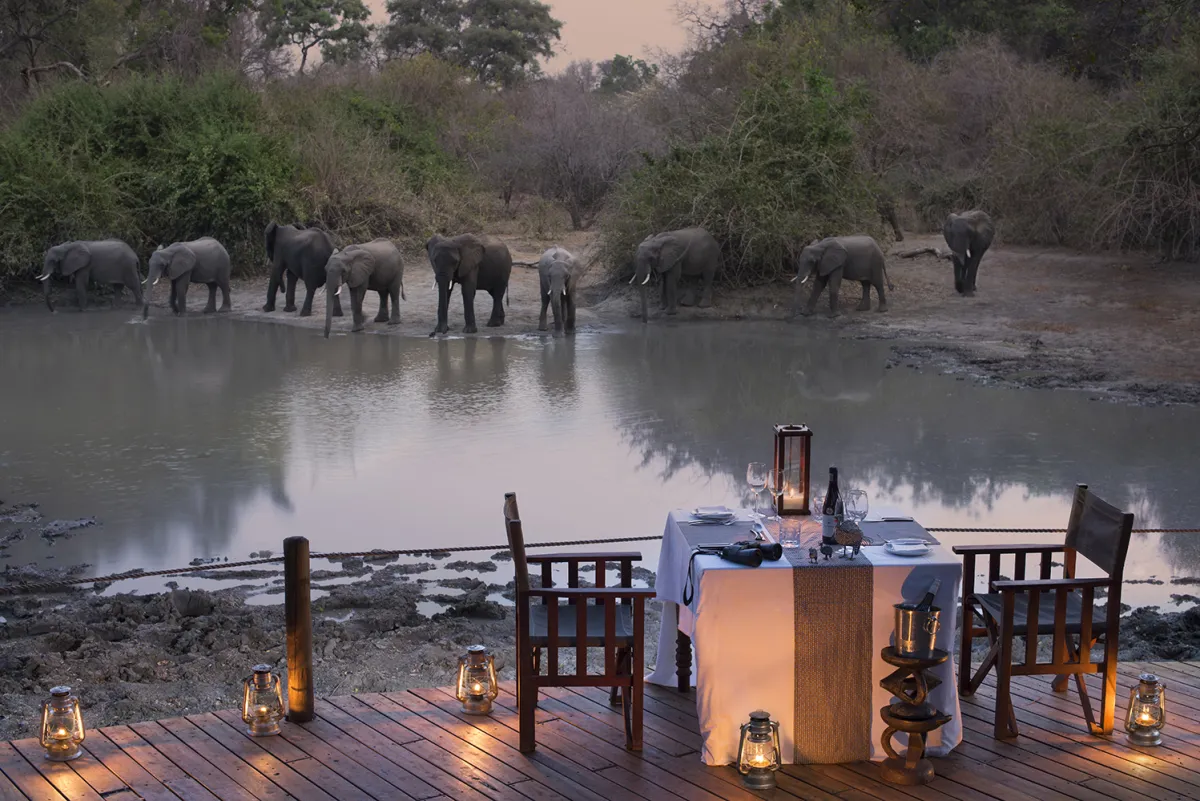 Kanga Camp is remote and exclusive, having only six luxury tents overlooking the waterhole. With mixed woodland, grassland and marshy areas, it is excellent for exploring on foot. The best time to visit is between July and October.
Getting There
Victoria Falls in Zimbabwe and the nearby town of Livingstone in Zambia are easily accessible by plane, with daily flights from Johannesburg. From here, both Chobe and Hwange are within easy driving distance. To reach Lake Kariba, Matusadona or Mana Pools will require a short 1 ½ hour flight.
An Ideal Itinerary
Any combination of the above destinations will work, but you can easily plan a two-week safari itinerary that includes all of these destinations in one amazing trip:
Day 1-3: Victoria Falls
Day 4-5: Chobe
Day 6-8: Hwange
Day 9-11: Lake Kariba
Day 12-14: Mana Pools
Contact us to help you customise your ideal safari itinerary in this magic triangle.
You may also want to look at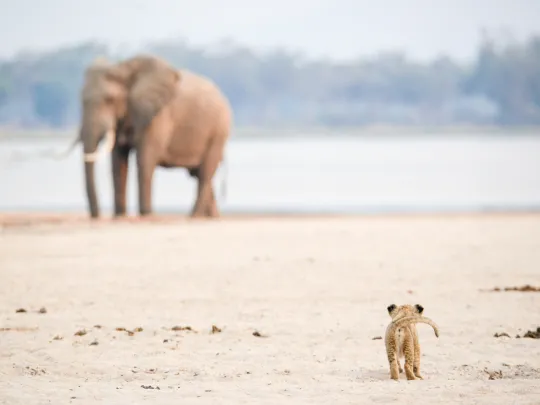 This 9-Day Best of Zimbabwe Safari includes three of the most popular destinations in Zimbabwe: Victoria Falls, a 7th Wonder of the Natural World and renowned adventure capital; Hwange National Park, the jewel of Zimbabwe and its largest national park, home to large herds of elephants and healthy wild dog populations; and Mana Pools, World Heritage Site and pristine wilderness. Explore Mana on foot and by boat along its myriad waterways teeming with wildlife.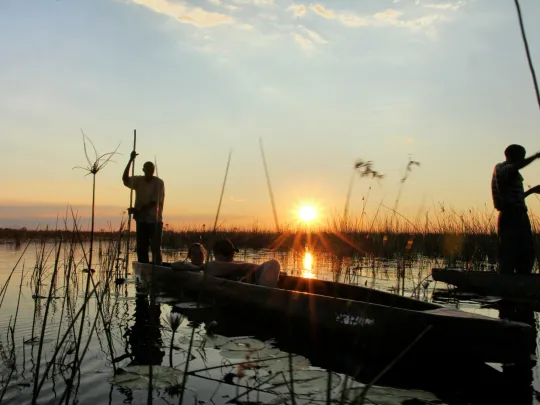 It is easy to combine Botswana and Victoria Falls. This trip idea combines four of Botswana's top safari destinations with two nights at Victoria Falls. The duration is flexible, and you can spend an extra night at any destination on this trip. Botswana has many excellent safari lodges, but we always recommend using ones in the same group or family so you can benefit from long-stay specials. This trip idea is based on Desert & Delta Lodges, which are reasonably priced and lie mainly in the national parks.
About the author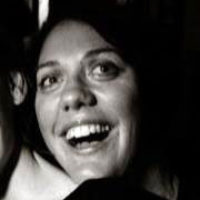 Briony Chisholm
Briony Chisholm has been travelling the back roads of South Africa for as long as she can remember – she's from one of those families. The safari writing, however, only started a couple of years' ago, and she loves it. She can even tell you the difference between safari vehicles now. Briony lives in Cape Town from where she does much armchair travelling and as much real travelling as she can fit in.