Mana Pools Travel Guide
Mana Pools Travel Guide
Mana Pools in northern Zimbabwe is one of the few wilderness areas where it's possible to explore on foot (either guided or on your own) or by canoe. Roads are few and far between so game driving is by 4x4. It's a pristine, unspoilt paradise, with abundant game, spectacular scenery and an incredible variety of birds.
Highlights
UNESCO World Heritage Site
Explore canoe trails along the Zambezi
Guided walking safaris
Authentic, rustic African safari camps
Excellent birding and game viewing
Remote and uncrowded safari destination
Huge herds of elephant and buffalo
Rivers teem with hippo and crocodile
Superb fishing
Mana Pools National Park is situated in the far north of Zimbabwe, in the Zambezi River Valley. It is a remote and beautiful game reserve that is home to some of the most legendary safari guides in Africa and is known for its fantastic canoe trails and walking safari adventures.
Situated right opposite the Lower Zambezi National Park in Zambia, this part of the Zambezi River Valley is home to an impressive variety of species and birds. There are a number of rustic bush camps, some permanent and some seasonal. A number of camps became a bit run-down during Zimbabwe's economic and tourism slump, but in general, the area seems to be recovering well, and it is certainly worth a visit.
Climate
Mana Pools is generally warm and hot. The winter season is from mid-May to mid-August, where evenings and early mornings can be chilly at around 12°C (54°F). Days are clear and warm at 28°C (82°F). August to October are the hottest, driest months, with temperatures soaring to between 40°C and 50°C (104°F - 122°F). November usually sees the first rains, which bring high humidity levels in their wake. December to February is the peak rainy season, which usually consists of afternoon thundershowers or a steady drizzle that can last for days. Average temperatures range from 21°C -31°C (70°F -88°F).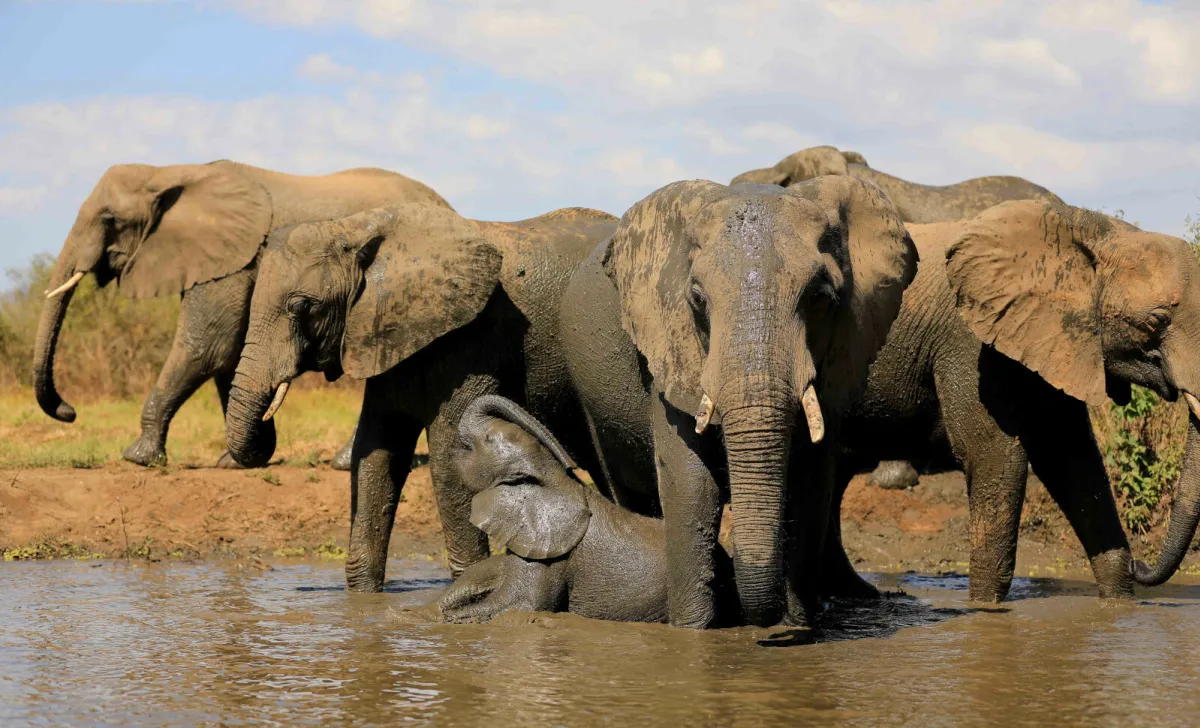 March and April see rains slowing down, with evenings and early mornings becoming cooler. Average temperatures 19°C -31°C (66°F - 88°F). It also depends where you are in Mana Pools as the altitude varies greatly; from 335 metres to1,181 metres above sea level (between 1,098 ft and 3,875 ft) which can also change temperatures considerably, getting cooler the higher up you are.
Best time to go
Although the height of the dry season at Mana Pools (July to October) can be unbearably hot for many, it is the best game viewing time. The area literally teems with wildlife as animals congregate around these perennial water sources. That said, Mana Pools is a rewarding destination right throughout the year. It's scenic, remote and offers an incredible outdoor and adventure safari experience.
Wildlife
Mana Pools is renowned for its huge herds of buffalo and elephant. You may also be lucky to see wild dog as there are several resident packs in the area. The waterways are alive with hippo and crocodile. The birdlife is also excellent. The elephants of Mana are renowned for standing on their hind legs to reach up high into the Acacia Albida trees for the protein-rich, apple-peel like pods.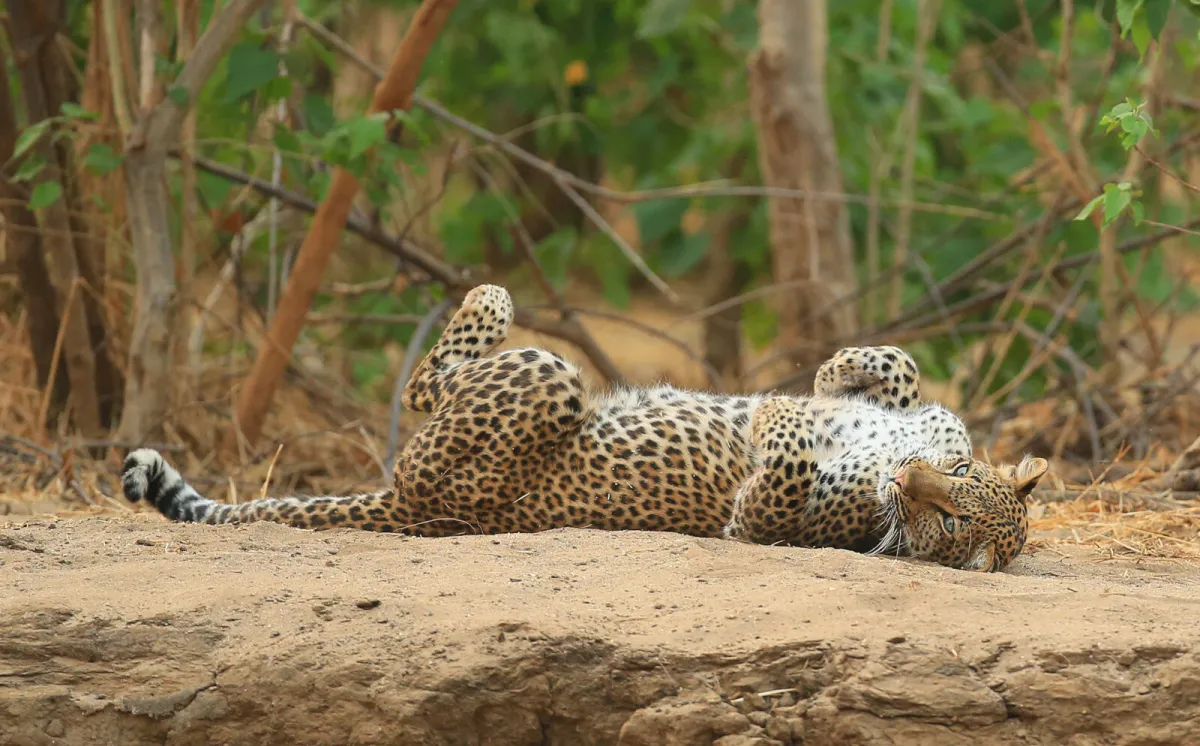 Getting there
While self-drive is possible (it's a good five- or six-hour drive from Harare), we recommend you use a 4x4 vehicle with an experienced driver. Conditions can be gruelling, especially in the wetter months. Fly-ins from Victoria Falls, Harare and Kariba are usually preferable.
Accommodation
Besides the national park camps, there are some excellent tented safari options, ranging from budget to upmarket. The private lodges have superb guides who will help you explore this compelling, untamed safari destination. We have personally visited many of these camps and areas and can give you unbiased advice on which option(s) would suit you best.
Kanga Camp is in one of the most remote sections of the pristine Mana Pools area, a World Heritage Site not far from Chitake Springs. This vast, untouched wilderness is a veritable eden, offering excellent and varied safari experiences. Closed mid-December until 1 April each year.
Ruckomechi Camp is situated just outside of Mana Pools National Park, on a private concession area. The camp overlooks the Zambezi river and is a great base from which to explore the wonderful wildlife and scenery of the Mana Pools region.
This safari company has been going for 30 years in Zimbabwe's Mana Pools National Park and it consistently gets rave reviews. It's owned and run by 'Stretch' Ferreira, one of southern Africa's most experienced and legendary guides. By all accounts, he seems to be an 'elephant whisperer', able to communicate and develop relationships with individual wild animals and get really close to them and other dangerous game.
Straddling a portion of the border between Zambia and Zimbabwe, Lake Kariba is the world's largest man-made lake. Its creation provided perfect conditions for wildlife in Matusadona National Park, located on a section of its shore on the Zimbabwean side, to thrive. Game viewing along Lake Kariba's shoreline can be done by houseboat, canoe or boat, and from inside Matusadona on foot; preferably with an expert guide. The roads are rough and gruelling and 4x4 vehicles are required.

John's Camp is an intimate, tented safari camp located inside the UNESCO World Heritage Site of Mana Pools, one of Zimbabwe's most beautiful game reserves and a popular destination for walking safaris. Overlooking the Zambezi floodplains in the quieter eastern section of Mana Pools, John's Camp offers a welcoming, authentic, off-the-grid, eco-friendly African bush camping experience.
You may also want to look at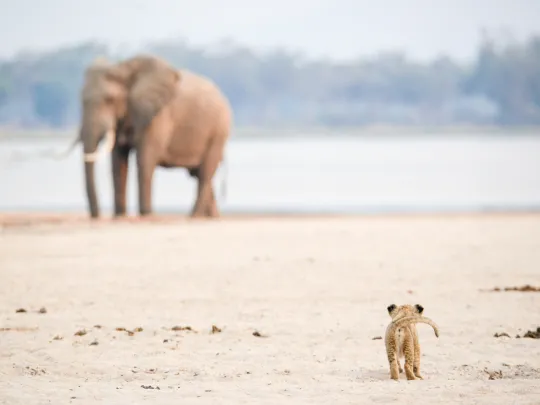 This 9-Day Best of Zimbabwe Safari includes three of the most popular destinations in Zimbabwe: Victoria Falls, a 7th Wonder of the Natural World and renowned adventure capital; Hwange National Park, the jewel of Zimbabwe and its largest national park, home to large herds of elephants and healthy wild dog populations; and Mana Pools, World Heritage Site and pristine wilderness. Explore Mana on foot and by boat along its myriad waterways teeming with wildlife.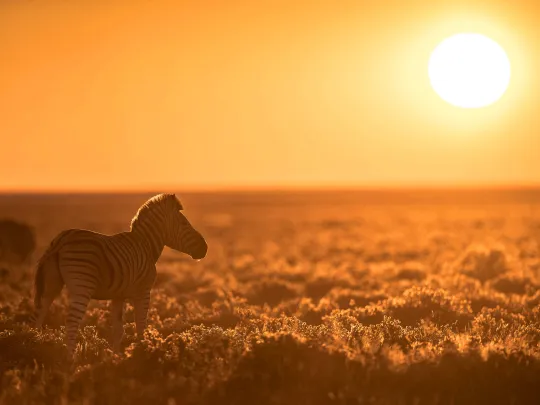 Our 15-Day Southern Africa Signature Safari is what we consider to be an ideal safari itinerary on a mid-range budget to see the best of Southern Africa within a limited time frame. Take in some of Southern Africa's top destinations – the spectacular Victoria Falls in Zimbabwe; Chobe National Park in Botswana; picturesque Cape Town and the Garden Route; the Kruger National Park and the famous Sabi Sand Game Reserve in South Africa.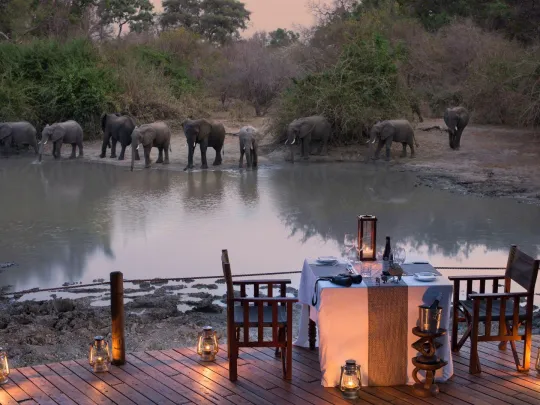 Kanga Camp is in one of the most remote sections of the pristine Mana Pools area, a World Heritage Site not far from Chitake Springs. This vast, untouched wilderness is a veritable eden, offering excellent and varied safari experiences. Closed mid-December until 1 April each year.