Serra Cafema Camp
Serra Cafema Camp
Set in the starkly beautiful Hartmann Valley in the remote north-western corner of Namibia, Serra Cafema Camp is luxurious, intimate and peaceful. It offers guests authentic interaction with the fascinating Himba – one of the world's few remaining semi-nomadic peoples.
Highlights
Enjoy the surreal contrast of rushing rapids in a desert-like landscape
A great mix of rustic and luxury in lunar-scape setting
Authentic interaction with Himba people
Explore the local area on quad bikes
Nature drives and bush walks in Hartmann's Valley
Boating on the Kunene River (seasonal) – prolific crocodiles and birdlife
Serra Cafema reopened in September 2018 after a rebuild and is now 100% solar-powered.
A remote, intimate and luxurious camp in the remote reaches of north-western Namibia, Serra Cafema is set on the 'oasis' of the Kunene River, the lifeblood of this arid, lunar-like landscape. It forms part of a joint venture between Wilderness Safaris and the 300,000-hectare Marienfluss Conservancy, owned primarily by the Himba people, one of the last remaining semi-nomadic people on the planet.
Luxurious Accommodation
Each of the eight spaced-for-privacy guest rooms overlooks the Kunene River and the mountains beyond. The rooms have a sunken seating area, an outsized bed with a canopy and netting, indoor and outdoor showers and a large private deck where you can enjoy an intimate dinner.
Comfortable Main Area
The communal ozonganda or main area overlooks the river and has a sunken seated area, perfect for stargazing by night. The whole layout of the camp echoes that of a Himba village, with areas for quiet and areas for sociability. Wherever possible, furniture, building material and decor, has been sourced locally or in support of local concerns.
All buildings sit on elevated decks to create a minimal footprint. There are indoor and outdoor dining areas, a sunken lounge, library, curio shop and swimming pool. Wherever you are at Serra Cafema, you'll enjoy views over the Kunene River in all its moods.
Local Activities
The Kunene River is the only permanent water source in this area, with oasis-like vegetation along its banks. Game viewing is limited to small herds of gemsbok (oryx), springbok and Hartmann's mountain zebra but the surrounds are fascinating to explore in open safari vehicles.
The river itself has healthy numbers of Nile crocodiles and the birdlife is prolific, with endemic species like Burchell's courser and the Benguela long-billed lark to look out for.
Nature walks provide you with a good chance to see the famous fairy circles and desert-plated lizard. Boating on the Kunene River (if water levels permit) offers an opportunity to venture through the lush riverside reeds to spot crocodiles and water birds up close.
When the Himba are visiting the area, guests are able to interact with them and gain insight into their fascinating, ancient customs and way of life.
Getting There
Serra Cafema is seriously remote. The only access is by light aircraft to the Hartmann Valley airstrip, followed by a one-and-a-half-hour road transfer over somewhat bumpy roads. Once there, you'll know it was worth every minute.
Our Take on Serra Cafema
A lovely, luxurious lodge in typical Wilderness Safaris' style – in one of the starkest and most breathtakingly beautiful corners of Namibia. While the actual game viewing is limited, the surrounds and contrasts between river, open skies and surreal landscapes are out of this world. An unforgettable safari destination if you're up for the challenge of getting there.
Includes
Accommodation
All meals
Scheduled camp activities
Park fees
All local drinks
Laundry
Excludes
Scheduled charter flights
Transfers to camp
Premium imported brands
Champagne
You may also want to look at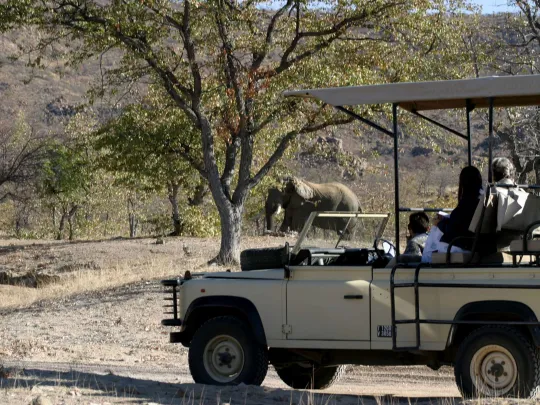 The Kunene Region in north-western Namibia is wild, remote and sparsely populated. A transitional area with a distinctive desert region, Kunene has a surprising wealth of desert-adapted wildlife, including the largest population of free-ranging black rhino, elephant, lion, cheetah, leopard, hyena, Hartmann's zebra, springbok and gemsbok (oryx). It's also home to the Damara, Himba and Herero tribes who live in this stark and fascinating 28-million-acre arid expanse.