Doro Nawas Camp, Damaraland
Doro Nawas Camp, Damaraland
Although not in a game-rich area per se, Doro Nawas Camp is an excellent base from which to explore the dramatic and stark Damaraland landscape. Arid and inhospitable, it's home to a surprisingly diverse range of desert-adapted wildlife, including desert-elephant, gemsbok, springbok, bat-eared fox – and even the odd black rhino and cheetah.
Highlights
Located near the ancient Twyfelfontein San rock art engravings, a UNESCO World Heritage Site
Sleeping out under the stars is a must-do in this pristine environment
Good chance to spot the desert-adapted elephant
Stargazing under the most unbelievably clear night skies
Cultural visits to the local Damara/Nama villages
Close to famous geological sites: petrified forest, Burnt Mountain and Organ Pipes
Set in the 407 300-hectare (1 006 425-acre) Doro !Nawas Conservancy, Doro Nawas Camp looks out over a landscape ranging from rocky plains to strange rock formations and sand dunes. It's also a prime area for Namibia's desert-adapted elephant, with herds crossing the dry valley seasonally in search of water and vegetation.
Tented Accommodation
Doro Nawas Camp has 16 stone-and-canvas units with shady thatched roofs. Each is en-suite (with an outdoor shower) and each has a shady veranda for looking out over the arid landscape by day and enjoying stargazing or sleep-outs at night.
Main Area Lookout
The main guest lookout is perched on top of a rocky knoll and offers endless views over the surrounds from the indoor and outdoor dining areas, pool area and bar, and local curio corner. A staircase leads to the flat roof – the perfect spot for relaxing with sundowners and indulging in a bit of stargazing.
Variety of Desert Activities
Wildlife and scenic drives
Although the area does not support large wildlife numbers, desert-adapted animals such as springbok, gemsbok and elephant are around. Nature drives in open safari vehicles explore the area and end with a picnic lunch or scenic walk, during which guests learn how various plants and animals have adapted to their harsh desert life.
Local excursions
There are numerous cultural, geographic and historical places of interest nearby. The ancient San rock art at Twylfelfontein (a UNESCO World Heritage Site), the petrified forest, Burnt Mountain and Organ Pipes are all worth a visit.
Cultural visits
Back-of-house tours and camp chats about the Doro !Nawas Conservancy, the Damara/Nama language and cultural traditions, all offer insight into the community, while the Damara Living Museum records the traditional culture of the Damara people.
Scorpion night walks
After dark, another dimension of the Namib awakes. These guided walks reveal captivating creatures such as scorpions, which fluoresce under UV light.
Star bed
There's nothing quite like sleeping out beneath the starry skies of the Namib, lulled to sleep by the sounds and surrounds of Africa.
Stargazing
Namibia is famous for its clear night skies. There is no light pollution and the dark skies provide an ideal opportunity to learn about the planets and stars of the cosmos.
Conservation Matters
The vast Doro !Nawas Conservancy represents some 450 members who benefit directly as shareholders. All camp staff are local and receive training from Wilderness Safaris. Doro Nawas has been carefully designed and built for minimal impact on its fragile environment. Showers are solar heated and there are hybrid energy and eco-friendly waste disposal systems in place.
Getting There
By road: The camp is accessible by 2WD vehicles. It's about a six-hour drive from Windhoek (440km).
By air: Wilderness Air Namibia flies to Doro Nawas Airstrip, from where it's about a 10-minute road transfer to camp, depending on stops for wildlife, scenery and photos.
Our Take on Doro Nawas Camp
Its location, staff and views are fantastic. It's a good base from which to explore many of Namibia's famous sites and geographical features. Really remote and off the beaten track, it's perfect for when you're looking to get away from it all, which makes it an ideal honeymoon venue. The starry sleep-outs are spectacular.

Includes
Accommodation and all meals
Twice-daily scheduled camp activities
Park fees
All local drinks
Laundry
Excludes
Premium-branded drinks and champagne
Gratuities
Curio purchases
Items of a personal nature
You may also want to look at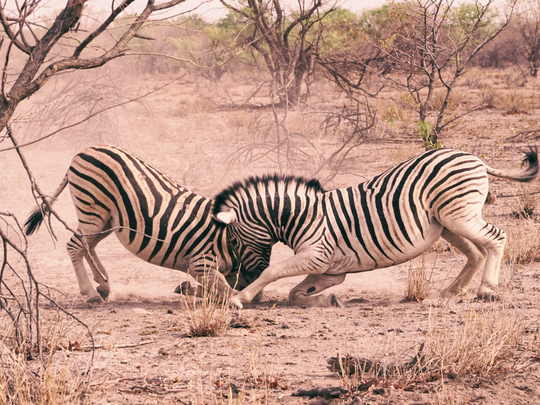 Famous for its arresting desert scenery and outstanding game viewing, Namibia is one of Southern Africa's top travel destinations. Its most captivating attraction, the ancient Namib Desert, presents endless ochre dunes and parched salt pans, while the game-viewing gem of Etosha National Park offers a world-class safari experience. Natural wonders include the Fish River Canyon, Etosha Pan, Sossusvlei, Waterberg Plateau and the fertile Caprivi Strip.