Klaserie Game Reserve Travel Guide
Klaserie Game Reserve Travel Guide
The Klaserie Game Reserve is a privately run game reserve that forms part of the Greater Kruger Park. You'll find a variety of safari lodges here, ranging from rustic bush camps and walking trails to luxury game lodges. Klaserie offers a tranquil, private and unhurried safari experience. Guest numbers are low and the lodges are small and intimate.
Highlights
Small, intimate bushcamps
Tranquil, unhurried safari destination
Abundant wildlife, including Big 5
Lodges and walking safari options
Variety of accommodation options
Excellent birding: raptors, residents and migrants
One of the largest privately-owned nature reserves in South Africa, Klaserie Game Reserve is one of the more northern reserves of Greater Kruger and covers some 60 000 hectares.
Diverse game viewing
The Klaserie Game Reserve is home to the Big 5 and all the same animals that you can find in the adjacent Kruger National Park. It's a great birding destination too. The vegetation is varied and includes typical Acacia savanna dominated by Combretum and Acacia species, riverine bushveld, as well as vast stretches of Mopane woodland.
Safari lodges
Klaserie offers a number of excellent safari lodges to choose from, ranging from tented camps to luxury lodges. Vehicle density is low which makes for a more exclusive safari experience. This also means that fewer sightings are called in over the radio, so game viewing is perhaps not as consistent in the Klaserie as elsewhere. You might be lucky and have fantastic game viewing, or you could be unlucky and have a quiet day with relatively few sightings. An ideal length of stay is 3 to 4 nights.
Active conservation
Klaserie Game Reserve is 100% private, run by an executive committee that is passionate about conservation. It is host to The Ground Hornbill Project, sponsored by The Fitzpatrick Institute of African Ornithology and directed by Professor Phil Hockey. It's also involved in: "Save the Elephants" project founded by Dr Ian Douglas Hamilton and the "Tembo" project which studies buffalo.
Social responsibility
Klaserie hosts a highly successful Children's Environmental Training Program (CET) which assists in educating the children from the local community. The focus is on the environment and the importance of conservation, naturally.
nThambo Tree Camp is a rustic, eco-friendly camp in the Klaserie Private Game Reserve, offering a unique bush experience, with comfortable treehouse-style tented accommodation. The camp offers a combination of game drives and walking safaris conducted by qualified rangers.
Africa on Foot is a basic, rustic safari camp where you can do a combination of guided bush walks or game drives.
Klaserie Sands is a luxury safari lodge overlooking a dry riverbed in the Klaserie Game Reserve
Situated in the Klaserie Private Game Reserve, Baobab Ridge is a small, intimate safari lodge overlooking an active waterhole. Klaserie shares unfenced borders with the Kruger National Park and its neighbours and game viewing is often superb, with a good chance of seeing the famed white lions of Timbavati.
Located in Klaserie Private Nature Reserve within the Greater Kruger, Xanatseni Private Camp has five thatched luxury en-suite rooms with open views of a waterhole and the surrounding bushveld. For families and small groups, there is the option of booking the Tseni Suite, a two-bedroom family suite that comes with a private safari guide and exclusive use of a game viewing vehicle.
Last Word Kitara is an exclusive, five-star luxury lodge on the banks of the Klaserie River in the wildlife-rich Klaserie Private Nature Reserve which shares an open border with the world-famous Kruger National Park to the east. Kitara's classically appointed luxury suites with African accents enjoy views of the Klaserie River which often draws wildlife the guests can observe from the comfort of their private patios.
You may also want to look at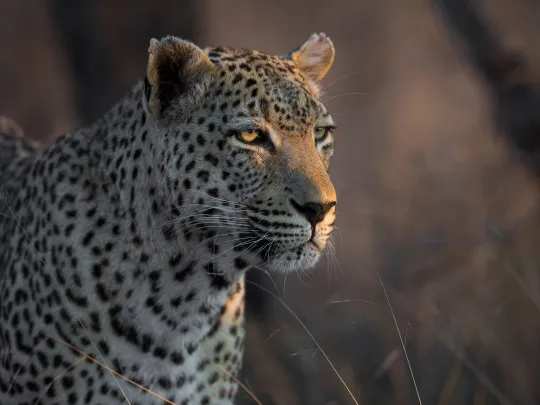 A guided safari in Kruger Park (using the national park camps) is quite different to a safari at a private game lodge. Both have their advantages. This trip idea combines two nights in Kruger, followed by two nights at a private game lodge for you to experience the best of both worlds. All game drives in open vehicles with expert and knowledgeable guides.