Accommodation in Tswalu Kalahari Game Reserve
Accommodation in Tswalu Kalahari Game Reserve
Tswalu Kalahari Game Reserve's remote location in the Northern Cape offers safari-goers an off-the-beaten-track experience in one of three beautiful luxury safari lodges — Motse Camp, Tarkuni Homestead and Loapi, a luxury tented camp.

Tswalu Kalahari Game Reserve offers an exclusive, tailor-made safari experience with three choices of luxury accommodation. Each camp is beautifully positioned to allow guests to drink in Tswalu's unique landscape from the Korannaberg Mountains and the southern Kalahari's savannah grasslands to the iconic red dunes of the true Kalahari.
Motse Camp is a sophisticated luxury safari camp designed with individual couples and families in mind. Tucked away in a secluded valley in the foothills of the Korannaberg Mountains, Tarkuni is a private, exclusive-use luxury homestead attended to by dedicated staff and a personal chef. Loapi is an exclusive luxury tented camp with striking views of Tswalu's arid savannah and it's the perfect choice for guests longing for solitude and privacy.
Accommodation in Tswalu Kalahari Game Reserve offers the lowest ratio of guests to space and a guaranteed private safari vehicle, dedicated guide and tracker for all bookings.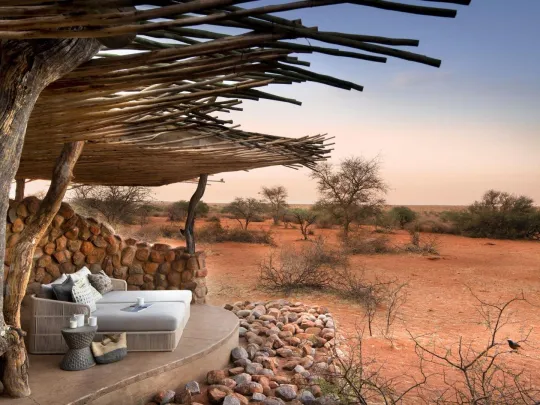 Located at the foot of the Korannaberg Mountains in malaria-free Tswalu Kalahari Game Reserve, The Motse is an elegant luxury safari camp overlooking the endless grasslands of the Kalahari that can accommodate a maximum of 18 adults in nine spacious suites.