Tswalu Kalahari Game Reserve Travel Guide
Tswalu Kalahari Game Reserve Travel Guide
South Africa's largest malaria-free private game reserve, Tswalu Kalahari in the Northern Cape, offers a luxury safari experience against a backdrop of sweeping grasslands, red dunes and towering mountains. Cheetahs, the famous black-maned lions of the Kalahari, white rhinos, desert black rhinos and smaller mammals such as aardvarks, pangolins and African wild cats are some of the game you can expect to encounter on this beautiful game reserve.
Highlights
Private and exclusive luxury safari experience
Home to rare species such as aardvark and pangolin
Exceptional cheetah and Kalahari lion viewing opportunities
Starkly beautiful desert landscape with vast open savannahs, rugged dunes, towering mountains and diverse habitats
Guaranteed access to a private safari vehicle, guide and tracker
Guided walking safaris, Sanctuary Spa sessions, sleep-outs under the stars and horse trails
Luxurious safari lodge accommodation
World-famous food and wine fine dining
Tswalu Kalahari in the Northern Cape is South Africa's largest private game reserve. This 100,000-hectare malaria-free game reserve is home to 70 species of mammals and 230 species of birds, including the rare desert black rhino, black-maned Kalahari lion, cheetah and roan antelope.
A leader in the field of biodiversity conservation
Through their support of research contributing to the restoration of the fragile Kalahari ecosystem and their collaboration with various academic institutions and conservationists, Tswalu has laid the groundwork for sustainable ecological viability through ecotourism. Tswalu Kalahari regularly hosts scientists and students from around the world, and visitors interested in conservation and data-gathering projects are invited to engage with the researchers when they are onsite.
Success stories include the conservation of iconic Kalahari species, such as the cheetah, the brown hyena and the ground pangolin and the rewarding reintroduction of the massive black-maned lion, desert black rhino and African wild dog.
A unique landscape that supports a rich diversity of species
Framed by the Korannaberg Mountains, Tswalu Kalahari Game Reserve lies in a transition zone between the dry savannah and the true Kalahari and has five distinct habitats that provide food and shelter to a rich and diverse range of species.
On their game drives, safari-goers can expect iconic Kalahari sightings such as the black-maned Kalahari lion, known for their impressive size and dark, majestic manes, desert black rhino, oryx, gemsbok, roan, sable, eland, springbok and red hartebeest, as well as cheetah, African wild dog, white rhino, giraffe, the rare Hartmann's mountain zebra and African wild cat. It's also possible for Tswalu Kalahari guests to visit a meerkat burrow before they head out on their early morning game drive. Remarkably social and full of mischief, Tswalu's habituated meerkats are endlessly entertaining to watch.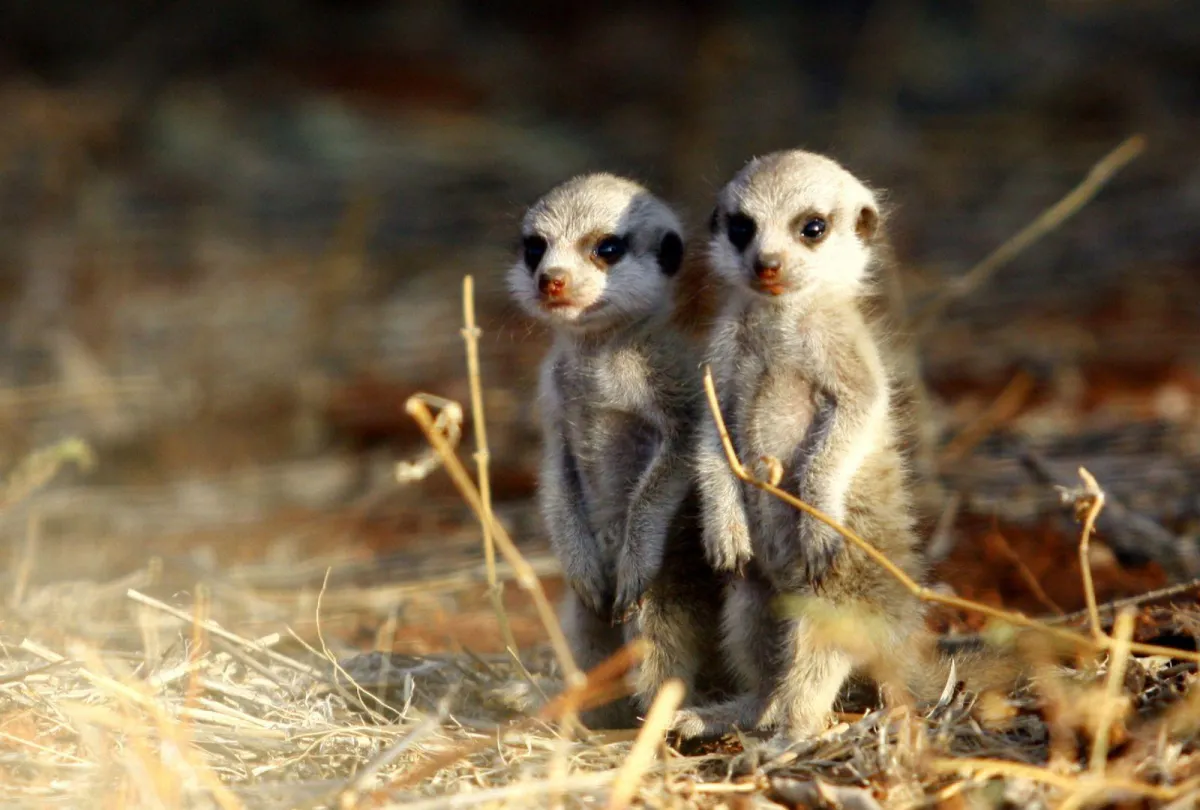 Tswalu Kalahari Game Reserve is home to five of Africa's most elusive species — the rare and endangered pangolin and brown hyena, aardvark, aardwolf and bat-eared fox. All five species are nocturnal and, in winter when temperatures are milder, daytime sightings of these shy animals are not uncommon. The hot daytime temperatures in summer drive aarvark and pangolin into their cool underground burrows, so guests often go in search of them on a night drive after dinner.
Private and exclusive luxury safari experience
Tswalu Kalahari has three luxury safari camps that can accommodate a maximum of 40 guests in total. With the lowest guest footprint in South Africa, guests are guaranteed access to a private safari vehicle, guide and tracker which allows them the flexibility to explore the broad expanses of pristine grasslands, dunes and mountains at their own pace.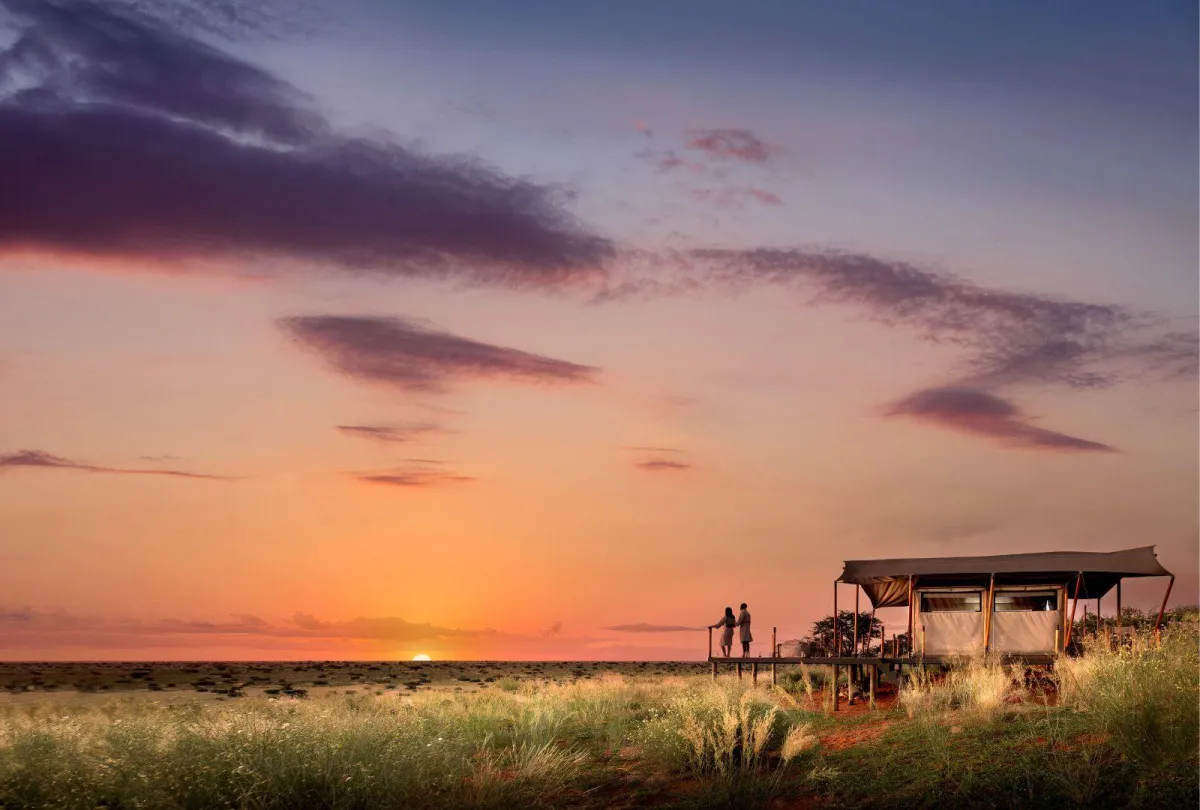 The Motse, which offers uninterrupted views across the reserve of the Korannaberg Mountains, consists of nine spacious private retreats for two or four guests while Tarkuni is a thatched homestead located in a secluded valley at the foot of the Korannaberg that can accommodate up to 10 guests in five luxury suites. Loapi, one of Africa's top luxury tented safari camps, is surrounded by open savannah grasslands and each tent has a dedicated butler and private chef.
Restaurant Klein JAN
During a minimum two-night stay, Motse camp and Tarkuni homestead guests are invited to experience one unforgettable meal at Restaurant Klein JAN. Klein JAN, a collaboration between South African-born chef, Jan Hendrik van der Westhuizen, the first South African chef to achieve a Michelin star for his restaurant in Nice, France, and the Oppenheimer family, is a culinary homage to the traditions, ingredients and regional produce of the Northern Cape.
Best time to visit
Tswalu Kalahari Game Reserve is a year-round destination. Temperatures begin to rise in September and October but the evenings remain chilly. Summer, which runs from November to March, is Tswalu's longest season. Hot days are sporadically punctuated by dramatic isolated afternoon thundershowers and the evenings are pleasantly mild. Autumn in April and May, when the savanna is at its greenest, brings mild days and cooling evening temperatures. Winter from June to August is Tswalu's driest season. Dust devils can be seen on the dunes during the days, which are pleasantly warm, and at night when temperatures can drop to below freezing, the stargazing opportunities are exceptional.


Getting there
The best way to get to Tswalu Kalahari Game Reserve is by air. Tswalu provides direct, scheduled charter flights from OR Tambo International Airport (approx. 90 minutes) or Cape Town International Airport (approx. two hours) to their airstrip.