Accommodation in Namib Desert & Sossusvlei
Accommodation in Namib Desert & Sossusvlei
There are a few accommodation options in this area - ranging from humble campsites to the ultimate in luxury safari and tented camps, offering excursions to the famous Sossusvlei Dunes and Sesriem Canyon.
Most lodges within this region are within an hour's drive of Sesriem Gate, the main entrance to the Namib-Naukluft Park. To get the best experience of the dunes, it's essential to go at dawn, while the early morning shadows define the dunes. Many lodges offer excursions and guided tours to the area, often including breakfast. Other activities include guided nature walks, game drives, hot-air ballooning over this magnificent sand sea and star gazing with virtually zero light pollution.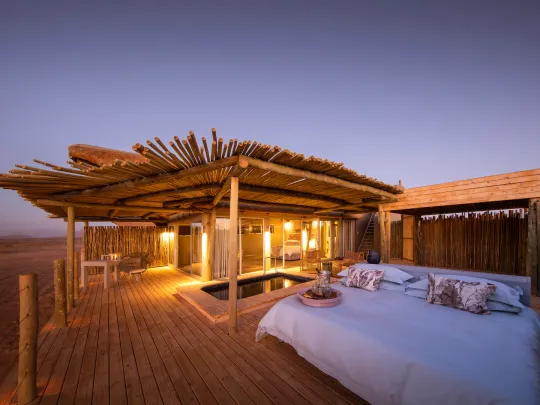 Kulala Desert Lodge and the exclusive Little Kulala are set in the private Kulala Wilderness Reserve, close to Namibia's famous Sossusvlei dunes, Dead Vlei and Sesriem Canyon. Local wildlife is remarkably adapted and endemic, from the stately gemsbok to the tiny 'barking' gecko.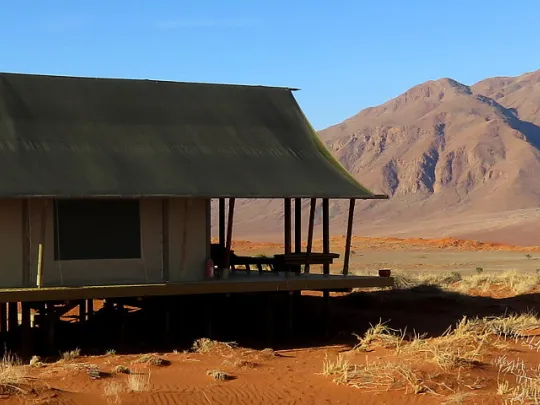 Sossusvlei Desert Lodge lies in the heart of Namibia's ancient Namib Desert, where it offers guests serene silence and romantic luxury in an extraordinary, dramatic landscape. It's a place of endless space, broad horizons and some of the most fascinating desert-adapted creatures on the planet.