Kruger Park or Sabi Sand?
Kruger Park or Sabi Sand?
The Greater Kruger National Park is an extended conservation area that includes Kruger itself, as well as a number of adjacent private game reserves, such as the world-famous Sabi Sand Game Reserve. Two of the most popular safari options for those who want to experience Kruger is to join a guided open vehicle safari in the Kruger National Park itself, or book an all-inclusive stay at one of the luxury safari lodges in the Sabi Sand Game Reserve. How do these options compare, and which one is better?
The Kruger National Park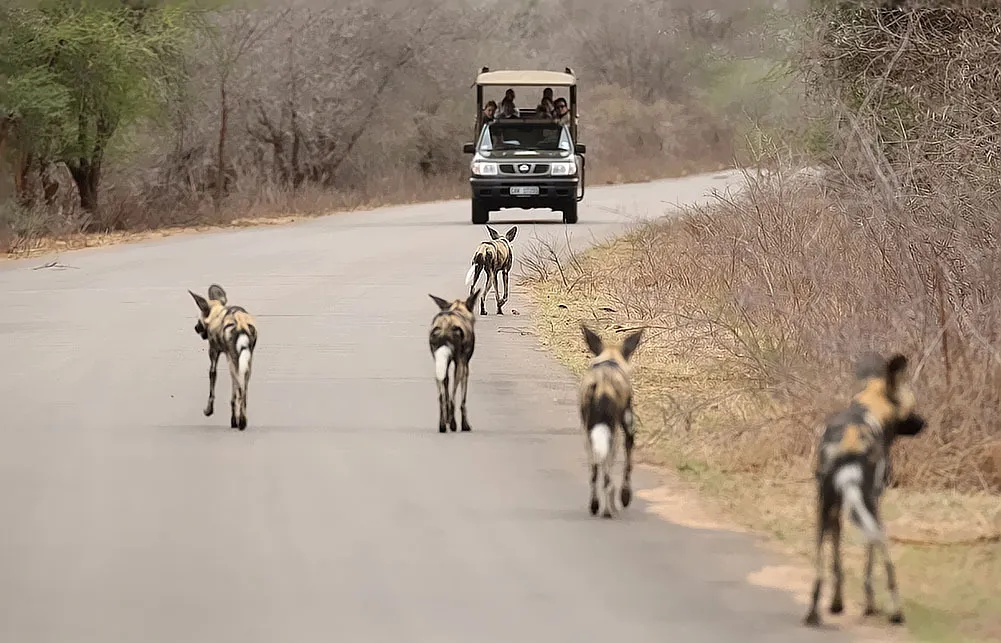 Kruger is huge, and this is one of the first advantages of doing a safari in the Kruger Park itself. The park covers over 2 million hectares and has an extensive road network covering vast areas. On a guided open vehicle safari in Kruger, you can expect to cover far more ground and see a greater variety of landscapes and vegetation types than on a safari at a private game lodge, where the game drives are limited to a comparatively small traversing area. This naturally affects the number and diversity of animals you are likely to see on safari, as you drive through different habitats. Typically, in Kruger, you can expect to see bigger herds and greater numbers of animals, and a larger variety of general game, compared to the Sabi Sand Game Reserve.
Another advantage of Kruger is its affordability. The accommodation in Kruger is reasonably priced, and the conservation fees are lower than at most other popular national parks in Africa. This makes it very affordable as a self-drive destination, and even a guided open vehicle safari in Kruger will generally cost much less than a similar safari at a luxury safari lodge in the Sabi Sand Game Reserve.
There are also some disadvantages to Kruger. One of these is that certain areas of the park can get quite crowded with self-drive visitors in their own cars. In particular, the areas around the biggest and most popular camps can get very busy during school holidays, and it is not uncommon to have 10 or even 20 vehicles jostling for position at a lion sighting. There are ways to avoid this, for example by choosing the secondary dirt roads for game drives instead of the main tar roads, or by selecting a more remote camp for your Kruger safari.
Another disadvantage is that the vehicles are not permitted to leave the road. Even safari operators are not allowed to go off-road to get closer to the animals, which could mean that visibility and camera angle is not always perfect if you have a sighting of an animal that is far away from the road. Binoculars and a decent zoom lens can come in handy in Kruger.
The Sabi Sand Game Reserve
The Sabi Sand Game Reserve is adjacent to Kruger and shares an unfenced boundary with the Kruger National Park. It's a collection of privately owned game farms, and many of the lodges with a smaller piece of land have negotiated shared traversing rights with neighbouring lodges. Some of the more exclusive lodges have a large private traversing area that is not shared with other vehicles, and typically these are also the most expensive lodges, priced anywhere from $700 per person per night and above.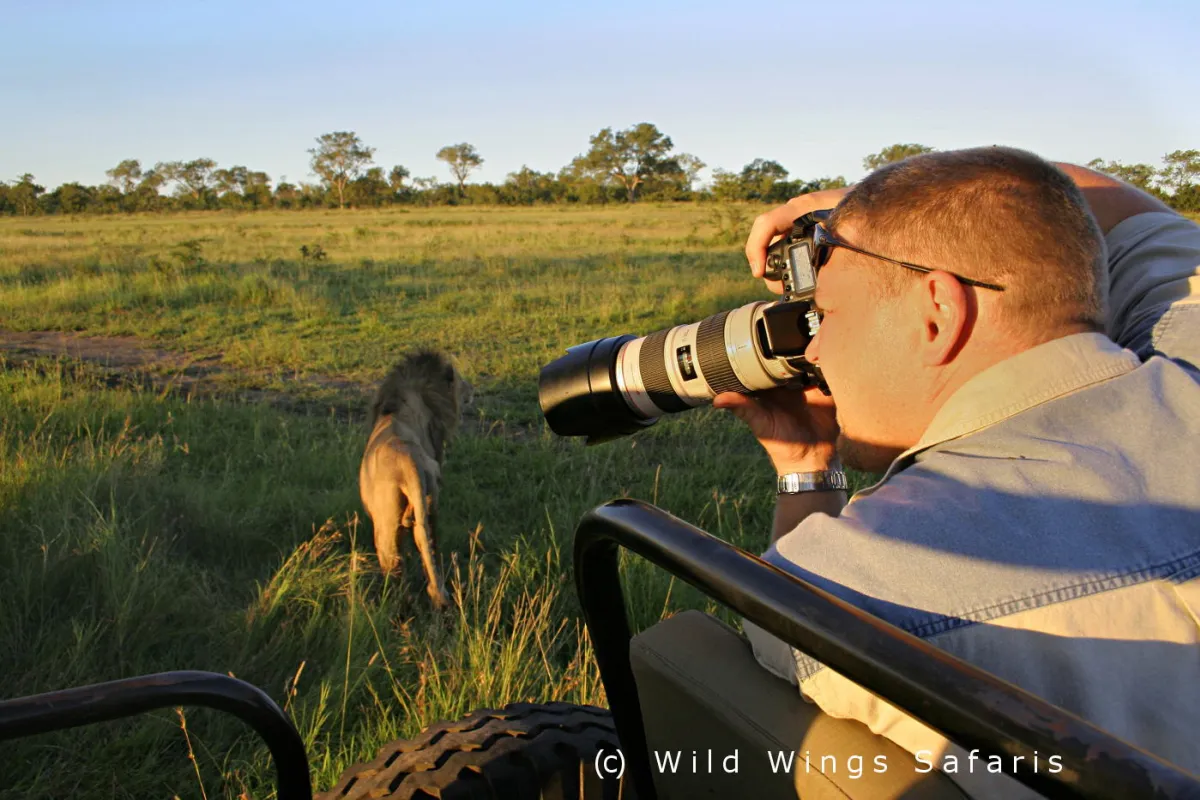 The biggest advantage of the Sabi Sand Game Reserve is the ability of game drive vehicles to go off-road in order to track and follow certain animals, and get closer to prime sightings such as the Big Five (lion, leopard, elephant, rhino and buffalo) or other predators (cheetah or wild dog for example). Most lodges use an experienced tracker who helps to spot animals and their tracks, allowing guests the most amazing close up sightings of Africa's big cats. The Sabi Sand has become famous as the best place in the world to see and photograph leopards in the wild.
At a private safari lodge in the Sabi Sand Game Reserve, all meals and game drives are included in the cost, and at the more exclusive lodges, drinks are also included. There are a few budget lodges, but most are expensive, luxury lodges offering an exclusive, upmarket safari experience. Most lodges have a fixed daily routine which includes a morning game drive and afternoon game drive of about 3-4 hours each, and usually, the afternoon game drive continues after dark as a night drive.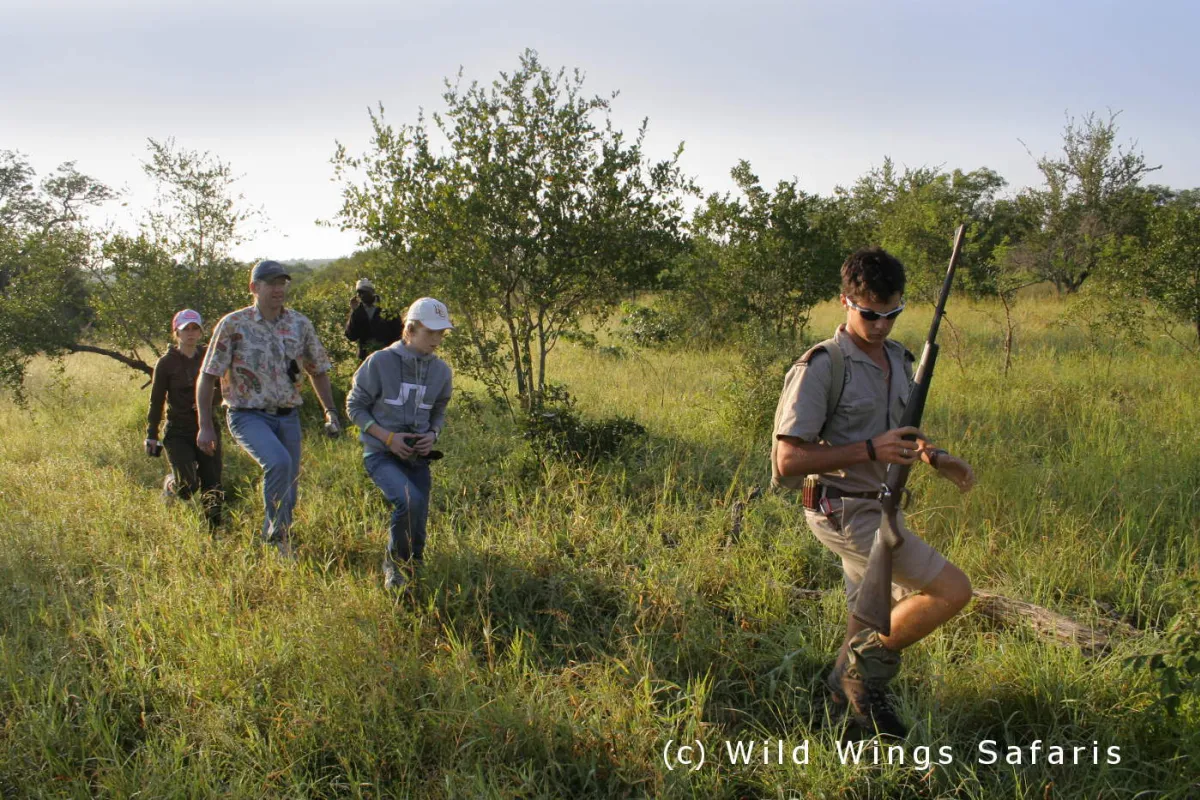 A short bush walk with an armed ranger is also usually included, and some lodges offer additional activities like a sleepout at a hide or platform in the bush, romantic bush dinners, star-gazing, spa treatments and more.
While a private safari lodge may not offer the same volume of sightings and diversity of species and landscapes as you will encounter in Kruger, it does usually offer the chance for quality, close-up sightings of Africa's biggest predators.
A Combo Safari
So which is better? The Kruger National Park and Sabi Sand Game Reserve both have their advantages. For those on a tight budget who want to see as much wildlife as possible in a short time, a guided open vehicle safari in Kruger is probably the best option. For those who prefer to spend a bit more and enjoy close-up wildlife encounters and off-road game drives, using a luxury safari lodge as a base, the Sabi Sand is probably a better option. In particular, if you've always wanted to see and photograph that most elusive of predators, the leopard.
But there is a way to combine the best of both worlds! Why not combine a guided 3-day or 4-day Kruger National Park safari with a few nights at a private game lodge? We call this a Kruger Combo Safari, and it is one of the most popular options for first-time visitors to Kruger.
Have you been on a combo safari, or experienced either Kruger or the Sabi Sand Game Reserve? Which one was better? Please share your experiences in the comments below.
You may also want to look at
About the author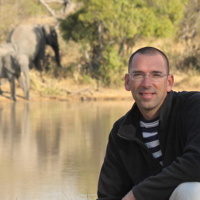 Onne
Onne Vegter is the managing director of Wild Wings Safaris. He has a deep love for Africa's people, wildlife and natural heritage. Onne has travelled to most of Africa's top safari destinations and his writing is based on years of personal experience in the safari industry. Follow him on Twitter at @OnneVegter.