Botswana Safari Lodges - Secrets to choosing the right camp
Botswana Safari Lodges - Secrets to choosing the right camp
In order to choose the right camp for your safari in Botswana, there are a few secrets or keys to keep in mind, which apply to most safari destinations in Botswana. These secrets are not really secret, they are just not widely understood by first-time visitors to Botswana, and they affect the safari experience significantly.
Budget
Botswana is one of the most popular but also one of the most expensive safari destinations in Africa. Most lodges are priced in USD for foreign visitors. I often get asked why Botswana is so expensive. One reason is the policy of Botswana's government to minimise impact and maximise revenue from tourism.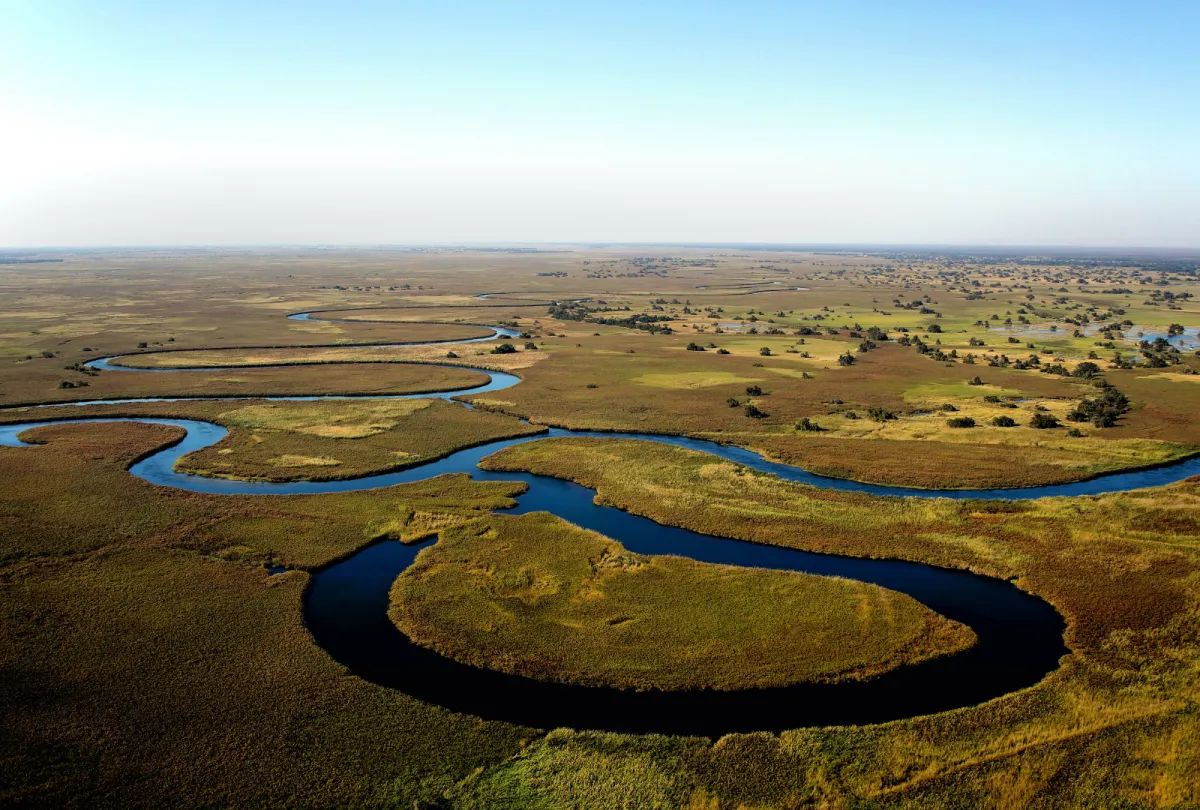 Botswana has opted for a low volume, high yield approach to safari tourism. Even for small lodges, concession fees are expensive. Many lodges are situated in remote locations and can only be reached by light aircraft. This affects the cost of getting supplies, which is reflected in higher rates. In addition, a typical Botswana safari itinerary will include several inter-lodge flights which will add significantly to the overall trip cost.
One of the best ways to get good value for money in Botswana is to combine lodges from the same lodge chain and make use of whatever long-stay discount or specials they may be offering. There are several well-known lodge chains operating in Botswana, each with a nice portfolio of different camps and lodges.
Seasons
Botswana is a very seasonal destination, and it's important to know how the seasons differ so you can choose the best time of year to go on safari. During the peak safari season, from July to October, prices are at their highest, and in many areas, game viewing is at its best.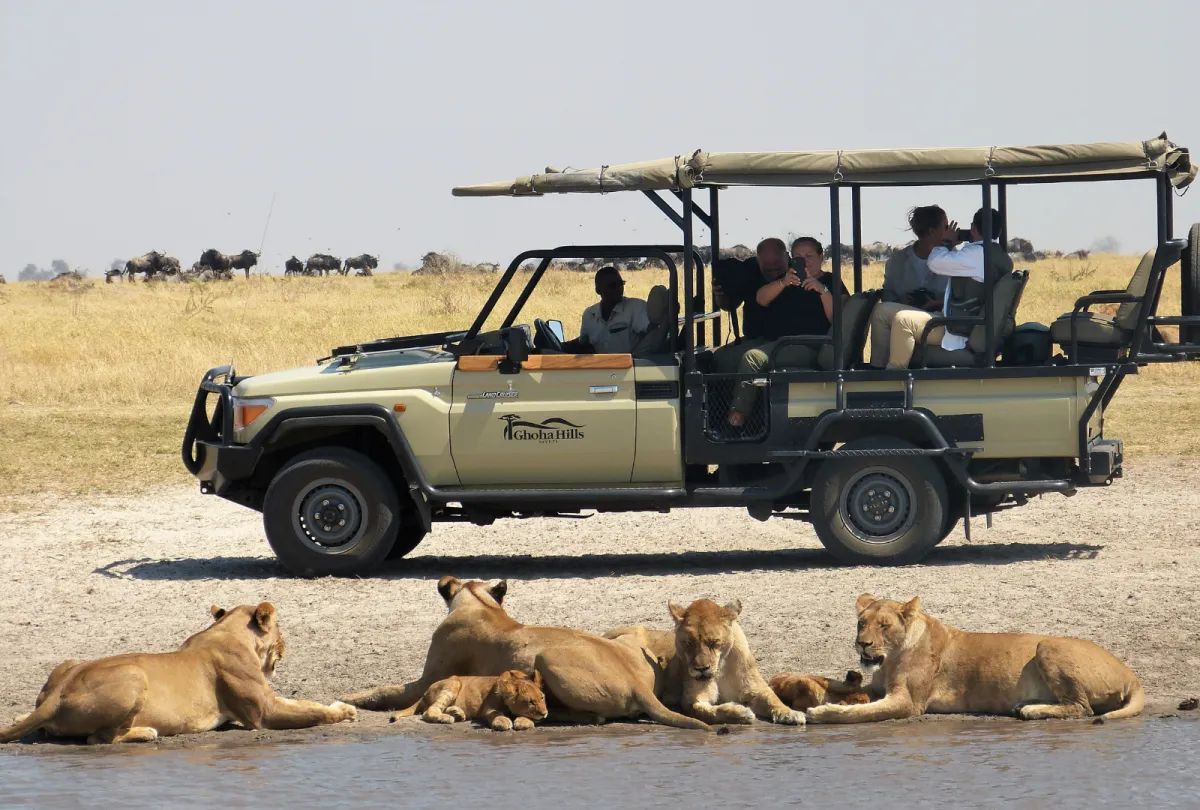 This is the dry season, which means rain is unlikely, and animals flock to permanent water sources such as the Okavango Delta, Chobe River and other permanent waterways. The peak season and dry season end in October, the hottest month of the year in Botswana.
November is shoulder season and transition time. The first rains arrive and bring relief from the heat, the impalas and many other animals have their young, and the bush begins to turn green. December to March is the rainy season or green season, and this is also the low season with lowest prices. For someone who wants to explore Botswana on a tight budget, this will be a good time to consider. The green season is also known as the secret season.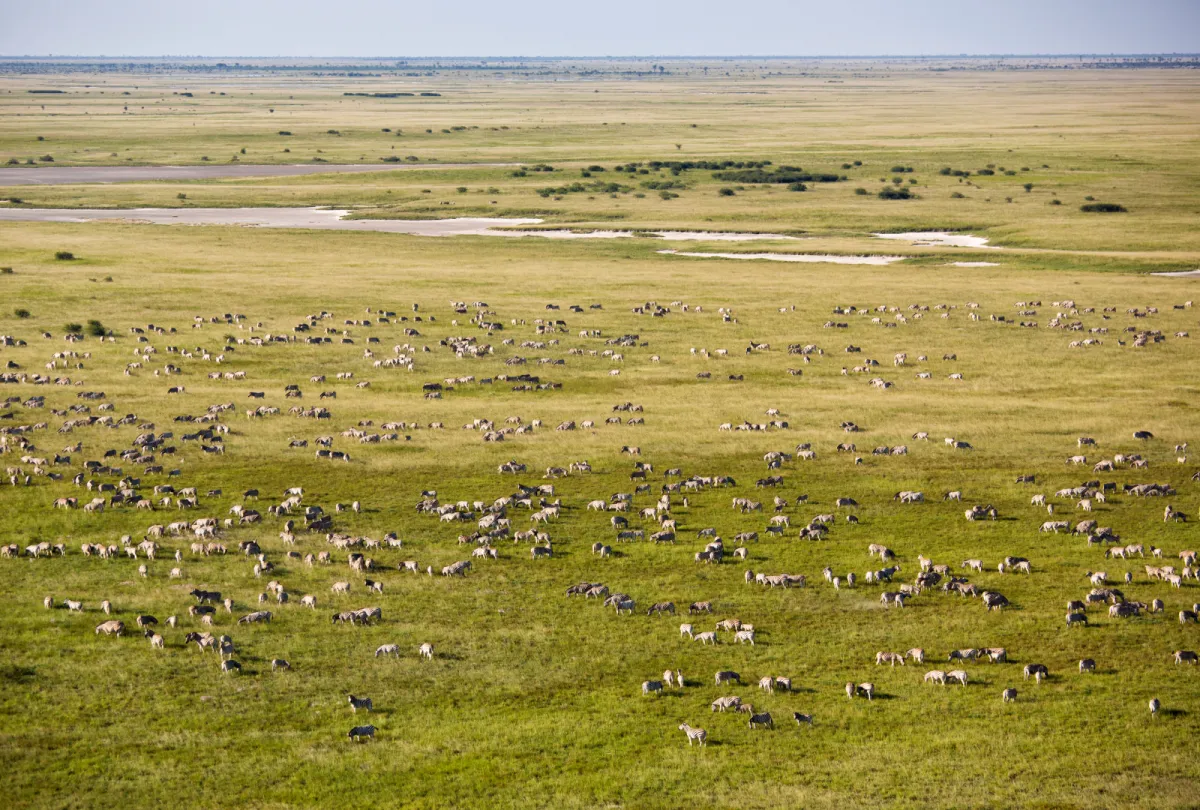 This is one of the best times to visit the dry Central Kalahari as well as the salt pans (Makgadigadi and Nxai Pan areas) as the green season brings herds of zebras and other grazers to these grassy plains, followed by the predators that hunt them. It's also the best birding season. April to June is shoulder season again. The rain subsides and the bush begins to dry out, but water levels continue to rise.
Okavango Water Levels
Much depends on the water levels in the Okavango Delta. At the end of the dry season, during low water levels in the delta, large green floodplains are exposed and attract an array of different animals. During this time, many lodges in the delta have access to bigger traversing areas which are normally underwater during the flood season.
A common misconception is that the rainy season is also the flood season. The rising of the Okavango water level does not coincide with the rainy season. The flood season follows several months after the rainy season. In fact, peak water levels are often reached during July or August, deep into the dry season. In areas further away such as the Boteti River and Savute Channel, the flood levels peak even later. And the lowest water levels are often reached in December or January, well into the rainy season.
Land-based or Water-based Camps
A key difference between different lodges, in particular within the Okavango Delta region, is whether they are land-based or water-based camps. Typically, at water-based camps, the focus is on water activities such as boat cruises, mekoro (traditional dugout canoe) trips, fishing, and bush walks on islands in the Delta. Sometimes, water-based camps will offer limited game drives during the low water season, but do not have any land to conduct game drives on during high water season.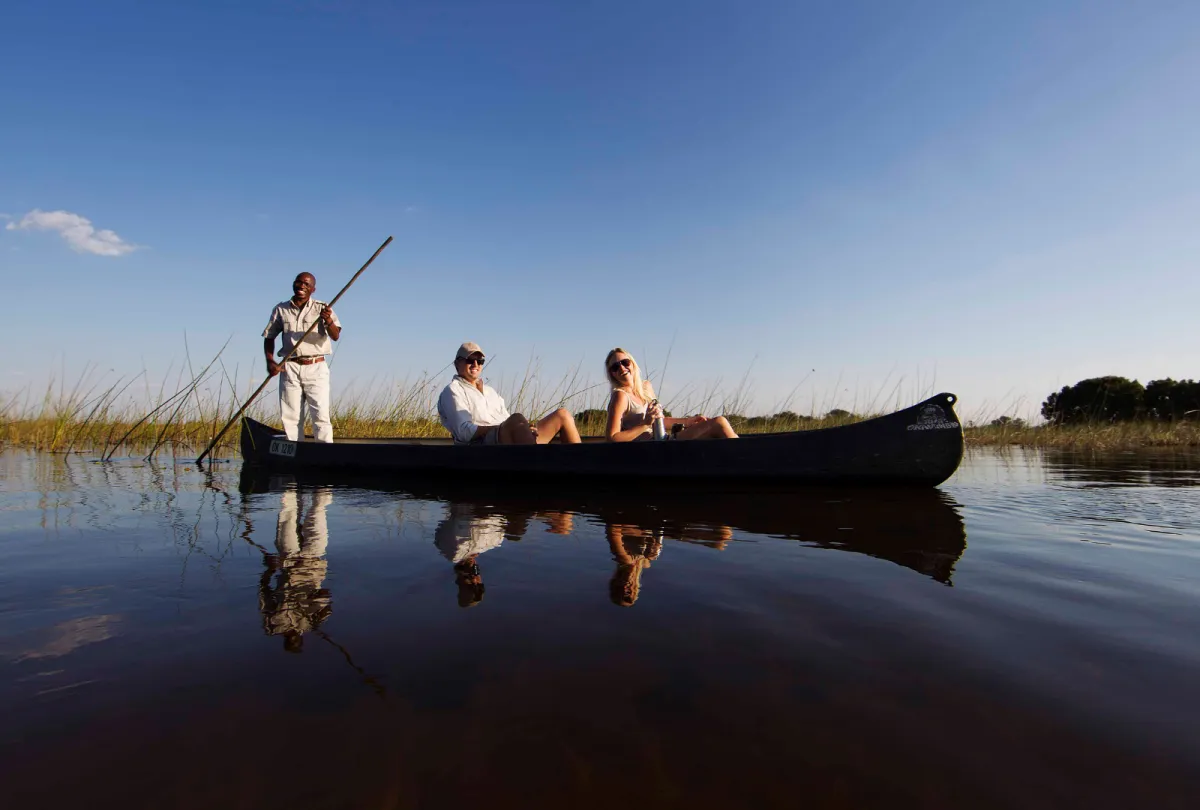 By contrast, land-based lodges focus on land-based activities, mainly game drives. If they have access to water, they may also offer boat cruises, mekoro trips and perhaps activities such as fishing, but the focus is on game drives. Land-based lodges are a better option for people who want to maximise their game viewing, as opportunities for game viewing during water activities is a bit more limited. Water-based lodges are often a great way to just relax and take in the beauty of the wilderness at a slower pace.
Private Concession or Government Game Reserve
Another key issue affecting the safari experience in Botswana is whether the lodge is situated within a government game reserve or national park, or not.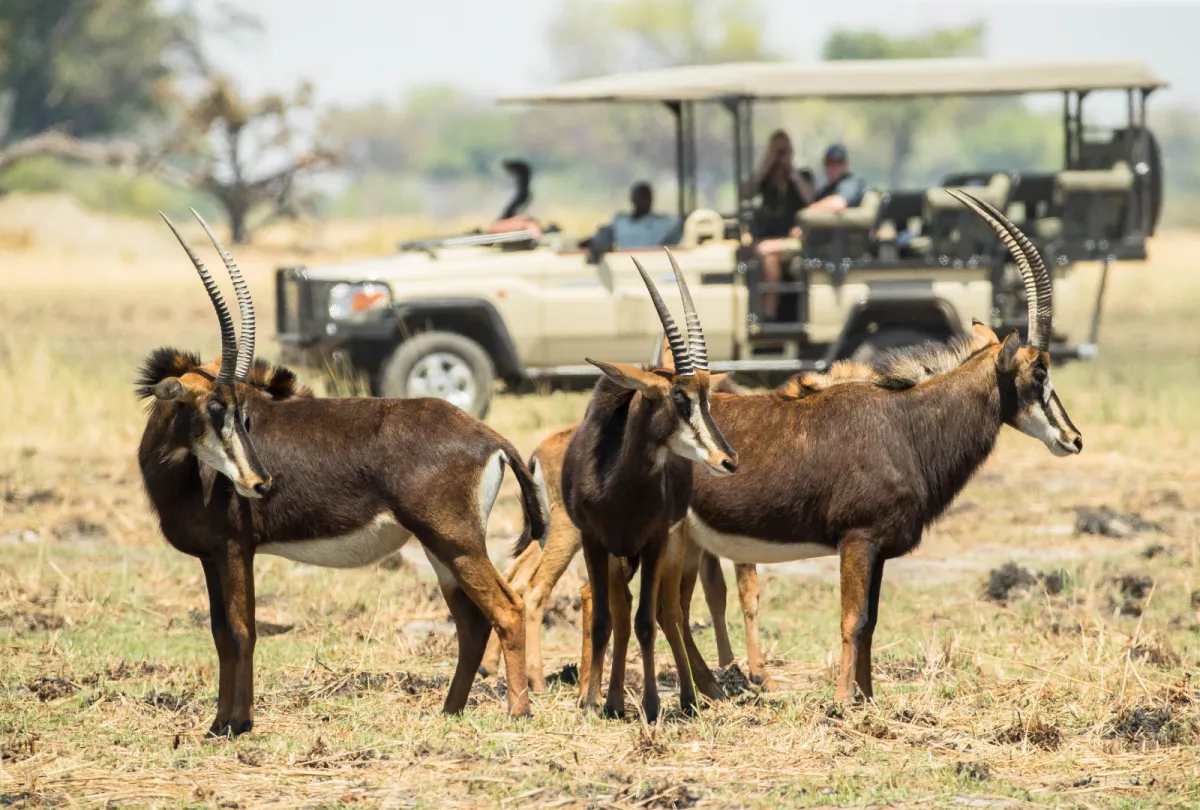 Lodges in government game reserves or national parks are usually subject to strict park rules, and typically do not offer off-road game drives, night drives, bush walks or fishing. By contrast, camps situated in private concessions or tribal areas are not bound by these same rules, and can usually offer night drives, bush walks, fishing, and off-road game drives, allowing them to get closer to the animals.
Ask the right questions
Knowing the above variables will help you ask the right questions when you start planning your safari to Botswana. Other questions worth asking is how big the camp is (how many rooms), what level of luxury you can expect, whether they have mosquito nets, ceiling fans or perhaps even air-conditioning, what activities they offer, how big their traversing area is, and how many people they usually take on a game drive vehicle at any one time (usually either six or nine, but some camps that take six still have them in two rows of three people each, instead of three rows of two).
Have you visited Botswana? Tell us about your experiences in the comments.
You may also want to look at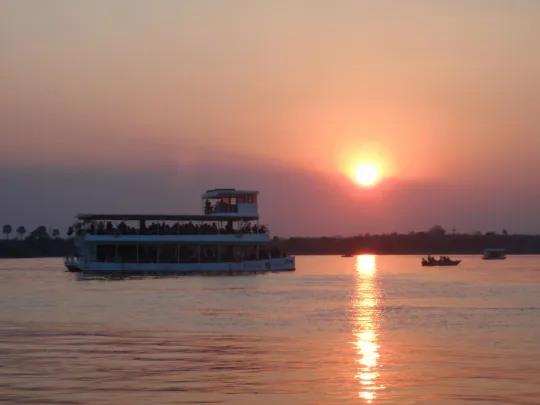 The majestic Victoria Falls on the Zimbabwean/Zambian border is within easy reach of the famous Chobe National Park in Botswana, making it easy to combine these two terrific destinations on one unforgettable safari itinerary. This trip idea combines three nights at Victoria Falls with two nights on safari at the Chobe National Park, enjoying both land- and water-based game viewing.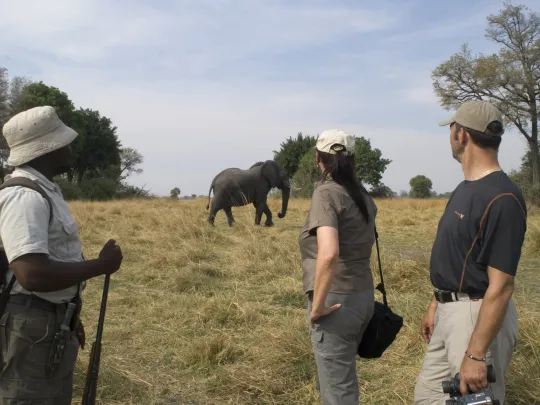 Fly in by light aircraft and spend six nights in some of Botswana's most productive game-viewing areas, combining Kwando's best camps: Splash, Lebala, and Lagoon. Spend two nights at each camp, or spend three nights at Splash and three nights at either Lagoon or Lebala. All three safari camps are in large private concessions and offer a variety of game-viewing activities. Kwando is known for its commitment to a high-quality, traditional safari experience that focuses on authentic bush encounters and the best possible wildlife sightings.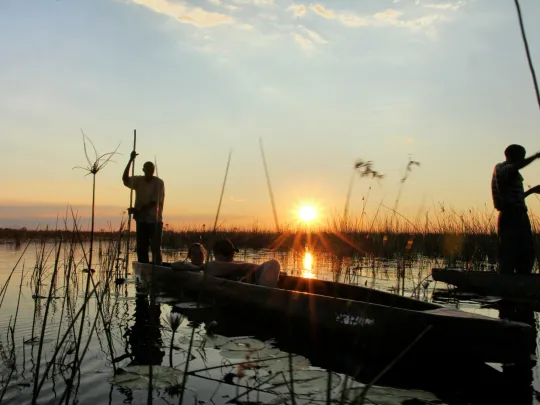 It is easy to combine Botswana and Victoria Falls. This trip idea combines four of Botswana's top safari destinations with two nights at Victoria Falls. The duration is flexible, and you can spend an extra night at any destination on this trip. Botswana has many excellent safari lodges, but we always recommend using ones in the same group or family so you can benefit from long-stay specials. This trip idea is based on Desert & Delta Lodges, which are reasonably priced and lie mainly in the national parks.
About the author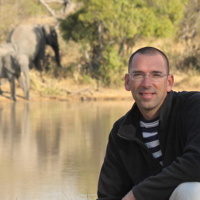 Onne
Onne Vegter is the managing director of Wild Wings Safaris. He has a deep love for Africa's people, wildlife and natural heritage. Onne has travelled to most of Africa's top safari destinations and his writing is based on years of personal experience in the safari industry. Follow him on Twitter at @OnneVegter.