Accommodation in Mahale Mountains National Park
Accommodation in Mahale Mountains National Park
Mahale Mountain National Park is remote, offering visitors an uncrowded safari on the shores of the crystal clear Lake Tanganyika. Accommodation is in luxurious tented camps on the beach, most with beautiful views across the lake. The forests behind offer wonderful walks to see the famous Mahale chimpanzees, and much more.
The main attraction of Mahale Mountain National Park is the chimpanzees. This is one of the few places in the world that you can go on a guided walk and sit quietly observing these fascinating creatures as they go about their daily lives. Walks are arranged from the tented camps and are strictly regulated to conserve both the environment and the animals themselves.
Accommodation offered in the park is in well equipped and comfortable tented camps on the shores of Lake Tanganyika. The view is beautiful, the park is breathtaking and there are plenty of activities to keep you occupied and entertained.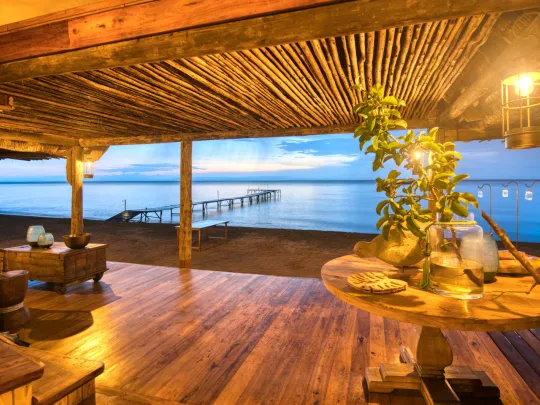 With comfortable thatched permanent tents set along the white sands of Lake Tanganyika, Mbali Mbali Mahale Lodge (formerly Kungwe Beach Lodge) is the perfect base for exploring the beautiful emerald forests of Mahale Mountains National Park. Quietly observing the chimpanzees who live there, in their natural habitat, is a once-in-a-lifetime experience.