8 Day Walking Safari Special - South Luangwa, Zambia
8 Day Walking Safari Special - South Luangwa, Zambia
Four days at the intimate Tafika Camp near the beautiful Nsefu Sector in South Luangwa National Park, Zambia, followed by four days at Remote Africa Safari's satellite walking camps - Chikoko Tree Camp and/or Crocodile River Camp. An unforgettable safari experience for enthusiasts looking to really get away from it all. On our 8 Day Walking Safari Special in South Luangwa, you're very unlikely to encounter any other vehicles, people or signs of life except your able and experienced guides, hosts and chefs.
Highlights
South Luangwa National Park, Zambia
Highly experienced guides
3 Nights at Tafika Camp - a combination of walks and game drives
4 Nights at remote bush camps - walking safaris only!
Bicycle safari at Tafika
Optional microlight flight (additional cost)
Flexible itinerary
Please note this safari is seasonal and only operates between late May and the end of October.
3 nights at Tafika Camp
At Mfuwe International Airport, you'll be met and transferred by road (1hr30 to 2hr drive) to Tafika Camp (a 15-minute charter flight to Mwanya/Lukuzi airstrip is available at an additional cost).
Tafika Camp is situated on the banks of the Luangwa River just outside the South Luangwa National Park, adjacent to the Nsefu Sector which is considered to be the most beautiful section of the park.
With only six thatched chalets, Tafika is an intimate, remote eco-camp where you can shrug off all the cares of modern life and really get back to nature. The food is excellent with fresh produce supplied from the camp's own kitchen garden.
Besides day and night game drives in open safari vehicles and guided bush walks, Tafika offers bicycle safaris which add a new perspective to your safari experience. There's also the opportunity to visit the nearby cultural village and school that Tafika helps to support.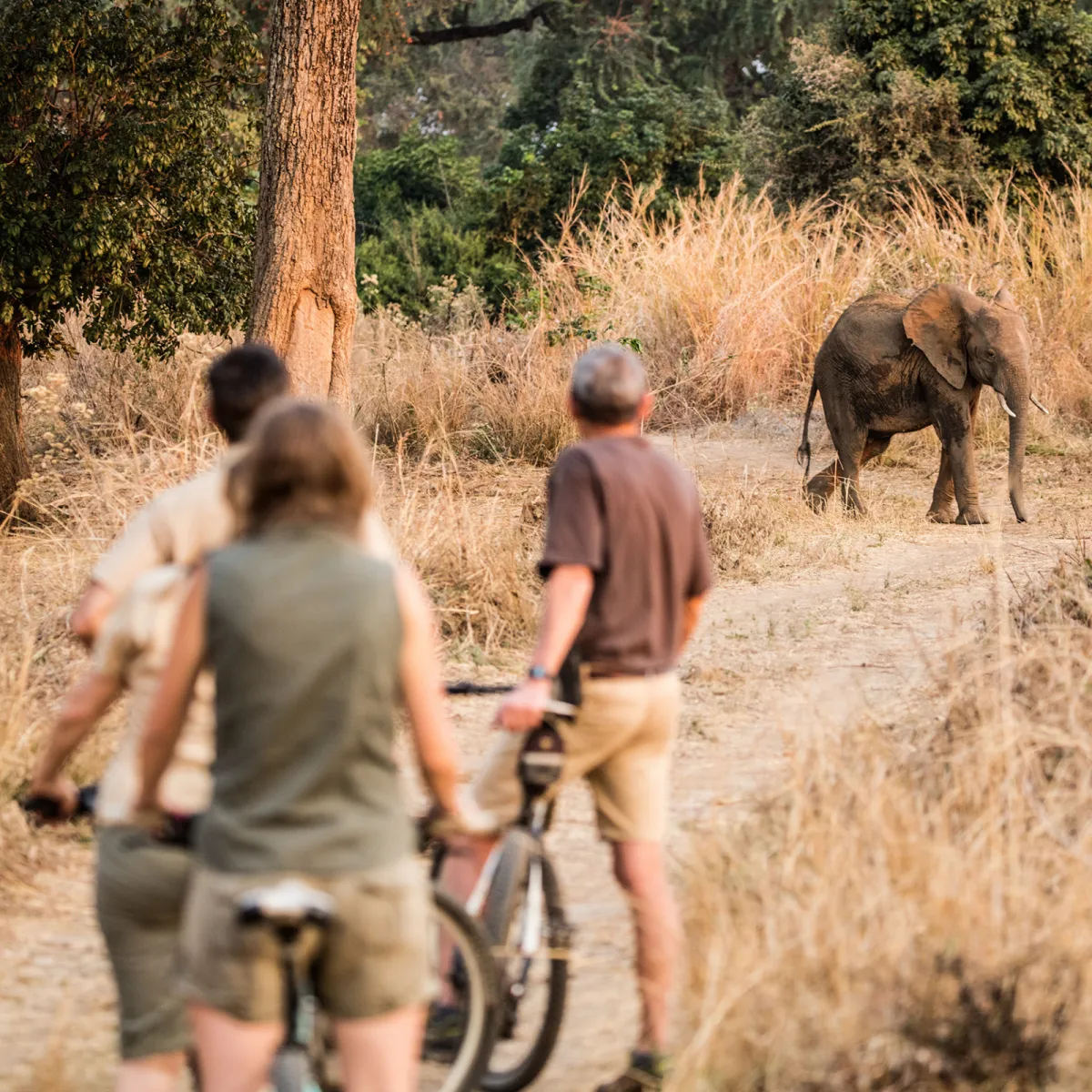 With a wide variety and abundance of wildlife and some of the valley's most experienced guides, Tafika Camp will offer you a remote and unforgettable safari. You'll seldom see other vehicles while out on your game drives. The camp's safari vehicles accommodate no more than four guests, allowing you to benefit from the insights and knowledge shared by your guide. On night drives, dedicated spotters also accompany you to ensure you get the best possible sightings.
4 nights at Chikoko Tree Camp and/or Big Lagoon Camp
These two small and exclusive bush camps in South Luangwa form the Chikoko Trails and offer the only true walking safari in the Luangwa Valley.
Here, there are no roads, no vehicles, in fact: no other people! Not surprisingly, this is the area where Norman Carr (renowned UK British conservationist d. 1977) chose to pioneer walking/photographic safaris, over the hunting safaris of the day.
Chikoko Tree Camp and Big Lagoon Camp are across the river from Tafika Camp inside South Luangwa National Park and both camps are accessible on foot. How you get there and how long you'd like to spend at these camps is entirely up to you, but at least four days are recommended.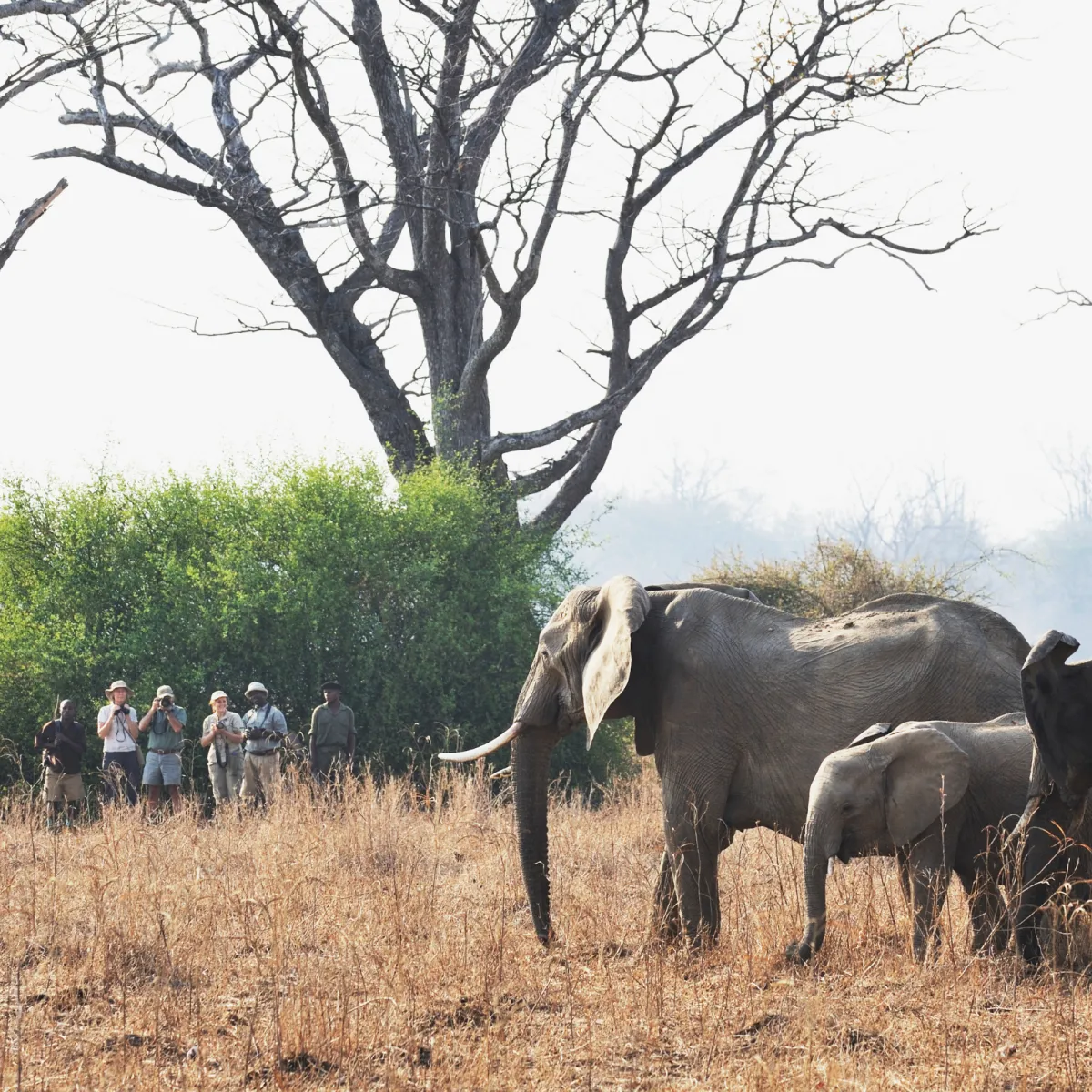 Getting to the camps is combined as part of a morning or afternoon game walk. Porters will carry your luggage so that all you need to carry is a camera, binoculars and sunscreen.

Each camp sleeps a maximum of six people in spacious, natural chalets with en-suite, open-air facilities, including flush toilets and hot showers in the evenings. You'll be accompanied by an experienced walking guide, armed scout and chef as well as general camp staff to ensure your comfort.
Chikoko Tree Camp's rooms are built three metres above ground and with a great view out over your surroundings. Game viewing is great from either the comfort of your chalet as well as on your daily bush walks.
A typical day at camp
A typical day at camp means rising early, before the heat of the day, and taking a long, leisurely walk in the morning (pace dictated by your wishes) with a halfway stop to brew up a welcome cup of tea or coffee with a snack. Ample drinking water is provided.
You return to camp mid-morning to relax, have lunch and perhaps a snooze before heading out on a shorter afternoon walk, returning to camp by dusk.
You'll have a good chance to see leopard, lion, buffalo, elephant and zebra, as well as Cookson's wildebeest and Thornicroft Giraffe (both unique to this area). Kudu and roan antelope are often seen, as are huge buffalo herds. The birdlife is prolific and of an endless variety.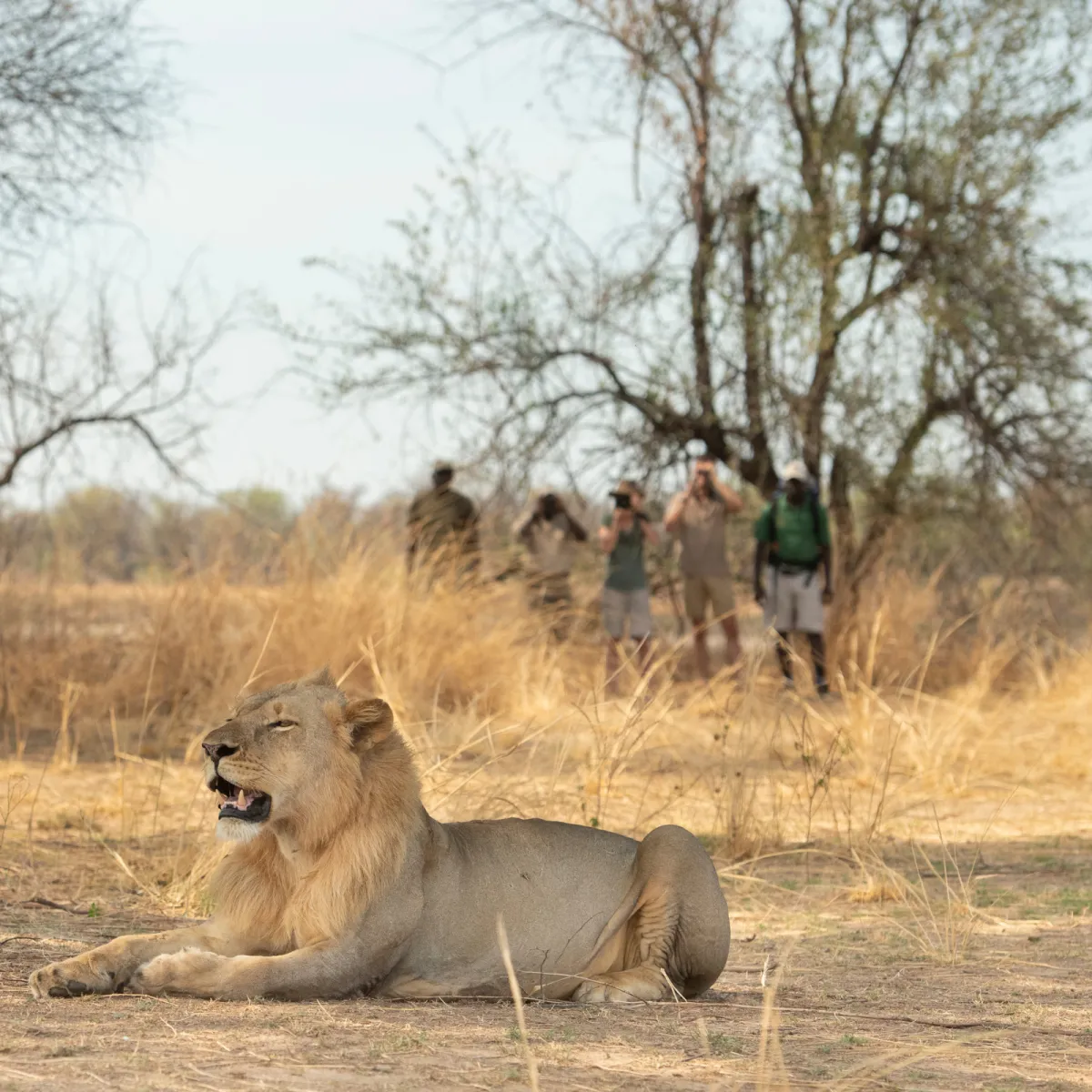 Remote Africa Safaris guides are some of the most experienced in the valley and their camps, although simple, are among the best. It's the perfect choice if you're looking to get out and experience untamed Africa up close and personal, not just from the back of a safari vehicle. You really get to savour the sights, smells and sounds of the bush in a very unique and intimate way. Unbeatable. And unforgettable.
On the final day of your 8 Day Walking Safari Special in South Luangwa, you'll walk or walk/drive back to Tafika Camp to connect with your onward travel arrangements.

Please note: This seasonal tour operates from 25 May to 31 October only.
Approximate Cost:
The prices below are intended as a guideline only and various specials may apply. Please ask us for a fixed quotation together with your intended travel dates and we'll be happy to provide you with a detailed, accurate quotation – with no obligation.
You'll find our quotes are fairly lengthy and comprehensive and there are no hidden surprises. What you see is what you pay – no booking fees, credit card charges or unexpected extras.
Rates
Period
Price per person (pp)
May 25, 2023 - July 31, 2023

$4,846

£3,881

€4,516

R91,216

August 1, 2023 - October 31, 2023

$5,656

£4,529

€5,271

R106,463

May 25, 2024 - July 31, 2024

$5,104

£4,087

€4,757

R96,073

August 1, 2024 - October 31, 2024

$5,968

£4,779

€5,562

R112,336
The prices quoted are subject to change and various specials may apply. Please ask us for a fixed quotation, without obligation, to get a detailed proposal with an accurate price and itinerary.
All rates on our website are provided to give a price estimate only and should not be seen as a firm quote. Likewise, our currency converter will give you a rough idea of the price in another currency, but should not be seen as a firm quote. It is only intended as a guideline, based on the daily interbank exchange rate. Please contact us to receive an accurate, free quote with no obligation.
Includes
Full board accommodation
All game viewing activities
Road transfers to and from Mfuwe Airport
Inter-camp transfers
National Park fees
Bar (local brands)
Laundry
Contribution to Luangwa Conservation and Community Fund
Excludes
International flights to Zambia
Domestic flights
Superior wines
Insurance
Items of a personal nature
Unforeseen rate increases
You may also want to look at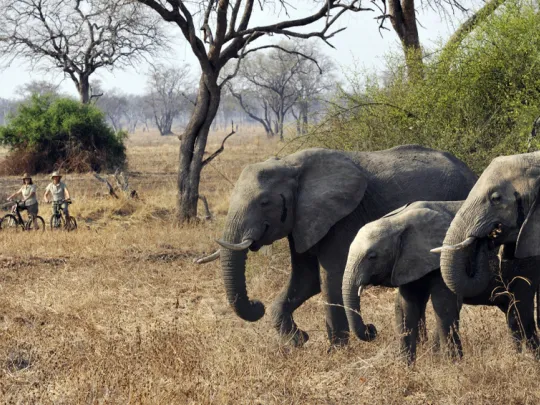 Tafika Camp in South Luangwa Reserve in Zambia is also the headquarters of Remote Africa Safaris, owner-run by John and Carol Coppinger for almost 20 years. This means that at Tafika, not only will you'll have exceptional game viewing and superb chances of leopard-spotting, but you'll have access to a wide range of exciting safari activities.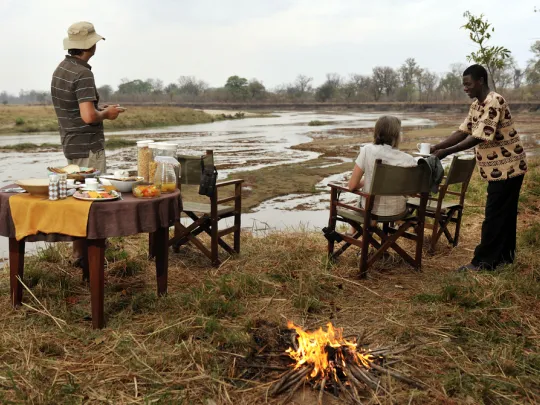 An 8-Day North and South Luangwa Combo Safari enjoying the best of both worlds - 4 nights at Tafika Camp in South Luangwa, a 12-bed intimate safari camp where you can enjoy day and night game drives, bush walks, bicycle safaris and microlight safaris; then 3 nights at remote Mwaleshi Camp in North Luangwa with daily bushwalks in some of the most pristine, undisturbed and wildest safari spots in Africa.